Only a few months ago in Gwangju, I was sitting next to Julie Sauvé at a judges' table during an open training session at the FINA World Championships. Like usual, we exchanged opinions and gossiped on some of the results from the day before, all while she kept an eye on the duet from Singapore warming up in front of us.
"They look good, don't they?" she asked, pointing at Debbie Soh and Miya Young in the water, practicing for the free duet preliminary. She had been working with the small nation for the last few years, after over 35 years in Canada and a brief stint in Brazil for the 2016 Olympics.
I nodded.
"They deserve better scores," she continued without missing a beat. "But it's Singapore and it's not a big synchro country, so we have some work to do. But we will get there, watch us!"
She had told me the same thing a few days before in the mixed zone, disappointed at the scores her athletes received in the technical duet preliminary despite what she thought was their best swim of the season.
That was Julie Sauvé. Forever optimistic yet bluntly and refreshingly honest, unapologetically true to herself, endlessly passionate about the sport, constantly energetic and going 100 miles an hour in her every endeavors, and always eager to share her experience and knowledge.
She was right to hype up her swimmers that day; they looked great. She never stopped believing in them, fully invested into the outcome and into shaking up the rankings. 
"Je sais… Comment on dit déjà? J'ai pas la langue dans ma poche," she added, switching to French and bursting out laughing. She indeed "did not have her tongue in her pocket" and never feared speaking up. She was always talkative, outspoken, and so welcoming to anybody who started a conversation with her. Her energy and laughter were so contagious, making it nearly impossible not to be drawn to her.
You could spot Julie Sauvé from a mile away: a tan that never faded no matter the time of the year, a bright pink lipstick and matching nail polish, a strong and unmistakable perfume that trailed behind her every steps, an Olympic rings pendant around her neck paired to an Olympic ring on her left hand. And of course, she always had a smile that would brighten the whole pool. She was one of a kind.
Hovering near her long enough, it was easy to overhear her words of encouragement for her swimmers as she aimed to instill self-confidence in them, to make them see the potential in them she was already seeing, although while never losing sight of the rigorous discipline needed in this sport.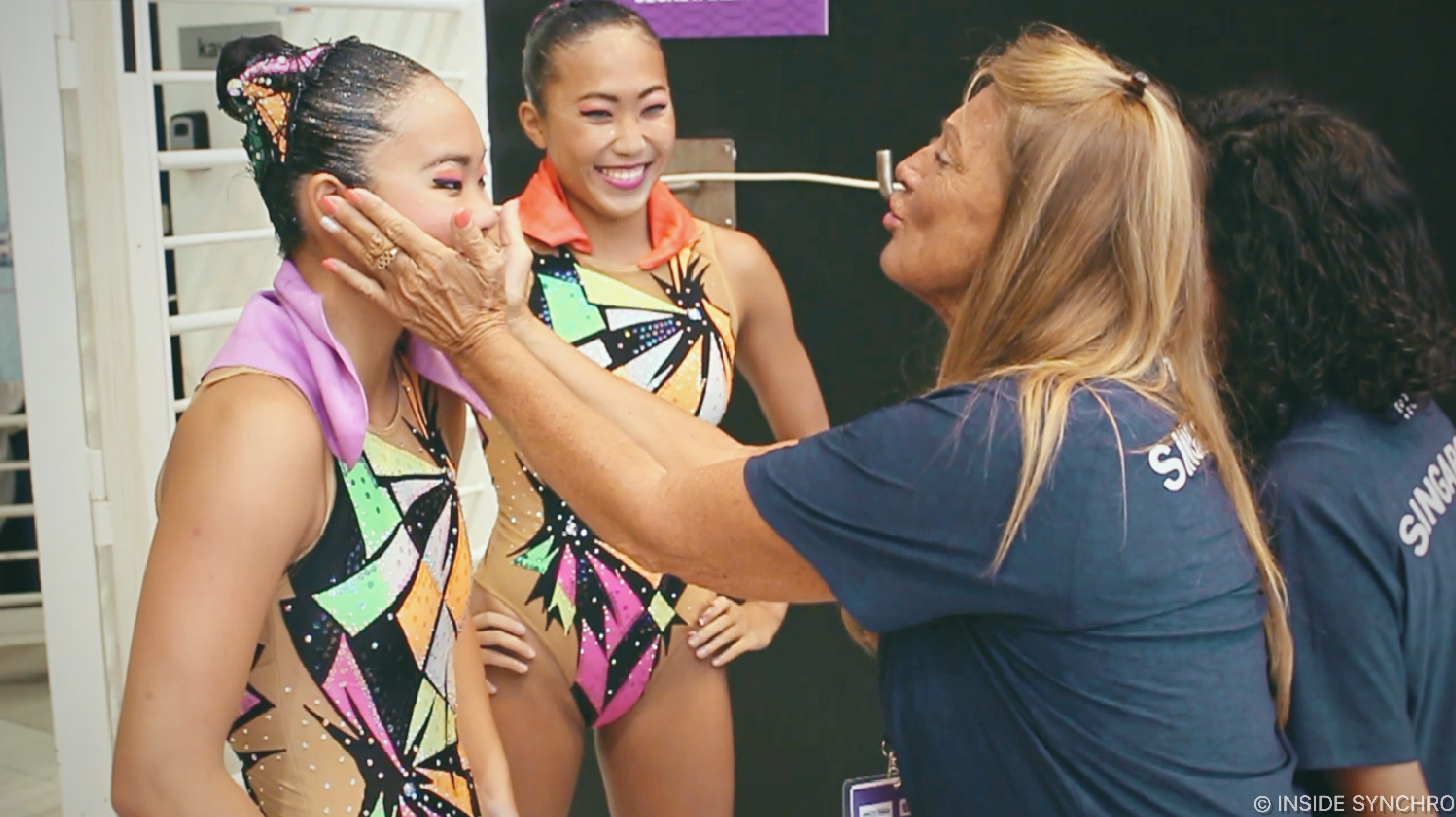 Of course, I cannot pretend I truly knew her. I only really saw Julie 'the person' sporadically over these last three years when I started to travel more to cover international competitions. I distinctly remember the very first time we actually met in person because she took great care of introducing herself to me, saying "Ah, you are Inside Synchro! I am Julie Sauvé, I am so happy to meet you!"
I couldn't help but smile. I was a little starstruck that she not only took time to come over, but also because I obviously knew who she was, and to me she needed no introduction. From then on, it was always a joy to catch up briefly, to hear her opinion about the current state of this sport she's devoted most of her life to, and of course to get briefed on everything that was happening with the Singapore team. She was invariably candid, recognizing the flaws and difficulties she faced just as much as she was hopeful for the future.
Julie 'the coach' had a more profound impact on my teenage years as a swimmer. Back when I started synchro, there were no live streams, YouTube was just getting started, and barely any synchro was shown on TV outside of the Olympics (well, that hasn't changed much).
Yet, I remember eagerly waiting to watch Canada's routines at every major event, excited to see what kind of crazy acrobatics the team had come up with that were at the time just absolutely mind-blowing and unique. I remember trying some moves with my teammates and majestically failing, in awe of how the Canadians could make it look so easy.
Julie was fearless in her pursuit of originality in her choreographies, and always aimed to push the boundaries of the sport from the moment she was hired into the coaching staff in 1982. Over the years, Canada continuously innovated, tried out different patterns and ways of moving around the pool, or simply showed up with extravagant looks and headpieces. Sure, sometimes her choices were questionable and did not necessarily help the image of our sport (we've all seen the memes). Sometimes it worked, sometimes not. But, she went there and tried to create something memorable.
And she did get people talking. Eventually, Canada became renowned for its acrobatics, artistic choreographies, and explosiveness that quickly became its signature style. Every single club around the world has by now done one or more lifts that she had originally come up with.
And of course, we all still remember her iconic sparkling gold hat at the 2012 Olympics. Because like with everything she did: why not?
Our sport just lost undoubtedly one of its trailblazers and one of the few game-changers from the last decades. We will all surely continue sharing our anecdotes or moments we all had with her, or simply remember this or that routine she created.
I will miss seeing her around the pool, but I take comfort knowing a little bit of her extravagant personality and her extensive knowledge lives on in every coach and athletes that has crossed paths with her over the years.
Safe travels, Julie.
Christina Marmet