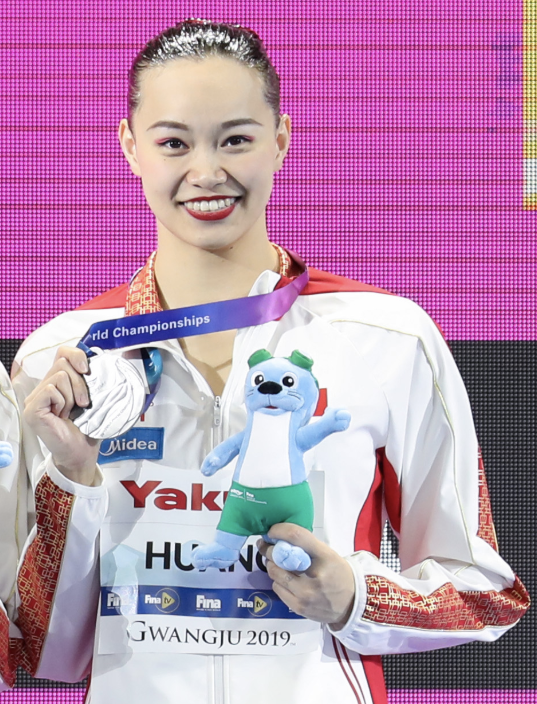 | | |
| --- | --- |
| Full Name | Huang Xuechen (黄雪辰) |
| Nation | People's Republic of China |
| Birthdate | February 25, 1990 |
| Olympics | 2008, 2012, 2016 |
| Status | Active |
| Social Media | Weibo | Instagram |
CAREER HIGHLIGHTS
China's most decorated artistic swimmer… Five-time Olympic medalist (three silvers, two bronze)… On the senior national team since 2007…20-time world medalist…Competed at the 2007, 2009, 2011, 2013, 2015, and 2019 FINA World Championships…Served as one of the country's soloist with Sun Wenyan from 2007 to 2015… Four-time gold medalist at the Asian Games (2010, 2014)…Took a break after the 2016 Olympic Games, but returned to elite ahead of the 2019 season.
2021: Selected for the Olympic duet and team.
2020: Did not compete internationally due to the COVID-19 pandemic and the cancellation of all meets.
2019: Returned to elite after a two-year hiatus and starting a family…Won four silver medals in technical and free duet, technical and free team at the 2019 FINA World Championships… Also competed at the Canada Open in the duet and team (gold in all four events)… Served as alternate to the free combination routine at worlds.
2018: Did not compete.
2017: Did not compete.
2016: Won two silver medal at the Olympic Games in Rio de Janeiro in duet and team.