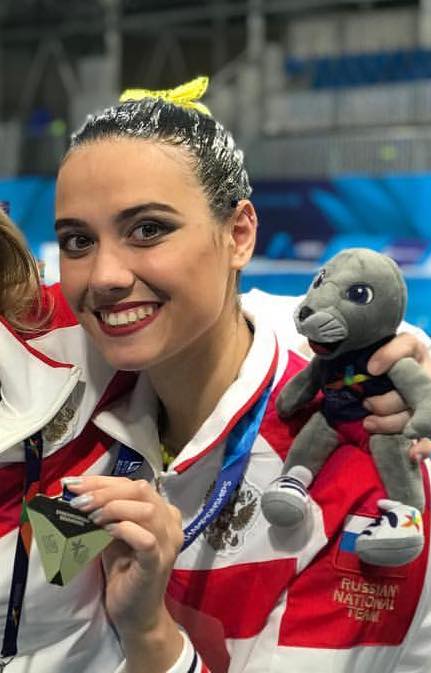 | | |
| --- | --- |
| Full Name | Maya Gurbanberdieva (Майя Гурбанбердиев) |
| Nation | Russian Federation |
| Birthdate | February 9, 1999 |
| Olympics | |
| Status | Active |
| Social Media | Instagram |
Career Highlights
Two-time World champion and three-time European champion in the mixed duet… Won silver with the junior team at the 2017 European Cup… Four-time junior European champion (2016, 2017) in team and combo… Two-time junior World champion (2016) in team and combo… Won gold at the 2015 European Games with the junior team.
2022: Active member of the national team… Did not compete internationally after FINA banned athletes from Russia and Belarus from its competitions due to the nations' involvement in the invasion of Ukraine and the breach of the Olympic Truce… Did compete domestically in the mixed duet.
2021: Became European champion in the technical mixed duet…  Competed in three FINA World Series legs – Budapest, Kazan, Canada virtual – and the Super Final in Barcelona… Served as reserve to the free mixed duet all season, except for the Super Final, where she swam it and was designated as reserve for tech.
2020: Out for the season after shoulder surgery in December 2019.
2019:  Won her first two world titles at the 2019 FINA World Championships in the technical and free mixed duet events…. Also competed extensively through the world series circuit and won every single event (technical and free mixed duets) entered – Kazan, Tokyo, Beijing, Barcelona and the Super Final in Budapest.
2018:  Joined the senior ranks and was partnered with Aleksandr Maltsev in the mixed duet… Earned two gold medals at the 2018 European Championships in Glasgow, Scotland in the technical and free mixed duet events… Won gold in the free mixed duet at the Hellas Beetles Cup and at the French Open.