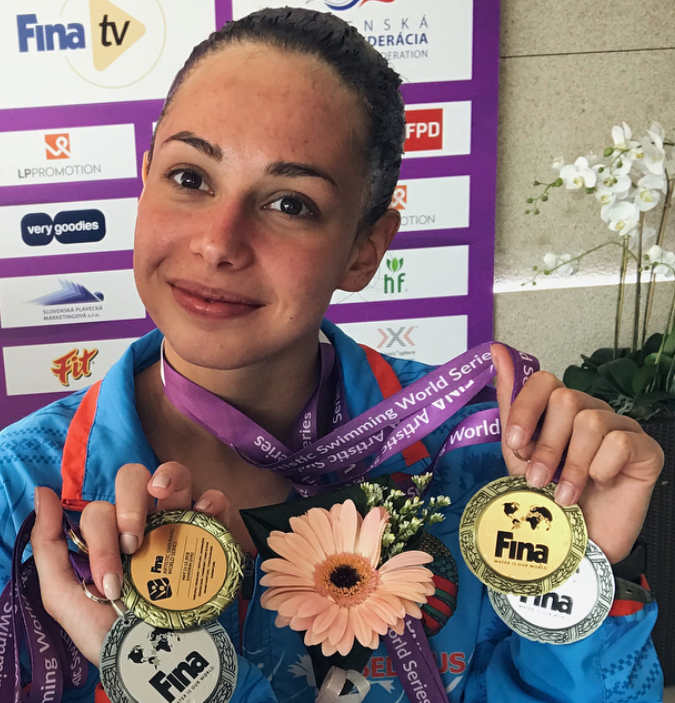 | | |
| --- | --- |
| Full Name | Veronika Yesipovich (Вероника Есипович) |
| Nation | Belarus |
| Birthdate | April 10, 1996 |
| Olympics | 2016 |
| Status | Retired (Jan. 2020) |
| Social Media | Instagram | VK |
Career Highlights
2016 Olympian in the duet event… Finished 21st in Rio with Iryna Limanouskaya…Competed at the 2013, 2015 and 2017 FINA World Championships… Swam at the 2014, 2016 and 2018 European Championships… Competed in both junior and senior categories during the 2012, 2013 and 2014 seasons…Has been in the duet since 2014.
2019: Saw limited international action… Placed 10th in technical duet at the European Cup…. Also competed in two world series meets in both duet events – Kazan and Barcelona.
2018: Placed fifth in combo, seventh in technical and free team, and ninth in technical and free duet at the European Championships…Competed in four world series meets – Paris, Tokyo, Samorin and Madrid.
2017: Competed at the world championships in the duet and team events… Ranked 10th in combo, 12th in technical team, 13th in free team, 16th in technical duet, 17th in free duet… Swam at the European Cup in duet and finished fourth in tech and fifth in free…Also competed at the MUFE French Open, the Japan Open, the Spanish Open and Suv Parisi.
2016: Finished 21st in duet at the Olympic Games… Competed at the European Championships and placed seventh in technical team, free team, combo, and eighth in technical duet…Also swam at the Olympic qualification tournament.