By Christina Marmet
The 2016 U.S. Open was held from July 14-16 in Riverside, Calif. and was the last major international competition before the Olympic Games. The duets from Spain, Canada, Great-Britain, Argentina and the United States presented their Olympic programs and welcomed some last minute corrections and a chance to practice and compete in an outdoor pool just like it will be in Rio.
Spain's duet of Ona Carbonell and Gemma Mengual took the event title with an overall score of 184.1939. While USA Synchro did provide a live stream video, the pair requested to not be filmed in order to maintain their routines secret until the very last minute. So other than giving you the score and telling you that the first 10 seconds of both programs looked great, I cannot tell you much else! I guess we will have to wait a few more weeks before the final routines are unveiled.
Coming in second was China Sichuan's duet of Jiang Tingting and Jiang Wenwen with a score of 180.6850. The twins used to be China's A duet and competed in the 2008 (duet, team) and the 2012 (team) Olympic Games. After a falling-out with the national team, it has been delightful to see the twins still swim and participate in international competitions. Them finishing quite close to Spain and beating the Olympic duets from Canada, the U.S., Great-Britain and Argentina for a medal says a lot about the depth of the Chinese synchronized swimming program.
Rounding up the podium were Canada's Jacqueline Simoneau and Karine Thomas with 177.3683. Simoneau was thrilled about the results and their preparation for the Games in an interview with Synchro Canada:
"What a great opportunity for us to swim with other pairs who will be at the Olympics!  There is tremendous respect between the athletes, but at the same time it also gives us a chance to take a peek at each other and note what can be done better.  We love where we are in our preparation right now, and in addition we now have a list of small improvements we will be able to work on over the next month with our team of coaches and external experts."
The U.S., Great-Britain and Argentina's duets finished fifth, sixth and seventh respectively. China's B duet finished fourth with another pair of twins in Wang Liyui and Wang Qianyi.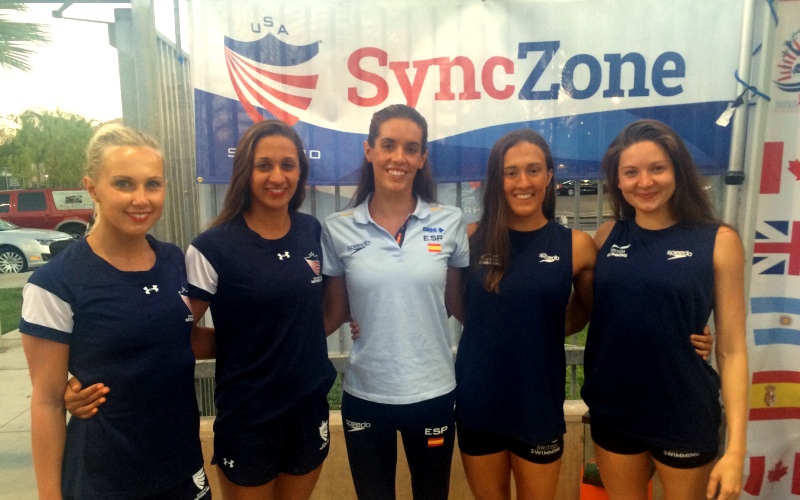 Spain's mixed duet of Pau Ribes and Berta Ferreras was the sole entry in that event and they won gold with a score of 161.0301. The country had also sent the entire national team to California, and grabbed silver in the team competition behind China Sichuan's team and gold in the free combination.
The crowd also got to witness France's Virginie Dedieu swimming a short solo demo at the end of the meet. You can find the footage of that solo on our Facebook page.
For all Senior results, please refer to our results page. All live streams of the competition have been archived on YouTube. For detailed scores and Junior results, please go to USA Synchro's official website.