The team event will take place in Rio from August 18 – 19. Eight nations have qualified for it, and all will swim a technical and a free routine. Unlike World Championships, the technical scores and free scores are combined here for a total score which will determine the qualifiers to finals and the overall standings. At Worlds, technical and free routines are entirely separate events.
Unlike in the duet event, the team event does not have any preliminary round so it is basically a one-shot deal with all the teams. Technical teams are on August 18 and free teams are on August 19.
Last Time Out: 2012 London Olympic Games
Let's start with a refresher on what happened four years ago. Russia comfortably won the gold with a gargoyle-themed free routine and a combined score of 197.030. This free routine was unveiled for the first time in London and essentially blew everybody else out of the water.
China grabbed the silver medal three points behind Russia with a combined score of 194.010 and a very graceful butterfly-themed routine.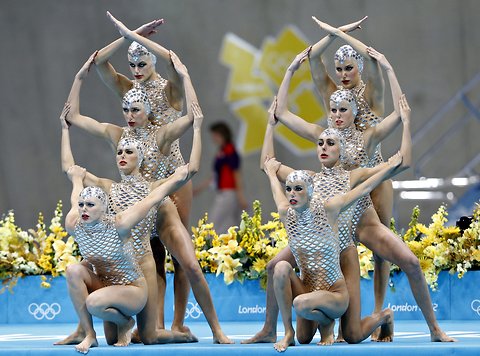 Spain closed out the podium with a combined score of 193.120. Their ocean free routine was picked up by a lot of mainstream media thanks to their crazy, shiny scale-like suits and headpieces, and innovative choreography. All the swimmers actually had to chop off their hair before the competition in order to fit the 'headpiece' on their head!
The rest of the ranking was: Canada (189.630), Japan (187.630), Great-Britain (175.440), Egypt (155.960) and Australia (154.930).
If you feel like re-watching the entire meet, click here for free teams and here for technical teams.
The teams that have qualified this year are: Russia, China, Japan, Ukraine, Italy, Brazil, Egypt and Australia.
2012 bronze medalist Spain has had a pretty sad quadrennium and failed to qualify as a team at the test event where they finished fifth. They will not be in Rio to defend their medal. Canada and Great-Britain (who had the host team spot but has since lost their funding) are also missing. Canada was really close to qualifying as a team this year but got edged out by Italy at the test event by 0.7 for the final spot.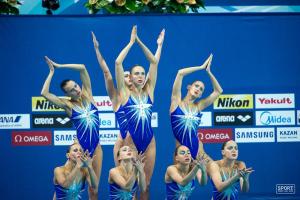 Russia is the heavy favorite as per usual, and are fully expected to win another gold. They have changed their strategy a little bit this year, as we already know the routines they will swim and did not keep them secret until the Games. Their free routine is the one they unveiled at 2015 Worlds in Kazan to a Two Steps from Hell music remix, and their new, crazy-fast technical routine was first swam at this year's European Championships in London. Surely, both will include more difficulty and may unveil some new moves, but overall, we know what to expect. This is an experienced team for Russia as they return four 2012 Olympians and on top of that, they have their two strongest swimmers Natalia Ischenko and Svetlana Romashina back in the team routine (they had been focusing on solos and duets lately). Russia has won every Olympic gold since 2000, and they likely won't stop this streak in Rio.
On the other hand, China is coming in from months of training away from the public eye. Their free routine is expected to be the same as in Kazan ("Dragons"), certainly modified since, but they will be showing a brand new technical routine that allegedly completely differs from their usual style. They will present a "Brazilian" routine, so we can expect some traditional music and rhythms, which is definitely something unusual for the Chinese team. Only the duet pair of Huang Xuechen and Sun Wenyan are returning Olympians. They will aim to get closer to Russia in scores and should get the silver medal quite easily.
Just like in duet, the race for bronze is where it's going to get exciting between Japan and Ukraine. Both nations have been on the rise, and both have had spectacular results at 2015 Worlds and other international competitions. In Kazan, Japan was ahead by a few tenths and won bronze in both technical and free team with Ukraine not far behind. However at the Rio test event in March, Ukraine edged out Japan for the gold medal and the top qualifying spot with their "older" routines against brand new routines from Japan.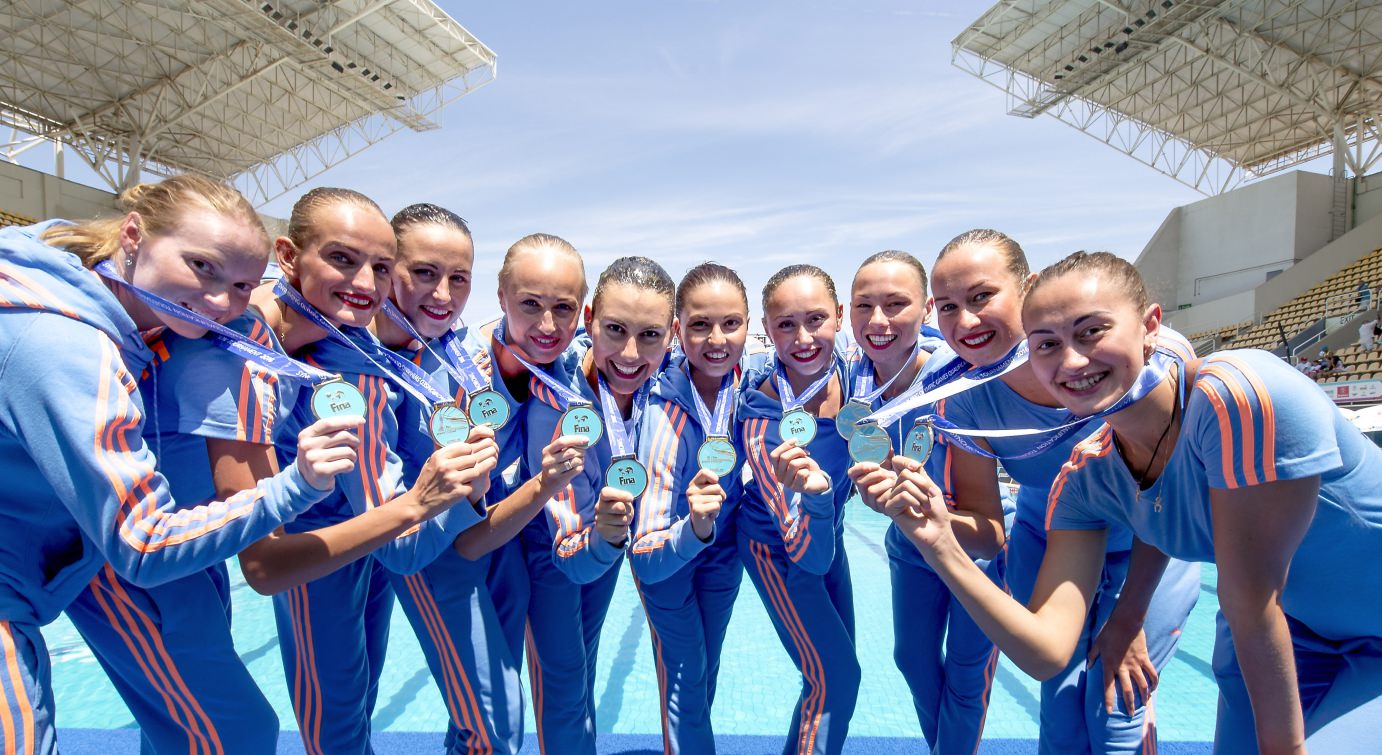 Ukraine has already made history by qualifying as a team to the Olympics for the first time ever. Moreover, they hired former Spanish national team coordinator Anna Tarres to choreograph brand new routines that they will swim for the first time in Rio. This could be a risky strategy as the routines haven't really been tested yet and haven't gotten much feedback from the judges, but we cannot underestimate Tarres' work. She is renowned for her risky and unique artistry, and the routines she created for Ukraine will certainly deliver, just like the ones she made for Spain did. They have been kept under wraps, so it will be a surprise for all of us.
Japan's team is experienced, returning five Olympians from 2012. Additionally, head coach Masayo Imura is back at the helm of the program after working with China's team and leading them to the top of the sport's hierarchy. Imura is now hungry for more and wants to see her home country back on top of the Olympic podium. Japan's rise has been impressive over the last two years and this team will fight for this medal. Japan had unveiled all their Olympic choreographies at the test event back in March, so we should see the same core choreography with some likely modifications and adjustments. Japan's strength is technical difficulty and speed, and that is what ultimately gave them the edge over Ukraine in the duet event at these Olympics.
Italy caused quite the upset at the test event by qualifying to the Olympics over Canada and perennial European synchro-power Spain for the first time since 2004. It is so exciting to see them back at the Games and for another team to cause some changes in the synchro hierarchy. While not in medal contention, the Italians will likely present some interesting programs as they are renowned for their powerful throws and innovating choreography.
Brazil, Egypt and Australia round up the team competition, and we can surely expect the home crowd to get loud and rowdy for their swimmers. Australia has already announced that their free team routine will portray their own fauna and flora with the overall theme of "Australian outback."
For a full list of participants, please click here. Start lists are here. The schedule is also available here, as well as help to find out about live streaming information and live scoring.
Article by Christina Marmet