The race was on last weekend during the 2017 U.S. Collegiate National Championship between the Ohio State University (OSU) and defending champions Stanford University in Columbus, Ohio. However, the host team came out victorious with a large margin and a total score of 100 points over Stanford's 80 after winning the team event in the last finals of the competition. Rounding out the top five were Lindenwood University (71 pts), the University of the Incarnate Word (68 pts) and the University of Florida (50 pts).
The preliminary scores between OSU and Stanford didn't foreshadow such a big gap between both during Saturday's finals. Indeed after all prelims were completed, Stanford was actually sitting in first place in all events but the solo, and by sometimes more than a point ahead. The Cardinal was heading in as the favorite, but with the home court advantage, it was also obvious that it very well could go in favor of the Buckeyes.
Indeed and feeding off the crowd's energy, the Buckeyes put out incredible performances during finals and won the solo, duet and team events. Stanford was victorious in the trio competition but had to settle for second place in the solo and team event, and third place in duet.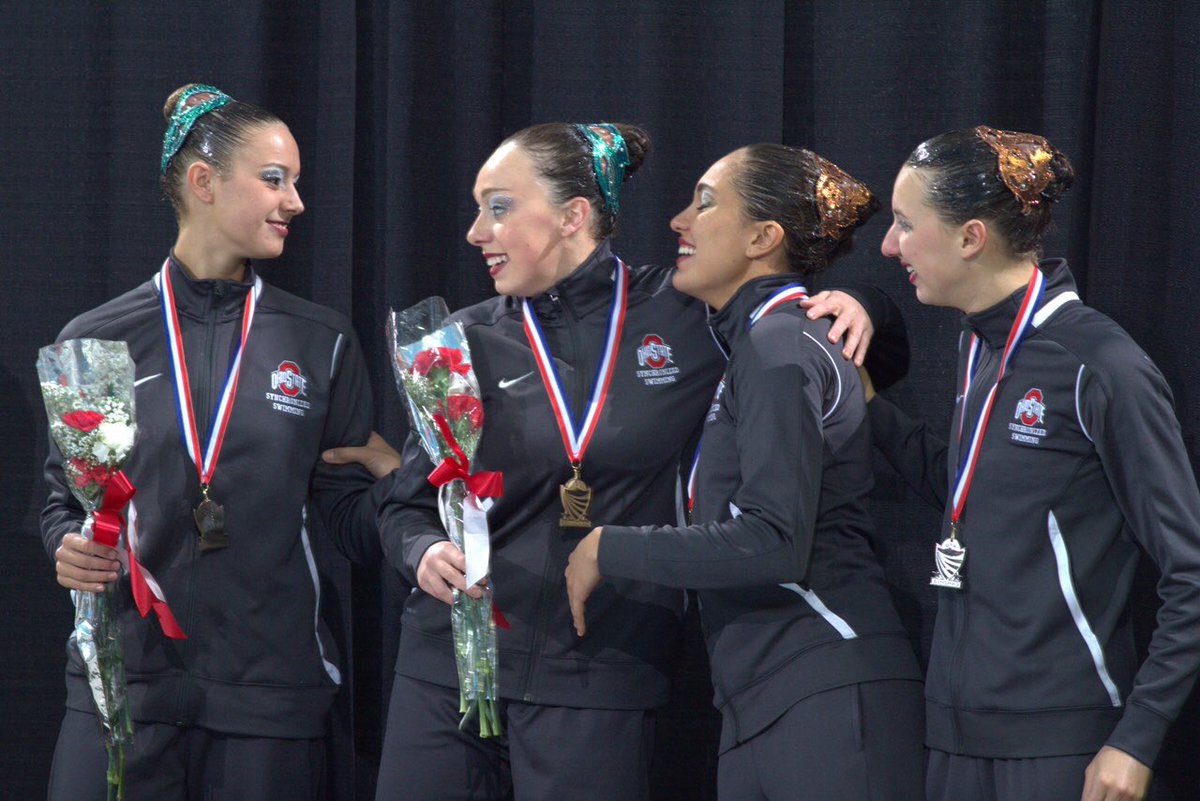 The day started off fantastic for Stanford, which swam a clean trio to win the event with its A squad with a score of 84.1167, while its B squad placed third. The Buckeyes were not able to top the Cardinal despite a more original albeit less precise routine. The tide turned in the next event as both duets from OSU placed 1-2, starting a momentum that it would ride until the end of the day. Emma Baranski and Elizabeth Davidson won the event with their heavily Russia-inspired mermaid duet, and were followed by teammates Alyssa Hoying and Monica Velazquez-Stiak. This was actually OSU's first duet title since 2010. All four athetes are currently on the U.S. national team training squad. In the solo event, Baranski successfully defended her title by a landslide (85.2667) with a gorgeous swim to Rihanna's 'Love on the Brain,' over Stanford's Clare McGovern who placed second with a 83.1333, and Aly Haylor from Lindenwood (81.9333).
The team event brought more success to the Buckeyes as their A squad won gold with their 'Nightmare' routine (85.1333). This routine was successful at creating a creepy atmosphere, and at showcasing great choreography, speed of execution and pattern changes. The lifts and throws were a bit underwhelming here (our expectations are always high for OSU's acrobatics), but the artistry was excellent. The B squad placed third, but was extremely impressive with its gigantic throws and strong lifts, like the hand-to-feet one that ends in a 360° turn. Once again, Stanford had to settle for silver after a clean swim and a score of 84.4333.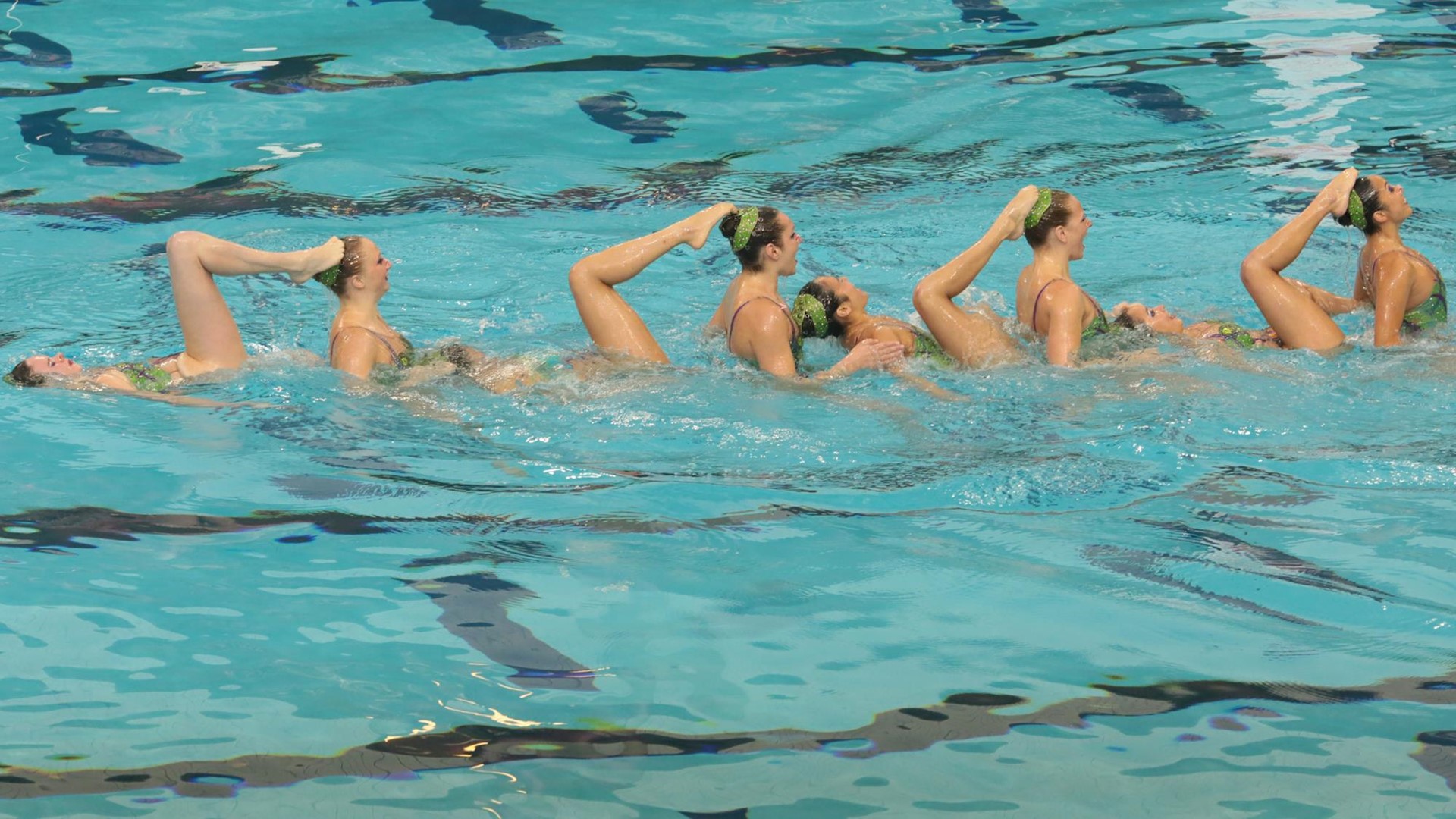 Lindenwood University trailed OSU and Stanford throughout the competition. After missing from last season's U.S. Collegiate Nationals, the Lions came to Columbus with a seemingly different strategy than in the past. They presented a lot of small routines – three solos, three duets and four trios, – but just one team routine with only seven swimmers (yet two alternates), and it was a repeat of last year's hip-hop choreography from U.S. Nationals. An incomplete team was quite surprising, as Lindenwood has a big roster and should easily be able to field a full team, if not two. Besides, as evidenced by the number of small routines, it has enough healthy swimmers to do so. At the time of the competition, LU's strongest swimmer Vasilisa Mironova still appeared on LU's roster, which led to questions about her status and absence from the event. She and Mary Killman used to be duet partners and have won numerous collegiate and national titles the last two seasons. However at the time of this article (March 29th), it appears LU finally updated its roster and has removed a few swimmers, including Mironova, unfortunately.
The University of the Incarnate Word was on LU's heels the whole day but was never really able to catch up. It has been a season of adaptations for the Cardinals as they again experienced some coaching changes, and hopefully next season will bring more stability to the program. The A squad's routine was on the theme of 'Elephants,'  which is a peculiar choice in a sport where it's important to always appear light and graceful. That said, the routine was fun and original, though not as clean and precise in the execution to really challenge for a podium finish. It finished fifth with 80.9000 while the B squad posted a 77.6333 for seventh place. Former French national team member Camille Guerre gave UIW its highest placement of the day as she placed fourth in solo with a routine to Edith Piaf "Non, je ne regrette rien."

You will get a chance to see again a few of these teams at the 2017 U.S. Nationals in Oro Valley, Arizona from April 4 – 9. You can find all the results and videos from finals of the 2017 U.S. Collegiate National Championship here.
Article by Christina Marmet