The Canada Open was the fourth leg of the FINA World Series and just concluded in Toronto. This competition had originally promised to give us a showdown between Ukraine and Canada, but it quickly became all about the Ukrainians as the home team was forced to withdraw from a few events due to injuries to some of key swimmers.
Indeed, Ukraine swept the competition and won all eight events it entered. Unfortunately, the Ukrainians were also the sole international competitors in three of these events (free team, free combination and highlight). Nevertheless, they showcased world-class routines and scored above 90 on all of them.
Anna Voloshyna led Jacqueline Simoneau (Canada) and Colombia's Daniela Dominguez Daza in the technical and free solos. Voloshyna was most pleased by her free routine performance: "I think this is a little bit about me and my husband so I feel that (it comes) from my heart," she explained in the post-meet interview. "It's more emotional and I did some moves not from synchronized swimming but from ballet and dance so I like it more."
Simoneau faced a quick turnover from the Japan Open last week and got very little rest, but she was able to conquer the home crowd and to continue feeling more comfortable with her new routines. She scored a 89.9691 in the technical routine and a 91.6000 in the free event. In third place was Columbia's Daniela Dominguez Daza, and in fourth came Aleisha Braven from New Zealand.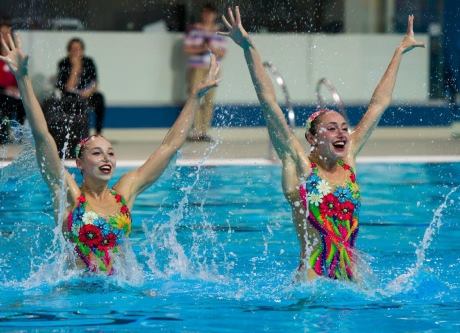 Voloshyna and her duet partner Yelizaveta Yakhno took the crowd by surprise and unveiled a brand new free duet in this competition, staying close to a classical Ukrainian style and music. They had created it only three weeks before according to Voloshyna, so we can only expect it to get better as we get closer to Worlds. The routine was fast paced, loaded with technical difficulty, and will undoubtedly be a contender for a podium finish. First-year senior Yakhno had big shoes to fill in this duet after Lolita Ananasova retired, but she once again proved she was more than up to par with her predecessor. In the technical event, the pair kept the same routine from Rio which highlights traditional music and costumes.
The Canadians Simoneau and Karine Thomas grabbed the silver medals in both technical and free duet events, and were followed by New Zealand's Eva Morris and Jazzlee Thomas for the bronze. The latter showed off a fun and lively free duet inspired by Maori culture and featuring some well-known Haka moves and music.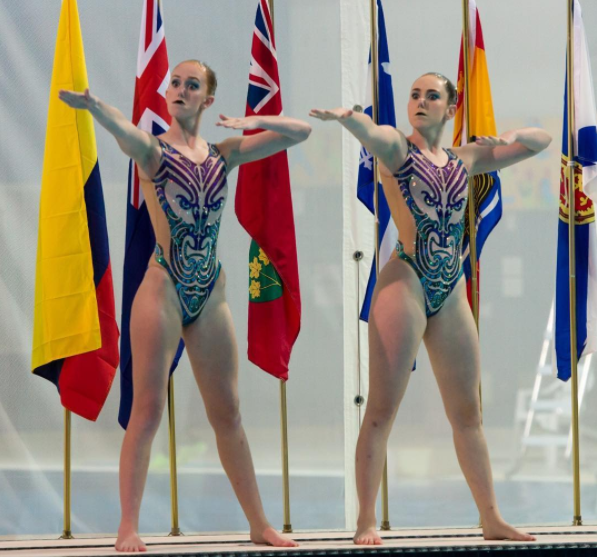 In the team-oriented events (technical team, free team, free combination and highlight), Canada faced difficulties and only ended up competing in the technical event. It actually was supposed to unveil that routine earlier at the Japan Open, but a few team members sustained injuries during practice just days before the competition. Coupled with injuries to other teammates before leaving Canada, the team was forced to withdraw there. In Toronto, four alternates were able to come in and swim the routine, but it wasn't quite enough to pull off the free team routine.
"I'm so proud of our whole team who came together to compete today," said Canada's head coach Meng Chen after the technical team event. "We had to switch people into new spots, and with only about two hours of practice time in total, they all rose to the challenge, and we are so proud of our swimmers."
For the same reasons, Canada was forced to withdraw from the free combination and highlight events, so we will just have to wait a little bit longer to see what Canada has in store for us this season. Consequently, Ukraine was left on its own. The Ukrainians presented their two Olympic routines with a few changes made since then to adapt to the new and younger swimmers. They also presented their same old, same old free combination routine that has been around since 2015. We can only Ukraine will pull off a "surprise free combination" like it did with the free duet, and will present a new routine in Budapest. It's about time.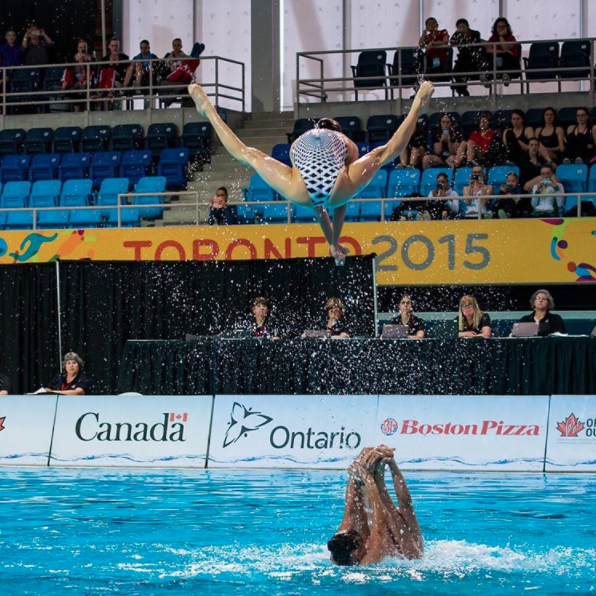 Finally in the mixed duet event, Canada was the sole competitor and introduced its new pair in Isabelle Blanchet-Rampling and Robert Prevost. They admitted the free routine was still a work in progress, but the two are excited to improve heading into the World Championships.
The next competition part of the FINA World Series is the Spain Open held in Las Palmas de Gran Canaria from May 25 – 28, where Ukraine has already announced its participation.
Article by Christina Marmet
Cover photo by Dan Robichaud.