The first medals of the 2017 FINA World Championships were awarded on July 15 following the technical solo event. Russia's Svetlana Kolesnichenko captured her first individual gold, while silver was awarded to Spain's Ona Carbonell and bronze to Ukraine's Anna Voloshyna, making it her first world medal in the solo event.
Kolesnichenko's debuts were highly anticipated at this competition as the new Russian soloist and with big shoes to fill after the retirement of Natalia Ischenko and the break of Svetlana Romashina. Kolenischenko had never competed internationally in a solo before, but she dit not disappoint and proved she was more than up to the task.
"It was far more difficult to be up to the expectations and the responsibilities here than when I first appeared in 2011," she explained. "I was very nervous, especially in the preliminary round because this was my debut in solo at Worlds. The last time I performed a solo routine was at a Junior Championship back in 2009."
She completed a graceful and light swim to a slow Opera music, and was awarded a score of 95.2036. Her elements and overall performance was even better than during preliminaries.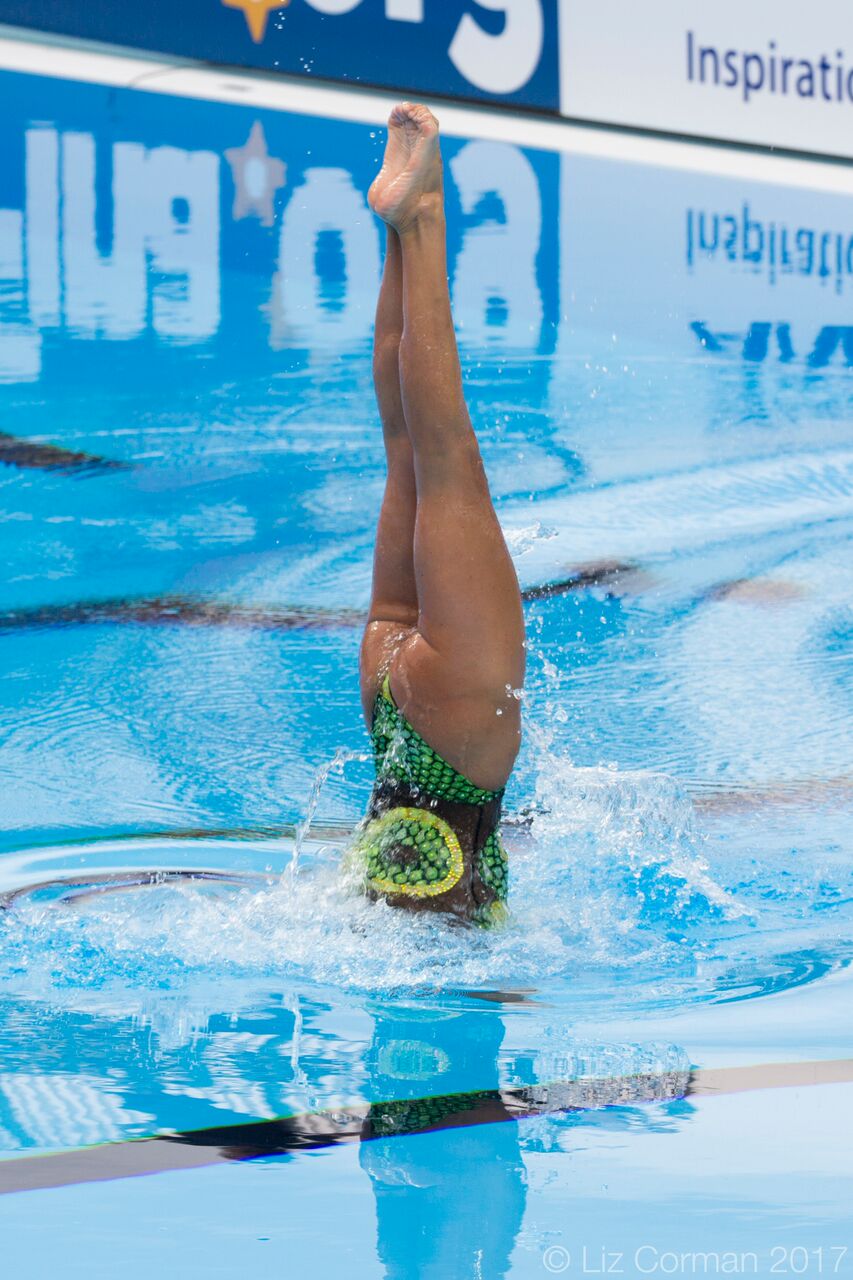 Carbonell successfully defended her silver medal from the 2015 World Championships with her 'Snake' routine, and received a score of 93.6534.  She was a bit tight and 'jumpy' on her elements during prelims, but looked calmer and more confident in finals, which made her score increase by about 1.3 points.
"[In the routine], I am a snake trying to capture an animal. In the middle I try to catch it and fail, but in the end I win," she said. "We tried a combination of elements and explosive movements, and used the story to transform me into a snake. I worked a lot inside and outside the water. I'm happy with my performance."
Bronze went to Ukraine's Voloshyna with a 91.9992, barely edging out Japan's Yukiko Inui and her 91.7490. Voloshyna was already ahead of Inui in 2015 and earlier this season at the MUFE French Open, but the scores were really close between the two after prelims in Budapest.
This is Voloshyna's first medal in solo, but fifth overall at a world championship. The Ukrainian's dramatic and heartfelt routine showed maturity and stability in the elements, and won the judges over.
"We specifically allocated a lot of time to selecting the most appropriate music," she said. "The reason why I picked a Ukrainian folk song is because it's very close to my heart. I like it so much that it helped me show my best."
Canada's Jacqueline Simoneau got fifth place with a 89.5000, while Italy's Linda Cerruti received 88.3369 for her swim for sixth. Evangelia Platanioti from Greece landed in seventh with 86.5328.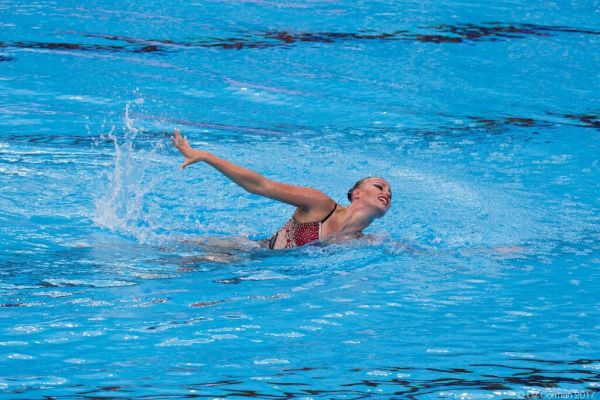 We rarely get to see North Korea outside of the world championships, and it was nice to see the nation back again this year. Hae Yon Min finished in ninth with a 83.1769, an improvement on the 11th place in 2015 of the soloist at the time Kang Un-ha.
Mexico was back in the solo event with Joana Jimenez after not entering anybody in 2015, and only Nuria Diosdado in the free event in 2013. Jimenez is an experienced swimmer with numerous years on the national team, but was here making her debuts as a soloist on the world stage. Jimenez finished tenth with a score of 82.4507 to a routine set to Christina Aguilera's "Hurt."
While the veterans dominated the top of the rankings, a few younger swimmers were just as impressive, and showed great promise heading into the next seasons. It was great to see many new countries in finals compared to 2015, and such changes can only be good for the sport.
Vasiliki Alexandri (Austria) was competing at the World Championships for the first time in her young career, and finished at a great eighth place with a score of 83.9967.
"I enjoyed it more than yesterday," she said. " Yesterday I was really nervous because it was my first world championships in solo. I'm very happy today and that my family is here to support me."
Similarly, Liechtenstein's Lara Mechnig was at her first Worlds, and made history for her country by not only making finals but also by finishing 11th with a score of 81.8521. Mechnig has been improving steadily over the last few seasons, and she is still only in the junior category.
"I was really, really excited [to make finals] because I really wasn't expecting it at all," she said. "It's a great experience especially since I'm still really young compared to the other athletes."
Switzerland's Vivienne Koch also made finals for her first World Championships as a soloist and as a last-year junior swimmer. Koch had great results in Belgrade at the Junior European Championships, and it is a delight to see her in finals here. She finished 12th with 80.2700.
"[My performance] was better than in prelims," she explained. "It's really exciting to be here, to make new experiences and learn, because I've never been to an elite world championship and have never done a solo tech in international competition before."
Article written and interviews by Christina Marmet.
All photographs by Liz Corman.