The mixed duet event is undoubtedly one of the most exciting ones here as the hierarchy still isn't really set in stone and anything is possible. And today, nothing was impossible for the Italian pair. Manila Flamini and Giorgio Minisini made history by winning the first World gold medal for their nation with a score of 90.2979, ahead of Russia's Mikhaela Kalancha and Aleksandr Maltsev who scored 90.2639. The U.S. duet of Kanako Spendlove and Bill May, the defending World Champion, grabbed bronze with a score of 87.6682.
Italy's routine "A Scream from Lampedusa" had already won the crowd over during preliminaries throughout their heartfelt and poignant performance on the theme of the refugee crisis. With a choreography from Anastasia Ermakova and an original score from Michele Braga, the routine shakes you to the core and cannot leave anybody indifferent.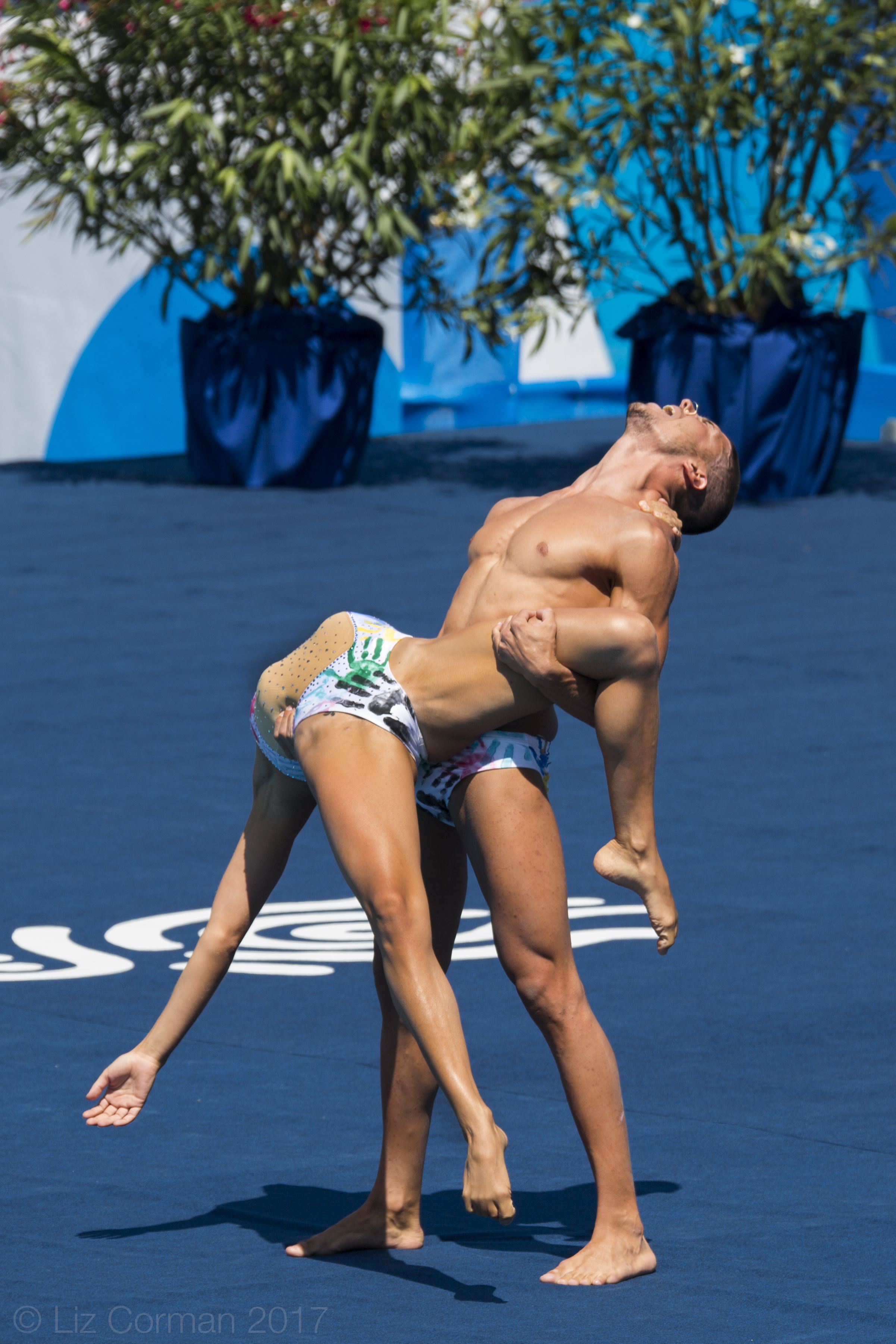 "We started with the idea to do something that was actual and representative of Italy," explained Minisini.  "[Flamini] thought about the earthquake, but our composer told us that to do three minutes of music on the earthquake idea was a bit complicated. So we turned on another big problem in Italy, the refugees that come every day on our beaches. We wanted to do something more than a nice exercise, this is a big event, this is a big opportunity to talk about something serious."
Furthermore, the Italians never hid their motivation and ultimate goal to win the gold medal here, which is something very refreshing to hear as essentially everyone views the gold as something unattainable.
"We have worked every day this year not to do the same results as in Kazan," said Minisini after their preliminary swim. "We just don't want to confirm that we are good because we know we are good. We want to show we are the best. We are here for the best."
And they did just that today by becoming the 2017 World Champions. Minisini was still startled and in disbelief of what he had just accomplished.
"Every day of the year we have worked for this, to get on top," he said following finals. "We didn't expect it immediately because we know it's so hard to get three, four, five points more in synchro. Usually, it takes three to four years for a team to get five points more. Going 90 here was insane, we couldn't think about this."
Russia's routine was choreographed by Gana Maximova and displayed great speed and precision on technique. As for theme, they wanted to create their own version of Bizet's Carmen.
"We wanted to represent and show passion, that was the focus of our performance," explained Maltsev. "We gained inspiration from looking at [great Soviet ballerina] Maya Plisetskaya, and other ballet dancers and choreographers who did Carmen."
While evidently disappointed by the final results, Kalancha admitted this would give them a push and motivation heading into the mixed free duet event to fight for this gold medal.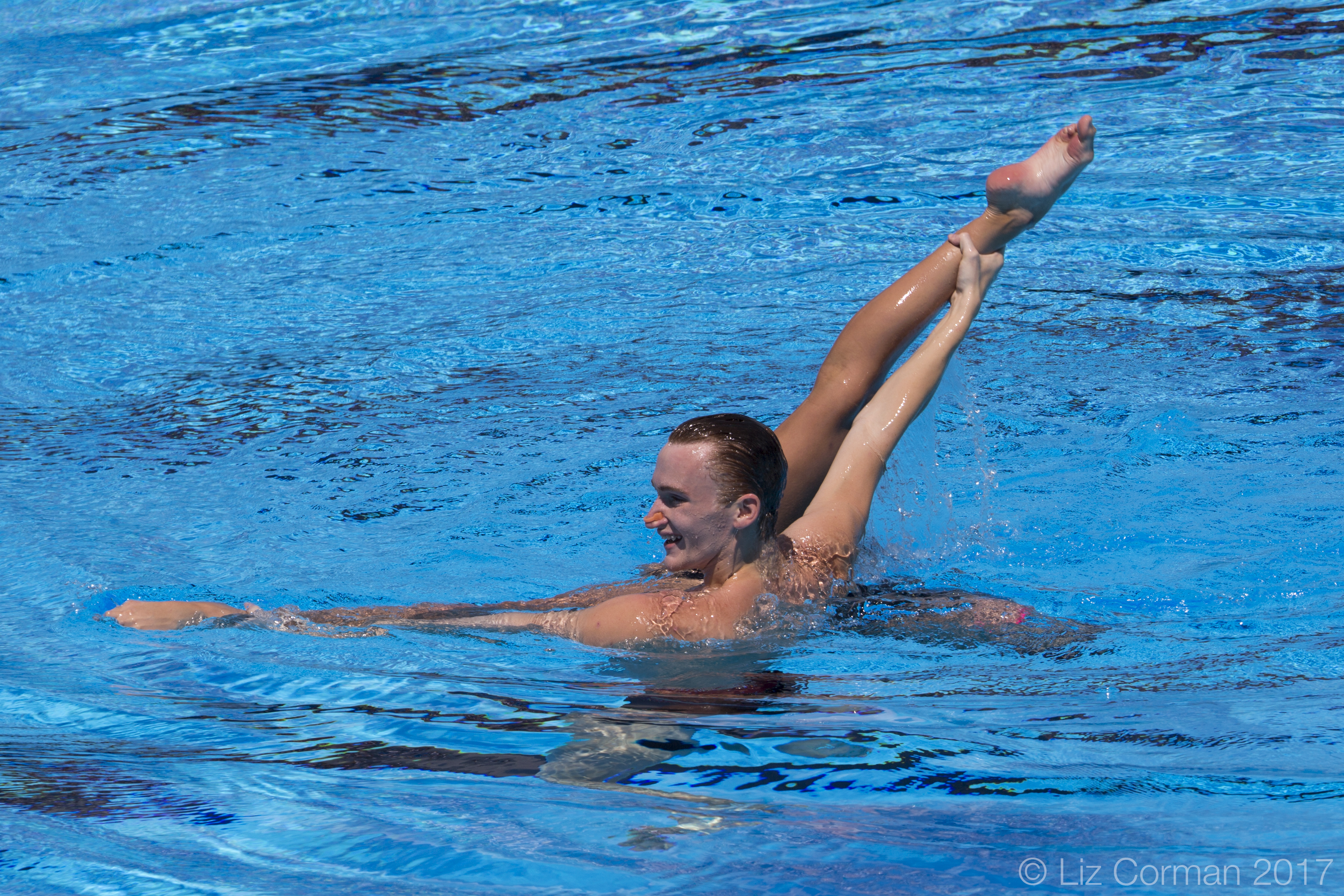 The U.S. duet of May and Spendlove performed a fun, catchy routine to "Baby Did a Bad Bad Thing" for a score of 87.6682 and the bronze medal, a lower score compared to prelims despite a better swim in finals.
"We really wanted something to show the energy of an American spirit," explained May. "This is a little rock'n'roll, a little bit fun, a little playful. We really wanted to showcase again a man and a woman doing synchronized swimming, and not do the same kind of routines a male/male or female/female would do."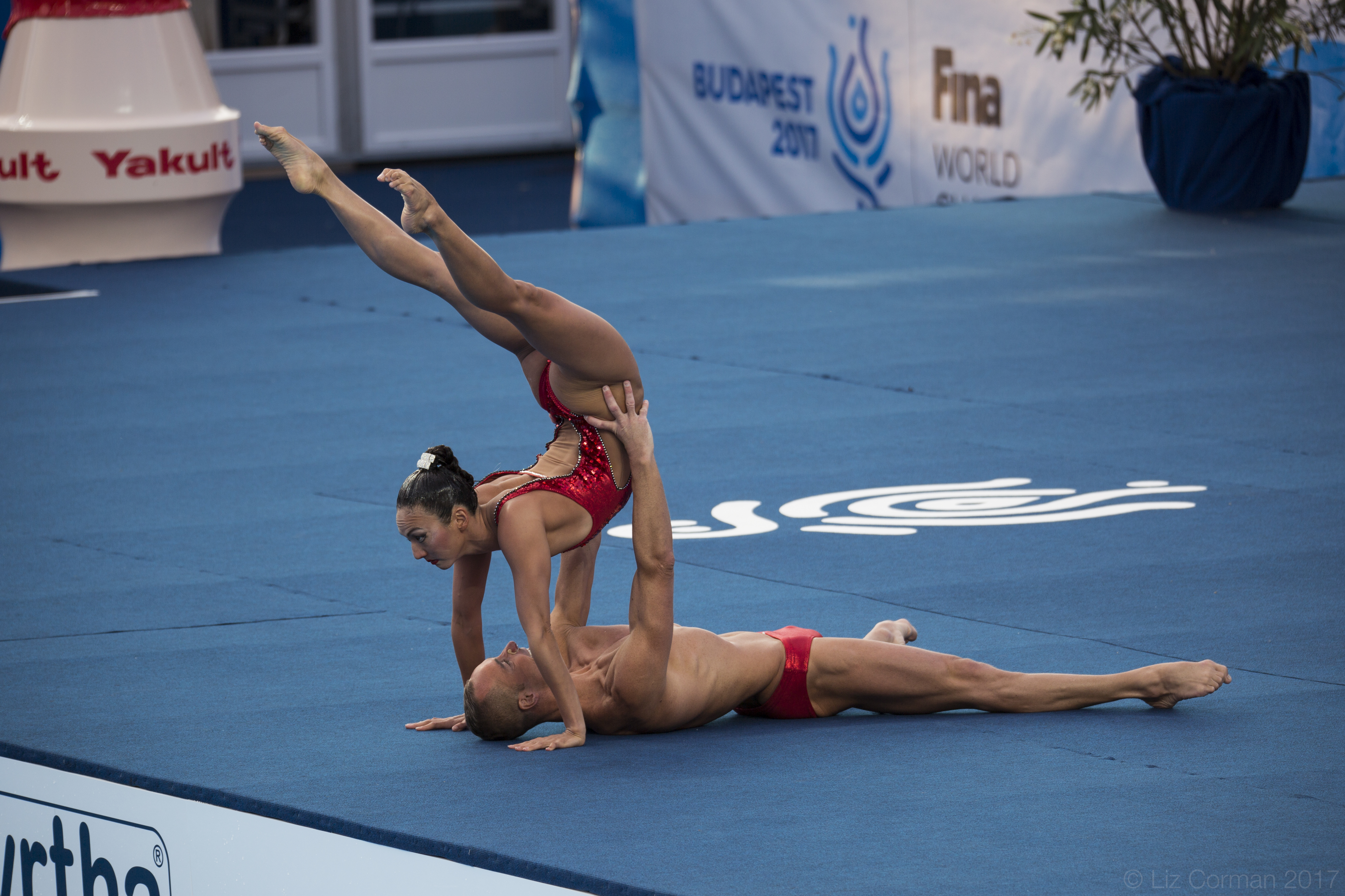 Their training schedule has been nothing less than hectic, but their passion for the sport and devotion to grow the mixed duet event knows no limits. May and Spendlove both work for the Cirque du Soleil show 'O' in Las Vegas, while training during the day for these championships, and flying back to California on the weekends to train with their coach Chris Carver.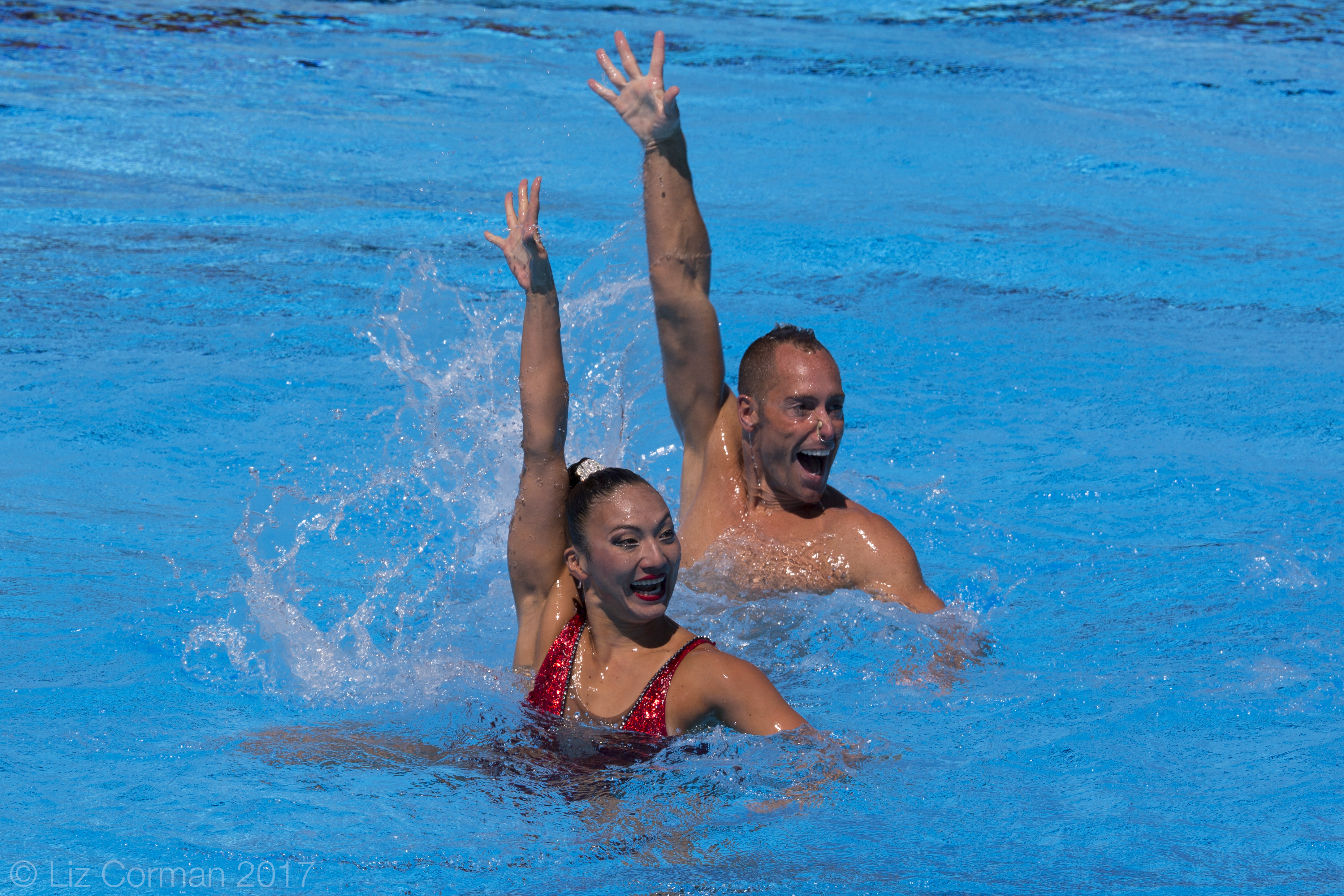 When asked if disappointed about winning the bronze medal, May only focused on the big picture.
"No, [I am] not disappointed because it just shows the progression of the other mixed duets," said May. "All the men are progressing and getting stronger. We also now have Panama here, Greece, Brazil, Germany who weren't there last time. This is great."
The Japanese pair of Atsushi Abe and Yumi Adachi continued their steady progress since 2015 by placing fourth with a score of 86.2679, gaining a huge four points since Kazan. Berta Ferreras and Pau Ribes from Spain swam to a techno/base remix of "Bang Bang" and "Animals", and landed in fifth with a score of 84.3336.
The new Canadian duet of Robert Prevost and Isabelle Rampling snatched sixth place with a score of 82.3413. Prevost was paired with Stephanie Leclair back in 2015. Canada wasn't entered in the tech event then, so it is great to have them here. The two have officially been training as Canada's mixed duet since their national championships in May. Their technical routine was choreographed by Denise Sauve and plays along the theme of the Inferno and the angels vs. demons battle.
Just like the American pair, Prevost and Rampling have had to work around their professional work schedule in order to prepare for this competition. They both are coaches at the Club Aquatique de l'Est de Montréal, and Rampling also choreographs and works with other nations.
"Our schedule has varied a lot this season," said Rampling.  "We both have jobs during the day, and because it's not yet an Olympic discipline, support is not yet the most obvious thing. So we do actually have to work around our current work schedules. The last two to three weeks have been great, we got to catch up on a lot of time we had missed, but initially [it was] not enough."
Prevost and Rampling were thrilled to be in Budapest and to enjoy the experience as a fairly new duet, and hoped this can help grow the mixed duet event.  
Brazil's Renan Alcantara and Giovana Stephan swam to the music of  'Sleeping Beauty' and featured an impressive opening lift when Stephan falls parallel to the surface in a split position. They received 79.0853 for seventh place.
Germany's duet of Amelie Ebert and Niklas Stoepel presented a 'Mambo' routine for a score of 70.2584 and an eighth place finish. The two were thrilled to be here amongst the best and at their first world championships as a pair. When asked about personal favorites, Ebert was in awe of Bill May, the pioneer and most hardent advocate for men in synchro.
"[The] Russian team is very good because they are so exact," she said. "But I really like Bill May and his partner because… it's like art. It's not synchro, it's art what they are doing."
Greece obtained 69.8654 for ninth, while Panama rounded out the rankings with a 59.8297 for tenth place.
The number of technical mixed duets nearly doubled from 2015 to this year, and we can only hope it will continue to grow in the next few seasons. When asked about the future of men in synchronized swimming, all three medalists had very similar answers.
"[The] progression needs to come from the grassroots, and to continue to get more men," said May. "Right now we want numbers. The quality is improving, but first we need numbers."
Maltsev echoed the sentiment, admitting that the evolution of mixed duets was good, but that he hopes to see even more pairs in the next FINA World Championships.
Minisini agreed, and recognized the future of men in synchro is with in the younger generations: "In Kazan there were only six tech routines and 10 free routines. Today we are 10 and 11. It means more people have trust in this. I think the future could be very nice for men in synchronized swimming, it's important young boys start because they are the future." 
Article written and interviews by Christina Marmet.
Cover photo by Liz Corman.