The 2018 U.S. Collegiate National Championship is set to begin on March 29th in Oro Valley, Ariz. The Ohio State University will be on the lookout for a repeat of last year's performance to win its 31st national title, but it won't be an easy task as its main opponents Stanford University and Lindenwood University are very much in the race too.
Collegiate nationals gather most university teams from all over the United States as they compete for the overall national title, as well as in the solo, duet, trio, team, and figures events. Many of these schools boasts some of the best swimmers in the nation, and the competition is always fierce to claim the national title.
The reigning champion the Ohio State University (tOSU) has had an undefeated season, but with a relatively easy schedule as it has not competed against its main rivals Stanford and the University of the Incarnate Word. The Buckeyes faced the loss of a stellar senior class in Alexa Aton, Emma Baranski, Morgan Boneberg, Elizabeth Davidson, Lorraine Hack and Sarah House. While they will certainly display incredible skills and choreographies once again, they may not have as much of an edge as it had last year for the national title.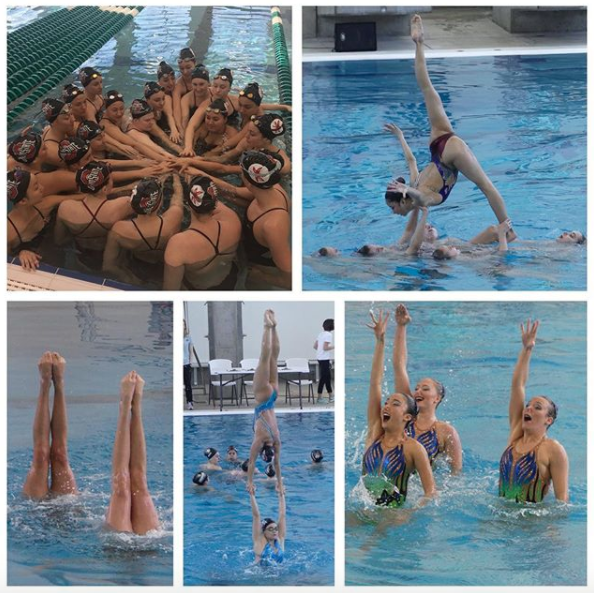 This season, sophomores Laila Huric and Breanna Malone are both entered in solo with the hopes of living up to Baranski, two-time national champion in the event. Huric is a former member of the Italian junior national team, and has only ever swam team last season for tOSU so it will be interesting to see how she handles the spotlight. The pair of Alyssa Hoying and 2017 world team member Monica Velazquez-Stiak will be one to watch in the duet event. The two grabbed the silver medal last year and are now coming for that national title. As usual, tOSU will compete two full teams, which finished first and third in 2017.
Stanford wasn't too far behind the Ohio State University (tOSU) last year but could not quite overcome the domination of tOSU on all events except in trio. Unlike the Buckeyes, the Cardinal returns most of its top athletes to this year's championship and can only use this to its advantage to win it all. Senior Clare McGovern is the favorite to win the solo title as she placed second behind Baranski in 2017. Stanford's duet of Sandra Ortellado and Erica Slavin will be back and aim to improve on its third-place finish from last season and to overtake the duet of tOSU's Hoying and Velazquez-Stiak, while teammates Rachel Hyon and 2017 world team member Jacklyn Luu will form Stanford's second duet. The reigning national champions in the trio category McGovern, Slavin, Ortellado will return to defend their title.
Stanford's team routine that earned it silver in 2017:
Once again this season, Stanford has a big enough roster to field two team routines, which should immensely help if it hopes to overtake tOSU in the final points tally for the overall national title. Both teams have not yet met this season, so it is hard to tell who will come out on top, but needless to say it will be quite an exciting and tight matchup to finally have them in the same meet and go head to head for the national title.
Lindenwood is coming in with a lot of potential for upset especially after encouraging results at the North Regionals a few weeks ago where its soloist Kyra Hoevertsz tied Huric, and its trio beat both of tOSU's. The Lions faced a slight coaching change this season as Lori Eaton stepped down to a role of assistant coach and gave the reins of the program to the young Mikayla Francese. Last year, Lindenwood only had one team routine of seven swimmers, but a lot of small routines. This year, the Lions appear to come to Arizona with a more 'normal' strategy and will even enter two teams. Hoevertsz, who has represented Aruba at worlds multiple times, is paired with Shelby Kasse and Rebecca Richardson in the trio event; as mentioned above, they have already beaten both tOSU's trios once, so don't count them out of the title race.
The University of the Incarnate Word is also in the race for medals as it returns most of its roster and this experience could be key to improve on last year's fourth-place finish. Former French national team member Camille Guerre will be its soloist once more, and both the duets of Sarah Rodriguez and Madeline Walker-Byron, and Guerre and Beatriz Regly will be back. Just like its main rivals, UIW has entered two full team routines. UIW and Stanford have already competed against one another this season, and the Stanford Cardinal had the clear edge over the UIW Cardinals, so the latter will need the former to make mistakes if it hopes to overtake it.
Camille Guerre in 2017:
While not in contention for a national title, make sure to watch routines from the University of Florida, Wheaton College and the University of Arizona; all are expected to easily make it into finals and often have entertaining and fun routines.
As a reminder, the U.S. Collegiate National Championships employ a team high point scoring system where routines and figures earn points for placement to determine the overall champion. Figures are split into four groups, from A (hardest) to D (easiest), and these match the FINA age group figures. So D figures will be the same as 12 and under, C figures like the 13-15, B figures like junior figures, and A elements match the technical team elements. Figures do not count towards the routine scores, and are a completely separate event. Then, we have the usual routines from any competition: solo, duet, and teams. We also have trios, which is an event popular in the U.S. but unseen in other international competitions. The top 12 routines in each event move on to finals.
Further information on the competition is available here.
Article by Christina Marmet.