The sixth meet of the FINA World Series just concluded in Madrid, Spain. The home team won all seven events it was entered in and presented its new free team choreographies. Switzerland's Vivienne Koch grabbed the remaining two gold medals in the solo events, and no nation was entered in the highlight event. At the domestic level, C.N. Kallipolis dominated the competition and came away with eight gold medals.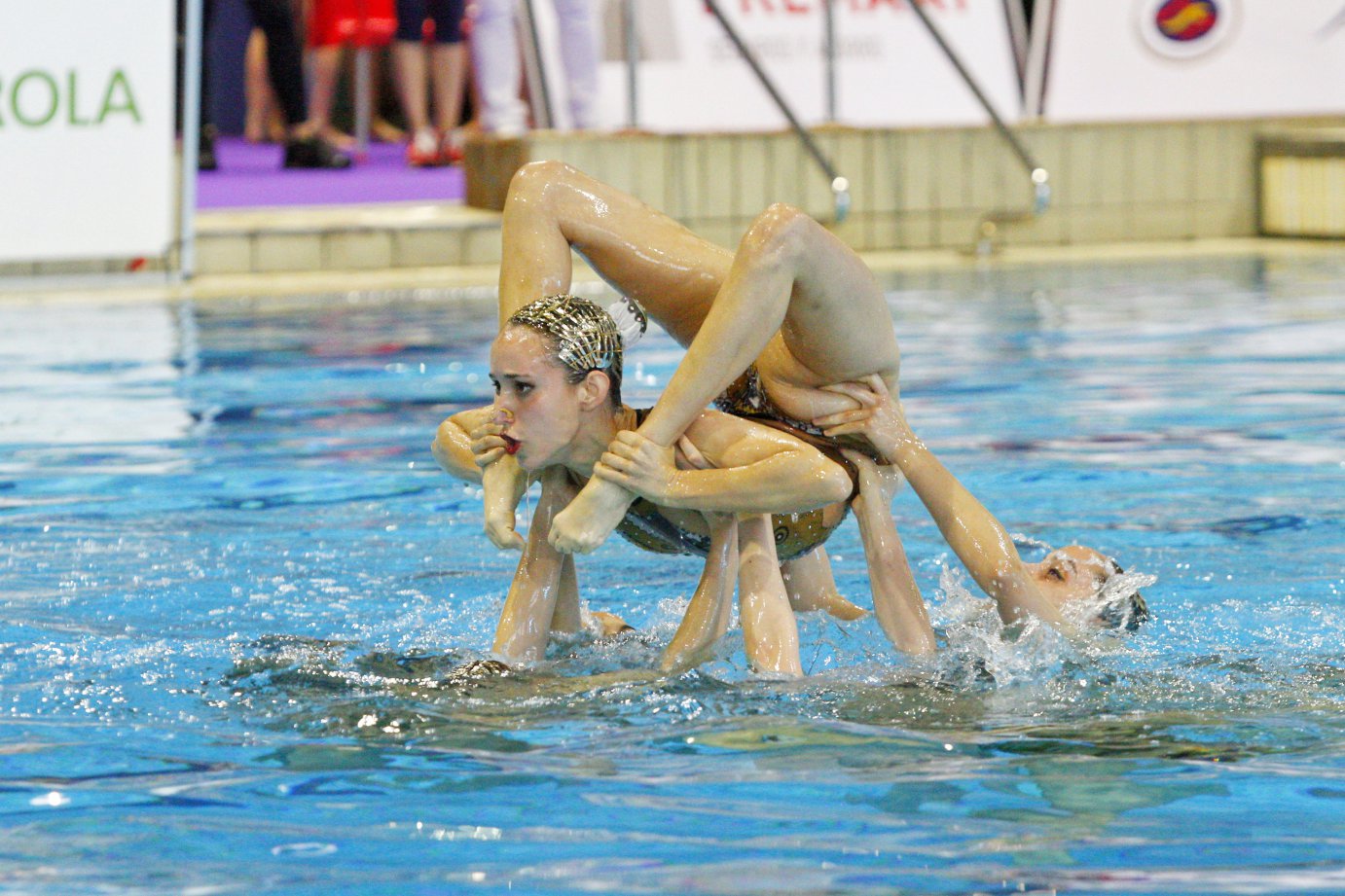 After debuting both of its technical routines in Japan, Spain finally unveiled its highly anticipated new free team routine in front of its home crowd. The choreography depicts a story based on the life in a factory, how a worker's day begins, but also how the machines get going on creating a finished product; a metaphor adapted to the eight athletes where each piece (or swimmer) is essential to arrive to a final and complete result.
The routine was very impressive for a first time out. In typical Mayuko Fujiki style, it is extremely fast-paced without any downtime, and is filled with cadences throughout. The work with the angles and obliques during hybrids was excellent, the routine flows extremely well, and some of the lifts take great advantage of Berta Ferreras' ridiculous flexibility. The Spanish won the event with a 91.8332, which is already an improvement of multiple points from these last few years where they were hovering around the 88-90 points.
Paula Ramirez and Sara Saldana swam the free duet for the first time together. The choreography was sadly not new as the two used the flamenco duet that Ona Carbonell and Gemma Mengual originally showed off in Rio, and then that Ramirez and Carbonell continued swimming throughout the 2017 season. The routine was slightly modified and a bit faster than the original however, but the score here took a bit of a dip with a 89.9332 while Carbonell and Ramirez were between 91 and 92 all of last season.
Vivienne Koch from Switzerland had a fantastic showing in Madrid. She was able to edge out Hungary's Szofi Kiss for first place in both solo events, even though Kiss was ahead only a week ago in Budapest. By comfortably beating once again her teammate Gladys Jaccard, Koch will likely represent the nation at the bigger senior competitions this summer with these results.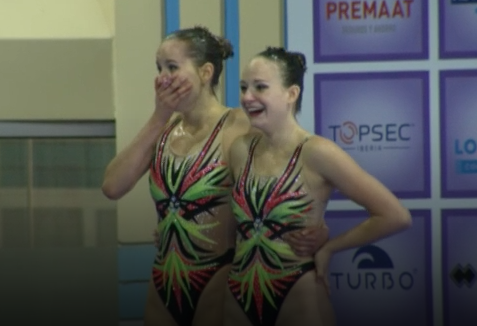 Additionally, the duet selection for Switzerland took an interesting turn. Koch and her duet partner Noemi Peschl had a much cleaner and sharper swim in the technical duet than at the Budapest Open. They entirely removed the first barracuda that gave them trouble last weekend and cleaned up their elements. The two were able to not only improve their score by over five points, but also to beat the other Swiss duet of Maxence Bellina and Maria Piffaretti by three points, 80.8343 to 77.7160. Bellina and Piffaretti did match their performances and scores from Budapest in both technical and free events, but it wasn't enough to overtake Koch and Peschl at this competition.
It was a close battle between the duets from the Netherlands of Bregje and Noortje de Brouwer, and Iryna Limanouskaya and Veronika Yesipovich from Belarus. The de Brouwer sisters were able to stay ahead in the technical duet to win silver over Belarus by the small margin of 0.1185. The two pairs have been very close all season in the free event, and the rankings have come down to sometimes less than 0.1 points. In Madrid however, the Belarusians were able to overtake the Dutch pair once again, 83.5332 to 82.2332 for the silver.
Kazakhstan competed in the technical team event for the first time this year where it got silver for 76.7253. The nation also showed off what is likely its junior duet for the year with Yana Degtyareva and Jennifer Russanova, as the duet of the Nemich twins are still around at the senior level. They finished seventh in technical duet and eight in free duet. It also introduced a mixed duet for the first time ever, and it's always exciting to see new countries in this event. The pair of Sofiya Lyakh and Olzhas Makhanbetiyarov only swam in the technical event for a silver medal, and both are still eligible for the junior category so we may see them later at the Jr. World Championships.
The solo events were wide open for medals, with only six competitors in technical and 10 in free. In addition to Koch and Kiss, Poland's Swetlana Szczepanska completed the technical solo podium by earning her first international medal ever with a bronze. Yvette Pinter from Austria was the bronze medalist in the free event. In the other events, Hungary improved by over a point since the Budapest Open in free combination for silver, with a roster of mostly juniors except for Kiss and Luca Renyi. It also won bronze in free team and only 0.1 points behind Austria.
At the national level, the club of C.N. Kallipolis absolutely dominated and basically won everything but the mixed duet where it did not have anybody entered. Some routines may have looked familiar to you, especially if you have been following the international circuit closely. Israel and C.N. Kallipolis essentially have the same technical team and highlight routines… both choreographed by Anna Tarres, evidently.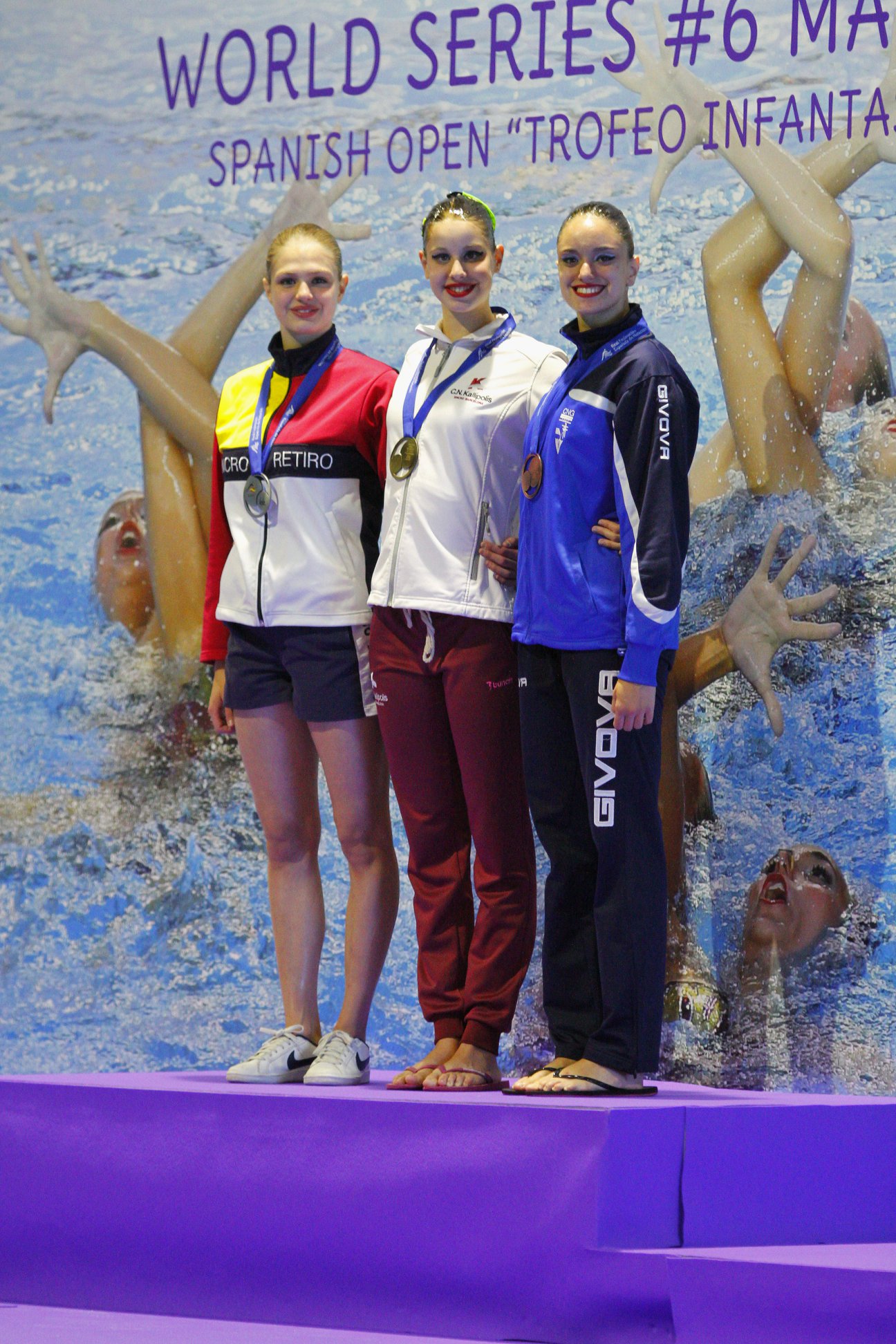 Iris Tio, current national champion and Spain's next big thing, won eight gold medals in Madrid. She has immensely improved and grown since last season and is now the country's top junior soloist by a wide margin. She's only a first year junior, so make sure to keep your eyes out for her in the next few years if she keeps progressing at this rate. Irene Jimeno from A.D. Sincro Retiro and Mireia Hernandez from C.N. Granollers are two other first-year juniors to watch for as well as they are both lovely in the water. Jimeno is actually paired with Tio in the duet for junior international competitions, and Hernandez is the alternate. Of note, the top six athletes in technical solos were all born in 2002, so this up-and-coming generation is very encouraging for the future of Spain.
You can find all ASWS results here, and all domestic results here.
Article by Christina Marmet