The 2018 European Championships concluded in Glasgow, Scotland, a few days ago. Russia won every event it entered (spoiler alert), but the real stories were happening a little further down the rankings, with many unexpected yet thrilling shakeups.
The free solo competition turned out to be one filled with surprises. For starters, Linda Cerruti from Italy won the silver over Ukraine's Yelyzaveta Yakhno. This was the first time in nine years that Italy had overtaken Ukraine in that event, when Beatrice Adelizzi won bronze at the 2009 FINA World Championships. This was quite an unexpected development, as Yakhno did have a solid 1.6333 lead after preliminaries. In the end, it was Cerruti's choreography – by Gana Maximova – and artistic impression that really allowed her to move ahead of the Ukrainian, and to make history for herself and the nation once more.
Spain's Iris Tió made a huge splash in her very first senior competition by scoring a gigantic 89.6000 and by beating experienced swimmers like Evangelia Platanioti or Vasiliki Alexandri. The 15-year-old transformed the moment she dives in the pool, and she swam and carried herself like a veteran. Tio is a diamond in the rough, and it is going to be thrilling to see how she matures and blossoms as a swimmer in the next few years.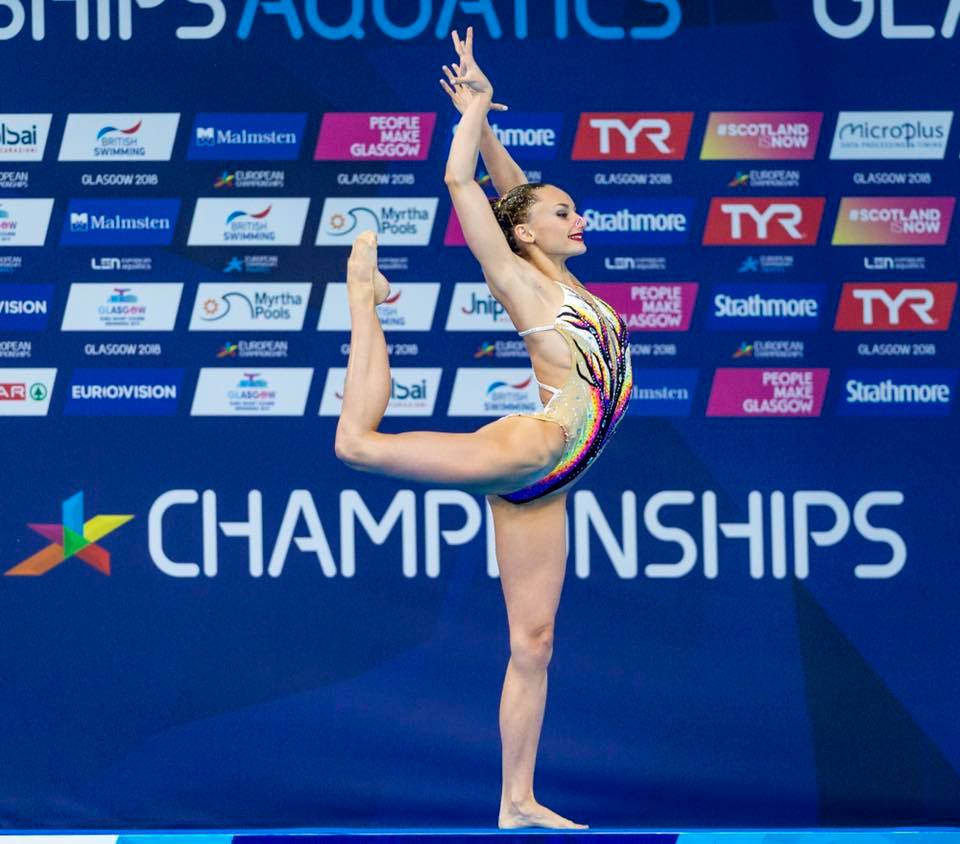 Eve Planeix from France also ended her season on a high note by finishing sixth, scoring a career-high of 87.3000, and placing ahead of both Austria's Alexandri and Belarus' Vasilina Khandoshka for the first time this year. Marlene Bojer from Germany also managed to finish ahead of Switzerland's Vivienne Koch, an encouraging result as she was 2.6000 points behind the latter at last year's world championships.
The technical solo event was a bit unforgiving to most of the swimmers, as the vast majority of them struggled on the last element, the now-infamous Barracuda Spin 720. A few zeros actually were given, but none were in the end confirmed although there was a bit of a confusion with France's Maureen Jenkins, who moved up and and down the rankings until eventually her element was approved. There, Spain's Irene Jimeno also made her senior debut like Tio, and she managed to place fifth and only 0.0375 points behind Platanioti.
The technical duet event was also a tight one for the bronze, as the Spanish duet of Paula Ramirez and Sara Saldana was only 0.2304 points away Italy's Cerruti and Costanza Ferro. The technical routine set to James Brown 'Superbad' was much improved since the Japan Open, the last time both nations went head-to-head and where the Italians had overtaken the Spanish with an almost a 1.500 points lead there.
Austria's duet of Anna-Maria and Eirini Alexandri had great results in that event as well, as it managed to confirm its ranking above the Greek pair from last year's worlds and scored 86.2548. France's Charlotte and Laura Tremble also had a good showing in Glasgow as they scored their career-high score of 85.0770 in tech. The other French duet of Maureen Jenkins and Eve Planeix however surprised by finishing ahead of the more experienced Alexandri sisters in free. The choice for selecting the official duet for 2020 hasn't become much clearer after this meet as both pairs had great results.
The Dutch duet of Bregje and Noortje de Brouwer confirmed the progress they've made all season and comfortably finished ahead of the duets from Belarus and Great Britain, both of which had the edge over the twins at worlds last year.
The technical team competition was a lot tighter and more exciting than anticipated, and it has probably never been so close between Ukraine, Italy and Spain. The Ukrainians did not have a great swim there, and one of their swimmers encountered difficulties throughout and had to be looked after once the swim was over. Italy and Spain ended up right behind them, and the Italians truly have never been so close. Ukraine finished at 90.7439 while Italy scored 90.3553. The reinvigorated Spanish team is also closing in on both nations as it finished only 0.4837 points behind Italy. The two were actually tied in execution and artistic impression, but the Italians did have better elements which ended up making the difference for the bronze medal. In free, there is only 0.1333 points difference between the two countries.
Of course, it goes without saying that Russia should feel pretty satisfied by its competition as well. The Russians only showcased one new choreography out of eight since last year in the technical mixed duet event, so top-notch execution was to be expected. While the synchro world has been aware of her talent for quite some time now, this was nevertheless Varvara Subbotina's first major senior competition and one that truly introduced her to the general public. She handled the pressure like a pro on her way to two titles with Svetlana Kolesnichenko in the duet events. Finally, the team showed off textbook elements, and its Continuous Spin 1440° was probably the best we've seen from anyone all year. We can only hope now that the Russians will come up with a few new choreographies for next season, especially after three years of the same technical team and free duet.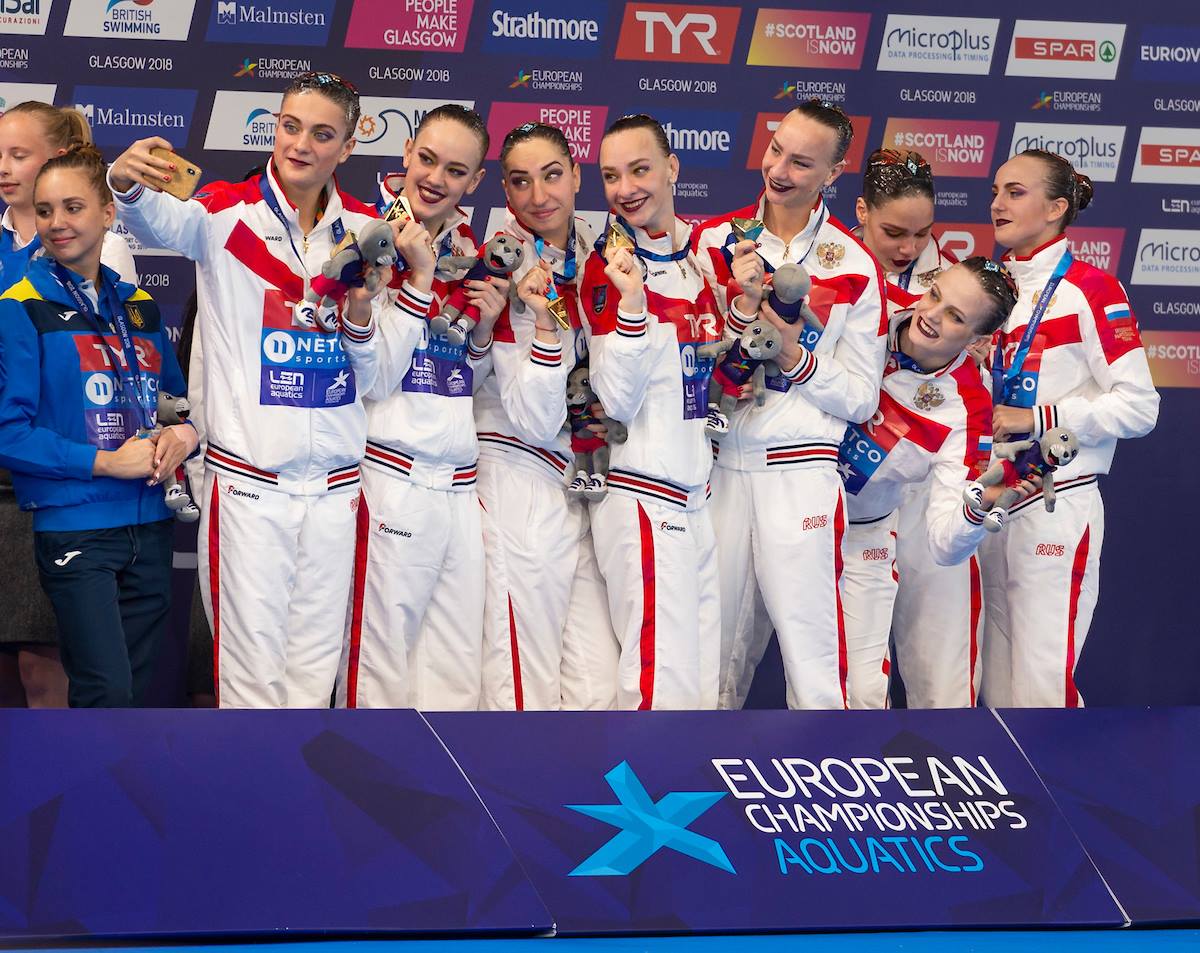 The French also had a good showing overall as a team, although they could not hide their disappointment of finishing sixth and behind Greece once more and despite being ahead after the free preliminaries. However, they managed to score 87.5000 there in final, their best score since 2012, and to showcase routines that are sharper, cleaner and more dynamic than in the last few seasons.
Moreover, Israel can be extremely proud of its season as it improved by 10 points in the free team event in one year only, and it showed solid, world-caliber routines in Glasgow. The team is quite young as well, and if it can keep handling the increased training regimen, it should only continue improving and climbing up the rankings. The nation is now definitely on the bubble for a world championship final next season.
Unfortunately, the team of Switzerland suffered a bad accident one week before the start of the competition during its training camp, and was forced to withdraw from the team events. It was quite sad as we did not really get to see the nation on the international stage at all this year.
Last but not least, the mixed duet event saw Russia's pair of Aleksandr Maltsev and Maya Gurbanberdieva defend both of its European titles from 2016, to the visible disappointment of the reigning technical world champions Giorgio Minisini and Manila Flamini from Italy. The Russians had a lead of 0.8880 in tech where they unveiled their new "Tango" technical program, and it is the artistic impression of this routine that really made the difference between the two, as the Italians had the higher score in the elements. The latter duet swam their free choreography – "The Duel" – that they had already shown at the Synchro America Open, but were still unsurprisingly 1.667 points away from Russia's "Sing Sing Sing" routine.
Pau Ribes and Berta Ferreras from Spain defended both of their bronze from two years ago. The young Greek duet of Vasileios Gkortsilas and Nikoleta Papageorgiou finished fourth in both events for its first appearance at the European Championship. Formerly a waterpolo player, Gkortsilas is the first Greek male synchronized swimmer and competed at the world championships in 2017, but with different duet partners. Finally, the Turkish pair only competed in the free event, but it was thrilling to see the nation once more in this event on the international stage after a long absence. Gokce Akgun and Rezzan Eda Tuncay placed fifth with their "Inception" routine.
The parity across the European teams is increasing and many nations are on the upswing. Seeing how close many of them are across numerous events sets an exciting scene for next season, as it will be a pivotal year with the Olympic qualification process already starting and with the 2019 FINA World Championships in South Korea.
Article by Christina Marmet.
Cover photo by Pasquale Mesiano/Deepbluemedia.