17-year-old Jelena Kontic is Serbia's up-and-coming talent in artistic synchronized swimming. 'Jeja', as she is called by friends and family, is dreaming of competing at the Olympic Games, which would be a first for the small European nation. She thrives to improve every day, and she refuses to let her diabetes define her or stop her from enjoying the sport that she loves.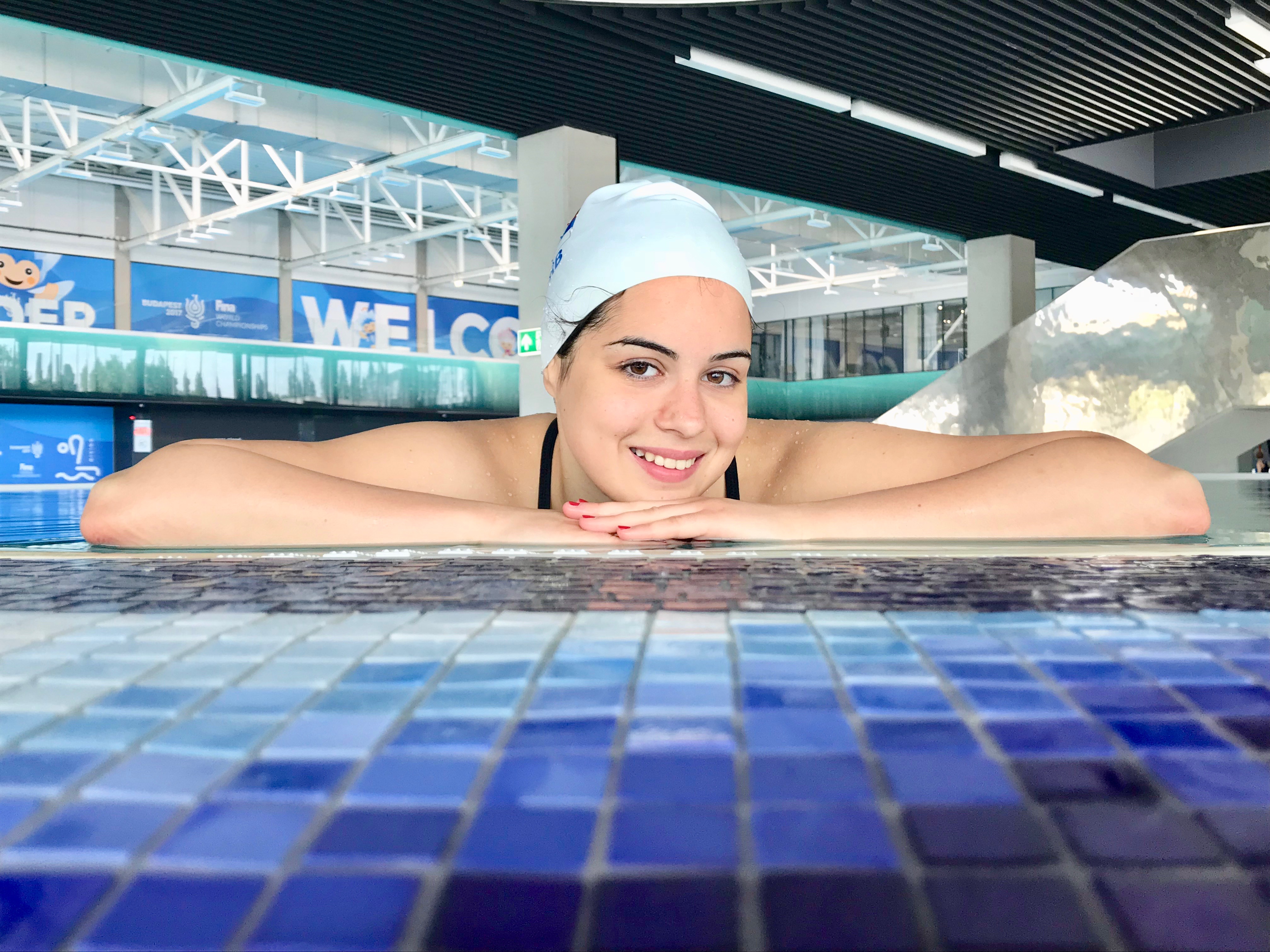 After finishing the 2017 season at the FINA World Championships in Budapest, Kontić had an extremely busy schedule in 2018, juggling between junior and senior competitions while continuing her high-school studies. She competed in six FINA World Series meets around the world, swam both solos and duets at the junior European Championships and junior FINA World Championships, and topped it all off at the European Championships in Glasgow with the technical and free duet events.
Inside Synchro sat down with her to discuss her career in the sport so far, her daily routine as an elite athlete, her past season and what's ahead in the next few years.
Inside Synchro: For starters, can you talk about how you got started in the sport and your path so far?
Jelena Kontic: Well, I started when I was six years old. But we are often making jokes that I actually started when I was still in my mum's belly. My mother is my coach and has been since day one. I probably had choices when it came to choosing a sport, but with my mum being a synchro coach and my dad a water polo coach, an aquatic sport was meant for me.
I chose synchro because to six-year-old me, it looked like dancing and ballet on the water. It was in 2007. I officially started in my hometown of Belgrade in the club of "Vracar," and it is still my club. After, we moved to Istanbul in Turkey where I lived for eight years, and it is where my first competition was.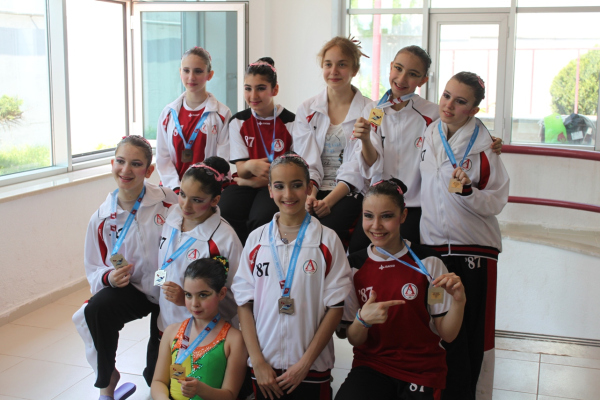 I made the national team when I was 14. Back then, I was still living in Istanbul, but I used to come to every national championship as that was one of the requirements to make the national team. My first international competition as a national team athlete was the same year in 2015. I swam in solo at the COMEN Cup in Ostia, Italy.
IS: How is it being coached by your mom?
JK: It is a bit challenging to be coached by a mother, as I think it would be if you had to work with your parents in anything! It is a quite common case in synchro, I think. It is kind of 'family sport' that takes a lot of work and sacrifices, and there are a lot of cases of family members being involved as coaches, managers, judges, etc.
But anyhow, it is difficult; at trainings it is probably easier for her to be more tough towards me, even if it is not my "fault," than towards others but you get used to it. The more difficult part is getting home!  All your teammates get to go home and leave the coach and synchro at the pool whilst I do not have that "luxury."
IS: What did you like about synchro and what made you stick with it?
JK: Honestly, I probably like everything about synchro, especially the whole process of how routines come to life. Choosing the music you like, and then making the choreography, especially when I or any of my teammates have suggestions, and those end up in our routines – that is great. And trying to enjoy everything, and I do enjoy doing synchro – that is the best part.
IS: When were you diagnosed with Type 1 diabetes, and how did you handle the news?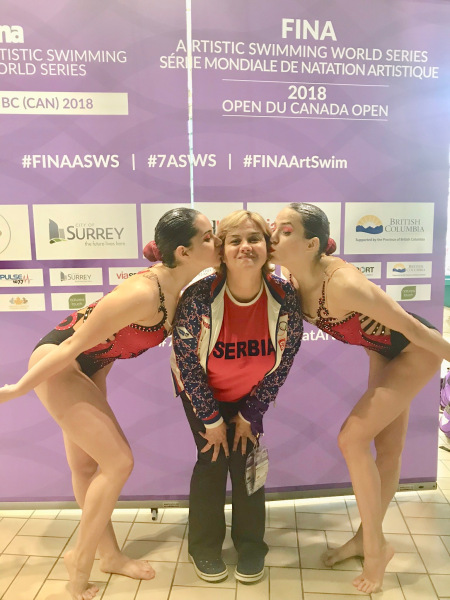 JK: I was diagnosed when I was nine years old. It came as a shock to my family as no one had it before me. At that time, I had already been in love with this sport so there was no going back. Also, my mom never wanted to cut me some slack. It sounds crazy, but the fact that I was diagnosed with an illness that I will probably have to live with my entire life has never entitled me, according to her, to take shortcuts or make excuses, and I thank her for that.
(Editor's note: Type 1 diabetes is an autoimmune disease where one's immune system destroys the cells in the pancreas that make insulin. Insulin is a hormone that helps move sugar, or glucose, into one's body's tissues to give them energy. With this type of diabetes, glucose doesn't move into the tissues because there is no insulin to do it. Instead, it builds up in the blood and causes high blood sugar.)
IS: How do you manage your training sessions and how do you monitor your sugar levels while being in the water for so many hours at a time?
JK: It has been eight years now, so I got used to it. This may come as a surprise, but diabetes is not that common in Europe, and therefore in Serbia, as it is in the U.S. or Canada. It is sadly on the rise across the globe, but I haven't met anyone who does synchro and had Type 1 diabetes, so if you are reading this please reach out! 
To answer your question, there are regular days when I would check my blood sugar levels once or twice during the training session, which usually lasts for a couple of hours. Then, there are the days when my sugar would keep dropping and I would have to either check it more often or just grab some sugar, like energy bars or dextrose, and take it every 30 minutes.
IS: Has it ever caused you any issues during practice or competition to the point where you've had to stop?
JK: So far, I have never been in a situation where I have had to withdraw from a competition. For those reading this and maybe not being aware of it, it is low sugar that makes you very weak and causes various problems especially when you are an athlete. So during competition days, I try to keep my blood sugar levels a bit higher.
When it comes to training, well, there were few times I had to get out of the water for a couple of minutes, because my sugar was really low.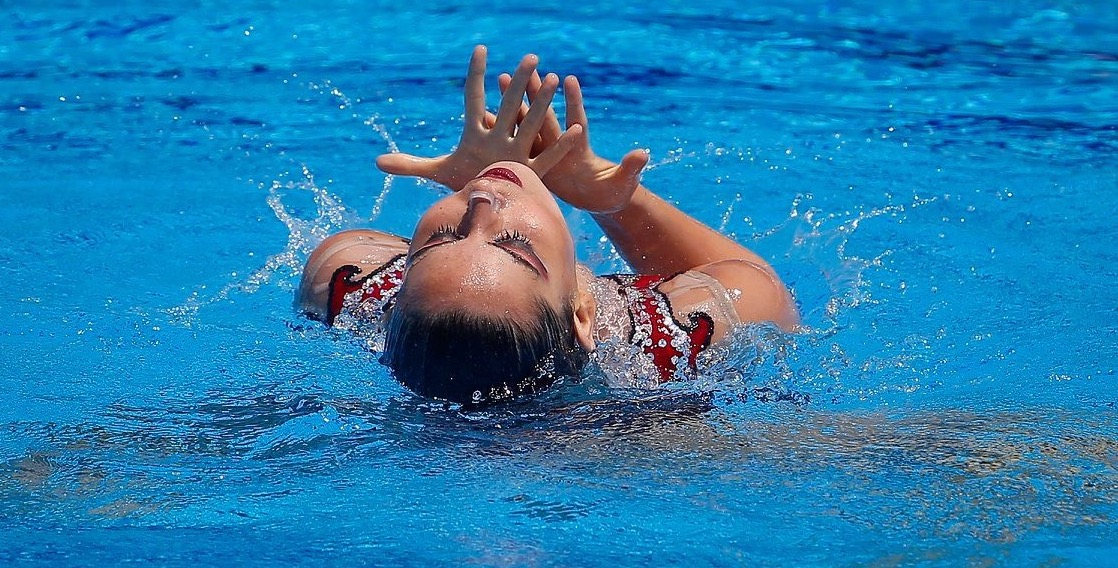 IS: So with this and being an elite athlete, do you follow a specific diet?
JK: I think that I just eat healthily. Mostly, I eat veggies, proteins, some healthier carbs and some fruits. I do not take a lot of sugar, and I got used to it. Thanks to my everyday training and low blood sugar levels, I do sometimes get to eat even something "bad" like a chocolate bar or ice cream, or even pancakes without having to take insulin for it. I like preparing food, and I even developed a lot of recipes of my own.
IS: What is your biggest advice for somebody who maybe wants to take up the sport (or any other sport) but sees diabetes as an obstacle?
JK: I have been told to give up synchro and "professional" sports so many times that I cannot even count. I've been lucky to come from a sports family and to be surrounded by people who believed that I could only benefit from doing a sport. As I have already said earlier, diabetes is on the rise and for now, it is not going anywhere. I have accepted it as a lifestyle, as a forever friend I'm stuck with!
Never should you see it as an obstacle. I even started my blog with the idea to share my stories, for everyone but primarily for people and kids out there who have diabetes or any other chronic illness, and to show them that all you need is to want to do something and of course put a tremendous amount of work into it.
The worst thing is the discrimination I have experienced. There were some coaches who despite my results were more than reluctant to include me on teams. So, to all of you out there – yes, you might also come across such narrow-minded people, but you just have to prove them wrong by being way better than anyone else.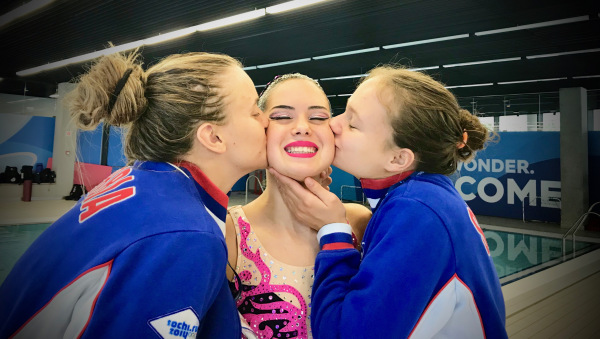 IS: What does a typical day look like for you, between high-school and practice?
JK: I am a full-time high school student, which means that I spend six to seven hours at school every day, and I am social sciences major. I feel so happy and privileged to go to one of the oldest and best schools in Belgrade. Everyone at school is very supportive; there are not many athletes in our school, and because I am an excellent student, I was given a chance to finish up second grade in May. Since I did five weeks in a row of FINA World Series in May and June, I had to finish school almost a month and a half before the actual end of it. My professors and my classmates followed the whole series, and they would even watch our routines live on FINA TV whenever it was possible, isn't that great?!
I like to study chemistry, despite the fact that my major is in the social sciences. Here, the main difference between being social science or science major is in the number of classes per week that you get to have. For example, I still get to have physics, biology, chemistry, or maths but only two to four times per week. On the other hand, I get to have Serbian, English, Russian and Latin three to five times a week.
In Serbia, we alternate every week; one week we go to school just in the morning, and then one week in the afternoon. Therefore, depending on the time of my classes, one week differs from the other. But let's say I go to school from 8:00 am to 2:40 pm, so then I am in the pool at 4:00 pm at the latest until 8:00 pm. If we have less pool time, then I go to the gym. I bring lunch to school on the weeks I'm there in the morning. I'm back home around 9:00 pm, and I'm finishing my homework. I often study on the bus going to the pool and back. Weekends are for longer training both in the gym and pool, studying, and hopefully stealing some time to hang out with my friends.
IS: Right, you had a very busy 2018 season between the junior competitions, the FINA World Series and the European Championships. How did you manage all of that and what was your goal for the year?
JK: This season was crazy for me. I competed at the Junior European Championships in Tampere, Finland, and at the FINA Junior World Championships in Budapest. I swam both tech and free solos and duets.
With the senior duet [with Nevena Dimitrijevic], we competed at six FINA World Series meets (Paris, Šamorín, Budapest, Madrid, Surrey, and Anaheim), with the last five being all in a row! And at last, we did the European Championship in Glasgow. It has been a rollercoaster. We were happy, tired, and scared all at the same time. But to tell you the truth, it helped us improve a lot. We had no time and we had to be more efficient.
The fun fact is that due to being on the road a lot, I had to finish my free solo on the plane, bus, or whenever there was some "free" time, and I swam it for the first time at the Synchro America Open. Synchro is maybe a bit unique in that sometimes the country's reputation comes before the athletes' actual performances. So our goal was, apart from getting better, to give the judges and the world the opportunity to meet us and judge us for what we put out.
IS: What are your goals for this coming season and in the long term?
JK: Long term, like any other athlete I dream of going to the Olympics. It is a long shot and it would really be an amazing thing, but never giving up is what brought me this far, so I keep working and dreaming big. Other than that, I am hoping that we will do as many FINA World Series meets as possible, and that we will swim well at the FINA World Championships in South Korea next July.
IS: Is there a swimmer or any other athlete you look up to?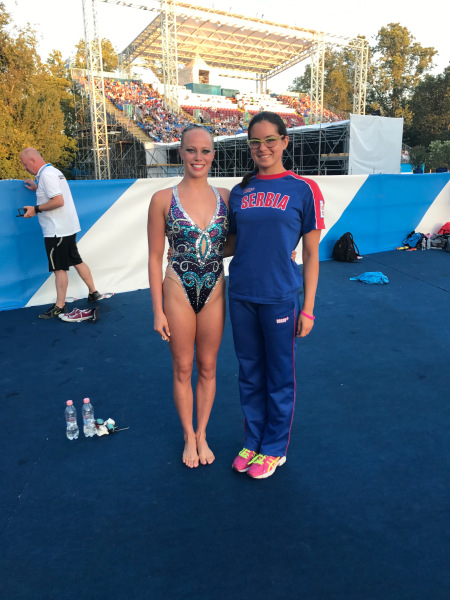 JK: There is no one like Svetlana Romashina and Natalia Ischenko. But I especially like Olga Brusnikina. I think that she revolutionized synchro as a swimmer, and is still doing that now as a coach and a LEN and FINA official.
Then, there is Linda Cerruti who is by far one of my favorite soloists, and not to forget Jacqueline Simoneau who is so amazing and so down-to-earth! Both Linda and Jacqueline are great soloists, but they are also swimming everything else – which is what I love as each event is different. There are also the Vasiliki sisters; we spent a few days together at the Canada Open in 2018, and they are really great hard-working athletes.
IS: One final question, what is the story behind your nickname 'Jeja'?
JK: This is a cool question that no one asked me before! My name Jelena is pronounced as if it was written Yelena (coming from greek Helena). It is quite a frequent name in Serbia because during the Middle Ages we had an empress with that name. Everyone in my family started calling me Jeja / Yeya ever since I can remember, and somehow no one calls me by my 'real' name now. At home, at school, at the pool, there is no confusion which Jeja they are calling because there is only me!  
Thank you so much for taking the time to chat with us Jelena, and good luck for the upcoming season!
Interview and article by Christina Marmet.
All photo courtesy of Jelena Kontić.