Barcelona welcomed this past weekend nearly 25 nations, including top squads from Russia, Ukraine, Spain, France, Mexico, and the U.S., among others. The team events were truly the deepest and most exciting ones of the whole competition, with a lineup to die for.
Russia's top senior team competed and comfortably won the technical and free team events. The Russians continued improving on their new technical team routine with a new season-best score of 95.2961, and finished with a free swim score of 97.2333.
Ukraine's senior team was back out for the first time since the Hellas Beetles Cup. This time around, the Ukrainians did not compete their technical routine but swam their free for the first time this year. They kept the same choreography as last season and scored 94.2333, maintaining themselves at a safe distance from Spain and once again making it look it will be a tight battle for bronze at worlds in a month against Japan.
They competed once more in the highlight event, and also unveiled a brand new free combination routine to the theme of 'Magical Castle.' The routine is really well done as it indeed takes us into a magical world right from the start, and the lack of sound effects in the music for this routine were much appreciated. Overall, all three of Ukraine's team routines here featured incredible, gravity-defying and high-flying throws which are truly unparalleled in height and distance in the synchro world at the moment. Some acros included a back tuck 2-1/2 somersaults tuck, a double back pike, or a handstand with one hand on the head of the base, amongst others.
The host team Spain was represented by both its junior and senior team, and both were able to perform in front of an electric and deafening sold-out crowd. This was essentially performing at home for the swimmers as they all live and train in Barcelona year-round, so many were able to have their friends and family there. The senior team had one of its best swims yet in the free event (see below), and this one truly was night-and-day between its first outing back at the Japan Open. The changes made since have worked out really nicely, and this truly was a gorgeous performance all in all.
Its technical team wasn't however its best swim, and it was a bit of a disappointing performance especially after seeing them kill it in practice all week. The first throw was nicely saved by Sara Saldana after her foot slipped off, but overall the routine had too many little mistakes for the team to be satisfied with it at this point in the season.
The juniors also had a wonderful outing, scoring a 86.1333 for sixth place in free team with its 'Avatar' routine created by Paula Klamburg, and winning bronze in combo with a 86.4332 for its reworked version of last year's senior free team. The combo did not really 'feel' like a combo, as it is difficult to change a choreography that wasn't meant for it in the first place, but the athletes had a stellar swim. This team is full of potential, with a lot of swimmers still qualifying for the junior team over the next few years, and it has already showed at it's able to beat some of the top senior teams of many countries.
As expected, the fight between France, Mexico and the U.S. was crazy. In technical team routine and including Japan (which again did not send its top senior team), there were only only 0.775 points between third and sixth place with these countries!
Mexico made its season debut, and came out on top against these other two nations in the technical event for the bronze. The Mexicans presented a new technical routine, well-executed, to music similar to Caravan Palace. In the free event, they used music from the 2012 Paralympics opening ceremony called "Enlightenment," including bits with the voice of Stephen Hawking, for probably a theme revolving around space. Unfortunately, they missed two acros and had a few visible synchro mistakes there, so they had to settle for 86.9667. France finished ahead in the free event with its 'Emotions' routine for a final score of 87.9667, thus flipping the rankings from the last world championships where Mexico was clearly ahead by a little over two points. This is an encouraging result for the French team in its hunt to qualify to Tokyo in team.
The U.S. team already had much cleaner performances than at the Synchro America Open one week ago, although the Americans still struggled with their risky throw in free team — with the flyer jumping up and straight back down before going for a second throw — despite nailing it a few times in practice. The choreographies they presented across all events were the talk of the town throughout the weekend. The creative and captivating work that Andrea Fuentes has done in such a short time is inspiring for the future of this nation, and the U.S. is still very much in the race if it manages to clean up its execution and improve its elements.
While this wasn't Japan's top squad, some of its routines were very enjoyable, like a highlight to the popular soundtrack of "The Greatest Show" or a very fun and entertaining free combination to "Pirates of the Caribbean." This latter won the Japanese a silver with 87.5668.
Poland was quite the nice and unexpected surprise of this competition. It's a nation we barely ever get to see as a team in the senior category, if ever. Over the last two years, we only saw the Polish as a team at the junior European or the junior world championships. The vast majority of these former junior swimmers were competing here in Barcelona and a few more on the team are still actually eligible for the junior meets. The athletes could not contain their tears after scoring 76.1000 in free, which is a huge deal considering they had been hovering around the 68-71 points as juniors. We can only hope to see more of this team that's clearly full of potential.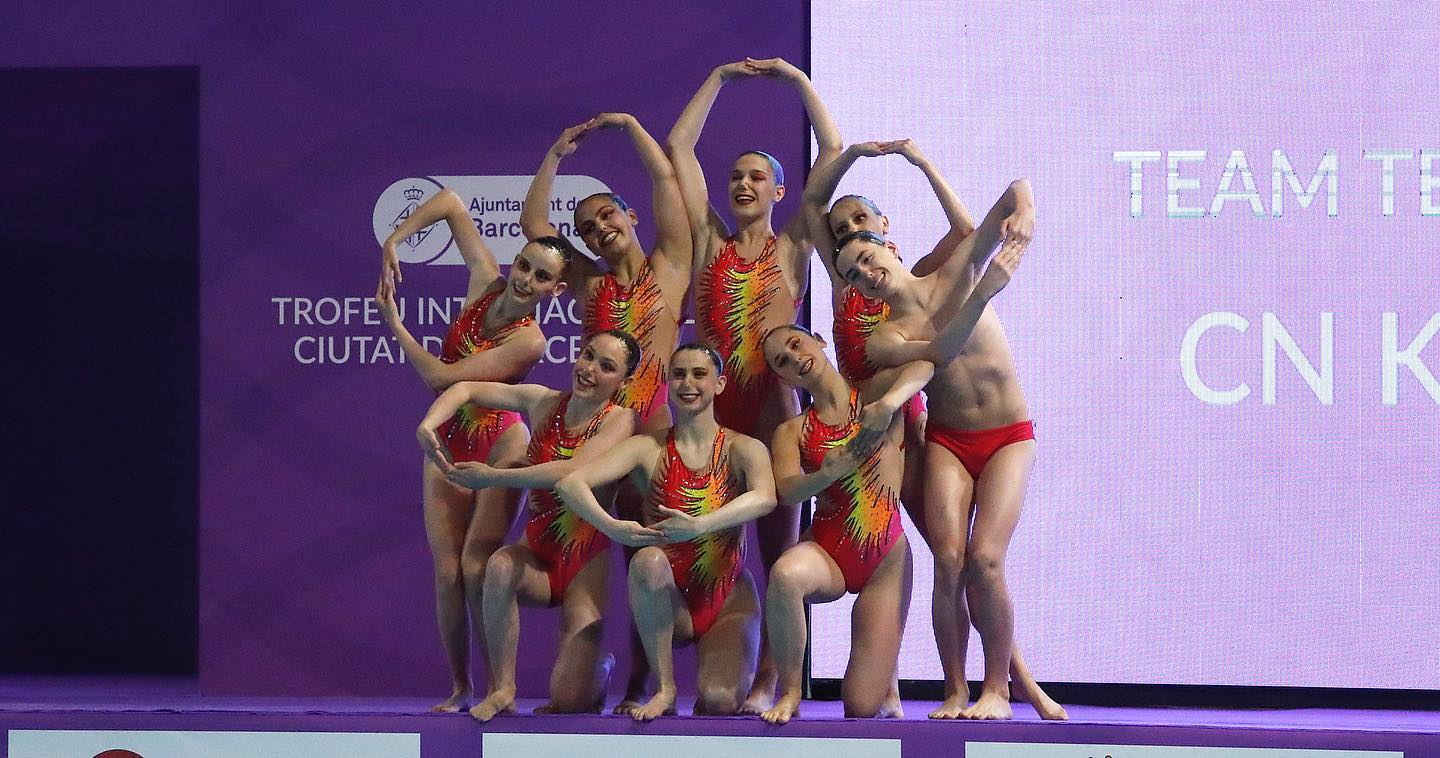 Portugal had a great first showing as a team of the season, and recorded one of its best scores in free team event with 77.2333, about one and a half points better than its last outing at the 2018 European Championships. Before moving away from teams, special mention to Dennis Gonzalez in the C.N. Kallipolis club team, who became the first man to swim in team in a major FINA-sanctioned event.
In the solo events, we saw a handful of contenders debut new routines for the first time: Anita Alvarez in free, and Ona Carbonell and Marta Fiedina in tech. Alvarez, representing the U.S., gave a heartfelt performance to Jessie J's speech in "ROSE Confessional". Fuentes called the journey of this solo "the story of a soul opening up to the world," and explained that the words of Jessie J reflect her athlete's personal story. Alvarez may not have the difficulty yet to be competitive against some of the top soloists and her routine needs a little more content and restructuring, but she very likely made every single person in the pool feel, which is obviously not negligible. She also certainly had everybody talking at length, including the judges, after her performance, so it will be lovely to see how she grows as a soloist over time.
Carbonell's new technical solo used a speech from Nelson Mandela at the Laureus World Sports Awards. She decided to change the routine only very recently, and has worked with Virginie Dedieu on it over the last few weeks. She barely edged out Fiedina for the gold, with only 0.09 difference, so this will be another exciting and close event to watch at worlds.
Kate Shortman from Great Britain won bronze in this event, but most importantly recorded a new personal best score in the free solo by scoring 85.6000, and that is swimming first up. The youngest of the field was Slovakia's Chiara Diky, still eligible for the 13-15 age group and poised to compete later at the first FINA Youth World Championships. She fared very well in her first major senior meet as a soloist, finishing with a 75.4667 for 10th place.
In the duet events, Carbonell and Paula Ramirez for Spain were paired together again for the first time since 2017 in the free event, and won silver with 90.3000 behind the Ukrainians. France's Charlotte and Laura Tremble had fantastic swims, and won both bronze medals, positioning themselves well against some of their most direct competitors.
Mexico made its season debut in those events also, and fans got a glimpse of the new duet of Nuria Diosdado and Joana Jimenez. The two had an unfortunate mistake in tech, with one of them smashing into the other during the first rotations of the fishtail element, causing a big loss of balance for both in the middle of it. Their free duet was much cleaner, and the two swam to the viral mashup "Summer 2015" by L.E.J.
Some of the duet scores were also just as close and exciting as in the team events, and the race for a spot in a worlds final and an Olympic spot is getting more exciting every competition. There wasn't much between the pairs from Mexico, the U.S. and Great Britain. While the latter is a little less than a point behind the U.S. in free, it finished only 0.059 points behind in tech!
Liechstenstein's duet of Lara Mechnig and Marluce Schierscher debuted a new free duet to the theme of 'Robot' and broke the 80 points mark for the first time. Finally, Chile's Isidora Letelier and Natalie Lubascher were competing as a new duet for the first time, and scored 74.9664 in tech.
The mixed duet events were a fun one, with eight pairs in tech and nine in free. The final placements were just as expected, with no new routines as the Russians, Italians and Americans as all kept some of their new choreographies under wraps for a little longer. Guatemala had entered a mixed duet pair for the first time ever with Yarin Gamez, Kevin Garcia and Jennifer Paniagua, and all three seemed to soak in every minute of this new experience surrounded by so many legends of the sport.
If you were watching online, you may have seen a box on the top left corner of your screen during some of Sunday's events. FINA officials were testing out a way to display synchronization mistakes live, ranging from Small, Obvious, to Completely Obvious. This was not tested on every single routines, and the counts were done by a judge who was not actively judging the event, so this may or may not have influenced the actual judges on duty, but the idea is a good one in theory. More transparency and judging receipts is great, so hopefully more work and trials is done on this so we can reach a point where we could get the same live technical scoring as in figure skating.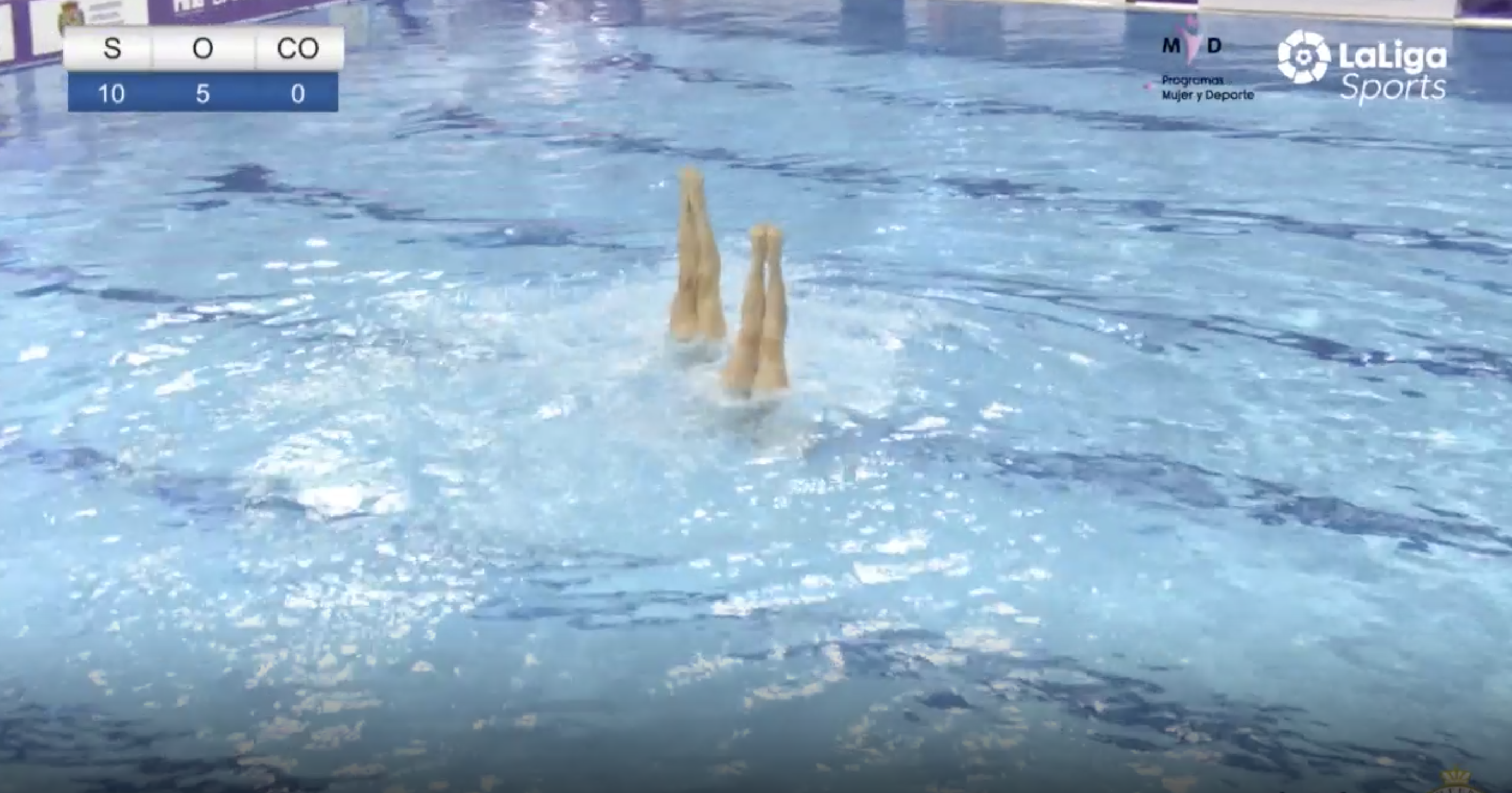 All in all, Barcelona was a fantastic host and should get to hold more competitions like these. A great set-up, an exciting competition with fantastic attendance, a sold-out crowd, and events on live TV…. What more do we need?!
Article by Christina Marmet
Cover photo by Liz Corman.