We continue our preview series with the team events (technical and free), which have a lot at stake, with multiple tickets to the 2020 Olympics up for grabs. Just like with the duet events, the parity has greatly increased these last few years, as much in the race for the medals as further down the rankings, so these will be certainly be exciting events.
First of all, the top two ranked teams not already qualified to Tokyo (i.e. not Russia or Japan) will earn their tickets to the game, while the continental spots for Africa and Oceania will also be determined in Gwangju as these two do not have a continental championship. These quotas will be awarded with the combined results of the technical and free team events.
Reminder at the time of this writing, entry lists are not available (yes, still), so these are based on observations from the season and other news updates. Edits will be made if/when necessary whenever the official entries are published.
The reigning-everything champion Russia will of course be in Gwangju to defend its titles, and it is looking unbeatable once again. Surprisingly, we saw the Russians a lot this season as they competed three times, at the Russian Nationals, the European Cup (where they qualified for Tokyo), and the Spanish Open.
This year, they unveiled a new technical program that highlights the traditional 'Quadrille' dance (see below) while they kept their Shaman free routine for the third year. They do absolutely master it by now, and even got a 10 at the European Cup in artistic impression. All in all, it looks like the Russians are maybe going back to their old strategy of revealing a new free routine on the year of the Olympics.
This Russian team is stacked with talent, especially with the returns of two-time Olympic gold medalist Alla Shishkina to the roster after a two-year break, and of 2016 Olympic champion Vlada Chigireva after being out with an injury last season. It also includes 2016 Olympic champion Maria Shurochkina, and current reigning world champions Marina Golyadkina, Veronika Kalinina, and Polina Komar. Completing the team are Varvara Subbotina (that name *may* ring a bell) who swims in free, and Mayya Doroshko who swims in tech.
Head coach Tatyana Pokrovskaya hasn't changed the composition of the team at all throughout the three meets, but she has certainly used this season to test her girls and figure out who the best eight (or really, the best six once the Svetlanas come back into the team) for Tokyo are.
China is back to more than full strength this season, after entering a "province" team in 2017 as the nation did not have time to conduct trials since everybody was getting ready for the Games of the People's Republic of China. That team however did just as good as the official national team would have, and won silver in both team events.
Of course, the goal here for the Chinese is to qualify for the Olympics, which they should do barring any disaster and based on what we have seen from them these last two seasons. With now the returns of veterans Sun Wenyan and Huang Xuechen to full strength, this Chinese team includes six returning Olympians from 2016, the most out of every nation.
They competed two new choreographies this season, including a tech routine to the theme of 'Dreams', while the free sticks to a more traditional style with its 'Ode to the Heroines' theme. They received a season high of 93.5677 at the Canada Open, while the free earned 95.3667 at that same competition.
Just like in the duets, the fight for bronze will be a tight one, with Ukraine, Japan, and potentially Spain making a push for it as well. Simply looking at numbers, Ukraine looks like a strong candidate, with season-highs of 92.8734 in tech and 94.2667 in free obtained at the world series super final. The Ukrainians kept the same free routine than we saw at the European Championships – do not miss their wheel-y deckwork – while introducing a new tech routine. Make sure to watch the Ukrainians' acrobatics and throws as they are jaw-dropping and truly unmatched in the sport.
The Japanese have kept the same technical routine as last season, but have changed free routines again to now present a choreography focused on Japanese festivals. Their season-high scores are 92.0689 in tech (Synchro America Open), and 93.0333 in free (Japan Open).
These two nations have not competed against one another at all this season in either events. In 2017, Japan had won bronze in tech, while Ukraine won bronze in free. While Japan is already qualified to Tokyo as it is the host, Ukraine's goal is clearly to qualify itself thanks to one of these two spots up for grabs, and it would be even better with a medal.
The Spanish followed the same strategy as the Japanese by keeping their 'Bollywood' tech but building up a new free routine to the theme of 'Discovery of an Island.' Head coach Mayuko Fujiki played a lot with her lineups this season, and was able to reach season-highs of 89.7990 in tech and 92.0667 in free, both at the world series super final. While Carbonell has not made it back to the technical team yet, she will swim the free routine.
The free team has improved tremendously since the start of the season, and had a particularly stunning swim at the Spanish Open (see below). Make sure to catch the insane flexibility and acrobatics of Berta Ferreras, particularly at the beginning where she transitions from a back bend to a handstand split like it's nothing.
We of course cannot forget about Italy who will be right in this mix, but there is not much else to say. The Italians have been very secretive all year, and have not competed at all as a team since the 2018 European Championships. They are actually the only 'major' team to not have competed this year. The federation did finally put out a press release a few days ago, writing that the tech team is to 'Catch me if you Can' by Michele Braga, so it should be the same routine as last season. The free is however new, featuring a choreography from Anastasia Ermakova to the theme of 'The War of the Two Worlds: Chris Hur Chapter' (whatever that means…).
The scores were already tight last season between these three at the 2018 European Championships, as there was only 0.8723 between Ukraine and Spain in technical team, with Italy right in the middle. In free, 0.4837 separated Italy and Spain.
We saw a lot of Canada this season as it competed in five world series competitions and won the overall world series tournament. The Canadians have two new choreographies this season which they have worked on with Anastasia Ermakova as well, with a tech team using different traditional ethnic music while the free team revolves around the spectrum of time. They have undergone a lot of changes since last season, with a brand new coaching staff of Gabor Szauder, Kasia Kulesza and Karine Doré, and the re-establishment of a centralized training program. It has all paid off  as their scores have risen compared to last year and throughout the season.
Continuing with the teams from the America continent, Mexico competed at the Spanish Open and is also presenting two new routines this year, with a tech team using music reminiscent of Caravan Palace and a free routine that is all about space. As usual with this team, don't miss their always impressive acrobatics, and there is some nice artistic research in the free choreography.
Like Canada, the U.S. also underwent some major changes ahead of this season with the arrival of a new coaching staff of Andrea Fuentes and Reem Abdalazem to take over this young team, and with the installation of a centralized training program. It's also working out fairly well, with the nation scoring some of its best scores in both events in years.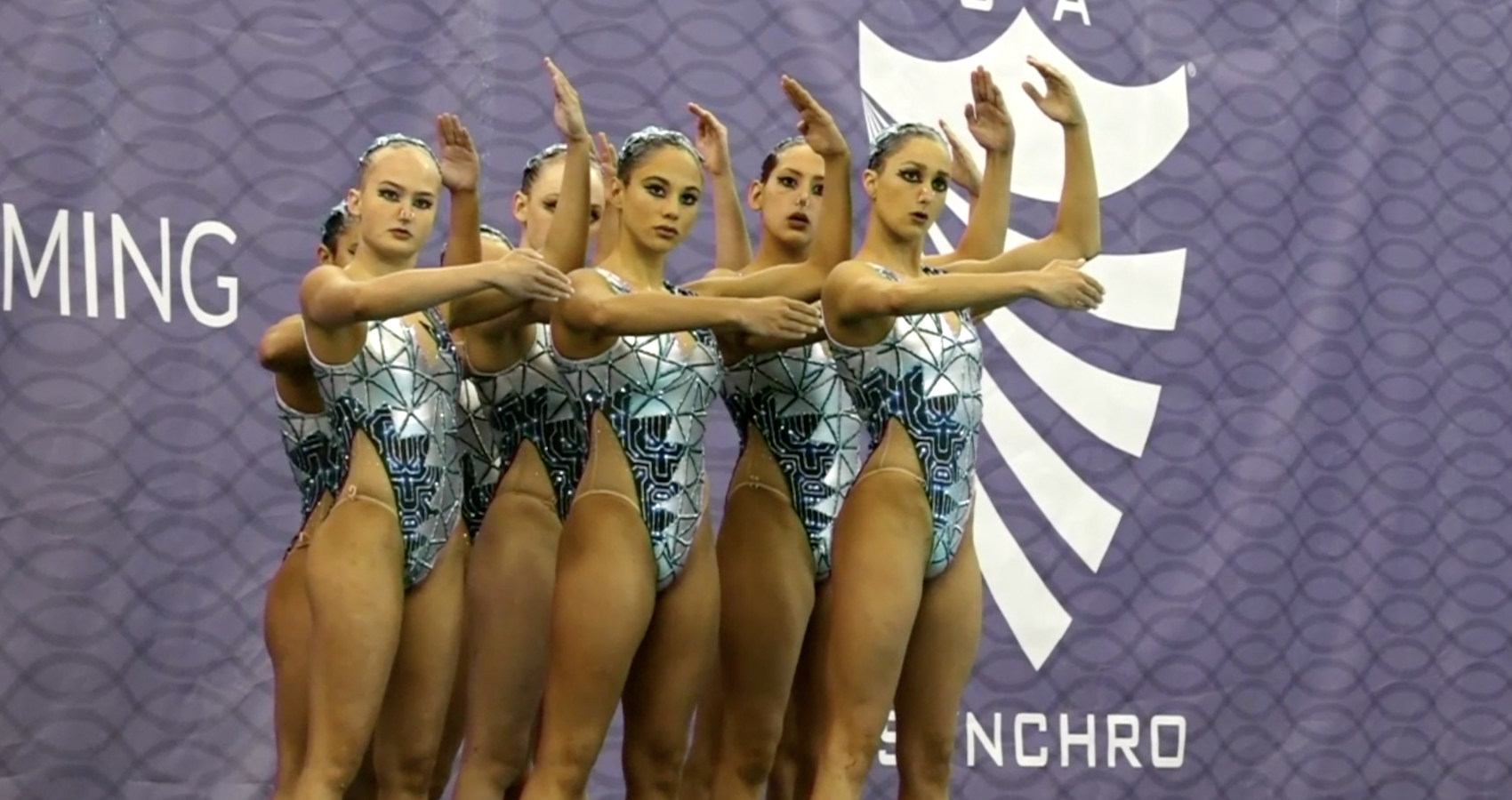 The Americans are betting on artistry, particularly with a free team routine that is a must-watch to the theme of 'Robots.' The routine features a very risky throw towards the start of the routine which hasn't been done successfully yet in competition (it has in training), so look for it as well. It's an intricate and audacious routine, with great attention to details and musical use which will likely enchant the crowd in Gwangju.
These three teams, along with Brazil which will be back at worlds as a team for the first time since 2015, are all gearing up for the Pan American Games, which is where their Olympic continental quota will be determined. The competition will start about a week after the end of worlds, so it's quite a tight schedule for all of them. They are, just like anybody else, looking for strong performances in Gwangju, particularly to gain momentum heading into these games.
France has competed extensively this season through five world series meets, has improved tremendously in its acrobatics, and has also seen a rise in its scores throughout the year. The French are competing this year a new Aretha Franklin technical routine, but they have kept their Emotions free choreography that we had already seen in Budapest. They have played around with different lineups at each competition, and as of the Super Final, Charlotte and Laura Tremble were now swimming the technical team, so we should probably expect them again in that event.
At the Spanish Open at the end of May, the competition between Mexico, France and the U.S. was extremely close in technical team, as there were only 0.775 points between these countries. In the free event, about a point separated the U.S. from Mexico, and another between Mexico and France.
We certainly cannot sleep on Greece, who has only competed at the Hellas Beetles Cup and the European Cup this year.  The Greek have faced a high turnover in their swimmers, as more than half of its roster is different since the 2018 European Championships, and the coaches and veteran swimmers like Evangelia Platanioti and Evangelia Papazoglou have already stated in the press that we should expect a quite young and inexperienced team this year. Platanioti has been swimming back in the team routines as well, which she had not swam in over two years.
As a result, the Greek have kept their same routines as last season and will look to make it into finals again. At the 2018 European Championships, the Greek had finished ahead of France in both events (although again, with a different team), so they should certainly be in the mix here as they are also aiming for an Olympic spot in Tokyo. France and Greece have not competed against one another this season.
A team that's been thrilling to watch over these last two years and that is certainly on the bubble to make finals for the first time ever is Israel. The small country improved by over 10 points in one year, and has slowly but surely continued increasing its scores again this season. The Israelis have worked consistently with Anna Tarres and Bet Fernandez these last two years, and the hard work shows, as they have managed to move ahead of Brazil in technical team at the French Open, and of Belarus in all team events at the European Cup.
The routines look strong, polished and clean, and it's just been so fun to see a new nation rise so fast and shake things up. In Budapest, the Israelis finished 21st in tech and 22nd in free, and they will undoubtedly improve on those rankings in Gwangju.
Just like with the solo and duet previews, North Korea could maybe challenge for a spot in finals, if the nation is even coming. In Budapest, the team had finished 10th in tech and 11th in free. Unfortunately, the media announced on July 7 that North Korea still had to respond to the invitation, so it's not looking too good at the moment.
Poland will send a full team to Gwangju, which will mark the first time the nation sends a team to a world championships! The Poles were honestly impressive at their outing at the Spanish Open, and could not contain their tears after hearing their free score of 76.1000, which was way past the scoring limit the federation had set for them to be able to attend. All is well, the team will be in Gwangju and soaking it all in.
Australia and New Zealand will be battling it out for the Oceania Olympic spot. While we've seen Australia a little bit this year, this will be the first outing of the season for the New Zealand team, coached by Brazilian Olympian Lara Teixeira. The technical team actually does use traditional Brazilian music, while the free is all about a "racing car theme with a touch of kiwi culture," as swimmer Eva Morris explained to Inside Synchro via text.
As for the Africas spot, we can certainly anticipate a team from Egypt, but this is another nation we only see every other year or at the Olympics, so it's hard to say what to expect. South Africa will however be in the race for that spot as well, and the team just completed a training camp in Slovakia to prepare for Gwangju.
We should also see teams from Belarus, Hungary, Kazakhstan, Slovakia and Switzerland, and of course from the host South Korea. Usually, competitions held in Asia do tend to gather more teams from many southeast Asian countries as well.
Technical team preliminaries are on July 14 at 11:00 am, while finals are on July 16 at 7:00 pm. Free team preliminaries are set for July 17 at 11:00 am, and finals for July 19 at 7:00 pm.
The full schedule is available here, along with any other information you may need to follow the competition.
Article by Christina Marmet.