Hopeful.
That is the first word that comes to Giorgio Minisini's mind when he recalls his historical win and first-ever world title in artistic swimming for Italy at the 2017 FINA World Championships in Budapest, Hungary. 
Of course, he and his mixed duet partner Manila Flamini had worked for it ever since finishing third at the last world championships in 2015. They knew winning was a possibility if they had the swim of their lives, but they had never really let themselves daydream of standing on top of the world podium two years later, particularly in a sport where only a handful of countries had ever won world gold. 
"I remember the moment after we did the routine," Minisini said. "We were waiting for the score of the Russian pair. When I saw that we were in front, it was… (he pauses) I was full of hope, because I never believed that synchro could change. I never believed that this sport could get more fluid rankings, a more emotional competition where you don't know the results. I was thinking until the last moment, 'I don't believe that synchro will change.' And then, I just started thinking, 'Maybe it can. Maybe it can become more of a sport, more interesting, more competitive.'"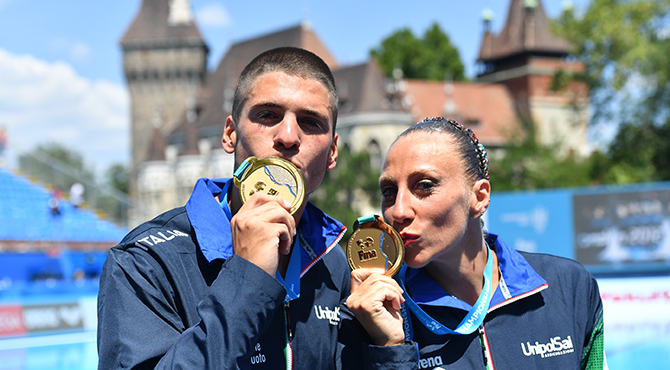 Becoming a world champion wasn't necessarily the first goal Minisini had set for himself when he first started artistic swimming at the age of six. His family naturally led him into this sport as a child, with his mother a coach and his father a judge. 
It really was after seeing the American swimmer Bill May, the pioneer for male synchronized swimming since the 1990s, compete in Rome in 2000 that he decided to go for it. His older brother had also resolved to try it out, and Minisini wanted to follow along. At the same time, he was pursuing taekwondo but eventually decided to solely focus on synchro for its more artistic aspect, and the potential to create something unique and different. 
"I just wanted to really demonstrate that this sport can be done in a really masculine way," he said. "I have had this goal since I was a child, and I just really want to show it. I felt good in competitions every time I could convince more people. I have just wanted to go and break that wall that I saw in front of me."
At the beginning, he and his brother were in the same training group as five other boys. Unfortunately, it slowly fizzled out and his brother stopped to move on to water polo. By the time Minisini was about 12 years old, he was the only boy left.
Similarly to most of the other men in the sport, there wasn't much recognition for him nationally or internationally before the 2015 FINA World Championships in Kazan, Russia, where mixed duets were included for the first time in a major FINA-sanctioned event.
When the decision to allow men on the world stage was announced in the fall of 2014, Minisini had already been competing in the national circuit for years with his club in the solo, duet, and team events. Now at the age of 18, he could finally make his first national team, and was selected to compete in Kazan a few months later. 
"I was so happy but I didn't feel ready," he said. "I didn't feel I was of world championships caliber at the time. My coach always told me I was ready, but for me I am never enough. Of course, there was a lot of excitement because I thought about all the battles that Bill [May] had to struggle with. And finally, he could go to the world championships, and I would be with him, in a competition against him after I saw him as a four-year-old! It was very strange, and felt quite unreal until I arrived there."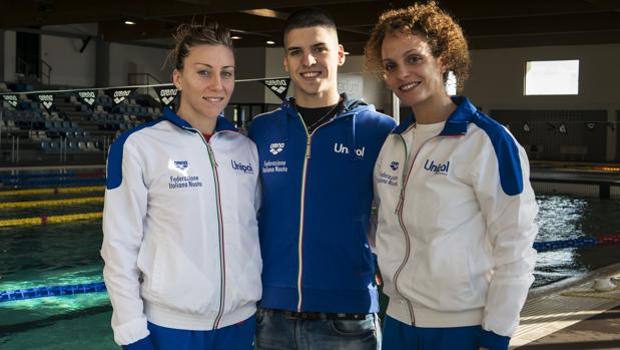 There were six nations entered in the technical event and 10 in free, and Minisini felt his chances of earning a medal were fairly realistic in both.
He was paired with Manila Flamini in technical duet while he swam with Mariangela Perrupato in free duet. While he was a complete newcomer to the international stage, both Flamini and Perrupato had already been members of the senior national team for nearly a decade. 
Of course, being partnered with two veterans was intimidating for him at first. He knew he had to work even harder to live up to his own expectations of swimming with such recognized athletes, and of appearing on the world stage in a new event that would undoubtedly be highly watched. 
Luckily, all three of them lived in Rome, and it allowed them to not only efficiently and quickly start training together but to also develop meaningful friendships despite their nearly nine-year age difference, which in turn made it easier and more natural for them to swim together in the water.
"Since I got the news, I always had that fear [of not being enough] but I always wanted to work for a medal because that was really an unmissable chance for Italy," he said. "So I worked more, even outside of the trainings, because I knew that being a new competition, the judges could be more easily convinced to make changes in the rankings. That gave me the strength to push over the limit every time. I just thought that all day I worked, I could get closer to the medal."
In Kazan, Minisini and Flamini comfortably won their first of many medals together, a bronze in the technical event behind the U.S. and Russia. With Perrupato, they managed to repeat the same feat by upsetting the French pair in the free event final despite standing in fourth place with a 0.5666 points margin after preliminaries. 
After winning these first two medals, Minisini became the poster child for men in artistic swimming in Italy. He even received numerous letters from boys who had decided to start the sport after seeing him on television. 
"I felt like I turned from a strange guy doing strange things to being an example for some people," he said, laughing. "It was really satisfying for me."
Indeed, growing up as a male artistic swimmer was not always easy. He had to face many mockeries from some of his classmates, although he admitted with a chuckle that he knew how to defend himself. Nevertheless, he recognized people were attacking him because they did not understand what he was doing, and he quickly decided he should not be upset about their own misconceptions and close-mindedness towards his own passion.
He instead focused all his energy on training and competing, which eventually led him to the top of the world podium a decade later. After the two bronze medals in 2015, followed by two silver medals at the 2016 European Championships, again with the same partners, Minisini realized there was an opportunity to become a world champion the following year.
"We were growing, America and Russia weren't too far, and we knew our possibilities," he said. "We just knew it was possible to reach it. We knew that we could swim our best, do the best exercise, and be the best in the world. Then, if we get the gold or not, it is not our responsibility because we're not the judges, so we just worked on doing our best."
Minisini, Flamini, and their coach Rossella Pibiri decided to follow the idea of the national team's musician Michele Braga for their technical duet choreography. The now iconic routine was called 'A Scream of Lampedusa,' and aimed to shed light on the humanitarian and refugee crisis happening in the Mediterranean Sea and on the coasts of Italy at the time. The emotional choreography was created by four-time Russian Olympic champion Anastasia Ermakova. 
After the preliminary rounds in Budapest, the Italians were second behind Russia by 0.2355 points. The U.S. pair was in third, and only 0.3406 points behind them. With such close scores between the three nations, there was absolutely no room for mistakes in the final round two days later. 
"We went to the world championships knowing that we should do everything we could and that we must try to give our all," he said. "After the semifinals, we saw that we were so close. There were so many people cheering us, telling us that we can do it, so we really started to think, 'Oh, maybe we can really do it, not only hope it.'"
In the end, the Italians won the event by 0.034 points and became the nation's first world champions in artistic swimming. Minisini felt on top of the world, ecstatic, and optimistic for the future.
In the free event, he and Perrupato won a silver medal, another first for Italy at this competition. Perrupato retired shortly afterwards, and Minisini went on to swim with Flamini in both mixed duet events. At the 2018 European Championships, they added two more silver medals to their collection. Concurrently, he was named FINA's Best Male Artistic Swimmer both in 2017 and 2018.
In 2019, Minisini headed into the world championships with a completely different mindset than two years before. He actually did not feel any pressure to defend his title, as he had come to realize earlier in the season that it would not be realistic to believe he could win again. Instead, he wanted to focus on what made him stick with the sport in the first place, and to continue pushing the envelope to create something meaningful.
"Our only goal was to give value to our work," he said. "We worked so much more than the year of Budapest. We just wanted for our work to have merit, and give it what it deserved. We never felt that there was the possibility to win again since the first competition of the year. But we were not wondering about that because we can't do anything [about it], so we couldn't think too much about what can or can't happen. We tried to do our best, to make people proud of us, and to show we have improved."
Last season, Minisini and Flamini competed through five world series competitions, but decided to keep their new technical choreography under wraps until the world championships in Gwangju, South Korea. They not only wanted to maintain the element of surprise, but they also loved the very first version of the choreography so much that they wished to keep it as is and swim it the way they liked, with as little external opinions at play as possible.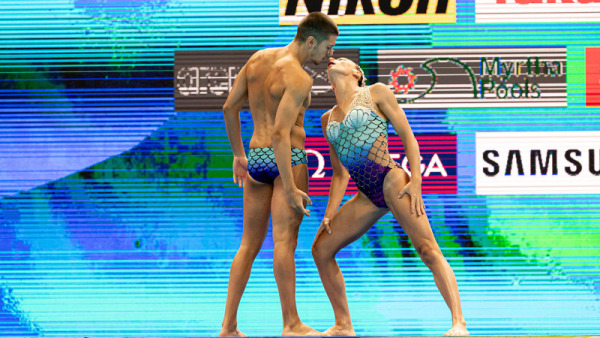 They once again called on Anastasia Ermakova for the choreography, but they also implemented more training hours, worked with different collaborators like Stephan Miermont, increased their gymnastics workouts for power and mobility, added more sessions with a theatre director to improve movements and emotions, and made sure to include meetings with a sport psychologist. 
In Gwangju, the Italian pair won two more silver medals in the technical and free events behind Russia. Their new technical choreography, retelling the story of Triton and a mermaid falling in love, was a success. But for Minisini, these third world championships almost felt distant compared to his other two.
"I felt less that I could make a difference," he said. "In Kazan,  I remembered the day between preliminary and finals. I had this feeling of, 'Yes I can make the difference. I can do the best, I can try to reach it.' And we reached it. The same happened in Budapest. This didn't happen in Gwangju. I just missed something. Maybe that spark, something that makes me say, 'Oh yeah, I did a world championship.'"
Nonetheless, his passion for the sport has never wavered, and he is eager to tackle the upcoming season despite all the unknowns at this time. Indeed, Manila Flamini announced her retirement at the 2019 world championships, so he is now waiting to find out who will be his new duet partner for the year and hopefully for the long-term to continue making history for Italy.
"I have many plans in mind that I started thinking about even before the medal ceremony of the free duet [in Gwangju]," he said with a laugh. "I really want to feel again that feeling that I had in Budapest; the feeling that everything can happen and everything can change. I think that if I work in such a way that I have in mind, I can do it."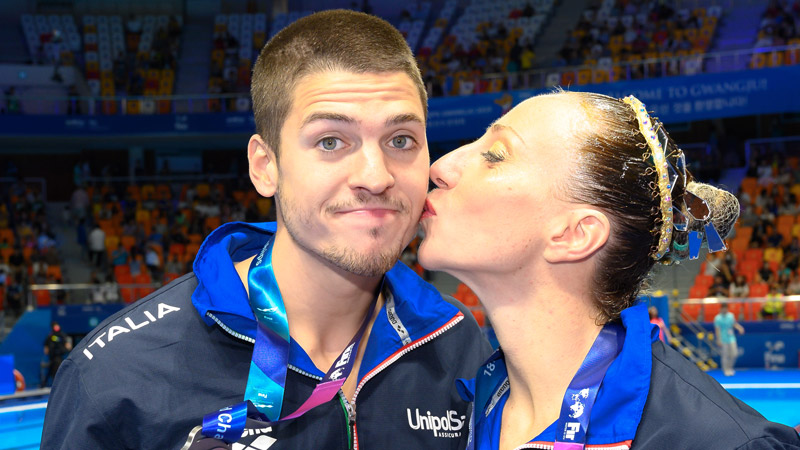 He is already back in the gym, with the 2020 European Championships in Budapest in sight, and with the goals to keep pushing himself, improving, and making himself even more undeniable. But once again, it is all about only controlling only what he can control.
"I will always know that I can never do anything to change my position in the ranking," he said. "But I can change how I feel when I swim, how I feel when I watch my swim, how I feel when I think about my swim, and what I say in the eyes of people who care for me. So I can work on all of that. I can work on doing everything that's possible and never settle. I just want to feel that every day, even without thinking of the competition and the medals that can be or can't be, because it's not something I can influence too much."
Following his success on the international stage these last five years, the development of mixed duets in Italy has soared. At the last national championships in May, eight mixed pairs were entered instead of just one only the year before. Men of all ages are taking up the sport, and even more younger boys have decided to start.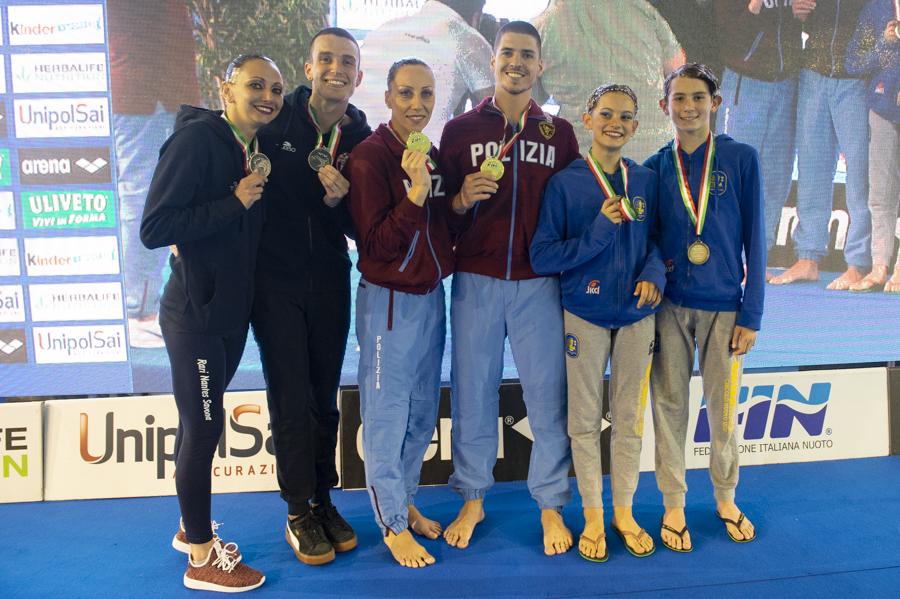 He does wish to see even more duets and men on the international stage, as he believes numbers and representation should be the critical focus at this point, along with more local and international promotional work to continue growing the event.
"I've been a bit sad at this world championships when I saw the start list and I saw that we were so low in number," he said. "I encountered so many more men. I don't know how we can change it, but I know that we are more than that, more than 10 or 11 from that competition, so that's something that we are missing. Another big reason is that all the young guys that are starting are still young, so the numbers will be our force, our power in the future."
Recently, the first edition of the FINA Youth World Championships in Samorin, Slovakia, saw seven mixed duets compete, which was indeed very encouraging for the future and for the inclusion of men in the Olympics.
On top of spending about eight hours a day training, Minisini has also been a part of the Progetto Filippide for the last two years, an association in Italy that helps athletes with autism and Down syndrome practice their favorite sports. After being contacted by the president of the project following his win in 2017, he was paired in a mixed duet with Arianna Sacripante, an artistic swimmer with Down Syndrome who also lives in Rome.
The two performed at the ParaSynchronized Swimming Festival in Kyoto, Japan, in 2018, and more recently during the gala of the 2019 World Series Super Final in Budapest. One of their goals is to promote artistic swimming and to see it included at the Paralympics in the future.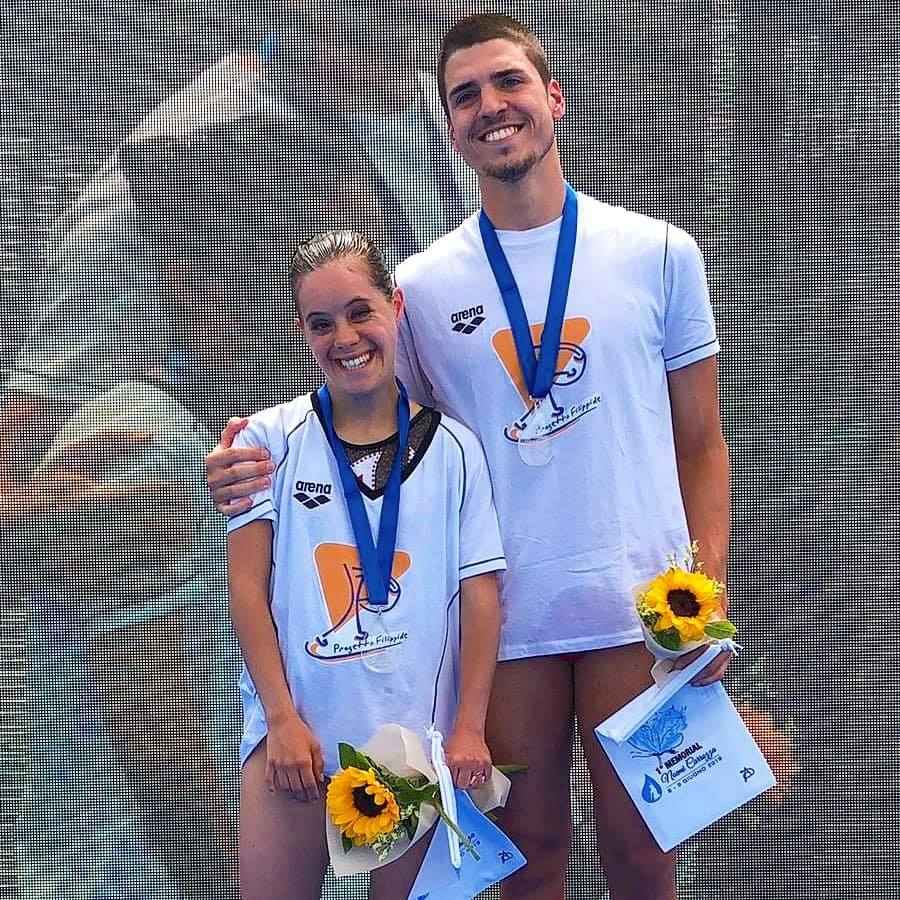 "I have to say this is probably the most intense experience I ever had in life, not just in sport," he said. "I think that I have been really happy to win the gold medal in Budapest, but it comes after this. Arianna has always told me that it was special because she has this possibility, so I think it's really something that goes above all the other things I did in life." 
In every other aspect of his life, Minisini tries his best to live in the present, and much like in the pool, to only focus on what he can control. Aside from his rigorous training, he loves to spend the little free time he has with his girlfriend, a fellow national team member, or with his friends and family.
He is also part of the Italian police force, which provides him a salary and supports him while he trains full time, and he competes nationally across all events representing its sports section, the Gruppo Sportivo Fiamme Oro. As for the future, he'd like to go with the flow and see what lies ahead when the time comes.
"I always wanted to be where I am right now," he said. "So now, I just want to live it as much as I can because it's what I aimed for when I was a child. For the future, I believe that all the plans you can do in life, 90 percent of the time they just don't happen (laughs). So, I just don't want to make too many plans because I want to see which chance I got in front of me, and choose the one I want to try and not close all the other possibilities."
Article by Christina Marmet
Cover photo by Istvan Derencsenyi