In an ideal world on May 3, 2020, the 10 teams and 22 duets going to Tokyo would have been finalized after four days of competition at the Olympic Games Qualification Tournament. In an ideal world, teams around the world would have been spending hours in the pool daily, each separately for months on end, to prepare for this major event and eventually the Olympics.
But the COVID-19 outbreak flipped the script. The Tokyo Olympics were postponed by one entire year, the 2020 competition calendar has been nearly wiped clean, and thousands of swimmers have been forced out of pools for weeks on end and forced to stay at home as much as possible.
What else could athletes from a team sport do but find a way to connect during these times, where all feel like fishes out of the water?
This past Sunday at 5:00 p.m. Central European Time, 34 top athletes from most of the best nations and representing each of the five continents gathered together in a Zoom call for a once-in-a-lifetime online workout session. Everybody came together for about one hour and a half, after weeks of planning, gathering all the participants, and coordinating who leads which exercise for upper body strength, core, or flexibility among others.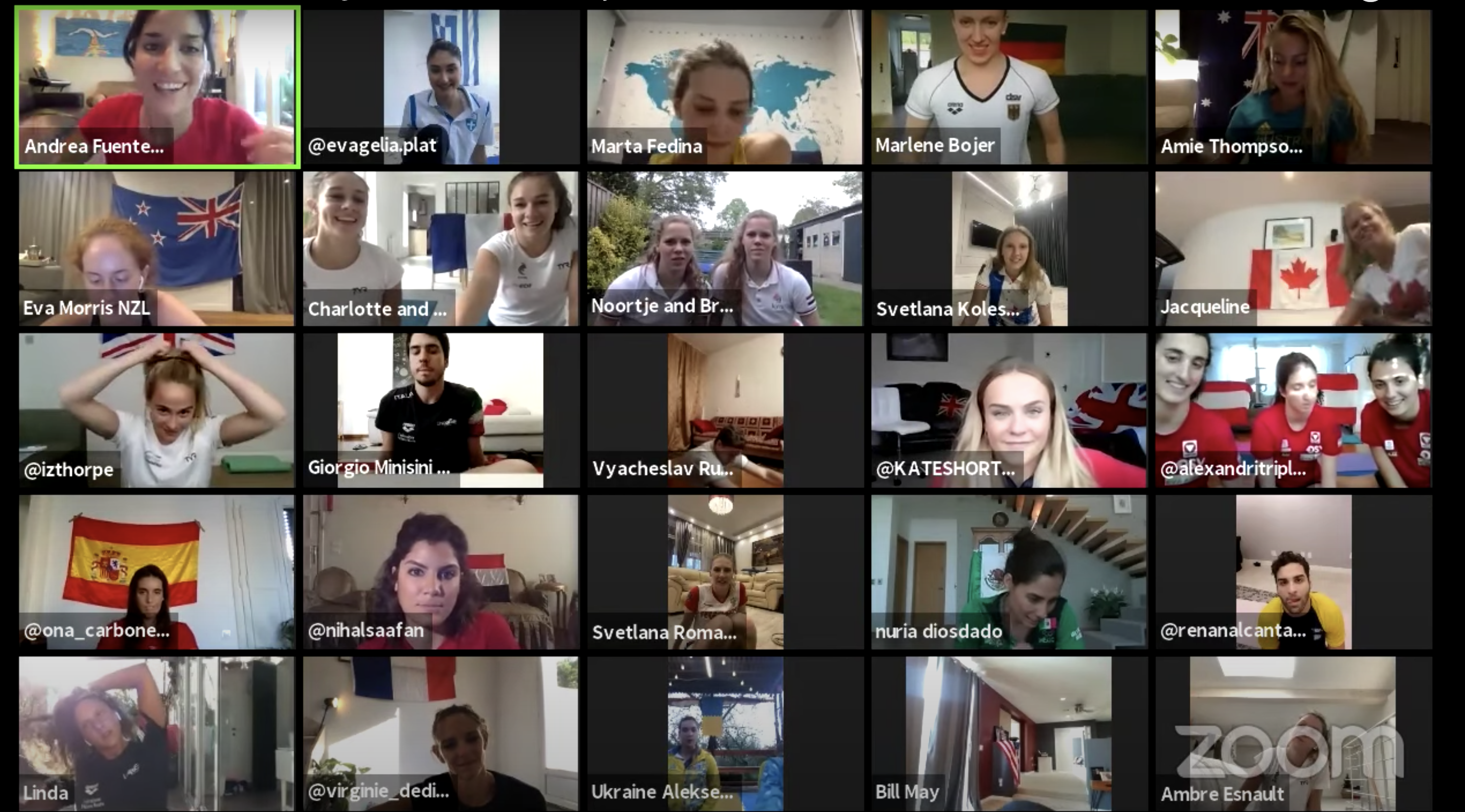 Fans and fellow athletes were able to tune into the workout simultaneously on Inside Synchro's YouTube to gain a short glimpse of their idols working out from their homes, like five-time Olympic champion Svetlana Romashina, FINA's most decorated female athlete Ona Carbonell, Olympians Jacqueline Simoneau or Anita Alvarez, world champions Bill May or Giorgio Minisini, or current Spanish team captain Paula Ramirez who even earned herself a new nickname amongst Spanish fans at the same time.
The workout was followed live by nearly 7,000 viewers and has now reached nearly 30,000 total views. Videos, photos, and messages from all over the world started to flood in to every participant's social media accounts, showing athletes from different ages enjoying a newfound inspiration in front of their screens at home and taking selfies with their idols while they could.
"I didn't expect so much positive responses," Andrea Fuentes said, head coach of the U.S. and leader of the event. "I thought it was going to be cool but not so much (laughs)! We as national teams have the job to inspire the [other swimmers] because we are role models for them, so this was very good. I think everybody enjoyed it. I was feeling that everybody was really in and with good energy. I think we all have our hearts a little bit bigger after this."
The reactions online have indeed been overwhelmingly touching and inspiring. Little girls in Russia and Singapore danced along with Bill May in the U.S., while another in Portugal tried doing the same yoga exercises as Evangelia Platanioti in Greece. A duo of mother and son practiced sculling with bands in the U.K. alongside Charlotte and Laura Tremble in France. Teenagers in Hungary stretched out with Ukraine's Marta Fiedina, and even some judges gave it a go and tried to keep up with Bregje and Noortje de Brouwer from the Netherlands in their push up exercises.
The workout was scheduled in the morning for the Americas, in late afternoon for the European and African athletes, but occurred in the late hours of the night for swimmers in Australia and Singapore, and even at three in the morning for Eva Morris in New Zealand. However, missing a few hours of sleep was undoubtedly worth it to take part of something so meaningful.
"I cannot describe how it feels to be a part of the world synchro community," Australia's team co-captain Amie Thompson said, connecting from Perth at 11:00 p.m. "To have involved every country despite ranking… It's about something bigger and it's revolutionary but so in line with the Olympic values."
While thousands of people were following on YouTube, more than 300 senior national team members had signed up to join the Zoom call itself. While they weren't shown on the big screen, they all were working out as well and living an unforgettable experience that was maybe just as moving as for the club swimmers.
"It was so cool to see how everyone was so excited being in the same call with all their idols," Singapore's Debbie Soh said. "My teammates all loved it. It was so great and inspirational especially for the new members who just joined us this year."
Fuentes had been toying with this idea since the beginning of her lockdown back home in California. Her team, just like many others around the world, started online training sessions on Zoom almost immediately after the pools closed back in March. At the same time, the Americans were sharing some of their training sessions on Instagram Live, whether it be Tabata, dance, or flexibility exercises.
Seeing the positive responses and aiming to make the most out of this peculiar time, Fuentes asked her audience of over 25,000 followers on her personal Instagram account if they would be interested in a worldwide workout eventually. 99 percent of the answers were "yes."
Slowly but surely, she worked up to it. First, she coordinated joint training sessions with individual nations, like Israel or Italy, before eventually organizing a regular Pan American workout every Friday between all national teams across the Americas.
Then, she opened up to different sports, and managed an online workout session with other sports federations and nationals teams in the U.S. Not only did she want her team and sport to gain more recognition from these other disciplines, but she most importantly wanted to make artistic swimming more relevant and in tune with the times in general. With the Olympics postponed by one year and synchro thus losing its most important showcasing event of the quadrennium, she knew she had to use the connectivity of an entire halted world to her advantage.
"It's important to bring artistic swimming to a higher level of popularity because otherwise we can fall as a sport very easily," she said. "We don't want this if we want to survive and be still in the Olympics. A lot of other sports are gaining ground, so we have to really make an effort as leaders of our sport to make it cool. I know it's a silly word (laughs), but it's important that synchro remains a sport that people know about, want to do, and want to watch. Otherwise step by step, we will lose. I really don't want synchro to stay behind, so we have to really put energy to make it cool, and these kind of things are part of it."
Following the successes of her Pan American and intra-U.S. workouts, she finally decided to tackle her idea of a worldwide online training session for artistic swimming. At the same time, some swimmers had already been talking about doing something similar only amongst themselves, but Fuentes wanted to take it to the next level and open it up to everybody.
"It has been awesome to see how much the influence of Andrea changed the entire thing," Giorgio Minisini said, a 2017 world champion for Italy. "At the beginning, it was an international training just for us to be together and train. When she got involved, she said, 'No way! Let's take two more weeks and let's make it global. We can do something historical here.'"
Nearly every nation and athlete she reached out to accepted to be part of the project almost instantly. Eventually, she assembled a group representing 28 countries, and picked 34 recognizable athletes to each lead an exercise during the workout. She even choreographed a fun little routine to Mark Ronson's "Uptown Funk" for all 300+ national team members and the thousands of viewers to perform together.
"I was pretty nervous before we started because at one point [Inside Synchro] said, 'Guys there are already 600 people waiting,'" Minisini added. "And after some minutes, it became 1,000. And before really starting, there were 2,000. I understood right away that it was going to be bigger than I thought. But I had a lot of fun, and all the feedback of people who tagged us in their Stories on Instagram and the numbers on YouTube are just awesome. It makes me so proud of what we did."
The positivity and energy coming out of this project was certainly felt all around the world, and it likely lit a new fire under many athletes. In these times of uncertainty where it might be difficult to find motivation, this unified workout instilled hope and inspiration into swimmers from all ages, especially after seeing that even the best athletes are also stuck in their respective homes and doing the best they can to stay in shape and remain motivated for their goals.
Connecting with thousands of people in this way and showing the true values of sports was already extremely fulfilling for all athletes involved, but this experience was also meaningful amongst themselves as many of them won't get to see each other at all this season.
"It was just great to see everybody on the call," Jacqueline Simoneau said, a 2016 Olympian from Canada. "Especially since now we are used to seeing each other a couple of times a year, so it felt like something was missing. Now that little space, that little emptiness was filled in, so it was just a great feeling overall."
"It's very interesting to not only work out together but to also connect and support each other," Fuentes also said. "And to remember that we are not only rivals competing against each other. We are sharing the same passion. This is important that we keep that, that we have good moments and not only competition moments. We want everybody to be able to say, 'I feel part of this world and this family.' We are all connected by what is making our heart beats faster, and that is synchro."
The session, undeniably a much needed feel-good story, was afterwards covered by local or national television stations in Canada, New Zealand, Germany or even Catalonia among others.
Article by Christina Marmet
If you've enjoyed our coverage and are looking forward to it during the 2020 offseason and the 2021 season, consider donating to Inside Synchro! Any amount helps us run the site and cover meets.