Andrea Holland is quite literally the voice of artistic swimming. Fans may have heard her unmistakable British accent while watching the Olympic Games on television, or the World Championships on FINA TV. For the last 30 years or so, she has always answered the call to commentate a major international competition. 
On top of commentary, Holland has worn many different hats in the synchro world, and it may feel like she's truly done it all. She competed internationally in the late 70s, coached two different nations at the 1988 and 1992 Olympics, and more recently became a European and World Champion in the masters category.
Inside Synchro sat down with her to discuss all of her different careers, how she prepares for commentary, what changes she'd like to see to improve the coverage and to help the sport be on television more, and of course her return to the pool in the masters competitions.
Inside Synchro: Let's start with your elite career. When and how did you get started in synchro?
Andrea Holland: Gosh, that was such a long time ago (laughs)! I think I was about eight or nine. My parents were both ice skaters, so they were really interested in artistic sports generally. My mum was at the pool while my sister and I were learning to swim. She saw a girl going across the pool with one leg up in the air. We went back home and told my dad. He said, "Don't be ridiculous! It's absolutely impossible, there is no way you can do that at all." So, I think we were thrown into synchronized swimming because she just wanted to prove my dad wrong (laughs). 
My sister Jane is a little bit older than me. She was European Champion back in 1974, and I was at my peak around 1977-79. I always followed in her footsteps of whatever she did. I achieved some good things as an elite swimmer. At the time, we used to do a competition called the Five Nations, with the top five nations in Europe getting together. I was Five Nations Champion in solo, but also fifth in the world in solo, fourth for duet, and European Champion in duet.
IS: How was the sport back then? Was it popular at all in Great Britain?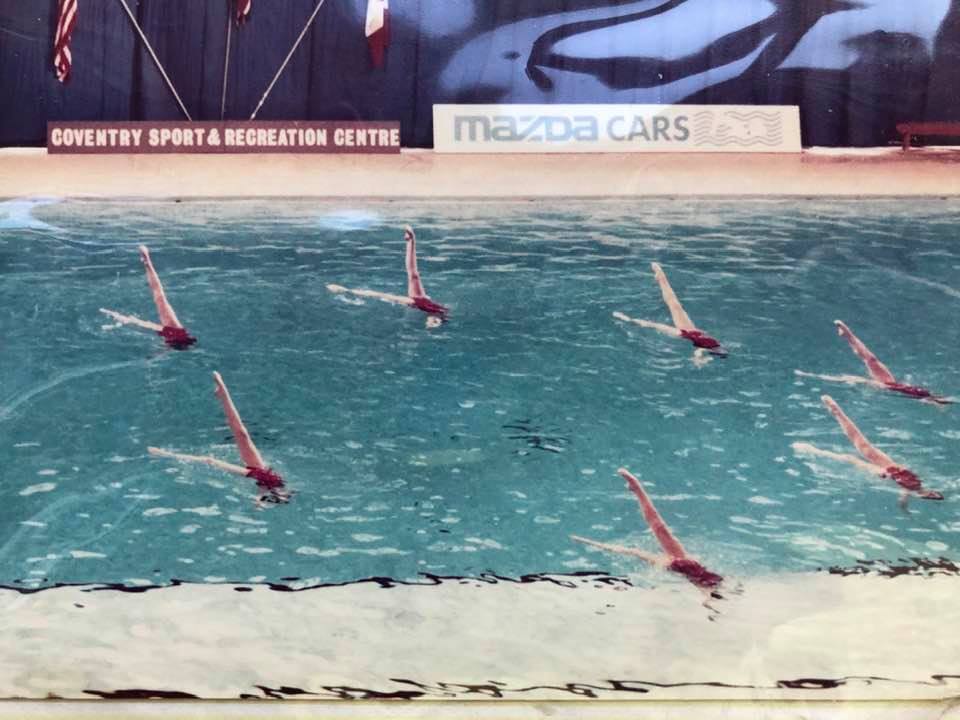 AH: Nobody in this country had really heard about synchronized swimming until the 1984 Olympics. Then suddenly, it was on television, and everybody was like, "Oh my God, what is that sport?" A few commentators took the mick out of us a little bit at the same time, but at least it was getting talked about. As a sport, it was quite different to what it is now. I mean, there is a lot of talk about social distancing at the moment, and we were very good at that then. We were so far apart! We used to fill the whole pool. It's just changed so much, with everybody close together now. It's probably a lot more technical too.
IS: When did you decide to retire from elite?
AH: I did the World Cup in 1979, and I pretty much finished after that. I had a few years off, and then became the Great Britain junior team coach in 1984. It was great and gave me a lot of experience. At the time, Great Britain was really high up in the rankings. We actually got the gold in the team that year at the Junior Europeans, which was absolutely amazing. Then, I moved over to Switzerland in 1987, and coached the Swiss team with Edith Boss and Karin Singer  for the Seoul Olympics. Then, I went back to the U.K. and coached the British team for the 1992 Olympics, and all the competitions in between as well. I retired from coaching at the end of 92.
IS: Obviously, synchro wasn't an Olympic sport yet when you were an athlete. Do you ever wish you could have gotten that experience?
AH: Yes. It wasn't an Olympic sport unfortunately when I was at my peak. Had it been in the 1980 Olympics, then I'd have gone as a competitor. The fact that it came in in 1984 was just too late for me. But that's why I'm just so proud of having been to 1988 and 1992 as a coach. There is nothing else like it. To be part of an Olympic Games is just incredible. The work that you put in beforehand is just over so many years. You have this goal to get to an Olympics, and finally you're there. You're walking around in the opening ceremony, and it's just the most unbelievable feeling because of how much work has gone on. But the minute the Olympics are over, it's just like falling off a cliff, even as a coach. It's the worst feeling because you've reached the top of the mountain, and suddenly you fall off the other side. It's so important to have something else in your life to stop you from dropping too far actually. 
IS: What did you like most about coaching?
AH: The choreography, and coming up with new ideas. I loved finding things in the water that nobody had ever done before. That's what really appeals to me about the sport generally. And seeing people progress. I also used to coach at the club Reading Royals. I worked a lot with the little ones from about the ages of seven and eight. There's just something really special to watch them compete in the U12 age group, and then nurture them through their swimming career.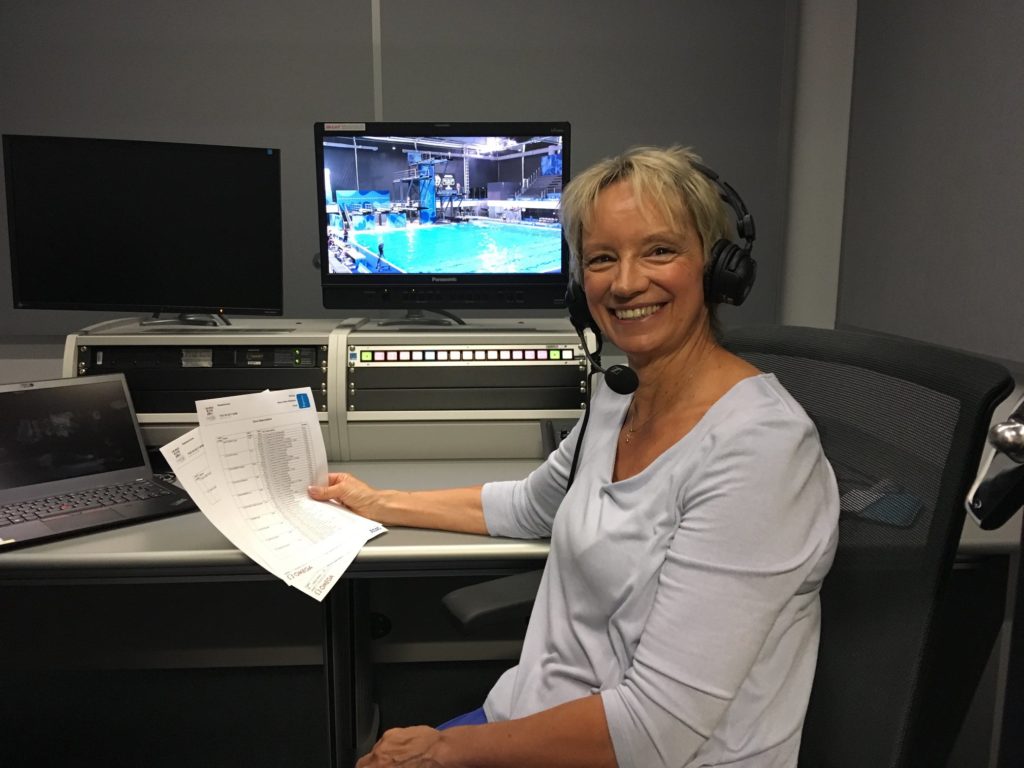 IS: And then came the commentary…
AH: Yes. When I finished coaching in 92, I was asked to audition to do the commentary. I was really lucky, and it was great timing for me. I had already done a few bits and pieces for Eurosport. Then, we had the European Championships in Sheffield in 93. The BBC was covering that, so they asked me to audition. That's when the commentating started, so that's more than 25 years ago now… Scary (laughs)! Eurosport used to show quite a lot, so I was on a fair amount in the 90s. And then I used to always commentate whenever the BBC used to show the big competitions like the Olympics and the Commonwealth Games. 
I was very lucky, particularly in the last eight years or so. I've started to cover diving in the world feed in the Olympics as well. Then at the Youth Olympics in 2018, I did breaking, which was just great learning new things, being the voice of the sport, and being able to support their journey. And then last year [at the European Games], I also did gymnastics.
IS: How do you prepare for your commentary before a competition?
AH: I love doing research. I'll spend hours and hours and hours on it. I love finding out about the athletes I'm commentating on. I think I'm very privileged, and very lucky to be able to do the job that I do. The most important thing is to understand the work that they've put in, and the journey that they have been on as they progress towards being an international swimmer, so that I can help them tell their story. I think viewers also like to know about the person as much as they can see how well they are doing their sport. It's about telling a story, and finding out what's behind what they see on the television. I am in a very privileged position to be able to do that. I'm there to support the athletes, do my very best job for them, and bring their stories to light. 
IS: Have your experiences with other sports helped you with artistic swimming?
AH: Yes, definitely. I'm a lot more confident as a commentator now. Before, I might have done a synchro commentary, and then it would be another year later than I did another one. Now because I do more sports and I'm more involved, I've built confidence over the years. The feedback I've had as well actually also helps towards that. When I did the gymnastics, I had Olly Hogben with me, another commentator. He told me he's never known anybody do anywhere near as much research as I had. I took that as a massive compliment. The Code of Points for gymnastics took six months of solid working, when I was not actually at my job. Whilst I might not need it all, that's good for me. I would not have been that self-assured commentating unless I knew that I knew the facts. I didn't have to rely on grabbing pieces of paper. You can't do that. You've got to be immediate or otherwise you've missed the moment. 
IS: What do you focus on when you commentate a synchro routine? 
AH: I quite like to focus on the technical side. But I was also told in the very early days of commentary to pretend you're commentating to your grandmother who knows nothing about it. So, I try not to talk about it too technically, but still with enough in because a lot of people who are watching are the experts. It's really a balance between getting the technical bit across, but actually also not forgetting the basics. If you bring somebody new in, you need to explain what they'd want to know, or what they need to do if they want to get involved. We need to bring people into it, and that's one way.
The best thing about our sport is to have silence sometimes from the commentator, so the audience can just really get into the routine and make their own minds up. I don't want to be talking all the way through the routine. So, my apologies to some coaches who give me chapters and verses if I don't say all the information they wrote down. But that takes it away from what the swimmers are actually doing. My recommendation is to tell us the main points of the story and what the theme is, but not too long because we can't say it all. 
IS: Yes, there is nothing more frustrating when the commentator cannot stop talking and it's hard to hear the music or to really get into a routine. 
AH: Say something if there is something to be said and it's important, but don't talk for the sake of it. It's far more important that the music and the emotion come through.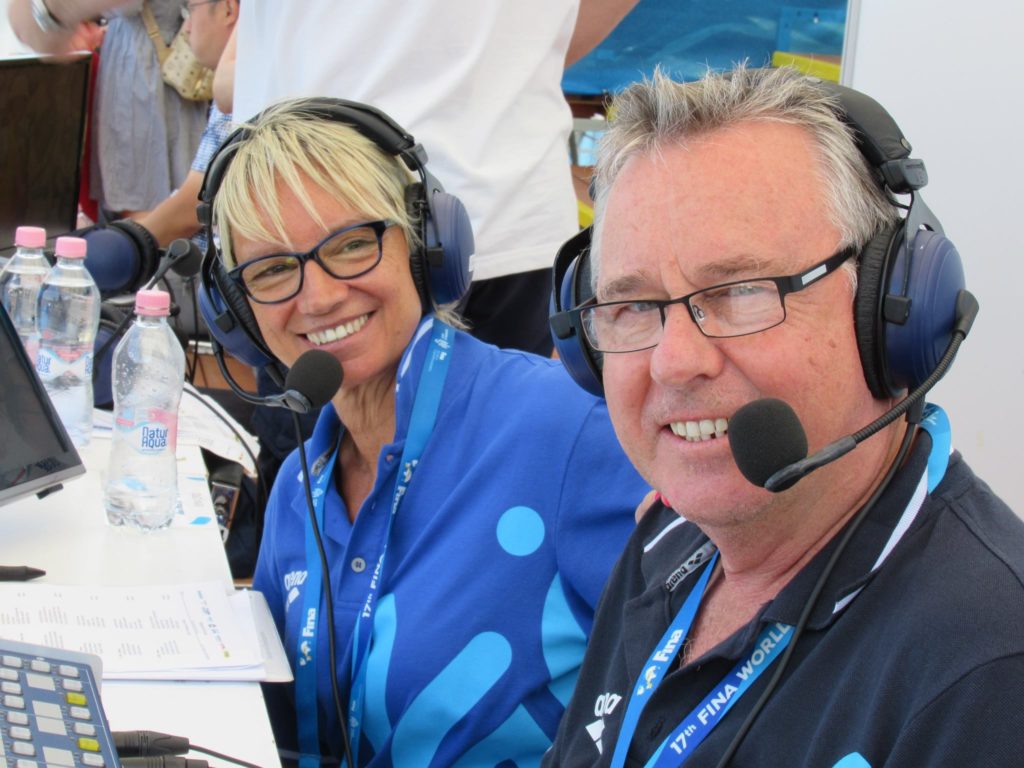 IS: The Olympics are obviously the time where synchro gets a lot of new viewers. Do you change your talking points between Worlds, where it's really going to be the hardcore fans watching, and the Olympics where it's a broader audience?
AH: Yes, definitely. [At the Olympics] I will talk a lot more about the sport in general, how to get involved, and more basic stuff. Whereas if I'm doing a FINA commentary and it's only being live streamed and not shown on television, I know then that it's the experts who are watching. I wouldn't then talk so much about very basic facts, or how to get started. After the Olympics, there is always an uplift of people wanting to try the sport, and it's a great opportunity to let them know how to do so.
IS: Nowadays, synchro is basically only on television every four years for the Olympics. What do you think we need to do to be on more?
AH: Sometimes, we do need to look at ourselves a bit more. There are a few things that I would change about the sport. We know how hard it is, how technical it is, and the incredible amount of hard work these athletes do. But sometimes, that can be really undermined by the 30-second walk-on. I know they are trying to set the scene, but actually you wouldn't get that in gymnastics, or in ice skating. Since they reduced the deckwork to 10 seconds, it feels like countries are using those 30 seconds as additional time to do the deckwork and walk on. I'd love to see people just actually get to their place and start.
Then, remember the cameras are very, very close to the faces. So for television, the makeup is too much a lot of the time. The facial expressions need to be toned down a little bit too. I understand it having been involved. I know the audience and the judges are a long way away. There is the argument, "But that is our sport." Yes, but if you want it to be on television and with cameras really close to the swimmers, you don't need too much makeup. We just need people to look as natural as possible. Many years ago it used to be just all about the smile. Now you have to be dramatic and show so many different emotions. That's fine, but again just don't overdo it too much.
I also preferred the scores shown so that you could actually see if a 10 was given. At the moment, you just get a total score for artistic impression for instance. In the commentary, I then have to say, "And within that, there were two 10s." But people like to see the actual scores. They like to see if somebody has got 7.5 and 8.5, or 9.1 across the board, or 10s. It adds excitement for the viewer, and also for those in the pool that are watching it. I'd really like that brought back.
And finally, how good would it be if we could explain straight away if there were penalties, instead of just guessing all the time and making a fool of ourselves because we got it slightly wrong!
IS: Yes! If I'm on site, I have to go and ask a whole bunch of people about the penalty. It should at the very least be indicated in the final score sheets, but we really should be able to know almost as soon as it's given.
AH: Yes. It makes us all feel like we don't know what we are talking about. But actually there could be a number of reasons for the penalty. I would just love to be able to see straight away what it was, and the reason underneath. That gives us another angle to talk about. 
Having said all of that on a positive note, the camera angles we get these days are incredible. Being able to see underneath the water and above the water with the split cam does so much good for our sport. It's really fantastic to watch. 
IS: I also wish we had some sort of live standings on the screen, showing who's in the top three and what's the score to beat. Anybody tuning in could know what's going on. And yes, having each judges' scores up on the screen after a routine would be exciting. I will always remember in 2005 when Virginie Dedieu received all her 10s.
AH: Definitely. And that's across all sports, you remember those moments. I also think it adds to the audience participation in it. I know I enjoy watching it in ice skating. At a minimum, the audience should be able to see the actual scores, not just the totals. Those don't mean anything. We are not supposed to talk about them on television because the viewers can't see them, but sometimes it's really relevant. If there are three 10s, you want to mention that three judges thought this was absolutely perfect and have given it a 10. As a viewer, I think I'd like to see that myself.
IS: Have you ever found yourself in a situation where you disagreed with scores or the final rankings, and said so on-air?
AH: If that's what I think, that's what I'll say. I won't always agree with the judges, but I'll also clearly say that this is my personal opinion. I don't think it's a good idea to undermine judging on television, because I don't think that's very good for our sport. For any judged sport really, it could then bring in some disrepute and lead to, "Should it be in the Olympics?" So I am very clear to say this is my personal opinion, that I'm not a judge, and that maybe the judges saw something I didn't. But I do like to give a personal opinion because sometimes it is good for the audience to hear what I feel personally as well.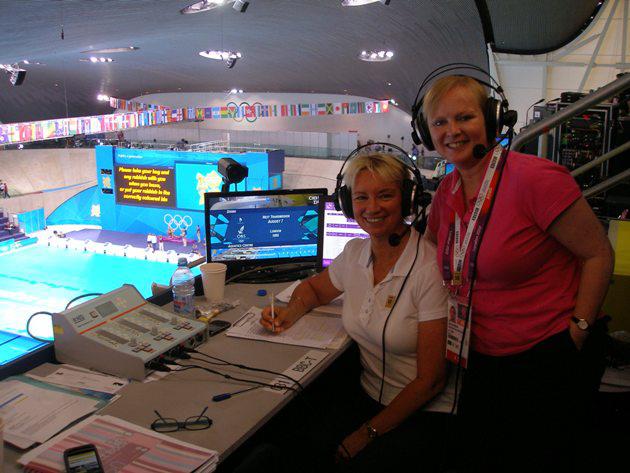 IS: In general, do you feel like the format of a competition is television-friendly? 
AH: For TV, it would work so much better to show the duets and teams more. A lot of the time, we find that if we are going to be on television, somehow it coincides with when solos are on. I don't think people would sit and watch solos for an hour. We need to make sure that the duets and teams are on when it's more primetime. At the Europeans in 2018, I was in a pub afterwards on Sunday night. They had the television on and suddenly the Ukrainian team was on the screen at 9 p.m. in the evening on BBC1 in the U.K.! That's what we need for the sport to continue to grow.  We need a lot more people coming into it.
It would be good to show preliminaries occasionally too. If it's finals and people have tuned in towards the end, the scores are very, very close. It's very difficult for them to see or understand why one country would be marked slightly higher than the other. In that respect, I quite like commentating on the preliminaries because you get more of a difference. You can clearly talk about why that one was a higher score than perhaps the one before. It's a bit easier to understand.
The other thing I think will help the sport to grow generally is for men to be involved more. In 2018 when we had mixed duets at the Europeans, it got a huge amount of publicity heree. They had it on primetime television! We were really talking about it, showing it, having discussions about it, which was great actually. Obviously it's not in the Olympics. We see it on FINA TV and LEN TV, but that's really only for those already involved in the sport. Not so many people have seen men doing synchronized swimming.
IS: What has been your favorite competition to commentate so far, and the most challenging one?
AH: Any of the Olympics are incredible, but London has got to be one of my favorites because it was in my country. The whole Olympics spirit was just incredible. Rio was great as well because for the first time I was covering the diving so that opened up new challenges for me. 
As for the worst, I do remember one for Eurosport. I wasn't actually on site, and I was working in Paris. I just had a television screen, the same as everybody watching. Then, the screen went dead. The sound was still there, but it was in my early days of commentating so I didn't know if it was just me that the screen had gone black for, or whether it was black for everybody. I had to waffle on, and talk for about half an hour with no screen! I didn't know what was going on. That was a really valuable lesson to learn. Whenever I do a commentary now, no matter how sure I am that nothing will go wrong, I always have a list to my side of things I could talk about just in case I need to fill 20 minutes or so (laughs). It's always just there as a safety blanket, and it's because of that one commentary where I really needed it. 
IS: Are you going to be in Tokyo next year?
AH: Yes! I was looking forward to it this year obviously as everybody was. I should have been in Budapest swimming for the masters too.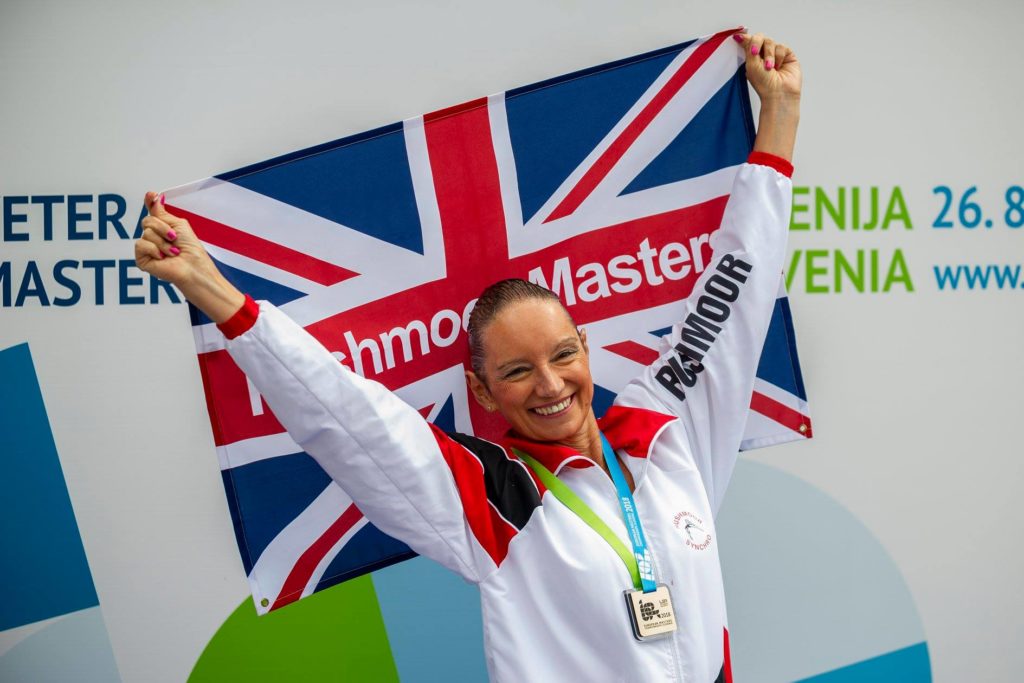 IS: What a fabulous transition to discuss masters swimming! When did you decide to get back in the pool?
AH: A friend of mine had somebody very close passed away. The story was incredibly sad. She was very young, and died of cancer. I just thought I wanted to do something to raise money for charity and cancer research. There was no way I was going to run a marathon, and well, I used to be really good at synchronized swimming! I was still involved with it, so why not come out of retirement. This was in 2014. 
I remember saying to a friend that I wanted to start doing synchro again for charity, but also how good it would be to have the aim of winning a World Championships gold in the year that I was 60, so in 2018. This was a really good challenge to have at the time. I was also beginning to look a little bit frumpy and heavy. So it was a combination of raising money for charity, wanting to get fitter again, and wanting to achieve something really special for my 60th year. But then, FINA changed the dates so there wasn't going to be a Masters Worlds in my 60th year unfortunately. So, I changed my goal to winning the Europeans that year. 
In 2014, I was swimming with my club Reading Royals, went to Montreal for the World Championships, and competed there just in solo. The following year, a lot of people got inspired to get involved in masters because the European Championships were being held in the U.K in 2016. I joined another club called Rushmoor, which had a masters section, and started doing team with them. 
IS: What do you like most about competing in the masters category?
AH: What is so special about masters is that you carry on achieving things as you get older. I swim better now than I did 40 years ago.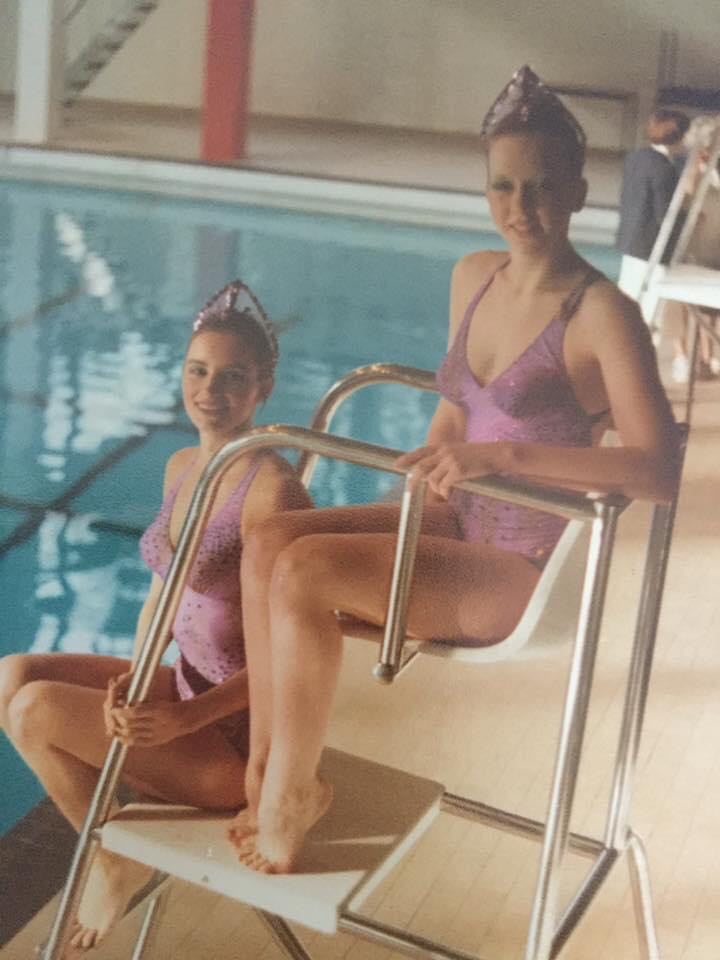 The person I used to swim duet with back in 1979 was Carolyn Wilson, who became three-time European Champion in the early 80s. She also went to the Olympics in 84, when I had retired. She started coaching me for masters, and then decided she was going to put her swimming costume back on again so we could do a duet again in 2016. Then for Worlds in Budapest in 2017, we decided to do the 1984 Olympic duet that Carolyn swam. We managed to find a film of it. After a lot of emailing and asking around, we found the music and we were able to do the same duet as it was in the 1984 Olympics. We just took out a lift because it had a massive split in it, which wouldn't be our strong point now (laughs). 
But, we swam it at a meet in Belgium, and realized that it wasn't hard enough now. We had to make a lot of changes to it, and make it a lot faster. So, we swam that in 2017, and got bronze. It was great to be able to do that so many years after the 84 Olympics. Of course, Gwangju last year was also a really special moment. We got the gold in duet 40 years after coming fourth in Tokyo in the World Cup. That was amazing!
What's actually probably even more incredible is that some of the people who were in that junior team I coached back in 84 are now swimming in that same team as me. I'm also in a team with 25 year olds and can match them, which is great (laughs)! That's what's so great about masters really. It covers so many different age groups and generations. I made so many friends through that.
IS: What do you wish people knew about masters?
AH: There are a lot of different reasons as to why people want to do masters. There are those that are maybe just finished with elite and want to continue at a slower pace. Or those that have left the sport for a long time that then miss it and want to come back to it. Somebody once said this to me: it's really great as you get older to revisit the things that you used to do as a youngster, and remember what made you happy. It's another reason why I came back.
Also, people are still very competitive. That never goes away. But what is really important is that the fun is there. We have such a laugh trying out new things in the water at our age. What you will get is a lot of camaraderie as well. Everybody is always very supportive of each other at competitions. There is no jealousy. We are all there to do our very best, and you get cheered on by the other swimmers to do just that. Everybody has a story to tell, and a journey behind it. 
IS: How do you balance it all with your full-time job?
AH: I am a marketing manager for BMW. I've worked with them since about 2007, and it's a very full-on role as you can imagine. I don't have time for much else, to be honest. I train about three times a week in the gym, and three times a week in the pool. 
I was never an individual European champion in elite, so that was a huge ambition of mine since I came back to masters. It was great to do that in 2018 with the solo title, but it was a lot of hard work. When I first came back in 2014, I couldn't do more than 10 mins without getting severe cramps. I wasn't used to pointing my toes after so many years. The sessions were funny, but gosh, it was hard as well. I'm way past that now, and as I said I'm much, much fitter. I enjoy the training that I do. I also realized I probably wouldn't go to the gym three times a week and do all this training unless I had an aim. I wanted to win the Europeans. We wanted gold in the Worlds last year. That's a motivation to do it all.
IS: How do you manage when you're at elite Worlds to commentate, but you then have to compete the week after in Masters World?
AH: I have to be really prepared for the commentary first and foremost because that's why I'm there. Then, I get quite embarrassed actually because I put my suit on in front of all these amazing athletes and look for a tiny gap in the pool. I have to. I can't go 10 days without getting in the pool and then compete. I always find a gym, so I can carry on with that. I do try and get in the water, but I'm very wary of staying out of anybody's way because it's their training time. I just think if I'm in a corner, maybe people won't notice me. It's great however if somebody can watch me and correct me. Paola Celli, the Italian commentator [and two-time Olympian], was coaching me in Gwangju in between events we both had to commentate! That was brilliant, and I absolutely loved it.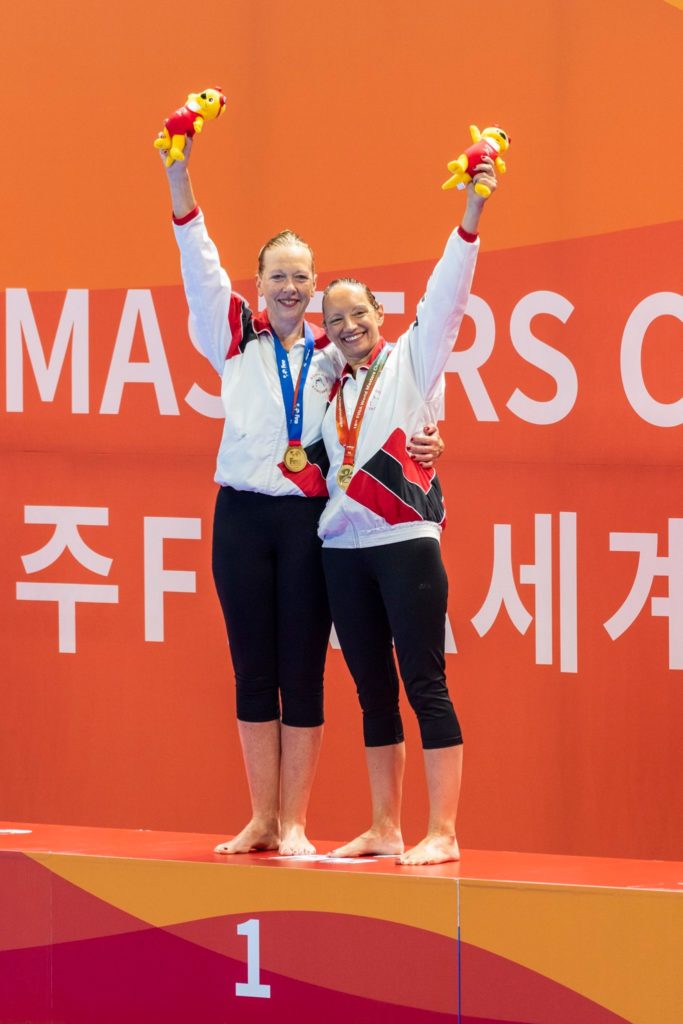 IS: What are some of your future goals?
AH: I actually had to really give that a lot of thought last year. When I came back in 2014, I said that it was a five-year plan. I'd like to continue to do well, but I'm also trying not to be as competitive as I am. I'm trying to do it because actually, this is really good for me, for my health and my well-being. Having said that, you can't take the competitiveness completely away! I'd love to win the European title again next year. I am definitely going to stay on for another two years, with the World Championships now in 2022. It would be brilliant to win a medal there in solo, and I'd love to do it again in the duet obviously. Above all, I just want to remain healthy and fit to be able to continue to do it.
Masters helped with the commentary as well. I now remember what it feels like to compete again, to be in that water in front of the judges. It gives you more empathy with the people who are actually the athletes at the moment. They are so much better than me of course, but it's truly that same feeling when you're standing on the poolside.
Article by Christina Marmet
If you've enjoyed our coverage, please consider donating to Inside Synchro! Any amount helps us run the site and travel costs to cover meets during the season.