"You have to believe us."
Olga Novokshchenova, coach of the Island Aquatics Synchro team in Port Antonio, Jamaica, and two-time Russian Olympic champion, was extremely skeptical. She had just received a call from an agency representative looking to cast artistic swimmers of colors for an upcoming music video by a "Grammy Award-winning elite artist." 
The agency explained that it had only managed to find a handful of Black swimmers in the U.S., and was subsequently recommended to get in touch with the Jamaican team. Novokshchenova dubiously agreed to the project, and sent photos and videos of some of her athletes, not knowing exactly what age or skill abilities the artist was after.
Some of her Jamaican swimmers had just returned from a two-months training trip in China, thanks to an exchange program implemented by the governments of both countries across multiple sports, including artistic swimming. It was the beginning of September, school was right around the corner, and Novokshchenova had already created her training plan for the next few months. She wasn't keen at all to let her athletes go again, especially when she still had no idea who it was all for or when it would happen.
"They just got back and I was excited to finally start working to prepare for next season," she said. "I was not excited to send them somewhere else (laughs)! Especially since I didn't really believe what was happening. OK, the lady called me on the phone, sent me an email, but I said, 'Guys, you can tell me anything on the phone! How do I know that you is really you?' They answered that I just had to believe."
Days passed with no news or plane tickets, so she told her team to let it go. Maybe somebody was pranking them after all. Fortunately, the agency called back soon after and explained that the artist had requested all 10 Jamaican athletes, even the younger ones. And, they wanted to fly everybody out to the U.S. the next day to start rehearsals.
"I said, 'You people are crazy!'" Novokshchenova recalled. "I asked what I should tell the parents, but they still wouldn't say anything. That could not work. I can't just say, 'Parents, give me your children for a few days to fly out to California tomorrow, to work for somebody and I don't know who it is, for a video I have no details about, and to stay in some hotel!'" 
Eventually, the agency understood and caved, revealing who the artist was. Still, Novokshchenova would not let her guard down, even after signing the non-disclosure agreement (NDA) with Beyoncé's name on it, with plane tickets booked for the next day and with hotel rooms waiting for them in Los Angeles: "I said that anybody could download a form online and put any name on it. All it proves is that we cannot tell anybody where we are going and what we are doing (laughs)!"
She remained suspicious until the very last minute. She weighed the pros and cons of actually getting on that plane, envisaged everything that could go wrong, and even contacted some of her friends in the L.A. area in case it truly was a hoax and they needed a place to stay.
On such a short notice, only five of her athletes could come or had the necessary paperworks to travel to the U.S. for two days of rehearsal and one day of shooting with one of the most iconic American singers and songwriters.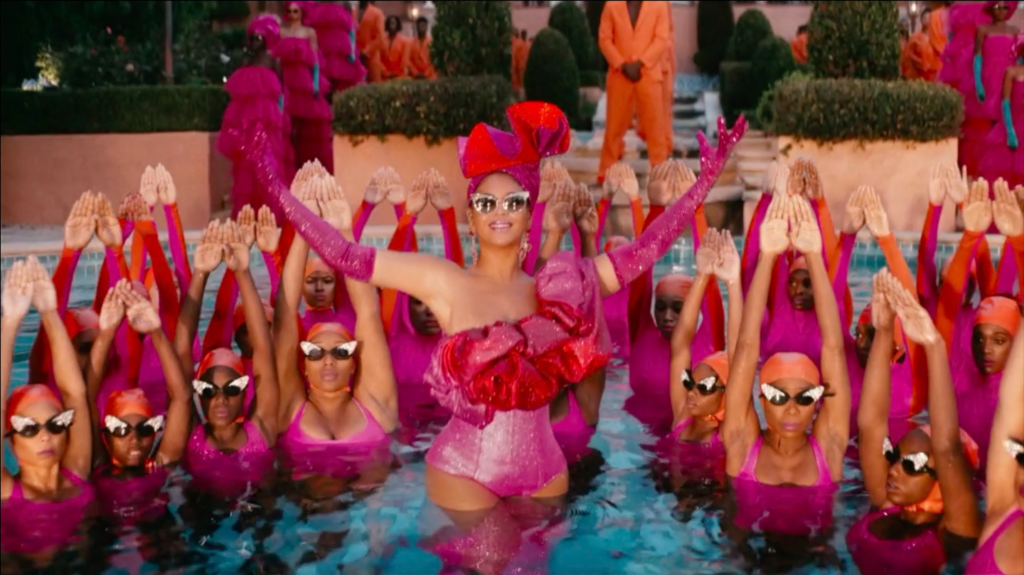 On the other hand, her swimmers Laila Bailey, Nyouka Baugh, Ajoni Llewellyn, Joydayne White, and Micah Wilson were ecstatic. All were between seven and 18 at the time.
"When coach Olga said we were supposed to do a video shoot for an artist, I was curious and wondering which artist it could be," Laila, 15, said. "Who would think we are that special to put us in their video? When she told us it was Beyoncé, I was so excited! I was going to see her, to touch her, to be in the same water as her! It was a dream come true."
Once at the airport, Novokshchenova and her team ran into Nicole Chin Shue, fellow Jamaican swimmer, coach and member of the Aqualillies, one of the biggest professional synchronized swimming companies in the world. She already knew people at the location who had started rehearsals, including the Aqualillies' Executive Director Mary Ramsey. Novokshchenova was finally able to relax: it all really was true. 
Chin Shue had been with the Aqualillies for a few years, and this wasn't her first on-screen job. She appeared in the Coen Brothers' movie "Hail, Caesar!", the TV show "Jane the Virgin", and various ads and music videos. However once they all arrived at the Beverly Hills mansion, Chin Shue quickly realized this particular gig would resonate with her for a very long time.
"In synchro, I'm one of the odd balls," the 32-year-old said. "There are not many that really look similar to me. I'm always that one little brown leg that sticks out in the pool (laughs). But this was a different type of set. The majority of the people were African American or of Caribbean descent. It's never like this, it's never a majority of people of color. I was so proud to be there, and I was proud to know that I am a Jamaican representing my country."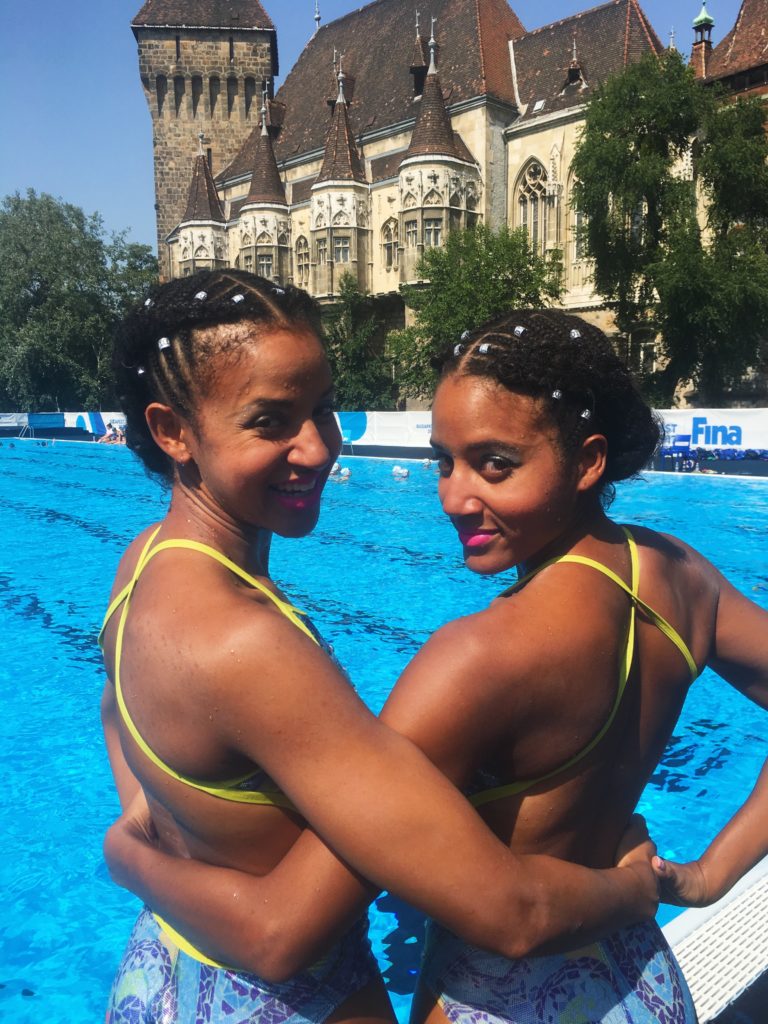 A few more artistic swimmers, including Philicia and Tamar Saunders, were already on set learning the choreography. The California-based sisters have been involved in the sport for 23 years, and were on the first all-African American team, the Synchro Swans, growing up in southwest Los Angeles. They have been duet partners ever since, and now swim for the masters team the Unsyncables of La Mirada. 
Philicia received a call about the gig via her agent, but much like Novokshchenova, had no idea who the artist was until signing the NDA. Even after the conclusion of the shoot, she and Tamar had no clue about the bigger aim of the project, or what their artistic swimming segment would be used for. 
"We thought this was going to be a quick music video because she had just released another one a couple of weeks prior," Philicia said. "After the shoot, we were waiting for months. We were like, 'Man, did we look that bad and she didn't use it?' (laughs). At the time, we were really just happy that there was a request to highlight swimmers of colors in the sport."
Beyoncé's 85-minutes film Black is King, was finally released on July 31 on Disney+. She was inspired by the 2019 remake of the Disney classic The Lion King. Her visual album tells the story of a young African king cast into the world as a baby, and who ultimately grows up to return home to reclaim his throne. Along the way, he meets different figures and ancestors who connect him to his history and identity, of course accompanied by music and dancing. 
"Black Is King […] is meant to celebrate the breadth and beauty of Black ancestry," Beyoncé explained on Instagram. "I could never have imagined that a year later, all the hard work that went into this production would serve a greater purpose. The events of 2020 have made the film's vision and message even more relevant. […] With this visual album, I wanted to present elements of Black history and African tradition, with a modern twist and a universal message, and what it truly means to find your self-identity and build a legacy."
The artistic swimming portions appear in "Mood 4 Eva." All swimmers followed the directions of the Aqualillies' Mary Ramsey, who herself was closely collaborating with Beyoncé's choreographer JaQuel Knight. The younger Jamaican athletes received special swimsuits covered in Swarovski crystals. Micah Wilson, seven years old at the time of the shoot, was amongst the youngest on set but that didn't deter her.
"I had never met Beyoncé but my mom had me dancing to two of her songs before this," Micah, who started synchro three years ago, said. "My best memory was when we were standing in the line with our hands up and then we dive into the pool. [Beyoncé] also said she was happy we could make it and that she was proud of us."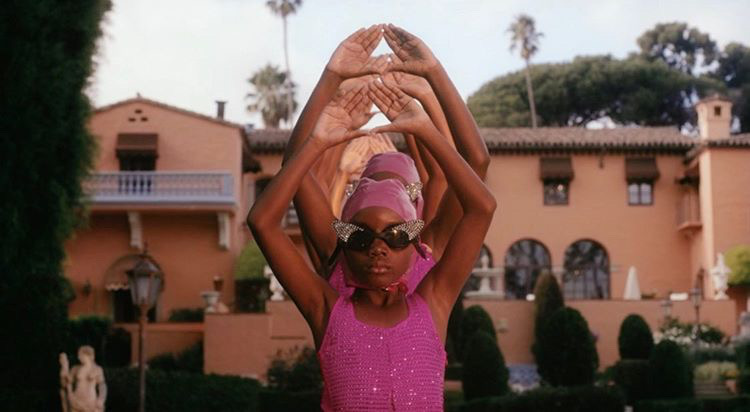 Chin Shue was ecstatic to guide and mentor the younger athletes throughout and to explain to them what the expectations of a professional set like this were. More importantly, she wanted them to grasp the significance of this particular shoot.
"I felt like a proud mama," she said, laughing. "They were so excited. They weren't really nervous because they are coached well and pick up things really quickly. I am so proud of them. I was happy that I was there to give them pointers, and have them understand the importance of it all. You don't normally go on a set and see a majority of people of color. Beyoncé is making a point to promote Black talent. This is going to sound very Jamaican, but it lighted a fire in your belly to push you to continue."
Each found Beyoncé caring, welcoming, gracious, and inspiring while simultaneously directing and giving instructions during the entire production. The swimmers got a different glimpse into Beyoncé the businesswoman, fearless in bringing her vision to life. She never hesitated getting wet, literally, as many times as needed to get the perfect shot, while frequently checking in with the younger girls to make sure they remained comfortable in the cool water.
They also witnessed Beyoncé the mother, taking time to include her family in the entire process. Her daughter Blue Ivy, 8, scrupulously watched the artistic swimming scenes unfold in front of her.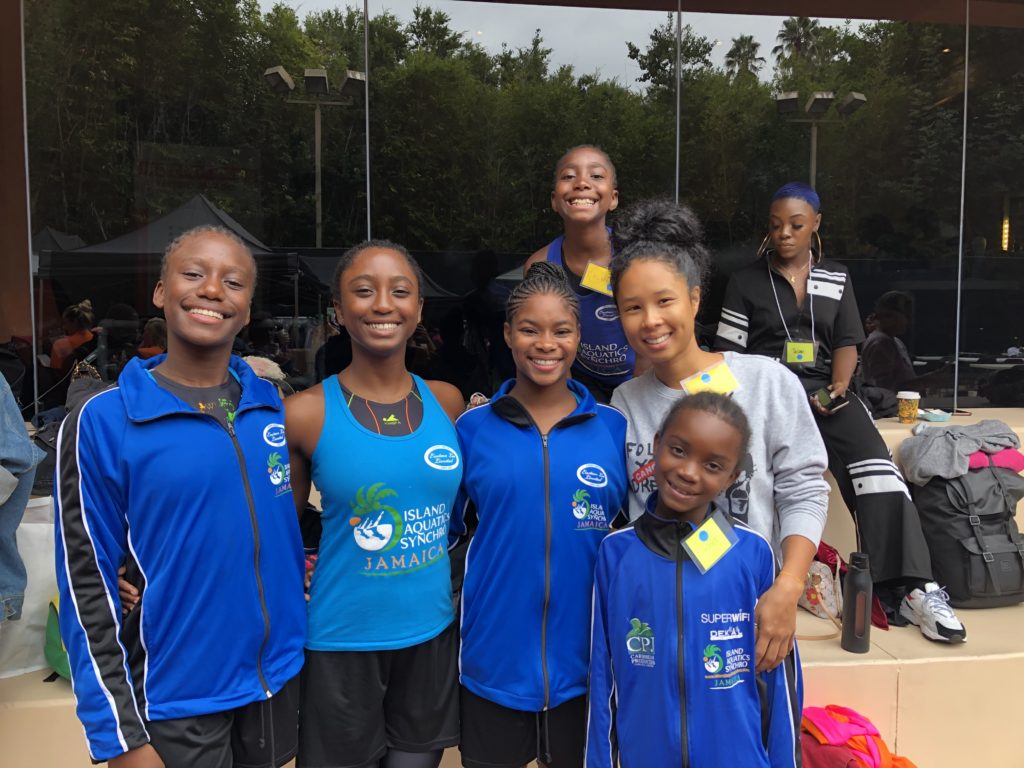 "[Beyoncé] actually came and personally greeted the Jamaican girls," Chin Shue said. "She told them she wants them to continue, that they are going to inspire the world, and that all the young girls like Blue are going to see this and want to do it. She was such a boss, directing, overlooking everything, and so sweet and warm. It was an amazing shoot. That was probably the biggest moment of my career as a performer, as a synchronized swimmer, and as a Jamaican."
For Laila Bailey, who has been swimming for eight years, the experience was just as impactful and empowering: "Beyoncé said she was so proud of us, and that we would inspire a lot of people by doing what we are doing! It's a real gift to be a synchronized swimmer in Jamaica because it's a rare sport here. Not everyone can do it so it makes me feel really special that I am one of the few."
Indeed, artistic swimming in the Caribbean nation is certainly not amongst the popular sports, where track and field reigns supreme. At the moment, Island Aquatics Synchro is the only club in the country, with one team training in Kingston, and the other in Port Antonio with Novokshchenova. Faced with the lack of public pools in her area, she eventually built one in her own backyard to keep her small team afloat and to avoid hopping around pools of various marinas and hotels. 
The number of athletes on her team fluctuate over the years, often averaging between 10 to 12, but sometimes falling down to five. Additionally, the club is essentially self-funded, so she tries to frequently organize shows as fundraisers. To cover the travel costs, meet fees or other expenses, the parents often have to foot the bill. With so few artistic swimmers in the nation itself, Novokshchenova tries to take her athletes to international competitions nearby, in Florida or within the Caribbean region, as often as possible. 
She would love to see the numbers grow internally, and hopes that the "Mood 4 Eva" music video and its subsequent coverage will encourage newcomers to try out. Laila, Micah and their three other teammates have enjoyed extensive media attention since the release of Black Is King, and Novokshchenova has already seen an increase in participation. She for now has 22 swimmers on her team.
"Some of them are asking me, 'When I learn to swim, will I be in the video with Beyoncé?'," she said, laughing. 
Back in California, Philicia and Tamar Saunders had very little time to prepare before the release of the film. After months of silence and secret, the trailers were released two weeks prior and incorporated many of the artistic swimming scenes. The sisters admitted it was a huge surprise to see themselves so heavily featured — they do the dolphin chain as Beyoncé swims through it — and felt invigorated to finally see the end product. 
"When the video came out and we learned what was the impetus behind it, we were just so honored to be a part of this platform," Tamar said. "What Beyoncé was really trying to do was bring awareness to the African diaspora and its cultural aspect. She did it in a fashion that's just so beautiful, so rich and narrative. And she took something very specific like artistic swimming, and highlighted swimmers of colors! It was just wonderful."
Black Is King ultimately came out at a crucial time around the world, and particularly in the United States. George Floyd's murder at the end of May ignited impassioned protests throughout the country that haven't relented since, demanding justice and equity for Black citizens. Naturally, sports federations were not immune to conversations on diversity and inclusion.
Philicia and Tamar had already been taking part in various discussions and virtual town hall meetings with the American federation, USA Artistic Swimming, and other swimmers and coaches of color on how to improve diversity and inclusion in the sport. 
"All of us want more diversity in synchro," Tamar said. "And for that, we have to find some ways to provide access to the sport, to create new programs in certain areas that don't have anything, or to provide funding to people who might not be able to have it. Honestly, I don't think my sister and I would have been exposed to synchronized swimming if there wasn't a team at the pool we swam at."
Shortly after the shoot last September, the pair realized Beyoncé and her team should not have had to face such difficulties to source Black artistic swimmers in the U.S. Along with three other swimmers who were also in the film, they decided to start their own professional synchronized swimming company called Black Swans Synchro. 
"The intention behind it was to make it a performance team so when there is a request for very diverse synchronized swimmers, we are able to provide that," Philicia said. "We saw there was a need from the community to have a team for women of color. The other prong of that is looking at bringing more awareness to people, women of color, even men of color, who are interested in doing synchro."
They are hopeful that the film will reinforce the ongoing conversations amongst the federation and clubs across the country. The sisters are acutely aware that their experiences in their childhood team was the exception rather than the rule as well. They fully know that other Black swimmers may feel left out, underrepresented, or disregarded in some facets of the sport, like with the color of mesh on swimsuits, the color of nose clips, or hair gelling techniques.
Ultimately, they believe that this spotlight on Black artistic swimmers on such a big platform and with such an iconic performer will not only inspire children to take up the sport, but will also bring changes and new opportunities.
"It starts from a young age obviously," Philicia said. "It's all about making people aware that it exists, and this movie does exactly that. We hope that it can make the little ones think, 'This is a cool sport and people who look like me are doing it!' That's super powerful to think about. It starts there. Beyoncé did her part, now we are all left to do the rest of the work. Everybody is shifting their frame of mind in terms of what the sport can be, and there is definitely a conversation going on. That's what's important, that at least we are talking about it."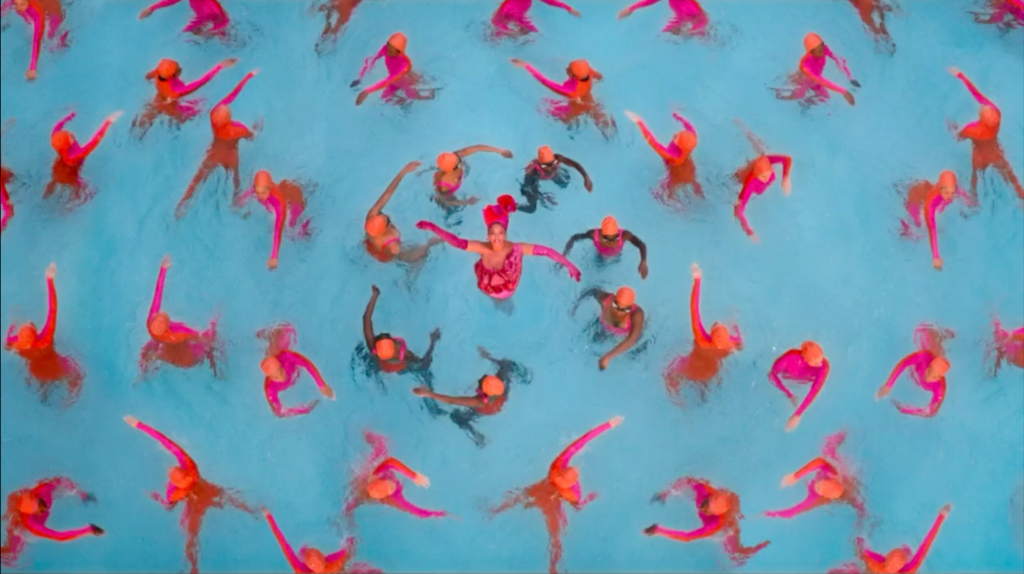 Article by Christina Marmet
If you've enjoyed our coverage, please consider donating to Inside Synchro! Any amount helps us run the site and travel costs to cover meets during the season.