The passion for artistic swimming runs deep in the Gloushkov-Tsym family. The mother is a coach and former synchronized swimmer herself. The daughter is a four-time Olympian and the first Israeli woman to go to as many Olympics. And now, the son has his own Olympic aspirations in the mixed duet. The journeys of Tatiana Tsym, Anastasia Gloushkov Leventhal and Tim Gloushkov are all closely connected.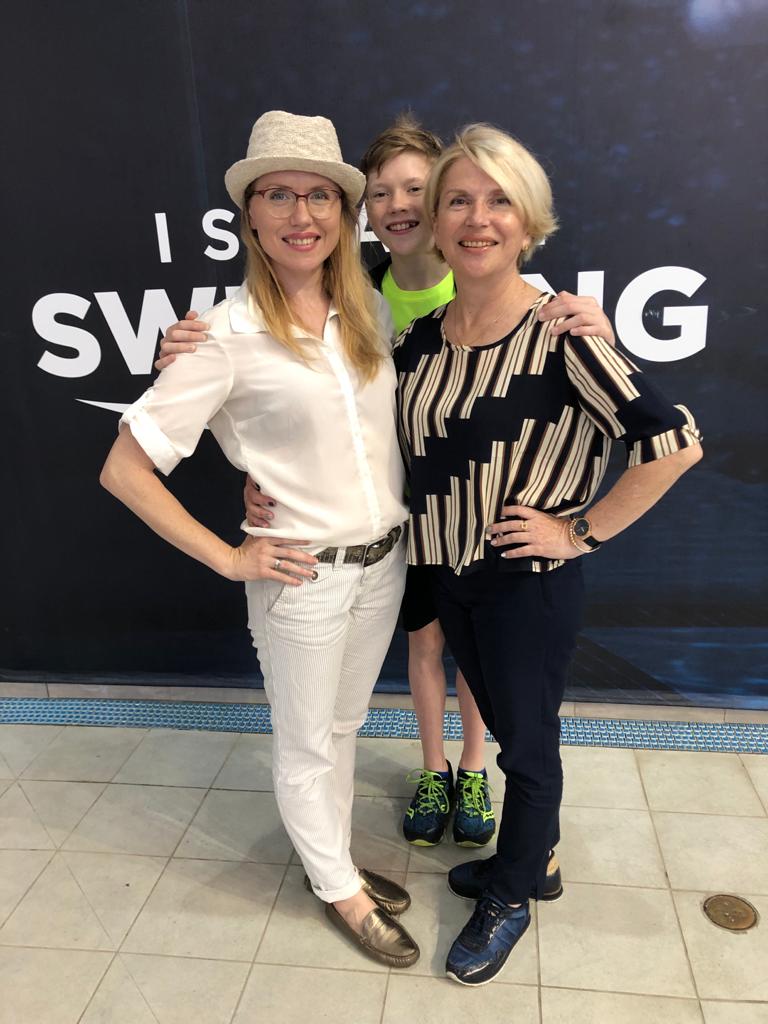 Tsym never imagined artistic swimming would take her on such a journey with both of her children. In the 70s back in Moscow, she took up the sport almost as a dare. One of her friends had witnessed a synchro practice and wanted them both to try it out. Tsym was dubious but she agreed, mostly wanting to prove to her friend that it was simply impossible to swim laps with legs above the water. She ended up loving it. 
At 14, a significant injury forced her to stop, so she decided to start coaching. A few years later, she met her husband, himself a swimmer. After marrying and the birth of Anastasia, the young couple looked for better opportunities and a better quality of life outside of the USSR. When Anastasia was six years old, the family moved to Thessaloniki, Greece, where both would be able to continue their coaching careers.
Anastasia's father taught her how to swim, but she was always more interested in what her mother and her team were up to on the other side of the pool. She loved watching practice, and wanted to imitate anything the older girls were doing. Tsym eventually taught her some basics, and soon enough, Anastasia was hooked, hanging on her mother's every word.
"To have my mom as my coach was only natural," Anastasia said. "There was never a point in my life where we sat together and I formally asked her to be my coach. She never gave me a big speech about going to the Olympics either. I was given a set of good genes, with my dad's swimming abilities and my mom's love for art. All those things worked well for me, and synchro came very quickly and very easily."
Three years later, the whole family immigrated to Israel. Back then, the country had virtually no presence on the international stage, and the sport itself wasn't recognized much nationally. Tsym started her own club in Jerusalem. At the age of 11, Anastasia won bronze in solo, her very first international medal, at the Flanders Cup in Belgium. The following season and with growing Olympic dreams, she started training twice a day.
In 1999, she swam at her first senior European Championships in solo. The then 14-year-old was by far the youngest of a star-studded field including Olga Brusnikina, Virginie Dedieu, Giovanna Burlando or Gemma Mengual among others. However, her first major breakthrough came the following year at the COMEN Cup, the major international competition for the 13-15 age group. In front of her home crowd in Jerusalem, Anastasia won gold in figures, solo and duet. 
2000 was actually extremely busy as she was training for competitions across the 13-15, junior, and senior categories. Anastasia and her duet partner Svetlana Cherkas, 11 years older than her, ultimately were eyeing the Sydney Olympics. They had placed 23rd at the Qualification Tournament, thus technically earning a trip to Australia. It unfortunately wasn't enough for the Israeli Olympic Committee, which had set very high internal criteria. The pair had to place in the final, or else couldn't travel to the Games. Facing this realistically impossible expectation, Anastasia was forced to stay at home. But coming so close only put fire in her belly to not miss out on the next one.
In spite of this setback, she continued making history at the junior level, particularly at the 2003 Junior European Championships in Andorra. She won a silver medal in figures right behind Russia's Natalia Ischenko, and clinched a bronze in solo as well. Additionally, she had consistently competed and improved in senior competitions. This time around, she was confident that the 2004 Olympic Games would not be ripped away from her.
"I felt I missed out," she said of Sydney. "We were very close, almost touching it. After my medal in Andorra, the appetite grew very much. Finally, it happened. 2004 was a life-changing event. Nothing in the world of a competitive athlete compares to such a high emotion. My whole career is split between everything before these first Olympics, and everything after."
Israel had again established strict criteria to be eligible for the Olympics. That time around, Anastasia and her duet partner Inna Yoffe — both would ultimately swim together for three Olympics and nearly 10 years — needed to be in the top half of the rankings at the 2003 FINA World Championships. They finished 15th out of 34 pairs, and a huge weight lifted off their shoulders. Nothing stood between them and Athens.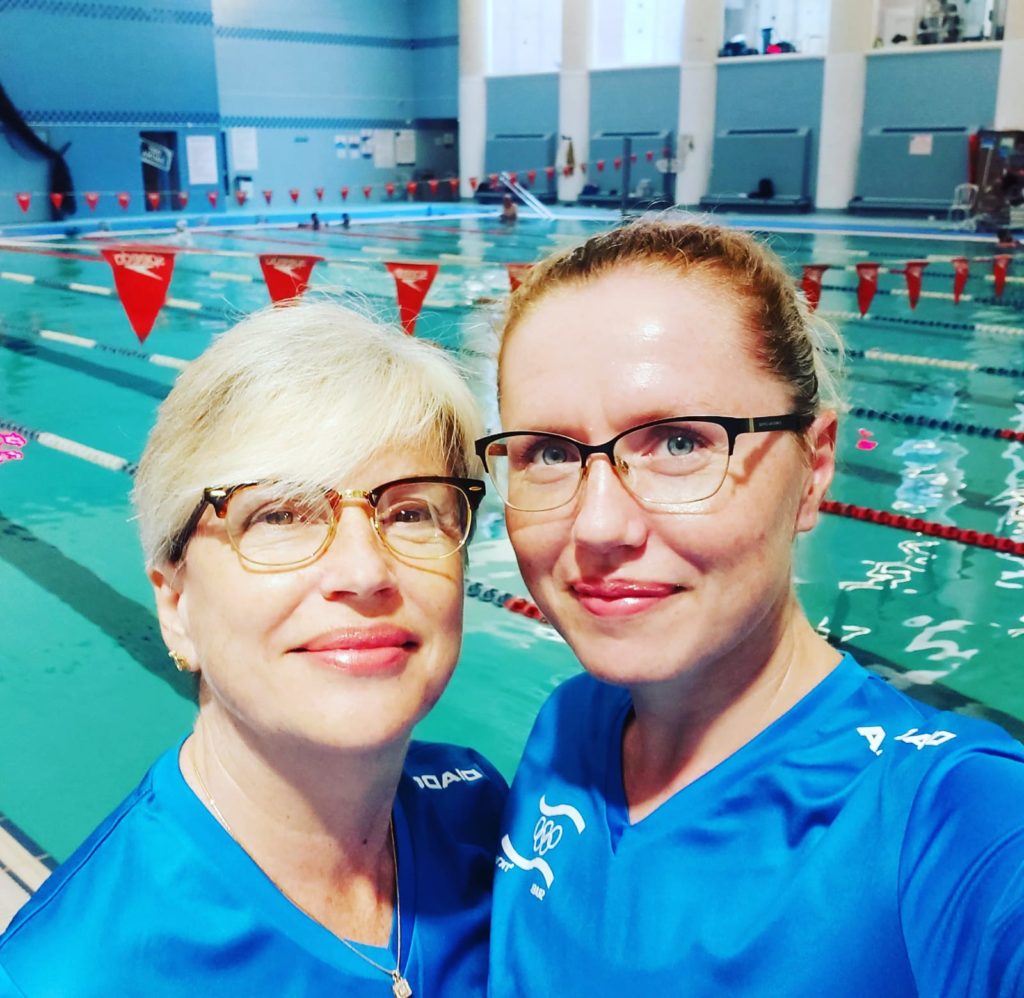 Anastasia's first Olympics were unforgettable. At 19 years old, she was back in Greece, in the country that had welcomed her family and that started her passion for synchronized swimming. She felt she had come full circle. After three days of competition, she and Yoffe placed 17th. She felt re-energized, and ready to be even better in Beijing.
"It was all such a strong and powerful experience that I was happy to have it twice," she said. "It is also so addicting. The moment, the crowd, the glory, the feeling that you're at the top of this Mount Olympus… I guess this is why I didn't want to let go of this feeling for so many years (laughs)!"
Four years later, the pair finished 15th. The 2008 Games were Anastasia's favorites thanks to their good performance and ranking, and the overall organization and conditions of the entire event. She however couldn't stop there quite yet, and started another Olympic cycle of intense training. Another four years later in London, they placed 17th.
Having her mother alongside her only made Anastasia's entire journey even more meaningful. They both found great joy in spending so much time together. They developed a strong and unwavering relationship, one between a very competitive athlete and a very competitive coach. Naturally, balance and a clear separation between home and the pool were the keys to their success together.
"[My mom] understood me, my body, and my emotional needs really well," she said. "Sometimes, she was believing in me even more than I believed in myself. To have her with me at the opening ceremony of the Olympics is priceless. I was so blessed to have the person closest to me sharing this moment. It was really powerful. Of course it was the same with the disappointments; we both felt this pain or loss in our hearts. Sometimes it was twice as exciting for the big events, and twice as hurtful for the setbacks."
After the 2012 Olympics, Anastasia decided to take a break. She was ready to start her family. The following June, she had her son. However, she had always known at the back of her mind she'd find herself back in the pool, sooner or later. She knew she hadn't said her last word yet, and the appeal of a fourth Olympics was getting harder to ignore. On top of that, she wanted to give herself one last challenge that no other artistic swimmer had achieved before: to get back in shape and return to the elite international stage after having a baby. Half a year after giving birth, she was back in the water.
"I just wanted again to prove myself that I could do more, even after giving birth and after my body changed," she said. "That I could reach top level fitness starting again from scratch. Me being a mom only made me better. I was very proud to do that and to come back even stronger. It was even more fulfilling and enjoyable, because I was very mature and had a bigger understanding of the significance of it all."
Of course, the comeback was not easy. She recalled many rough training sessions, crying in the water, dealing with body aches, wondering why she was putting herself through this all over again. But she was committed. She felt it through her entire being: she needed to do this and there was no going back.
Two years after London and one baby later, Gloushkov returned at the 2014 European Championships in Berlin. Aside from the Olympics, one of her biggest goals had been to win a medal in solo on the senior European stage. In 2010, she could almost touch it after finishing in fourth place. With this comeback, she hoped to finally step on that podium.
Ultimately, she placed fifth, but that competition ended up being her most memorable one. Swimming to music from Ludwig Minkus' Don Quixote, she felt on top of the world. She had successfully returned at the age of 29, and essentially enjoyed the sport more than she ever had before. 
"I felt I was literally flying above the water," she said. "This was my own victory. I could feel the strength and power of the music, and of all the emotions I was going through. It was wonderful, after years of dealing with so many fears, of questioning how I'd get better, of giving my body and soul to the sport, of having so many limiting thoughts… I felt it was all behind me."
Inna Yoffe had retired, so Anastasia partnered with Ievgeniia Tetelbaum ahead of the 2016 Olympic Games. As always coached by Tsym, the two finished 20th in Rio. With that, Anastasia became the only Israeli female athlete to compete in four Olympics. She was finally ready to leave the pool behind.
"After birth, it felt like a triumph on its own just to get to the Olympics," she said. "It was already enough for me as an achievement. Doing it with a new duet partner and after a big break was even more a victory. I had given everything I had physically and emotionally. I was maxed out. I also knew I wanted to expand my family, so I just understood this would be it for this chapter of my life. I was ready for a new one."  
After Rio, Tsym coached Israel's national team for the 2017 FINA World Championships. Anastasia welcomed her second child, and moved on with her professional life. She quickly realized she particularly enjoyed sharing her passion, and encouraging young girls to become involved in sports. She now aims to educate, and gives motivational speeches across the country in schools, sports organizations or various clubs and businesses on the benefits of sports and on what it all has taught her. 
"You know, [synchro] helped me a lot," she said. "I had struggles as an immigrant, to get myself around, and to feel that I was a part of this country and a part of this population. Sports was a way to gain confidence and control that. We have many teachers who don't know the importance of sports, or the meaning that it can give to certain lives. I want to change that, and to show that schools and teachers can be an example and a force of inspiration for young girls."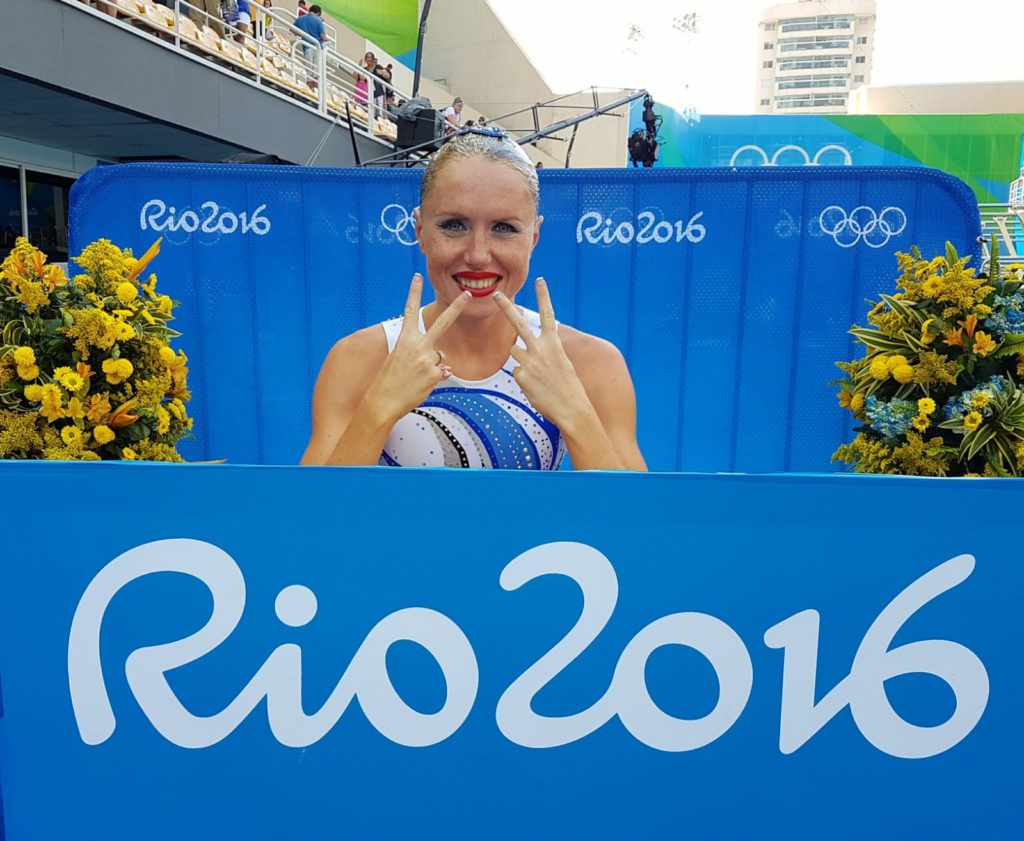 In the meantime, her 12-year-old brother Tim, 21 years younger than her, decided to start artistic swimming. Naturally, Tsym was elated to coach and guide another one of her children in the sport. Her son had always enjoyed dancing around and being in the water, but had never really formally enrolled in synchro.
"The reason Tim didn't devote himself to artistic swimming for a while is in a way connected to the fact that his father didn't want that sport for him," Tsym explained. "As he is very artistic-oriented, we tried various types of dances like ballet, ballroom dancing, etc. Everything but synchro! But between his dad's swimming and his mom's and sister's artistic swimming, the genes eventually won and took over. It was very organic. This continuity is inside of him."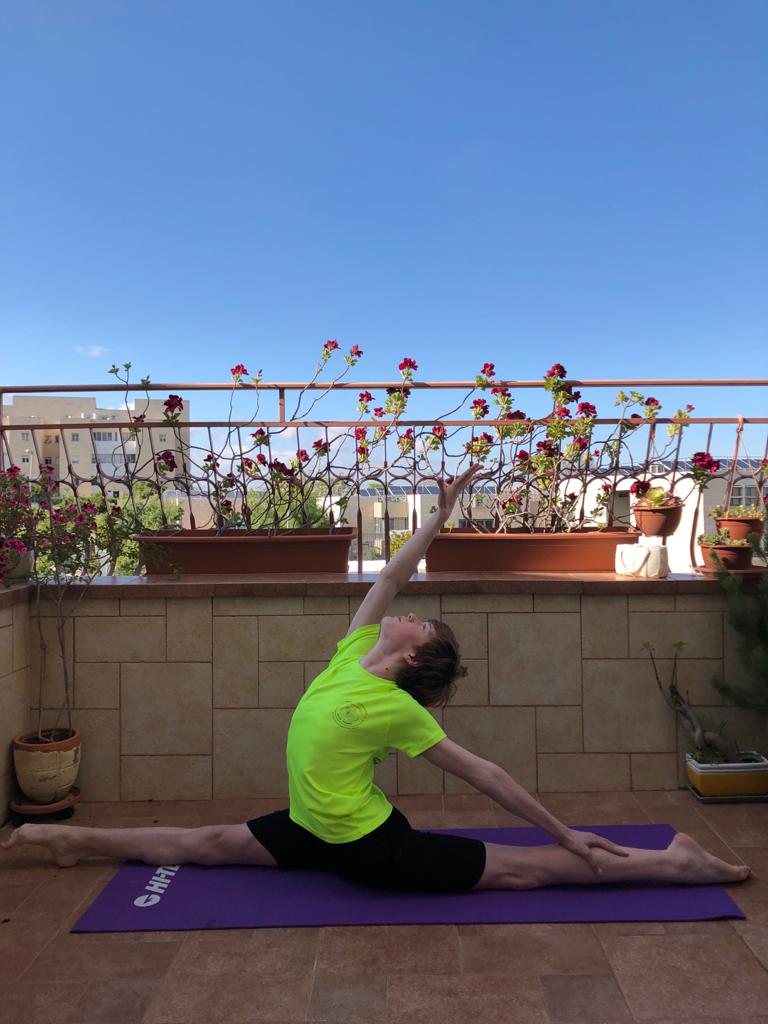 Despite his late start, Tim was already familiar with all the typical synchro sounds, the loud music, the spoons banging on metal poles, the relentless counting from one to eight, over and over. While pregnant, Tsym was coaching Anastasia through her second Olympic cycle. She actually missed the 2006 European Championships as she was in her final weeks of pregnancy.
A few months later at the 2007 FINA World Championships, Tim was already on the poolside, albeit napping in his mom's kangaroo baby carrier as a five-month-old.
Just like Anastasia, his passion and infatuation for artistic swimming is tremendous: "My favorite thing about artistic swimming is that the water opens up more possibilities for dancing and self-expression. In mixed duet, men can show not only strength but also high technique."
Tim, now 14, swims with Alexsandra Lerman, daughter of Israel's FINA A judge Natalia Lerman who recently organized the Supermix Virtual Games, an online competition for all mixed pairs. He mentioned that his main goal is to be happy with his achievements in the sport, and that his sister was his biggest role model.
"He is so artistic," Anastasia said. "He loves the sport so much. He's such a natural who's simply blossoming a bit later because of other, sister-y Olympic things that our mom was dealing with (laughs). I think he is very excited about the possibilities that it gives, even more now that we have the mixed duet. I am always inspired to see him in the water because he's just loving every second of it."
All three dream of a new, yet completely different Olympic adventure. The popularity of mixed duets across the world has steadily grown, and more young boys are taking up the sport. Now, all hope for men to be included at the Games as early as 2024.
Anastasia couldn't resist joining in on this new family venture. It is obviously a different comeback to the pool than last time around, but she cherishes it just as much. She is there to advise him or give tips on how to handle stress in competitions, how to express himself better in the water or anything else he might need from her.
"I'm back out of a desire to help my brother and to be back working together with my mom," she said. "This is something that always gives me a strong sense of doing something good. I'm really happy for him, and I'm sure it is going in a very good direction."
Article by Christina Marmet
If you've enjoyed our coverage, please consider donating to Inside Synchro! Any amount helps us run the site and travel costs to cover meets during the season.