As the COVID-19 pandemic continues to impact most of the world, the International Swimming Federation (FINA) has decided to go virtual for two of its Artistic Swimming World Series (ASWS) events this season. USA Artistic Swimming (USAAS) will host the first one scheduled to air February 20 to 21, almost one year since the last competition.
The meet will feature the 10 usual events that will count towards the circuit's rankings: Technical Solo, Free Solo, Technical Duet, Free Duet, Technical Mixed Duet, Free Mixed Duet, Technical Team, Free Team, Free Combination, and Highlight. 
Following a request from four-time World medalist Bill May, FINA and USAAS have agreed to add two male solo events to the programme as well. They will however not receive any points for the series rankings. Moreover and for all ASWS, it is now possible to have up to two male athletes entered in the free combination and highlight events.
For this unprecedented occasion, the federation has had to deal with a completely different kind of planning and scheduling. Ultimately, the event will require four full weeks of work between the closing of registrations and showtime. USAAS CEO Adam Andrasko is honored to be the first nation to introduce this new format.
"We are excited [to be the first]," he said. "I'm hopeful that we can put something together that everybody can be extremely proud of, and replicate if needed. Our sport is unique and allows for us to do that."
Naturally, many of the questions revolved around how to host a fair and realistic event. USAAS and FINA's staff spent hours brainstorming to implement a reliable filming and submission protocol, and to ensure that each routine would be judged equitably.
Registrations closed on January 18, and about 15 countries intend to participate. This upcoming week, USAAS has scheduled four competition days, from January 27 to 30, for each nation to film their routines in their own pools. 
The American federation will set up precise days and times for every country to record. Once these are coordinated, each team will have approximately a two-hour window to film its routines and then upload it via a submission portal. 
To ensure that the routine wasn't already filmed a few days prior, the nations will have to hold up a number in front of the camera at the start of the recording. USAAS will only share these numbers 30 minutes or so before the start of the scheduled time. 
To ensure that no routines will be seen prior to the judging dates, the videos will not be submitted or received by USAAS. They will instead be directly sent to Carr-Hughes Productions, its high-level production partner.
"There are a couple small layers in there to ensure as much fairness as possible," Andrasko said. "Actually, it's more about as much real-time as possible, because that's what a competition is. You train, and when the pressure is on, you have to perform. We are hopeful that these layers will help maintain the integrity of the event."
The American federation wants to stay as flexible as possible, and offers exemptions if a country cannot record its routines on the suggested dates or times. What matters most is to maintain the continuity of filming and sending the file within the same timeframe as everybody else.
For scoring, USAAS is partnering with Integrated Sports Systems (ISS) and its U-Judge system. Each judge will watch and score the routines simultaneously on ISS' online platform. They will only have a short window of time to enter their scores before moving on to the next routine, very much like an in-person competition.The judging days are scheduled for February 6 to 8.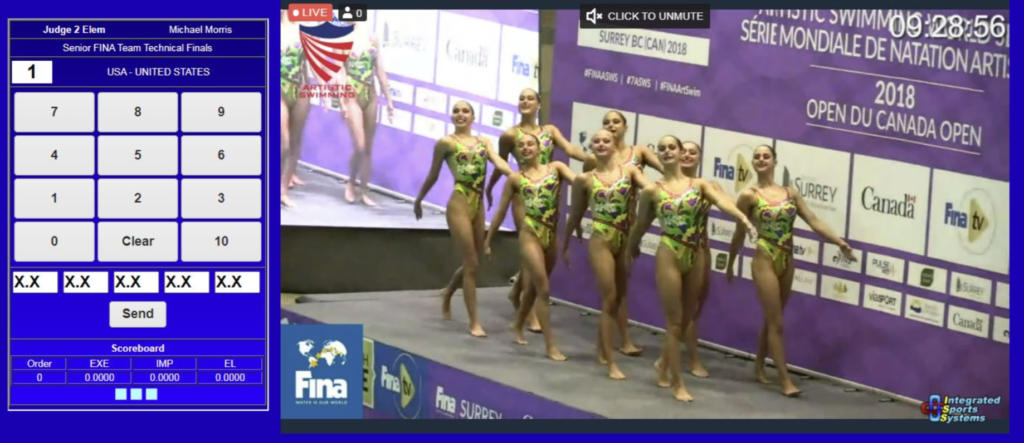 The walkouts and routines will be timed as usual. Obviously, some penalties will be trickier to see, like whether swimmers touched the bottom of the pool. Andrasko chose to rely on each team's rectitude, and did not want to require an underwater camera setup. He felt it would turn countries away from participating if they didn't have this specific technology at their disposal.
"Generally speaking, we'll take anybody as honest as we can," he said. " You know, if they jump in the water and mess up the first throw, sure, they can probably start it over again. But you could run through your routine maybe three or four times within that hour before being really tired. And then your time is up, and you must upload the video. It is what it is. We are in a position where we are putting our best opportunity forward here."
Once the judging is completed, Carr-Hughes will package everything together into the equivalent of three days of competition. The final step will be for 2015 World Champions Bill May and Christina Jones to record their commentary before the official air dates. The broadcast is expected to be fast-paced, with scores showing up on the screen nearly immediately after the end of each routine.
"We appreciate all of those countries and athletes that have entered," Andrasko said. "We look forward to demonstrating with the artistic swimming community and beyond how incredible a virtual event can be."
Furthermore, Andrasko believes virtual events can be an opportunity to develop the sport globally, particularly in smaller countries. Such meets significantly can potentially cut down the costs of participating in a World Series leg by up to 90%. As a result, nations with limited funding could get an opportunity to be represented on the international stage, as long as they have access to a pool and a decent video camera.
In this inaugural event, the provisional entry list includes Aruba, Australia, Belarus, Canada, Colombia, Liechtenstein, Portugal, San Marino, Singapore, South Africa, South Korea, Spain, Sweden and the U.S.
Organizing the first virtual World Series event was just another challenge Andrasko was eager to tackle. He took over as USAAS' CEO in the fall of 2018. As fate would have it, he started in his new role on the exact same day as newly-appointed head coach Andrea Fuentes.
The pair shares the same vision and energy to bring the U.S back to a contender's position. Some of their major goals have been to rebuild trust and confidence in the organization, establish an athlete-centered culture, increase transparency internally and externally, and innovate and push synchro forward globally.
In a sport where many teams choose to not show much of what's going on behind the scenes, Andrasko and Fuentes want to go the opposite route. They aim to make the national team more accessible, visible, inspiring, and impactful. 
In August, the federation live streamed its senior national team selection event. The will to join the team was apparent with 28 athletes, the most since 1999, vying for only three spots. 
"We all know that our sport is difficult in that sense," Fuentes said of the decision to broadcast a selection event. "It was a good step, and also a way to show our philosophy. We are not hiding anything. This increases the trust in us, and this is good for the sport. Olympic Trials for swimming or gymnastics are live on NBC here. It's a big event, so why can't we aim for the same thing?"
In addition, the pandemic has given USAAS countless opportunities to be proactive and creative to grow their online presence. It organized land-based virtual competitions. The senior national team shared its lockdown workouts on YouTube. Now, the federation is developing digital educational tools for club coaches, and has just partnered with the platform Slocoach, where anybody can sign up for private sessions with the American athletes and coaches.
Last November, USAAS organized a year-end virtual competition with 33 clubs and nearly 400 participants. It subsequently gave the federation's staff enough confidence to move forward and to successfully host a similar event on the FINA World Series circuit. 
"Of course, nothing will outdo an in-person event," Andrasko said. "We all want those to come back. But based on the current situation, the timing and schedule of the World Series, and the fact that it's an Olympic year, this might be the best solution right now. This is one way to hold a safe event, and to offer a new opportunity. I hope everybody will be happy about it, and maybe want to do the same thing in the future."
Article by Christina Marmet
Cover photo by Liz Corman.
If you've enjoyed our coverage, please consider donating to Inside Synchro! Any amount helps us run the site and cover costs to travel to meets during the season.