Over the last few years, the Royal Spanish Swimming Federation (Real Federación Española de Natación – RFEN) has made it a priority to promote male artistic swimming. It first focused on recruiting and encouraging boys around the country to start the sport. It also notably organized one-day workshops opened to boys and men of any age and any skill level. Prominent figures in the mixed duet movement often participated and shared their knowledge, like U.S. World Champion Bill May or current Russian mixed duet coach Gana Maximova, among others.
This past December, the RFEN tried something new. For three days, Spanish national team coaches led the first "Jornadas Técnicas Masculinas," a male-only training camp focused on technique and skill development. Through a video selection, 10 boys born between 2006 and 2012 were chosen to participate.
"Now that we have more boys registered [in the country], we can focus on the detection of talent and the development of their technical abilities," explained Anna Vega, coach of the Spanish senior mixed duet and one of the leaders of the camp. "The objective here, more than anything, was to see where we were at so we could elaborate a strategic training plan."
The RFEN also invited each of the boys' coaches to travel to Granollers, near Barcelona, for this initiative. They were able to learn from the national team staff and to discover new coaching tools to continue the work afterwards, back in their respective pools. 
Verónica González, coach at C.D. Pingüinos de Arrecife, knows it was a privilege for her and her swimmer Miguel to be part of this.
"Miguel had attended the workshop other times, but they were open [to all] so it depended more on the clubs and the parents," she said. "This time was different because it was a RFEN call, and only a few kids were attending. When we got the news of the call, we were very happy." 
The Canarian coach appreciated the presence of Pau Ribes and Emma Garcia, the Spanish senior mixed duet, on the last day. They jumped in the water with the boys, gave them a master class, and did a short exhibition of their routine. Afterwards, the young swimmers also wanted to show them what they had learned. 
"Pau will always be a very important model for [the boys]," González said. "They enjoyed it a lot. They were very attentive to what Pau and Emma told them."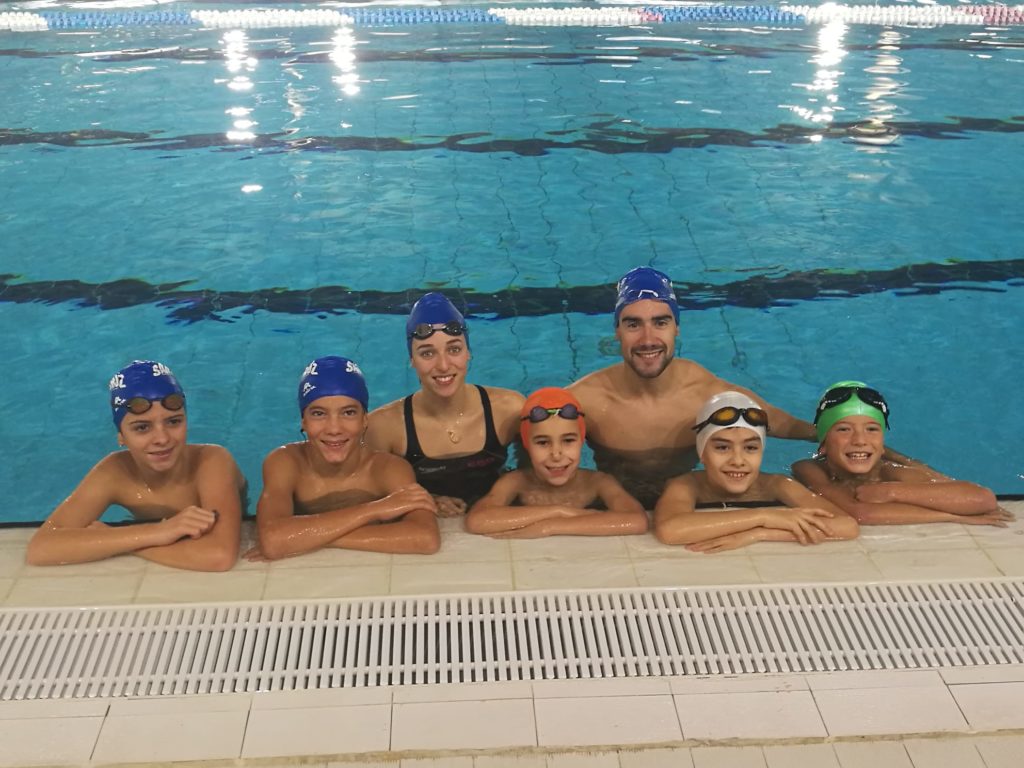 The camp comprised sessions in and out of the water. The land-based work was mostly carried out by Joaquina Gratacós, a dance coach at the CAR (Centre d'Alt Rendiment), the national team's training center. Gratacós focused on posture, flexibility, drama, dance, and body movement and expression. 
National team coach Natalia Didenko contributed further exercises on agility, coordination, endurance and proper positioning. In the pool, they worked on technique, sculling, choreography, improvisation and coordination. Each day was intense, yet rewarding, for all involved.
"When you work with kids, the energy you have to give off is amazing," Vega said. "I think we ended these three days more tired than a week with the national team! But it was great." 
Despite the COVID-19 restrictions and protocols, the camp was overall a success. The boys left inspired and motivated, while the coaches learned a lot and got to experience the event alongside their peers. All hope it will be repeated in the future.
"This made him even more motivated," González said about her swimmer. "He is always working a lot, but this made him realize that he is on the right track and has to continue from there." 
"We received lots of emails thanking us for our work, for our care of the kids, for what they learned," Vega said. "All the boys were very happy. They wanted to repeat and didn't want to leave!"
This camp is part of the federation's long-term plan for male inclusion. Ana Montero, technical director for artistic swimming at the RFEN, understands why many countries can feel reluctant to invest in a new aspect of the sport that may still seem a little undefined globally. However, she also believes it is crucial to do so at this point in time.
It has been a long and slow battle for male artistic swimmers. The International Swimming Federation (FINA) only authorized men in 2015 when it introduced two mixed duet events at the World Championships. Now six years later and for the first time, up to two men may be entered as part of the free combination and highlight routines in World Series meets only. 
The European Swimming Federation (LEN) has been more progressive. While it also added the mixed duets back to its programme in 2016, its rulebook has never differentiated between male or female athletes. Men have thus technically been allowed to swim in any team routine for years, but countries have yet to take advantage of this inclusive opportunity.
Moreover, male artistic swimmers cannot compete at the Olympics. A few months ago, the International Olympic Committee revealed its programme for the 2024 Paris Games, which still did not include men nor mixed duets. The next possibility for change is now at eight long years away, at least.
While allowing men at the Olympics would undoubtedly encourage more boys to take up the sport, Montero firmly believes most of the work starts at the grassroot level. She argued that each federation must look into a lasting strategy, and put time, energy, and resources into promoting and growing male synchro. 
"We want to be a country that invests in this new opportunity of having males and females in the water," she said. "That is one of our visions. I don't know if I will still be [in this role] when it's super exciting and when male athletes are finally recognized the same as females. But if we don't start, then it's never going to happen. It's not just about telling the clubs, 'Okay, try to recruit some boys now.' The federation has to be there every step of the way. If we don't invest in these boys, we won't have them."
Anna Vega and the camp's staff reached the same conclusions. They also know it is all about the happiness and pride in taking this step and becoming pioneers in this important aspect of the sport. Because, "it has been worthy."     
Moreover, both Vega and Montero acknowledged the importance of following up on the boys. All ten certainly have talent and something special, so the federation must now continue to help the clubs and coaches to ensure the progression and nurture of each of them.
"Hopefully, we could help grow these swimmers born in 2012 who are still very young," Vega said. "So this doesn't only end in, 'Well, he was a talented boy'." 
González loved seeing each boy become more confident upon realizing that they were doing what they liked, and that people cared for and supported them. Her swimmer Miguel knows that artistic swimming is a sport for everyone, not just for girls. 
"We are lucky that in the Canary Islands there are other guys competing so they see each other," she explained. "But for other clubs where the kids are alone in their region, this camp made them connect with other boys. They realize that they are not alone."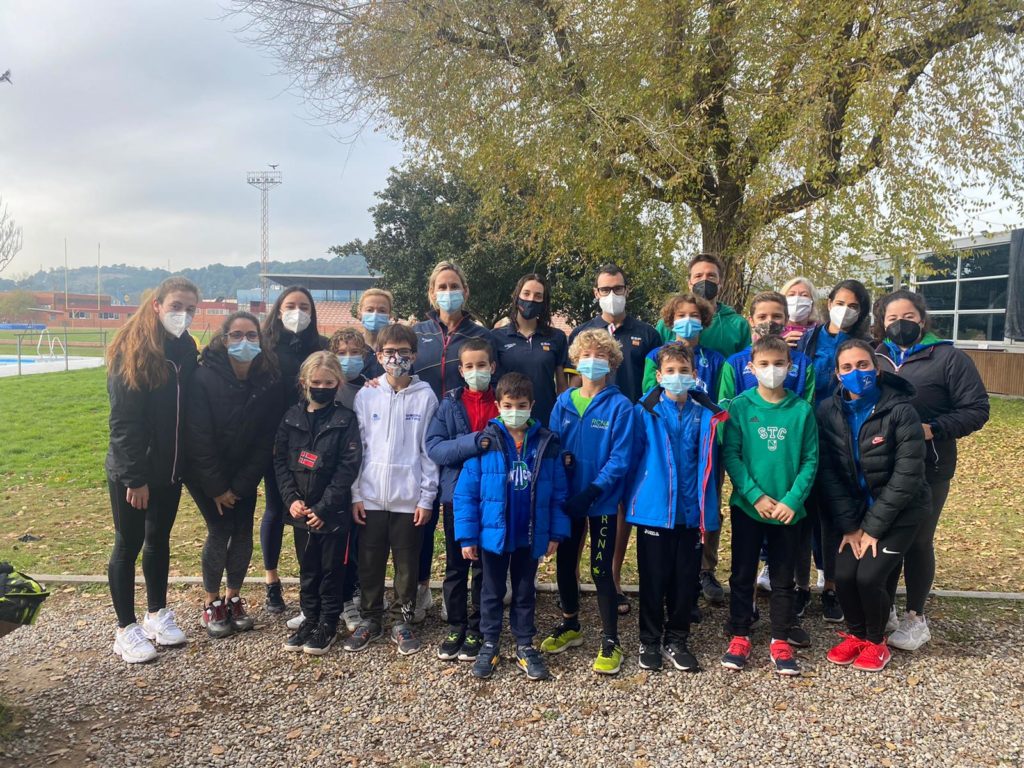 This sentiment was echoed by Montero, who hopes that most of the boys now understand that the sport welcomes them. She recognized it was crucial to also give them the same opportunities and to treat them the same as girls, so they realize they can be at the same level.
"If they just come to training to do mixed duets only, then we are already and again separating them from the general discipline," she said. "So now, we are trying to make them walk the same path as girls."
The RFEN's rules are actually similar to LEN's, and have never differentiated athletes by genders. In the past, Pau Ribes and Ibon García were really the only two boys around, standing out and competing in a sea of girls. 
The tide has started to turn as more are coming up the ranks. There are about 20 to 25 boys practicing artistic swimming across the country at the moment. Montero hopes to see these numbers continue to increase, and for more boys to compete at the regional and national level across all events.
She introduced a male solo category at the Spanish National Championships last year to give them equal opportunities. Clubs can only enter two routines per event, and the top two swimmers have historically been females. These two new events now enable boys to showcase their own skills and individualities. 
Internationally, Spain has been a staple in the mixed duets since 2015. Two men, Pau Ribes and Xavi Guillén are training full-time as members of the senior national team at the CAR in Barcelona. The nation is also able to field a competitive mixed pair across all age groups and to contend for European or World medals.
For the first virtual FINA World Series of the 2021 season, Spain entered three different mixed pairs. Additionally, up-and-coming talents Dennis González and Fernando Díaz Del Río competed in the male solo categories specially added for this competition, and a first for a FINA-sanctioned event. The competition will stream on February 20-21. 
Now, Montero, Vega, and the rest of the federation hope more countries will follow suit and develop similar initiatives to support their own boys.
"We live in a world where we tend to invest in what will bring immediate results," Montero said. "Yes, it's difficult to invest in a project that is still a long way away, but we have to. We have mixed duets, and it's great. Now, are we giving these boys the proper value that they have? The right encouragement and opportunities? What else can we do? What more can we do?"
Article by María Puras, with assistance from Christina Marmet
If you've enjoyed our coverage, please consider donating to Inside Synchro! Any amount helps us run the site and cover costs to travel to meets during the season.