"There are some rainy days,
There are some windy days,
But in the end the sun comes up."
"When I look around there are my friends, and in front of me there is you supporting me. That's why I feel strong!"
These are some of the words that the Spanish artistic swimming national team signs during its new technical team routine.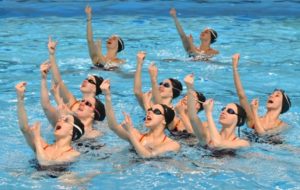 For over a year now, athletes and coaches have studied Japanese sign language to incorporate it in their choreography, and to present a memorable, meaningful, and inclusive routine at the Tokyo Olympic Games. 
It all started with a seemingly obvious interrogation: How do people who cannot hear music even enjoy the sport? How do we help them watch it?
Head coach Mayuko Fujiki knew she was on to something when she realized one of the Games' vision was "Unity in Diversity: Accepting one another." 
Simultaneously, she also wanted to continue the tradition of incorporating Spanish culture and music in an Olympic routine. She called on flamenco guitarist Juan Manuel Cañizarez and the team's composer Salvador Niebla to piece everything together.
With a mix of flamenco, Japanese music, and sign language, the entire team ultimately had something special in their hands. 
"Olympic routines are a little bit different than for any other international meet," Fujiki said. "They have to be special. The Olympics is so much more than a competition; it's almost a celebration, a festival of everything. So, we wanted to do something that could include everybody and that the people in Japan would enjoy in that moment."
A 1996 Japanese Olympian herself, Fujiki fondly remembers her own memories from Atlanta. She acknowledges that the city and country have still to this day a special significance to her. 
Consequently, she did not want this new choreography to be just another synchro routine for her athletes, no matter how unique. She aimed for them to get something out of it, and to learn more about the culture of Japan in the process. 
"When I look at them, I just imagine them swimming in that Tokyo Olympic pool in August," she said. "They will carry this for the rest of their lives. I believe it's important that they also have an understanding of the country that will always be special to them."
One enjoyable way to do this was through sign language. The athletes immediately bought on to the idea. Most of them did not know anything about it. However, they all quickly understood that Japanese and Catalan sign languages were ultimately quite different, and both deeply rooted in their own cultures. 
National team swimmers Meritxell Mas, Paula Ramírez and Blanca Toledano eagerly described and showed how simply signing "Hello" is distinct between the two. Or that to talk about somebody important in Japanese, you sign and do a kind of cushion because some people have a better cushion in tatami history.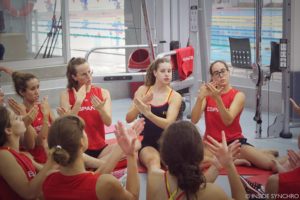 "We learned so much," Ramírez said. "Yes, there are some international, universal things, but we didn't know it would be so different. We all enjoyed this a lot. Maybe we can use sign language to talk with other people in the future too."
At first, they collaborated with a Japanese dancer, who also included sign language in her choreographies. Afterwards, the team worked with the Catalan Federation for the Deaf, to learn even more vocabulary they could use in their daily lives and during training.
Once they had a satisfying grasp on Japanese sign language, they now had to find a way to incorporate it into a fast-paced, flamenco-infused routine lasting only three minutes. This actually turned out to be a bit more complicated than anticipated. 
"In synchro, it's very difficult to do such small movements," Toledano said. "Sign language is a lot of very small, precise gestures, and with a lot of facial expressions also. So we had to adapt to all of that, to do everything bigger, and to make sure we all look the same." 
Ultimately, it was a long process requiring a lot of patience, but the team is very proud of the final result. The swimmers sign a handful of positive messages throughout the routine, all in Japanese.
They hope the mix of Spanish and Japanese music and culture will please the local crowd and appeal to as many as possible around the globe. 
"There is no one special in this world. 
You and me, we are all the same. 
Because above our heads, we all have the same sky."
"We all are overcoming difficult times, and arrived at the Tokyo Olympics."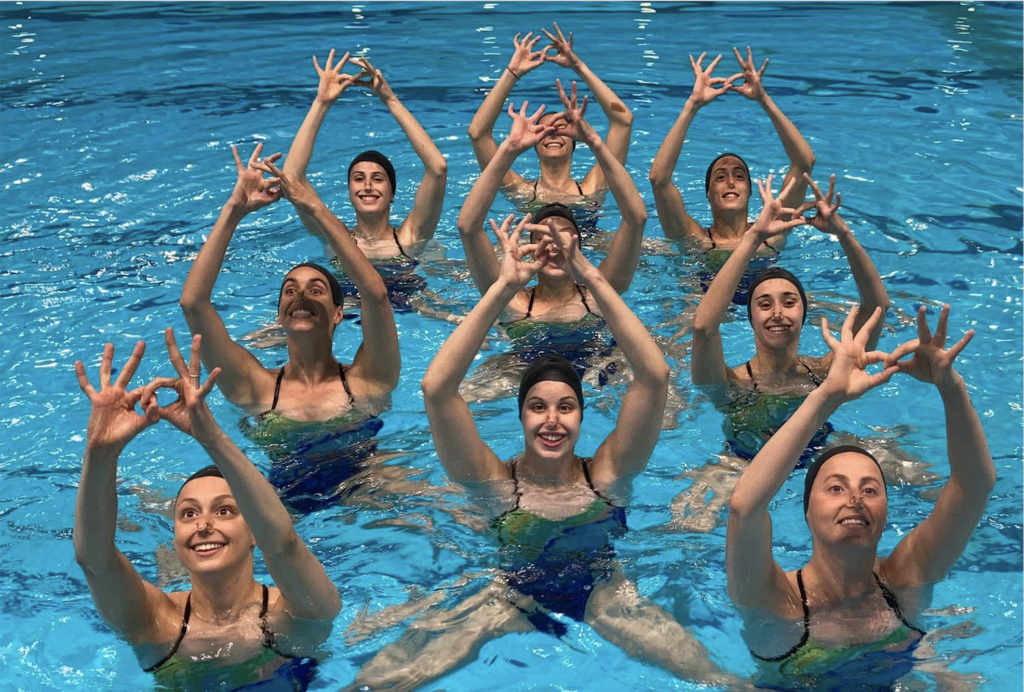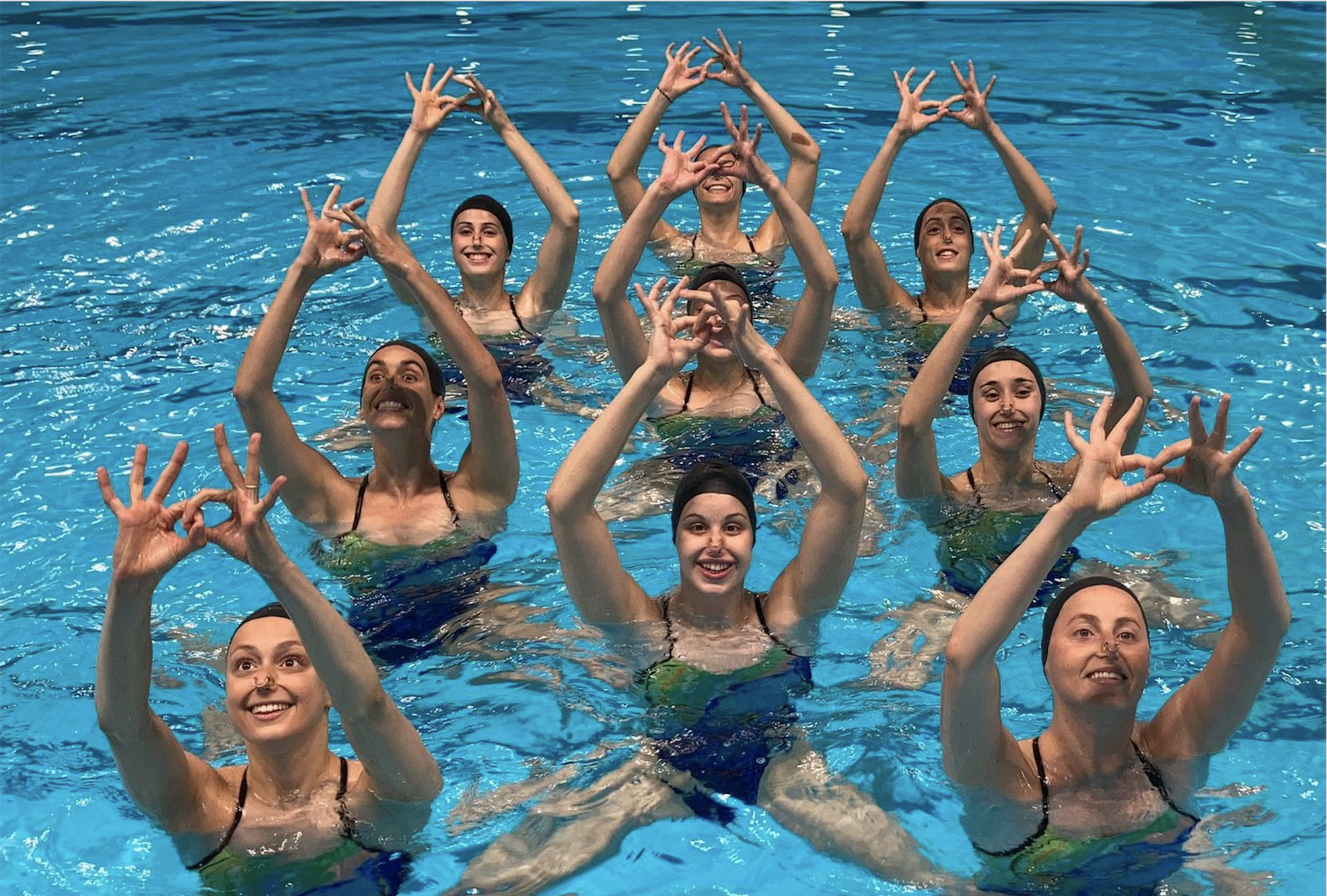 Furthermore, Spain has also been working on a new free team routine for this Olympic season. While changing the technical program was always planned for the Games, the squad had originally intended to keep its "Discovery and Life on an Island" routine from 2019.
However, with the postponement of the Olympics, the months spent at home and away from each other, and the looming uncertainty weighing on the sporting calendar, Fujiki knew she had to do something to keep her team motivated and engaged.
"We needed a fresh, positive vibe in our training," she said. "Especially when we didn't know anything or when the next competition would be, and when the news was negative. I thought we could all go through these moments in a more fun way. I didn't want to just have them listen to the same music for another year, and repeat, repeat, repeat. The delay [of the Olympics] helped us be brave to change routine completely."
With all this extra time, everybody started brainstorming and bouncing ideas off each other. Ultimately, they settled on creating a choreography highlighting Darwin's Theory of Evolution. The theme greatly inspired Salvador Niebla, and the creative process thereafter quickly started.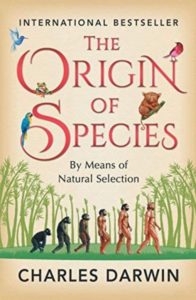 The swimmers studied Darwin's life, his travels, his research, and the core principles of The Origins of Species. Then, they all started thinking of ways to transpose all of this complex information into movements in the water. 
Most importantly, they had to pick and choose what to include in a four-minute routine. They admitted that in the end, they all have a piece of them in this choreography, whether it be in the hybrids, the acrobatics, or some of the facial expressions.
"It was so funny to create the movements in the water," Toledano said. "Mayu was like, 'You're cells now! You have to be more strange!'"
"Or, 'You have to be a mitochondria'," Ramírez continued, laughing. "I was like, 'What? How do I create a cell in the water?!' It has been very nice, and we laughed a lot."
"For us, myself included, I think the most fun thing about synchro is that moment when we are playing around in the water," Fujiki added. "Trying out new things, and being as weird and creative as possible. Then, the part of synchronizing it all is almost… torture (laughs)!"
With the three deferrals of the Olympic Qualification Tournament, the team has had even more time to work on this routine, and to also continue ironing out all the small details in the technical program.
The Spanish athletes will finally compete again at the upcoming European Championships in Budapest from May 10 to 15, where they consider unveiling both routines.
They will then return to Barcelona to prepare for the Olympic Games Qualification Tournament, now rescheduled on their home turf for June 10 to 13. Spain is amongst the favorites to clinch one of the remaining three team quotas to Tokyo.
"Now it's been almost two years without any competition for us," Mas said. "We want to show how hard we have been working all this time. And we want people to enjoy seeing us and what we've created."
ARTICLE BY CHRISTINA MARMET
If you've enjoyed our coverage, please consider donating to Inside Synchro! Any amount helps us run the site and cover costs to travel to meets during the season.