The first major international and in-person competition in two years wrapped up in Budapest this past week. The level of the competition was top-notch, which made for an incredibly fierce, exciting and rewarding tournament. The rankings changed, most often unexpectedly, as many countries improved their scores by several points.
Solos
All five swimmers who finished on the podium won their first European medals in solo. Russia's Varvara Subbotina earned her first European title in the free event. Her routine was inspired by a Japanese lullaby, and choreographed with the 2022 FINA World Championships in Japan in mind. It was actually quite reminiscent of the great Natalia Ishchenko's routine in 2007.
With her ruptured eardrum, Subbotina and her coach actually had to rework the entire choreography quite recently. They removed anything requiring full vertical descents or sharp up-and-down Barracudas, thus potentially causing further pain. It is also why she withdrew from the technical solo, with no way to get around the required elements.
Unfortunately, Subbotina's season ended in Budapest. She will now take time to heal and get surgery. As a result, she will have to stay out of the water for nearly two months. The 20-year-old is thus out of contention for the Russian Olympic team.
Marta Fiedina won Ukraine's first-ever European solo title in the technical event with a new choreography to the theme of "Enchantress." She reached a massive 91.8445, the highest score in there for Ukraine since Anna Voloshyna in 2017. The 19-year-old placed second in the free event with another new routine, using Havasi's "Daisy Secret."
Overall, Fiedina looked tremendously improved and stronger than at the 2019 Worlds, where she finished fourth in both solo events. She actually swam in all eight events for Ukraine here, and leaves her first senior Europeans with four gold and four silver medals.
Evangelia Platanioti from Greece accomplished one of her biggest career goals: medaling in solo at the European Championship. She won bronze in free with a brand new choreography to Queen's "The Show Must Go On." She started her heartfelt performance on deck mimicking Freddie Mercury's 1986 vocal improvisation in Wembley, initiating a call-and-response game with her teammates in the stands. She not only won a medal, but also scored a significant 90.8000. The two-time Olympian could not contain her tears when she saw her marks.
In the technical event, the Greek won silver with the same "Armand Amar" routine as in 2018 and 2019. She reached another career-high score of 89.2897. These are the first medals in solo for the country since 2006.
Belarus was overall one of the biggest breakthrough of this meet. After two years without competing, soloist Vasilina Khandoshka was clearly not here only to show her face. In technical solo, she won a historical bronze medal with 87.7173, and improved her score from the 2019 Gwangju Worlds by more than three points.
In the free event, the Belarusian also reached the elusive 90 points mark with her new "Dream of Desdemona" choreography. Khandoshka, who trains in Moscow under Elena Voronova, showed complete control of her technique and difficulty. There, she gained five points since 2019, but could not quite move ahead of the Greek veteran for the bronze.
Vasiliki Alexandri from Austria kept the same choreographies from 2019, and reached a new personal-best in free solo with a 88.8667. Lara Mechnig from Liechtenstein also had a fantastic showing in Budapest. She performed a new technical routine, using a mix of  compositions from Charles Bukowski and Max Richter, for a new career-high score of 83.4478. While her free solo was the same as in the 2020 French Open, she also reached a new high of 84.7333.
Great Britain's Kate Shortman only swam in the free solo. She showed off a new routine set to "Desperado" from Rihanna, and reached a new personal best of 86.0000. Ilona Fahrni from Switzerland held her own for her first senior competition as a soloist, particularly in the technical event where she finished sixth with a score of 79.2455.
Actually in the technical event, the soloists from Israel, Italy and Croatia unfortunately all received zeroes on one element. However, Nada Daabousova from Slovakia was very quick to think on her feet after completely missing her last one (Barracuda Continuous Spin 720°). She came up for air, and then immediately repeated the element so as not to get a zero. It paid off as she ultimately finished seventh with a 78.0825.
Duets
The women's duet competition was sensational, and undoubtedly the most intense of all events. While the medalists were relatively expected, the unpredictability of the rest of the rankings was so exciting. Each pair looked incredible, strong, and improved. The vast majority are working towards the Olympic Qualification Tournament held in Barcelona in a few weeks. Clearly, all the hard work done since the last major competition is visible.
It wasn't without its share of drama. The technical duet final had to be entirely rescheduled after significant underwater speaker issues delayed the entire event. About half of the field had already swam, albeit with difficulties, and the tight schedule with diving was closing in on the organizers. Ultimately, they decided to give everybody a fair chance to swim again in better conditions a few days later.
Svetlana Kolesnichenko and Svetlana Romashina were simply out of this world. Nobody could even come close as the Russians won two more European titles. Their new "With Russia From Love" technical duet scored a 96.2904. With their "Spiders" free routine, they flirted with perfection and even received one 10.0 in difficulty for a total score of 97.9000. This is the same choreography they performed in Gwangju, but coach Tatiana Danchenko has already said that they have some more surprises in store for the Olympic Games…
Ukraine's Marta Fiedina and Anastasiya Savchuk earned both silvers with two new Olympic choreographies. They showed precise movements, with great attention to detail and impressive work in vertical and in the angles. It also featured a fantastic paired hybrid at the end of their second lap, which is just too lovely to attempt to describe. (And apparently to be filmed from the correct angle).
Anna Maria and Eirini Alexandri from Austria were clear medal contenders after their strong showing with both of their new routines at the Budapest World Series in April. Although, maybe their path to the podium wasn't as stress-free as they would have liked with Belarus' unforeseen leaps in the solo and duet events.
Nonetheless, the Austrians ultimately kept the Belarusians at bay. They grabbed both bronze with 89.4592 in tech, and 90.8667 in free. Much like for Platanioti and Khandoshka in solo, reaching the 90s is a significant step moving forward for the Alexandri sisters. In the process, they also won the first medals for the country in the duet since 1985.
Now, the (good) craziness starts. The European hierarchy is changing, and it's refreshing. Again, Belarus was the big revelation of this competition. After the solos, all eyes were on Khandoshka and Daria Kulagina. While they already swam together in World Series meets for their club, they finally competed together under the flag of Belarus for the first time here.
They presented a new technical duet, using the cancan section of Offenbach's "Orpheus in the Underworld." They received 88.1958, seven (!) points higher than the country's score at the 2019 World Championships. Similarly, their "Witch Hunters" free choreography earned 88.7333, five points more than at worlds.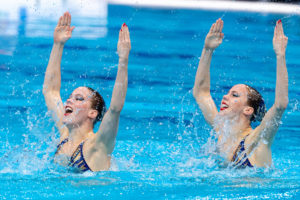 Bregje and Noortje de Brouwer from the Netherlands also had a major breakthrough in Budapest. The twins had not competed since the 2020 French Open. Their new technical routine "Briging Back Our Dreams" helped them to a notable fifth-place finish with a 87.2526, two points higher than their previous best. They originally had a different technical duet, but decided to create something new with the postponement of the Olympics and all the lockdowns.
The Dutch also unveiled a brand new free duet, using "Intergalactic Experience," a piece specially composed for them by Alexis Maldiney. They reached yet again a new career-high of 88.3000, a score well within the usual ranges of France or Greece.
Spain's new pair could not overcome the giant progress of these two countries. It had to settle for sixth place in technical duet after receiving a score 86.9546. This was the first time out for Iris Tio and Alisa Ozhogina. They presented a new baseball-themed routine, created with the Tokyo Olympics in mind as baseball is very popular in Japan.
These two certainly have a lot of potential together. Obviously, they need to continue working together in the next few years to continue improving, and to gain confidence and experience ahead of the next Olympics in Paris.
Furthermore, two new European rivalries saw the light in Budapest. The first one is between Great Britain and Israel. Much like Austria, Israel's jump in the rankings was foreseeable after its outing at the Budapest World Series. Eden Blecher and Shelly Bobritsky have tremendously improved this season, and showed their World Series scores were not a fluke. Here, they received 84.5304 in tech and 85.7000 in free.
However, the British pair of Kate Shortman and Isabelle Thorpe did manage to stay ahead, albeit barely. They unveiled a new "Vampires" technical routine for a 84.9244, only 0.3940 points ahead of Israel. The gap between the two nations was even smaller (0.1000) in the free event.
Like Belarus and the Netherlands, these two nations missed the World Championship final two years ago. However, these scores in both events would have put them in the top 12 back then. Now with these four reaching new heights, the question of who will make the Olympic final ultimately arises. Moreover, where will some of the missing European, traditional duet powerhouses like Italy, Greece, or France, fit in this now highly competitive and tight field?
These smaller countries present in Budapest may have the edge. These bigger nations are all intensely focusing on a team qualification, and thus may have had less time to focus on the duet. This will ultimately and undoubtedly lead to nerve-wracking yet outstanding competitions later this year. The landscape of the sport is obviously changing in these events.
Another tight match-up surfaced between Liechtenstein, Switzerland and Germany. This will be one to pay very close attention to at the Olympic Qualification Tournament in a few weeks. Realistically, the last two duet quotas are likely to come down to these three, as well as potentially a few non-European nations.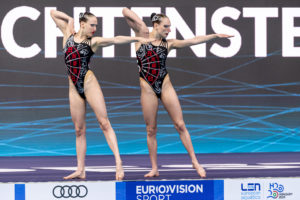 Lara Mechnig and Marluce Schierscher, representing Liechtenstein, do have an edge in the free event. They outscored the other two by one or two points, respectively. They actually were really emotional as they reached a new career-best in the free duet preliminary of 84.4000.
In the technical duet, all three are neck and neck. They actually finished within 0.5259 points of each other. Switzerland's Vivienne Koch and Joelle Peschl did come out ahead of the other two there with a 82.7963. The Germans Marlene Bojer and Michelle Zimmer wedged themselves right in the middle, only 0.1464 behind the Swiss.
Actually for their first time out as a duet, Bojer and Zimmer certainly proved they are right in the hunt for an Olympic spot. They have only been training together since October, but have already improved the country's score by nearly four points in technical duet and three in free since 2020.
Either way, expect these three nations to battle it out in Barcelona. Maybe only a few tenths will end up making the difference as to who goes to Tokyo and who doesn't.
Finally, Jasmine Verbena and Jasmine Zonzini from San Marino competed at their very first senior European Championships. Two of their big goals were to reach the final and score above 80, both of which they reached here. The two were absolutely thrilled to qualify to the free duet final with their "Mysterious Witches" routine. In the end, they also could not hold the tears back after scoring 80.4333, four points better than in Gwangju.
A bit further down the rankings, Portugal and Serbia continued to fight it out.  Portugal's Maria Beatriz Goncalves and Cheila Vieira this time had the edge compared to two years ago in Gwangju. They most notably improved their free score by two points since. Nada Daabousova and Chiara Diky, Slovakia's new pair for the technical event, also reached a new high of 78.7889.
Overall, the women's duet competition was of a very high standard. The entire field has reached a new level of performance. Besides, it was quite refreshing to see new medalists and a new European order establishing itself.
Mixed Duets
On the contrary, the mixed duet events were probably the most predictable of this meet. Russia came in as the favorite, and delivered two stunning yet completely different performances to win. Aleksandr Maltsev, Maya Gurbanberdieva and Olesya Platonova had already competed twice this year at the Budapest and Kazan World Series, where they had shown both of their new routines.
In her first senior Europeans, Platonova handled the pressure beautifully in the free event. She and Maltsev went on to score 93.9333 for their avant-garde "Rite of Spring" choreography. That one should have originally been unveiled at the 2019 World Championships. However, they along with coach Gana Maximova decided it needed more time and work before being shown to the world. With the pandemic, fans actually had to wait two more years to finally see it, but it clearly was worth it.
In tech, reigning European and World champions Gurbanberdieva and Maltsev swam to Evanescence's "Bring Me to Life." They also comfortably won with a 91.7963.
For their first European Championship together, Emma Garcia and Pau Ribes from Spain grabbed two silver medals. They too had already swam this season in the World Series circuit with their "Witch Hunter" technical and "Cats" free routines.
Finally, Italy completed the podium, winning bronze in both events. Nicolo Ogliari and Isotta Sportelli actually only had 10 days or so to train together, as they never really were supposed to come to Budapest in the first place.
In free, the Italians used the flamenco routine that Ogliari trained in his club of RN Savona with another partner. For the technical programme, they used Giorgio Minisini and Manila Flamini's 2015 routine, which uses some trademark sounds fans may now also recognize from the U.S. free "Robots" team.
Finally, the mixed duet field grew by one at this competition. Siblings Jozef Solymosy and Silvia Solymosyova made their senior competitive debut in Budapest representing Slovakia. Coached by their mother Ivana Solymosyova, they decided to use Don Quixote for the free routine, as Jozef also very much enjoys dancing to it in the Slovak national theatre. That routine earned a score of 76.1667. Their tech routine revolved around the theme of "Dark Angel," and received 73.3682. It will be fantastic to see these two grow and improve together now that they are finally both eligible for the senior meets.
Teams
Overall, Ukraine truly is admirable. Not only do the Ukrainians do essentially all possible events, but they also always come up with new programs every season. Out of the eight routines they swam in Budapest, seven were completely different choreographies: four new Olympic routines (duets and teams), two new solos, and one new Highlight.
The technical routine went back to very classical roots using music from Tchaikovsky's Swan Lake composition. The free routine was a bit more powerful on the theme of  "Team of the Brave." It showcased incredible leg isolation and angle work, as well as a peculiar attention to details in the tiniest movements. The Ukrainians scored 95.0667, their highest score of the quad and since the 2016 Olympic Games. In turn, they are thus slowly setting foot into China's scoring territory.
Russia only entered the technical event. Its Quadrille routine gave them the gold with a score 95.6705. It wasn't however all smooth sailing for the Russians. Reserve athlete Veronika Kalinina came in to replace to Aleksandra Patskevich, who was ill and ultimately could not compete. Kalinina already swam in the team from 2017 to 2019, so it is no surprise she handled the last-minute change and pressure perfectly.
Like Ukraine, Spain also unveiled its two new team choreographies in Budapest. Their highly anticipated flamenco sign language routine scored 89.7700, and was well received with strong elements. Of note, RAI commentator and Olympian Paola Celli mentioned that the Italian squad also did a sign language routine back in 1996.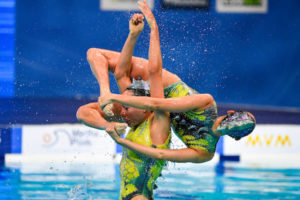 In free, the Spanish showed their "Darwin's Evolution Theory" routine. They arrived on deck disguised as iguanas, in reference to the Galapagos Islands where Darwin did a significant part of his research. This choreography had fantastic artistic impression, and featured some interesting and risky acrobatics, like the one pictured here.
The nation earned 91.2333 in the event, and will look forward to increasing that score in a few weeks to fully secure a team quota to Tokyo.
Israel made history in the free team event by winning the country's first-ever European medal. In the process, it also reached a new, massive high score of 86.8000 with a brand new choreography revolving around the universe and aliens.
The nation has been consistently on the rise ever since starting to work with Spanish coaches Bet Fernandez and Anna Tarrés in 2018. After a rapid, 10-points increase that season, the Israelis have continuously moved on up. With this performance in Budapest, they again have improved by two more points since the 2020 French Open.
However, this bronze wasn't necessarily a given for Israel. A few days before, Belarus had finished ahead by about 1.3 points in the technical event. Ultimately, the former prevailed here, but the latter is certainly one to keep our eyes on.
Indeed, Belarus also had a fantastic showing in the team events in Budapest. Much like Ukraine, the country was also entered in eight events, including all four teams. While their rise in team score is not as stratospheric as for its solo and duet, the Belarusians did improve by four points in both tech and free since the 2019 FINA World Championships.
Honestly, they should now be considered on the bubble at the Olympic Qualification Tournament. Their technical team score of 84.0494 is very much in the 'usual' scoring range of the U.S. team — the Americans earned a 83.3925 at their last competition —, even though it also likely has improved since. In free, their score of 86.3333 should not be glanced over either. In theory, it's a very long shot. The country would need some of the favorites to falter to move through to Tokyo. But this new development could certainly make things interesting.
Greece only swam in the free combination event and earned a silver medal. It re-worked its former free, Africa-themed team routine into a combo. The young Greek squad was thrilled to finally compete again and get back into a proper competition setting before the Qualification Tournament. The fast-paced, dynamic choreography received a new best of 89.1000, and that was without veterans Evangelia Platanioti and Evangelia Papazoglou.
Despite all the lockdowns and training difficulties they faced, it was fantastic to see Great Britain and Switzerland in the team events. Both squads only had a few weeks to prepare together before the championship. The Swiss actually ended up keeping the same Frank Stallon technical routine as in Gwangju, and were absolutely delighted to see the score of 82.3816 pop up.
The free combination and highlight events unfortunately only featured four and three countries, respectively. This was the first time highlights were included on the programme, but its European debut might have been hindered by many teams focusing instead on the Olympic events this season.
Article by Christina Marmet
If you've enjoyed our coverage, please consider donating to Inside Synchro! Any amount helps us run the site and travel costs to cover meets during the season. 
Cover photo by Deepbluemedia.