The field for artistic swimming at the 2020 Olympic Games is finally set. After four intense days at the Qualification Tournament in Barcelona, three teams and nine duets secured their spots to Tokyo.
The first two days were all about the teams. The top three with the best combined scores in technical and free routines would seal their fate. Ultimately, three more European nations will head to Tokyo in a few weeks: Italy, Spain and Greece.
The meet started with the technical teams. After three postponements, this long-awaited meet was finally underway. Everybody was on edge to find out which teams would significantly pull ahead of the others.
After this first event, Italy and Spain positioned themselves as near-locks for Tokyo, with 90.7917 and 90.5506 respectively. The following day, both nations showcased strong, well-executed free routines that punched their tickets to Tokyo.
The Italians had not competed internationally since the 2019 FINA World Championships. It clearly wasn't a problem as they won the meet with a combined score of 184.0249. They will head to Tokyo as a team for the second Games in a row and with four returning Olympians: Beatrice Callegari, Linda Cerruti, Francesca Deidda and Costanza Ferro.
"We feel a big relief," the team said. "Over the last two years, we worked very hard for this competition that never seemed to come. They were two long, intensive years far away from our families and loved ones, but which resulted in a stronger bond with each other. It has never been simple and easy."
In Barcelona, they unveiled two new choreographies. Both were relatively in the same energy, with powerful and inspiring musical choices. The tech programme revolved around the theme of "Superheroes." Their free was all about "Female Warriors," and was choreographed by Anastasia Ermakova.
With the latter, the athletes wanted to represent the strength everybody has shown over these past two years that have really tested the whole world. They aimed to depict warriors who rise up again despite everything by fighting and giving a signal of hope.
The Italians had actually originally planned to compete before this high-stake event at the European Championships. Unfortunately, bouts of Covid-19 and short-term injuries strongly impacted the team, and they had to withdraw.
"We were ready to show the world our determination and good work [at Europeans]," they continued. "We also wanted to finally have the opportunity to confront with other teams, and to release all the pressure and adrenaline accumulated in the last two years. But just a few days before the beginning, unexpected obstacles forced us to stay home. Our biggest fear was back: another postponement, and more waiting."
In the end, everything worked out for the best. The Italians even received 93.2332 in free, their best score in that event in 12 years.
"It is difficult to find the correct words to describe our performance," they said. "The whole team experienced it like we were a single soul. It was indescribable emotions, but we truly enjoyed every single moment in the water. This result is the sweet ending of the last two challenging years. We are going back home more than satisfied, and with a stronger desire to do better and improve."
Fresh off two podium finishes at the European Championships, Spain grabbed the silver medal at this tournament. The squad even reached 92.3000 in free, its best mark since 2015, with a further-polished choreography and a really clean swim. With a combined score of 182.8506, Spain will officially return to the Games as a team after missing out in 2016.
"I still cannot believe it," Meritxell Mas said. "We have worked so hard all these years and now we start to see the results. 2016 was very hard, and with this new team I didn't want that to happen again. We were focused on ourselves, and doing the best swims we could with these two routines. Competing at home is the best feeling we can have. We enjoyed a lot this amazing championship."
"It's immense happiness and satisfaction," Alisa Ozhogina said. "We have met our goal and we are going to Tokyo! Now, we must continue working to make our performance even better."
Spain will only have one returning Olympian on its squad: Ona Carbonell. Tokyo will mark Carbonell's third Games, and second with the full team.
The fight for the last spot was extraordinary. Only 0.544 points separated Greece, France and the U.S. after the technical event, where all three unveiled brand new routines. Anything was possible the following day during the free team final.
Greece was the first to swim in that final, and showcased its highly-anticipated "Icarus" routine. The Greek team had actually struggled all day in training on some of its riskier acrobatic moves, especially the bridge at the end of the first lap ("the Minotaur"). However, they demonstrated an uncanny ability to turn it around. They delivered the solid swim they needed and hit all their highlights superbly. The Greek received 88.6000, and finished the competition with a combined 175.9990. They now just had to wait it out.
At first, it seemed like the door had been left open. Certainly, it felt like the entire pool knew it. The U.S. had scored over 89 in the past, and France's last free score one year ago was 88.6667. In addition, both of them had looked particularly strong and confident in training that same day. Could either of them receive a high-enough free score to make up for the deficit with Greece that existed after the technical event?
The U.S. swam next with its "Robots" routine. The Americans had one of their most heartfelt swims, with a fantastic execution allowing for the full artistic research to properly shine. They received a 88.9332, putting them ahead of their Mediterranean rivals in the free event. Unfortunately once the technical score was added, it was not enough to overcome the Greek, who stayed ahead by only 0.2108.
It would then all come down to Greece or France. The French were last up. They had not competed since the 2020 French Open, and were ready to show the newest version of their "Zombies" routine. The country was most vulnerable on acrobatics after losing its flier and one of its bases to injuries, and was forced to modify most of them.
The French started off strong, with good difficulty and great angle work in the hybrids. Unfortunately, they were shaky on two lifts in the first part of the routine. The last tier, now set to Mozart's Requiem, showcased a long and impressive final hybrid. But ultimately, it wouldn't be enough. All in all, it maybe was not as well swam as they would have hoped or needed to overcome Greece. The French earned 87.8332, and a combined score of 174.8833. They finished in fifth place behind the Americans.
Up in the team's stands, Greece's excruciating wait was finally over. The athletes could not hold back the tears as they realized they would bring the country back to the Olympics as a team for the first time since 2004.
"The feeling is priceless," Evangelia Platanioti said. "One of the biggest goals in my career, maybe even the biggest one, was to help my team make this miracle happen. I feel really happy and proud that I am part of this. It wasn't easy, and I am sure for it was difficult for all the teams. Everyone had their own difficulties. But now, I feel so happy and calm."
This will mark Platanioti's third Olympic Games, and obviously her first with her whole team. She admitted that in her 14 years on the national team, she had never worked harder, physically or mentally, to achieve anything.
In addition during the two weeks prior to the competition, the Greek underwent an intensive training camp with coaches and choreographers Anna Tarrés and Bet Fernandez in Lloret de Mar, near Barcelona. All eight athletes, no distractions, complete focus.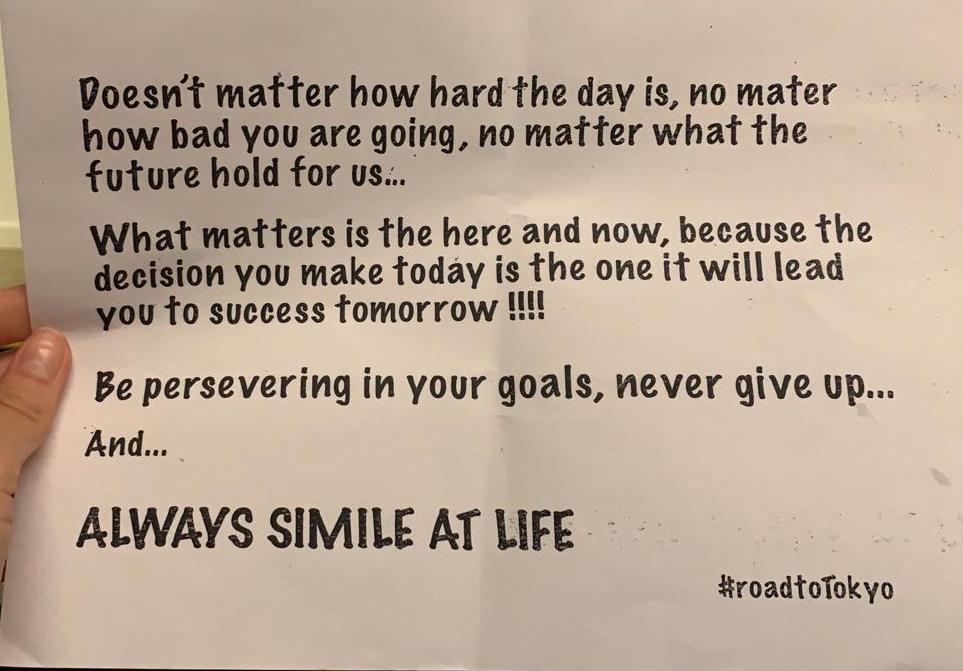 "Almost every day for the last month, we had a new quote to keep us motivated," she continued as she pulled one of them out. "This was one of our team quotes, one of the final ones at this competition. It was after a really difficult day…"
Maria Alziguzi was equally thrilled, relieved, and in disbelief. A member of the national team from 2012 to 2015, she had decided to return in the fall of 2019 to take part in this Olympic journey.
"It feels like all the effort and hard work I put in has paid off," she said. It's one of the most important moments in my life. Now, we are going to drink champagne to celebrate (laughs)!"
Of course, the excitement and utter joy of the qualified teams coexisted closely with the heartbreak and disappointment of the ones missing out. France and the U.S. hugged it out, still teary-eyed, congratulating and thanking each other for such a journey and a close fight until the very end.
While this season didn't end the way they had hoped, the Americans should be extremely proud of their performance and growth. Two years ago at the World Championships, it was difficult to consider them as potential Olympic contenders as they were a handful of points behind Greece and France. In the end, time was on their side.
In two seasons, they improved by over five points in free team. Here in Barcelona, their technical team score increased by about three and a half point since their last outing at the 2020 French Open. To have ultimately come within two tenths of the Games is nothing short of remarkable.
On their side, the French displayed incredible resilience and fight in the face of adversity. They lost two significant key members of the team within a few weeks of the most important meet of their careers. Nonetheless, they bounced back, adapted, and never relented. It certainly wasn't the smoothest journey nor ending they had hoped for. But they saw it through, and should also be extremely proud of that.
Additionally, their technical team score of 87.0501 is the nation's best since 2013. And, it came with a brand new routine. They head into the next cycle as the host team for the 2024 Olympic Games, and have already shown a great potential for even more improvement.
Finally, South Korea and Hungary were the last two teams in this Olympic Games Qualification Tournament. These two were never realistically in the running for a ticket to Tokyo, but undeniably just lived a fabulous experience. The South Koreans are seemingly preparing for the Asian Games next year, and have shown tremendous improvement this season, improving by nearly three points in tech and two in free since the 2019 FINA World Championships.
The 10 teams headed to Tokyo are Australia, Canada, China, Egypt, Greece, Italy, Japan, Russian Olympic Committee, Spain, and Ukraine.
Article by Christina Marmet
If you've enjoyed our coverage, please consider donating to Inside Synchro! Any amount helps us run the site and travel costs to cover meets during the season. 
Cover photo by Jordi Lopez