The 2021 Artistic Swimming World Series wrapped up in Barcelona last week with the Super Final competition. It was held simultaneously as the Olympic Games Qualification Tournament (OGQT).
Due to the Covid-19 pandemic and the cancellation of multiple World Series legs, the International Federation (FINA) amended the rules to qualify to the Super Final. Any federation was allowed to enter in each category, and to continue to collect points for the prize money. To be eligible for the latter, athletes had to swim in a minimum of two competitions, which could include the Super Final.
Additionally, the scores of the countries entered in the team and duet events at the OGQT could also be considered for the Super Final. The federation only had to be registered for both meets. Teams and duets thus did not have to swim their routines twice.
Canada topped the medal table with five gold and two bronze medals. As it is already qualified to the Games, the nation only swam in the Super Final portion of the competition. Jacqueline Simoneau and Claudia Holzner had already taken part in the Budapest leg in April in the duet events. In Barcelona, they reached new personal-best scores of 90.5040 in tech and 91.8332 in free to win both.
On the other hand, this was the first in-person international meet for the entire team since the 2019 Pan American Games. The Canadian federation had also announced the Olympic team roster a few days before. It includes Emily Armstrong, Rosalie Boissonneault, Andrée-Anne Côté, Camille Fiola-Dion, Claudia Holzner, Audrey Joly, Halle Pratt and Jacqueline Simoneau. Kenzie Priddell was named the reserve.
In the team events, the Canadians unveiled their two new Olympic routines. Their technical program was quite energetic, using hip-hop and rap music, while the free routine revolved around the theme of "Triumph." They finished third in both events behind Italy and Spain.
It was also the first competition in two years for Mexico's duet of Nuria Diosdado and Joana Jimenez. Like the Canadians, they are already qualified to the Olympics, and aimed to test out their new choreographies. They reached a new personal-best of 86.4484 in the technical duet with their engaging choreography set to Flashdance's "She's A Maniac." Their free routine was in a completely style, using a mix of epic and inspirational music. They earned a score of 88.0000, finishing only 0.4668 behind the bronze medalists from the Netherlands.
It is shaping up to be quite an interesting matchup in Tokyo between the pairs from the U.S. and Mexico. The Americans used to be a few points behind the Mexicans back in 2019. Here, they however managed to catch up enough to move ahead in the technical duet. Looking at combined scores, the Americans actually reached 174.6085 while the Mexicans sat at 174.4484.
Moreover, it was fantastic to see Egypt's duet again in a World Series meet. Hanna Hiekal and Laila Mohsen have also had their ticket to Tokyo punched since 2019. The pair had already shown this "Beauty of Love" choreography in the virtual leg organized by Canada a month ago. However, this was the very first time the nation competed at an in-person World Series event.
Hiekal and Mohsen have only been paired together for about a year. Nonetheless, the two earned 78.5983, the highest score for Egypt in a technical duet since 2009. Coach Anastasiya Chepak said they aimed to present something different, more dramatic and softer than what's now expected of technical duets.
The duets from Aruba and Bulgaria also were amongst those only competing in the Super Final event.
The free duet preliminary round only applied to the countries entered in the OGQT. However, only the top 12 in combined scores could move on to the OGQT duet final. As a result, most of the pairs that did not qualify did get one more opportunity to swim again, but this time in the free duet section of the Super Final.
It worked out quite well for San Marino's Jasmine Verbena and Jasmine Zonzini. They finished with a new personal-best of 81.7332, which ultimately even moved them ahead of Switzerland in the rankings. It's overall been a very successful season for these two. One month ago in Budapest, they finally reached above 80 points, improved by four points since the last World Championships, and made their first European final in free duet. And only a few days before flying to Barcelona, they competed at the Italian Summer National Championships.
A few other pairs to watch over the next few seasons are Singapore, Slovakia, Portugal and South Korea. All are inching closer and closer to the elusive 80-points mark, and all reached new career-best scores here. It's actually been quite an impressive rise for Maria Goncalves and Cheila Vieira, who've represented Portugal since 2017. The two improved by nearly four points since the 2019 FINA World Championships in the free duet event.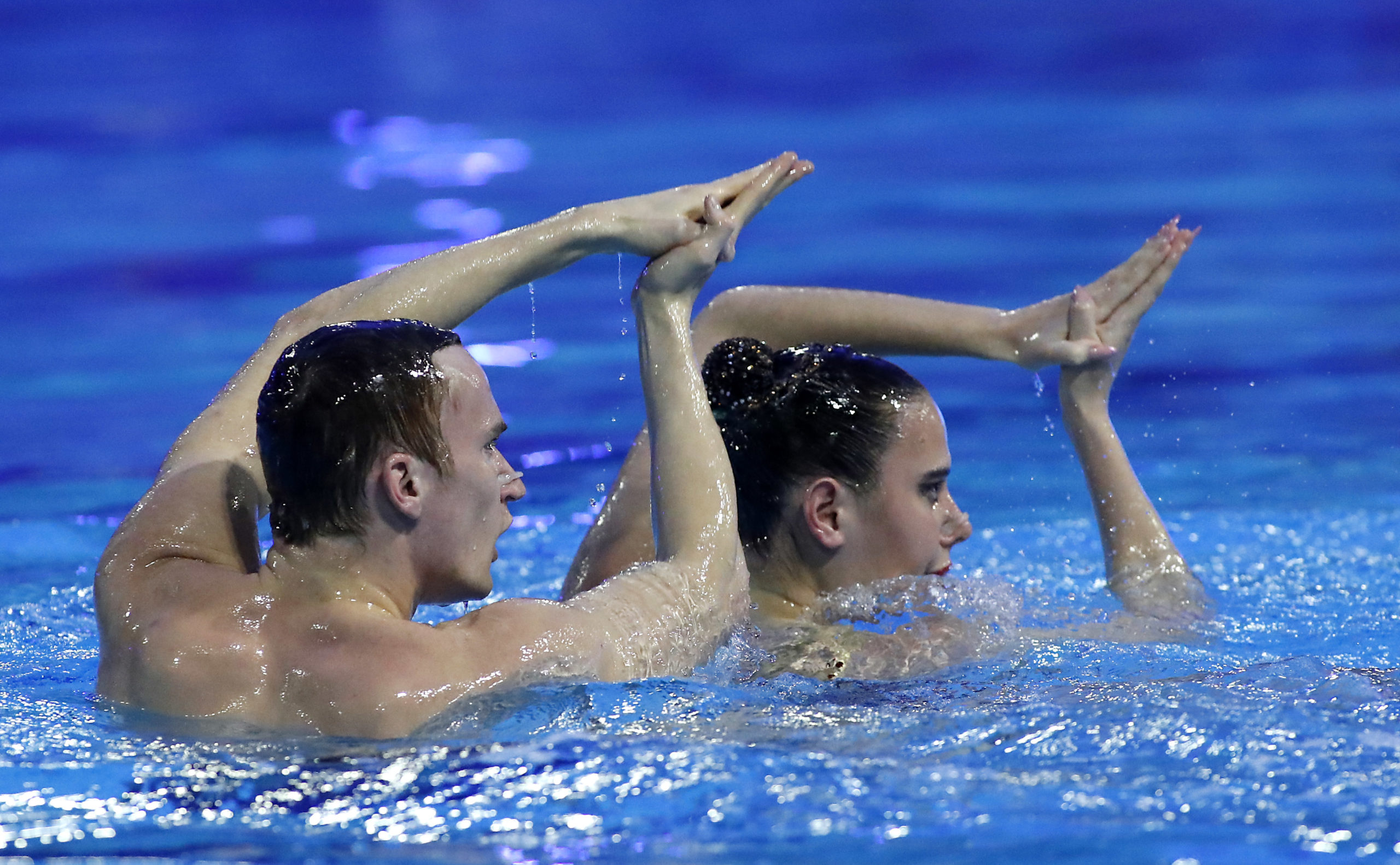 Three mixed duets took part in the Super Final. Russia switched out Aleksandr Maltsev's partners for this competition. Olesya Platonova swam the technical routine for the first time this season, and Maya Gurbanberdieva performed in the free. In the latter, the Russians were particularly superb in their "Rite of Spring" interpretation. They earned a 94.0000, with a few 9.5 and 9.6s in artistic impression.
Maltsev and Platonova also comfortably won the technical duet event with 92.2651, ahead of Spain. Emma Garcia and Pau Ribes nonetheless did reach a new personal-best score of 86.0043 there. These two countries have competed in World Series meets all season, and should end up first and second in the final circuit rankings.
On the contrary, this meet marked the international debut of Italy's new mixed pair. Giorgio Minisini and Lucrezia Ruggiero have competed together nationally since 2020, but the pandemic and its consequences on the sporting world delayed their first international outing.
The Italians only swam in the free event with a new choreography set to Led Zeppelin's "Stairway to Heaven." They scored 88.6332, but missed their first acrobatic movement at the very beginning of the routine. It was fantastic to finally see these two out there, especially after they missed the European Championships because of Covid-19 itself.
Minisini also won the men's free solo event (88.8668) with a heartfelt and powerful performance to the song "Hate Me" by Blue October. Although he's competed in solo domestically every season, this was the first time since 2016 that he swam in the event on the international stage.
"This song and this solo were the first step last year in facing a depressive condition that kept me down for almost three years," he said. "It wasn't something too bad or too serious, but it was something I needed to face up to. Now don't worry I am fine and safe. I do hope people appreciated and enjoyed my performance."
View this post on Instagram
Aleksandr Maltsev won the technical solo with a 90.9322 with his routine set to Chopin's Prelude. Spain's Dennis Gonzalez grabbed silver in both events. He reached a new season-high score of 79.4668 in free, swimming to "It's A Man's Man's Man's World." Gonzalez also swam for the very first time in tech, and received a 77.0284 for his Spider-themed routine.
On the women's side, Canada's Jacqueline Simoneau dominated both events. Lara Mechnig from Liechtenstein grabbed the silver in technical solo with a new personal-best of 84.1573. Nicole Dzurko from the U.S. rounded out the podium there with a new high of 82.0876 for her choreography set to "Imagine" by John Lennon.
Teammate Anita Alvarez also reached a new career-high score of 88.1332 in the free event. It was an exceptionally quick turnaround for her as that event was scheduled only three hours after the OGQT free team event. Mireia Hernandez, poised to be Spain's junior soloist in a few weeks, improved from her Europeans performance and finished third with 86.3668.
Hungary was the sole competitor in the free combination event. Its "Sky Wars" routine received 77.7668. The nation also won silver in Highlight with 76.4332 with its choreography set to Bonnie Tyler's "Holding Out For a Hero". Canada won that event with its "Power of the new generation" routine and a score of 89.8000.
All replays of the competition are available on Eurovision.
ARTICLE BY CHRISTINA MARMET
If you've enjoyed our coverage, please consider donating to Inside Synchro! Any amount helps us run the site and travel costs to cover meets during the season. 
Cover photo by Jordi Lopez