The Russian women's monopoly on the Olympic titles continued in Tokyo. Competing under the Russian Olympic Committee (ROC), they won the sixth straight Olympic team title for the country. Simultaneously, Svetlana Romashina further secured her spot in the record books by winning her seventh Olympic gold medal.
China finished second and defended its silver medal from 2016. Ukraine made history once again by winning the country's second Olympic medal, and the first in the team event.
Numerous scoring records were shattered throughout the team events. Many countries received some of their best scores of the quinquennium, if not of the decade or even longer.
With six returning Olympic champions on its roster, ROC's team was the strongest on paper. Naturally, expectations were high as the nation has never lost at the Olympics since 2000, whether in duet or team. Unsurprisingly, the Russian athletes delivered, and won yet another title with a combined score of 196.0979.
On the first day and showcasing brand new swimsuits, they performed their "Quadrille" technical routine confidently to earn 97.2979, the highest score since 2011. That gave them about a one-point lead over the Chinese.
Head coach Tatiana Pokrovksaya hadn't said anything about the new free choreography until the last day of competition. Their highly-anticipated program was named "Parade of the Planets." The fast, impeccably-executed routine clearly delighted the judges as it received 98.8000, earning even one 10.0 in artistic impression. This was the country's highest free score since the last Games.
These Olympics were likely the last ones for at least Svetlana Romashina, Aleksandra Patskevich and Alla Shishkina. All three had already previously expressed their intentions to retire after the Tokyo Olympics. However, there may be a few more that haven't said anything publicly yet. Indeed, Pokrovskaya seemed to imply that all Olympic team members may call it quits.
China, the defending silver medalists, continued to inch closer to ROC. This team was stacked with veterans as well, including five returning Olympians. The Chinese had not competed internationally since the 2019 World Championships. Back then, they were about 1.7883 points behind the Russians in technical team. In Tokyo, they closed that gap on the first day to 1.0669.
Just like in their 2019, their continuous spin element was outstanding, and clearly the best of the competition. Their score of 96.2310 was their highest since 2012. Nevertheless, it would have taken some major mistakes from ROC to let China to move ahead with a one-point deficit before the free event.
The Chinese closed the competition with their "Ode to Heroines" routine. They kept the same theme than in 2019 and earned 97.3000. They changed the first lap entirely, as well as the long, final hybrid. The Chinese team moved sharply and fast, and showcased impressive transition work. In the end, they again won silver with a combined score of 193.5310.
Huang Xuechen has also written her name in China's record books. The four-time Olympian is undoubtedly the country's best artistic swimmer with now seven Olympic medals, five silver and two bronze. She and her duet partner, Sun Wenyan, likely wrapped up their respective, stellar careers in Tokyo. Sun is now a five-time Olympic silver medalist.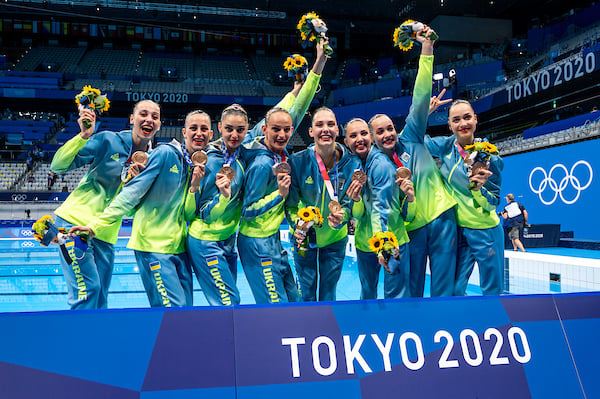 Ukraine won its first Olympic medal in the team event, and second overall, with a total score of 190.3018. After the technical event, the Ukrainians already had a clear lead of 0.8912 over the Japanese.
That event actually didn't start smoothly for either country, as both faced some music issues, again. It wasn't too bad for the Japanese team, as only a few seconds of random music played before it was turned off.  The athletes stayed put in their starting position, and waited until the correct track started.
They performed one of their best technical swim of the quad. Their new, Karate-themed routine received 93.3773, and undoubtedly would have delighted the home crowd in different times. It was their highest score since the Rio Olympics.
Swimming after Japan, Ukraine however had to start again, as Japan's music resonated throughout the pool. After briefly refocusing, the swimmers walked on and settled once more into their deckwork positions. It didn't seem to affect them too much, especially as they scored the nation's best score ever of 94.2685 with their Swan Lake program.
In the free event, the order was reversed. Ukraine competed right before Japan. It swam their new "Team of Brave" routine for a massive final score of 96.0333. The Ukrainians weren't necessarily as clean as the other medalists, but they were particularly impressive in their hybrids. They were particularly outstanding in their difficulty there, featuring strong angle work, isolation, and attention to details in the tiniest movements. Additionally, their acrobatics were as usual the best, most difficult ones of the competition.
Like some other nations, Japan played it rather safe and kept the same free "Japanese Festival" routine it had in 2019. The Japanese had one of their best possible swims with it, although one swimmer finished the last hybrid a few counts earlier. It wouldn't make much of a difference anyways as they received 94.9333, which was sadly not enough to catch up to Ukraine. It was however their best score since Rio.
In the end, it was again a historical performance for Ukrainian artistic swimming. The rivalry between these two nations is not new. In 2012, Japan edged out Ukraine by 0.23 points for the last team spot for the London Olympics. In 2016, the Japanese won the bronze medal ahead of the Ukrainians by 0.5976 points.
This time around, Ukraine simply made itself undeniable and won the bronze medal by nearly two points. It came to Tokyo with four new routines across the duet and team events. The Ukrainians compete frequently, and often change their choreographies from one season to the next to push themselves and to continually improve. The European nation is likely to continue riding this newfound momentum over the next few years, and carry on winning medals.
On the other hand, Japan might have some rebuilding years ahead. Head coach Imura Masayo stated these Olympics would be her last. Imura has coached at every Olympic Games since 1984, so since artistic swimming was first included in the programme. She is contemplating staying on until the World Championships in Fukuoka to coach Inui Yukiko in solo.
Italy ultimately finished fifth with 184.1372, although it was a fierce battle for that spot with Canada. The biggest surprise of this team competition indeed came from the North American team. After the technical event, it finished in fifth place ahead of both Italy and Spain. Only a month and a half ago at the World Series Super Final in Barcelona, the Canadians were still between 1.6 to 2.7 points behind the two European countries across both events.
In Tokyo, they reached 91.4992 in tech team with their hip-hop routine. Italy was only 0.1620 points behind Canada after this. The Italians significantly changed their technical routine since Barcelona, although they did keep the same "Superheroes" theme. Their clean swim with strong elements earned them 91.3372, their best score since 2009.
In the free team final, the Italians received 92.8000 for their well-executed "Warriors" routine. The Canadians swam a bit later in the final, and earned 92.5333 for their "Triumph" choreography. It wasn't enough to stay ahead of the Italians, who ultimately finished ahead in the combined rankings by 0.1047 points. These two scores were however Canada's highest in a major international competition since 2012.
Spain, back at the Olympics as a full team, ranked seventh with a combined score of 181.9113. The signature-style of the country really shone through both performances as it showcased two unique, well thought-out and researched choreographies.
The Spanish earned 90.3780 in the technical event despite having one of its best swims of the season. Their flamenco routine, mixing in Japanese culture and sign language, is another choreography that would have been well appreciated by the local crowd.
Swimming first in the free event, the Spanish team showed its creative, engrossing routine revolving around Darwin's Theory of Evolution. It only scored 91.5333, which was not be enough to challenge Italy and Canada.
View this post on Instagram
Egypt landed in eighth place with 157.9147. The nation competed as a team for the first time since the 2019 FINA World Championships. It unveiled a new technical choreography set to Katchatourian's "Masquerade Suite," and earned 77.9147, the highest score since 2009.
It did keep its same free choreography than in 2019, performing to a mix of compositions from Camille Saint-Saëns and Peer Gynt. The Egyptians had one of their best swims, with tight patterns and clean execution. Their improvement since that last competition was incredibly obvious, and the routine earned a well-deserved 80.0000.
It had been a long-time goal of the Egyptians to finally reach the 80-points threshold. Upon seeing their scores, the athletes screamed, jumped up, and started crying when they realized they had done it. The nation had not reached this score since the 2008 Olympic Games.
Finally, Australia finished ninth with a combined score of 153.0018. The Australians looked just as improved as their competitors. They also had not competed as a team since 2019, but showed two new choreographies here.
Their "Tokyo Nightlife" technical routine, only created in February, earned 75.6351, over two points better than at the last World Championships. The free routine revolved around the fire and water elements. Just like Egypt, a clear improvement was visible from the whole squad, and this despite having gone through so many team composition changes these last few months. Their free score of 77.3667 was three points higher than in 2019.
Unfortunately, Greece was forced to withdraw only three days before the start competition because of a Covid-19 outbreak. The swimmers were all already in Tokyo, and had even begun training. It is heartbreaking they did not get to show what they had been working hard on for the last three years on the Olympic stage, most particularly their captivating "Icarus" free routine.
While this is absolutely devastating, they should still be extremely proud of everything they've accomplished and of making it to Tokyo. At the end of the day, they did make history for Greece by qualifying a full team to the Games for the first time since 2004.
ARTICLE BY CHRISTINA MARMET
If you've enjoyed our coverage, please consider donating to Inside Synchro! Any amount helps us run the site and travel costs to cover meets during the season.