3,042 kilometers.
The distance between Kharkiv and Rome. Between war and safety for Ukraine's artistic swimming team.
2022 started as usual for the Ukrainian artistic swimmers. The nation had just won two historical bronze medals at the Tokyo Olympic Games a few months earlier. Some swimmers retired, others took a break, a few stayed on. Up-and-coming junior athletes moved up to the senior ranks. The young squad focused on the upcoming international events, living and training in Kharkiv.
On February 12, all participated in the national championships in Kharkiv. Everybody looked fantastic, and the squad looked forward to getting the season started at the French Open a few weeks later. 
But only 12 days later, their entire world was turned upside down as Russia began its invasion of Ukraine. Located near the border, Kharkiv was immediately targeted and heavily bombed. 
That first night, the athletes woke up in a daze, surrounded by loud noises and explosions. Within minutes, they understood the horror they faced.
Instead of hours in the water, the athletes and their families spent the following days hiding in bomb shelters. After a while, some found small windows of peace to flee westward. Others stayed put, refusing to leave their homes behind. Days passed, but the bombing never stopped. 
3,000 kilometers away, the wheels were turning. On February 27, Paolo Barelli, president of the Italian Swimming Federation, met the Ukrainian Ambassador in Rome, to whom he reiterated the possibility of welcoming Ukrainian aquatics athletes in the federal training centers. 
A few days later, the president of the Ukrainian artistic swimming federation got in touch. Immediately, Barelli got to work to find the least dangerous route for the athletes and coaches to escape Ukraine and travel to Rome. Naturally, everything had to happen extremely fast, but the team was on the run, scattered across the country.
Within a few days, he had identified different groups of athletes and coaches in different locations. On March 6, a first one left Lviv, one of the biggest western-most town of Ukraine, and headed south for the Hungarian border. They all had to make it to Budapest, where they would then be picked up by buses booked by the Italian federation.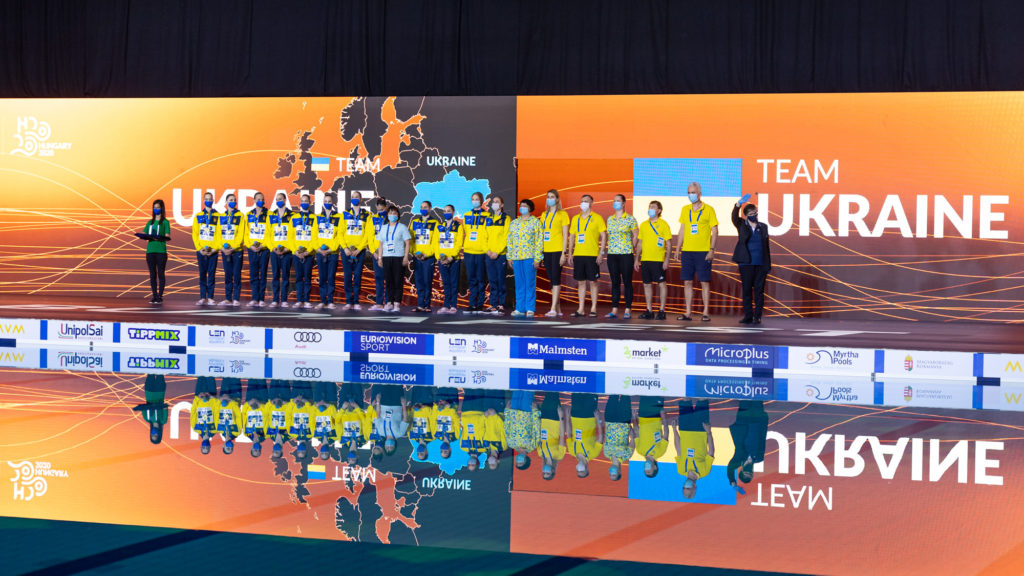 Olympic bronze medalists Maryna and Vladyslava Aleksiiva met up with the group along the way. The twins had left Kharkiv earlier on and were in Chernivtsi, although only with suitcases filled with summer clothes as they were about to head to a training camp in Turkey.
"We learned about this plan after 10 days of the war," Maryna Aleksiiva said. "Our coach was very worried about our safety, but we were very worried about movement in Ukraine. There were checkpoints on all roads and it was very dangerous to be outside. We spent nearly three days on the road to get to Italy; it was very hard."
On March 8, this  first group finally arrived in Rome. Ranging from 14 to 21 years old, it included Maryna and Vladyslava Aleksiiva, Olesia Derevianchenko, Veronika Gryshko, Daria Moshynska, Angelina Ovchinnikova, Anastasiia Shmonina, Anastasiia Soldatenkova, Valeriya Tyshchenko, and Amelia Volynska. Olympic duet coach Olesia Zaitseva and junior national team coach Kseniia Tytarenko accompanied them. 
All men aged 18 to 60 were banned from leaving the country, in anticipation that they may be called to fight. The team doctor, physiotherapist, and acrobatics coach with whom they had been working with for decades, had to stay. The former is in Kharkiv, working and helping the victims. One of their coaches stayed behind as well, helping and feeding the military, refusing to leave.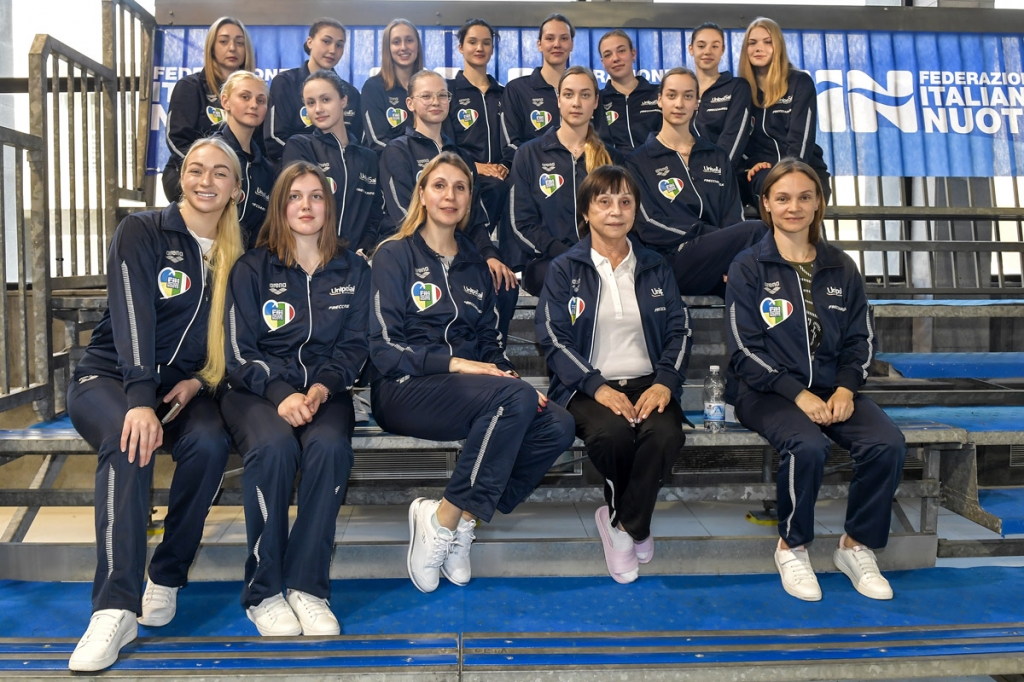 Even though they had safely made it to Italy after a grueling journey, they had left everything behind: families, friends, homes, pets, clothes, or competition swimsuits. And they had no idea when they would be back.
"We were given two days to reach the border with Hungary, but we did not know any further plans," Olesia Derevianchenko explained. "It was sad and painful to leave my country and loved ones. From Kharkiv to Lviv, we traveled by train, sitting on the floor for 22 hours. Then we were picked up by a bus to go to Budapest, where we stopped for the night. The next day, we arrived in Italy. It seems that the team has become even more cohesive, like the entire Ukrainian people."
On March 10, the second group of athletes and coaches arrived in Rome in the very early hours of the morning. Two-time Olympic medalist Marta Fiedina as well as Sofiia Matsiievska, Valeriia Shylo, coaches Svetlana Saidova and Yevgeniia Lykhman, and team manager Viktoriia Stolyarenko, were exhausted but finally safe.
Arena, the Italian federation's official sponsor, promptly gave them the necessary equipment or anything else they might need to train: bathing suits, caps, goggles, jackets, shirts, etc. They quickly got into the water again, more motivated than ever to represent their nation on the international stage.
A few Italian national team members welcomed the Ukrainian team upon arrival, including 2017 World Champion Giorgio Minisini. He, along with duet partner Lucrezia Ruggiero, and Olympians Linda Cerruti and Costanza Ferro, also got to share practice time with their new teammates. He is particularly thankful his country could open up such doors for his fellow artistic swimmers at such desperate times.
"It is impossible to understand what they went through," Minisini said. "During their first interviews, they were very tired and their words were all for their families and their country. Then, we saw them swim, and there's nothing in the way they swim that may let you know what they experienced. They were amazing from the first day, like they never stopped. They're showing their strength as the Ukrainian national team, and this is really remarkable."
The Ukrainian artistic swimmers have now been in the federation's training center in Ostia for three weeks, and will stay for as long as they need. They are in touch with their families and friends daily, and they now want to focus on their preparation and continue representing Ukraine at the highest level.
"It's really impressive when you see their dedication in training," said Laura de Renzis, Technical and Organizing Coordinator for artistic swimming at the Italian federation. "And with such pain in their heart… When they arrived, they said, 'You don't know what our eyes have seen. You cannot imagine.' Their families are still there. So their dedication is really incredible to witness. They are so proud of their country. They want to train and compete for Ukraine. Nobody will take that away."
ARTICLE BY CHRISTINA MARMET
Cover photo: Deepbluemedia
If you've enjoyed our coverage, please consider donating to Inside Synchro! Any amount helps us run the site and travel costs to cover meets during the season.