Australia hosted its first-ever FINA Artistic Swimming World Series event this past weekend. 23 countries participated in the virtual event, the second of the season.
For this third leg of the 2022 circuit, fans got to see again some nations who have been regulars on the the circuit this year, like the U.S., Canada, Israel, Puerto Rico or Finland. However, they also got to witness Austria, Germany, Kazakhstan, Singapore and Uzbekistan for the first time this season.
The highlight of this competition was a record 10 different mixed pairs representing seven countries. This is the most mixed duets ever entered in a World Series event.
Japan's Sato Tomoka and Sato Yotaro grabbed gold in both technical and free mixed duet events. This is the first year the siblings swim together internationally. It was their first time competing in the technical event this season and they already managed to move ahead of Spain's veteran pair of Emma Garcia and Pau Ribes. Their Jungle-themed routine scored 83.5156. They also improved on their free score from their last outing in the first virtual World Series with a 83.2667.
Sato Yotaro was in Japan's mixed duet at the 2019 World Youth Championships where he won bronze. The 16-year-old had incredible results at the latest Japanese national team trials. He finished two points ahead of 18-year-old Iwasaki Jimma, who had represented the nation in the junior age group before.
Kazakhstan made its first appearance of the season across all events, and presented two mixed duets. Reigning Youth World Champions Eduard Kim and Zhaklin Yakimova kept the same free choreography as last season set to Aladdin's OST and received 80.7333. They also swam in the technical event and unveiled their new "Chicago" routine for a score 78.8609. Both athletes are still eligible for junior competitions as well.
The second Kazakh pair of Nargiza Bolatova and Artur Maidanov scored 76.4000 in the free event. They swam to the soundtrack of Sherlock Holmes, originally used by Kim and Yakimova back in 2019 as well.
Renaud Barral and Lisa Ingenito from Belgium drastically improved their scores from the French Open by 7.2581 points in tech with their "Survivor" routine, and by 1.1333 points in free with their "Enchanted Forest" choreography. They had represented their club in Paris, so it was fantastic to see them under the Belgian flag here. Barral and Ingenito are on a quest to bring their country back to the senior European stage for the first time in over two decades.
Overall, this mixed duet field was quite promising, featuring a mix of new pairs with others like Colombia, Puerto Rico, Spain, and the U.S, which all have been competing extensively this season. Ultimately, it appears that the potential number of mixed duets at the upcoming World Championships will be the highest it's ever been.
In the women's duets, 2021 European bronze medalists Anna Maria and Eirini Alexandri made their season debut. The Austrians focused on the technical event and showed their Olympic "Warrior" routine for a score of 87.8449.
Their sister Vasiliki Alexandri unveiled her new technical solo set to "Mila Siga" by the Greek singer Vasilis Papakonstantinou. Alexandri opens her routine with an impressive Barracuda boost, which she stops at vertical height before spinning down. Her technical elements were as solid as usual, particularly her Barracuda Continuous Spin 720° which remains one of the most consistent on the world stage.
The U.S. pair of Megumi Field and Natalia Vega grabbed gold again in the free event. They however were closely followed by Israel's Shelly Bobritsky and Nikol Nahshonov who finished only 0.5333 points behind the Americans. This could become an interesting race to watch as both nations should each regain an Olympian, Anita Alvarez and Eden Blecher respectively, in the weeks to come.
Switzerland's duet selection got a bit clearer as Emma Grosvenor and Margaux Varesio made a strong case for themselves here. All three Swiss pairs had been neck and neck throughout the other competitions. But this time, Grosvenor and Varesio finished nearly two points ahead of the next pair in both duet events. They showed great potential, especially having only been swimming together for a few months and continuously improving at every outing.
Marlene Bojer and Michelle Zimmer from Germany stated they have unfinished business after missing the Olympic qualification by a few tenths. This third World Series leg marked their official season debut. They only competed in the technical duet event with the same Amazon-themed routine as last year and scored 80.6326. Bojer also competed her new free solo set to Taylor Swift's "I Did Something Bad" and earned 81.0333.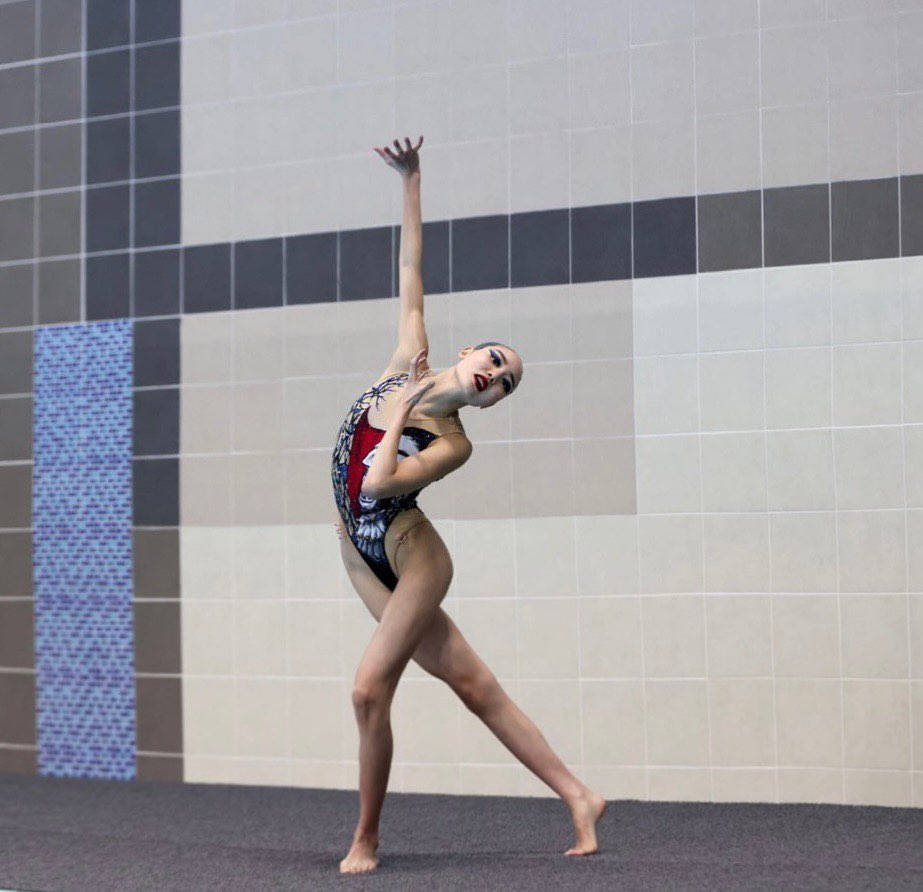 The fast-improving South Korean duet of Hur Yoonseo and Lee Riyoung was back and unveiled its new technical duet routine. The quick and sharp choreography earned them 78.6998, the nation's best score since 2012. Hur also competed in free solo for the first time since her breakout year at the 2019 World Youth Championships. She received 82.4000 for her Dracula routine and showcased an incredibly long and difficulty first hybrid. Lee, who has extensive experience on the senior stage, swam in the technical solo and scored a career-best of 80.9923. Both of these scores are again some South Korea's bests in years.
Singapore's Debbie Soh and Miya Yong received 77.2533 for their new, swing-y and fast technical duet routine. The choreography was created by Mayuko Fujiki, current Spanish head coach, during a training camp last December. We should also expected a new free duet from them this year. Moreover, it was fantastic to see a full team from Singapore again. The new free choreography with the theme of "Chosen One" scored 77.9667, likely the country's highest score ever in that event.
Kazakhstan was the only nation to compete across all four team events. The Kazakhs last competed, and only, at the Kazan World Series last year. They returned in this virtual event with the same free "Vaiana" team choreography, and highlight routine to Mussorgsky's "Night on Bald Mountain." They did reveal a new technical team to the theme of "Call of Nature" that featured quite a lot of animal sounds. Finally, they also showcased a new free combination routine choreographed to"Malaguena" by Brian Setzer.
The host team Australia competed in the solo, duet and team events. It entered the highlight event for the very first time with a Daft Punk remix routine, and received 75.1667.
Uzbekistan was represented by a new pair of Diana Onkes and Ziyodakhon Toshkhujaeva. The two only swam in the free duet event where they received 78.2667. The country had not competed internationally since 2020.
Finally, Audrey Lamothe from Canada competed in the free solo for the first time this year. She won gold with a 84.6000 for her "Hungarian Spirit" routine.
Ultimately, Canada, Japan and Kazakhstan were the three most-decorated nations in this leg of the World Series, each winning five medals.
The 2022 World Series circuit will wrap up in two weeks with the Super Final hosted by Greece in Athens.
ARTICLE BY CHRISTINA MARMET
If you've enjoyed our coverage, please consider donating to Inside Synchro! Any amount helps us run the site and travel costs to cover meets during the season.