The 2022 FINA Artistic Swimming World Series circuit wrapped up this weekend with the Super Final in Athens, Greece. This marked the return of the Mediterranean nation as a World Series host for the first time since 2019.
23 countries participated in the event staged in the immense Athens Olympic Aquatic Centre (OAKA), home of the 2004 Olympic Games. Back in the pool they trained at as children, the Alexandri sisters, representing Austria, dominated the women solo and duet events. In the men solos and mixed duets, Spain was undeniable and took all four golds. Finally in the team events, the U.S. won the technical team and highlight, Israel the free team, and Greece the free combination.

SOLO
On the women's side, there was no denying Vasiliki Alexandri in both technical and free events.
Alexandri unveiled her new free solo choreography to the theme of "Nature" created by Stephan Miermont. She displayed incredible difficulty, seemingly endless spins, and a different style from what she's shown in the past. She could barely contain the tears as she saw her score of 89.4333, a new career-best, and realized her strategy had paid off.
"At first, I didn't want to use this music," she said. "I was afraid it would be too weird for a solo, or that it wouldn't be well received. But I also wanted to do something different, more artistic than before. My sisters loved the music and convinced me. It's a very hard routine. I die a lot in training (laughs)! But I see it is worth it, so I want to keep going and hopefully reach the 90s."
She also performed her new technical solo routine in-person for the first time this season, and scored 86.9450.
The technical solo event actually ended up being quite a tight one as only one points separates the third- and sixth-place finishers. Germany's Marlene Bojer barely edged out Switzerland's Ilona Fahrni for the bronze by 0.1233 points. In fifth place, San Marino's Jasmine Verbena managed to keep Kazakhstan's Karina Magrupova at bay by only 0.004 (!). Verbena had a fantastic showing in Athens, improving her score by one point since her last outing and receiving a new career-high score of 79.0604.
Zoi Karangelou competed in this event for the first time in the senior category. She showed a lot of potential in her "Life of a Tree" routine, but unfortunately received a zero on her fourth element after missing a rotation on the combined spin. She has her eyes set on representing Greece again on the junior stage this summer.
Just coming back from a foot injury, two-time Olympian Anita Alvarez from the U.S. only performed in the solos and revealed two new choreographies. Competing in the technical solo for the first time since 2017, she used "Suspirium" by Thom Yorke to win silver and score 84.6848, a new career-best. She revealed she was originally inspired for this choreography by a dance from Marcelino Sambé titled "I Can't Breathe," shared shortly following the death of George Floyd in 2020. Her free solo set to "Welcome to the Jungle" by Tash Sultana scored 87.1000, enough for the bronze medal.
In the free solo, Spain's Iris Tio improved tremendously since her performance in Paris and seemed more confident throughout her swim. Radiating energy, her presence in the water is undeniable as she takes command of the space around her. Her mother, a violinist, arranged her music and played some of the violin fans can hear throughout the piece. She earned silver with a score of 88.2000.
Eve Planeix ended up being the sole French athlete in the competition. Planeix had already showed her new solo earlier this season in the first virtual World Series, but had not competed in person in this event since 2019. With a choreography by Virginie Dedieu, she swam to "N'insiste pas" from Camille Lelouche. Despite displaying greater maturity and improved technical abilities, her 85.7333 unfortunately wasn't quite enough for the podium.
On the men's side, Fernando Diaz del Rio from Spain continued his winning streak in the technical event. His swim to Aerosmith's "Dream On" earned him a new personal-best score of 77.9618. He performed in the free event for the first time and received 80.3333 for his "Wolfman"-themed routine. He is preparing to compete in the inaugural men solo events at the European Championships in Rome.
Kenneth Gaudet from the U.S. competed in solo for the first and last time this season as men solo aren't yet on the World Championships programme. Swimming to his favorite pop artist Brendon Urie, Gaudet squeezed to second place in the technical event with a 74.8963, only 0.0485 points ahead of Eduard Kim from Kazakhstan. In free, Gaudet swam to "In My Blood" by Shawn Mendes and received 76.4667.
Kim focused on the technical event, while Italy's Nicolo' Ogliari only swam the free solo and won silver with a 76.5000.
Javier Ruisanchez from Puerto Rico has competed at every World Series legs this season. However, this Super Final wasn't as smooth as he hoped. His coach tested positive for Covid-19 upon arrival in Greece and had to spend the entire week in quarantine. After repeatedly testing negative himself, Ruisanchez found himself alone at the pool. It thankfully didn't last long as many nations like Serbia or the U.S. quickly took him under their wings to help and advise him.
He went on to score a career-best of 67.9333 in the free event with his routine set to "Fire on Fire" by Sam Smith. Ruisanchez only started artistic swimming a year ago, and loves to finally show his artistic side after a career in speed swimming. When came the time to pick a theme, he immediately knew he wanted to present a routine inspired by the LGBTQ+ community.
"All the struggles I went through were hard when I was growing up, especially after coming out," he said. "Only later, I knew it helped a lot of people, and many other athletes in the swimming world reached out to thank me for showing my story. After [the French Open], I knew we could fix a lot of things and try to get more points in artistic and execution. In the call room, I told myself to swim for me and have fun since this was the last run-through of the season. I'm very happy with my swim, and I was actually very emotional at the end."
Ruisanchez will still compete at the upcoming World Championships in the mixed duet.
DUET & MIXED DUET
In duet, Anna-Maria and Eirini Alexandri performed both of their Olympic routines to comfortably win the technical and free events with scores of 90.4430 and 91.6000, respectively. The sisters will look to defend their European medals later this summer, and certainly inch closer to the World podium.
The Netherlands were particularly impressive in its outing in Athens. The young pair of Marloes Steenbeek and Maria Lorenzini had already been competing in the technical event in every World Series leg this season, showing consistency and improvement.
In this Super Final, Olympian Bregje de Brouwer was back and swam with Steenbeek. The latter, only 17, absolutely held her own and the two were a particularly great match in the water. They received 84.8617 in technical duet, and 86.6667 in free duet with the Olympic "Galaxy" routine. Both were absolutely thrilled about the scores in their first competition together, and to win two silvers.
This was actually the first time in her life that Bregje swam a duet without her twin sister Noortje, who is out with a shoulder injury. While Bregje is thankful to compete again, she admitted she missed her sister tremendously and that she felt a part of her was missing.
As consistent as ever, Israel is slowly but surely making its way up the rankings and the scoring ladder. After finishing only 0.1256 points away from the bronze medal in the technical duet, Olympians Eden Blecher and Shelly Bobritsky had their eyes on the prize in the free event.
Blecher had taken a short break after Tokyo to focus on university exams, and was finally back in the duet at this competition. The pair scored 85.8000 after a strong swim to the theme of "A New World" and ultimately won the bronze medal. They and the whole team erupted with joy as they understood what they had just achieved.
"We were very focused from the morning," Bobritsky said. "We came hungry for a medal because we were so close in technical duet. But at the same time, we were also very calm and focused. Both of us knew what we had to do. We just tried to do what we know we can do in the competition. I think the judges felt the energy we tried to give them. We are very happy with this result."
The two are now heading to the World and European Championships, where they will look to make history once more.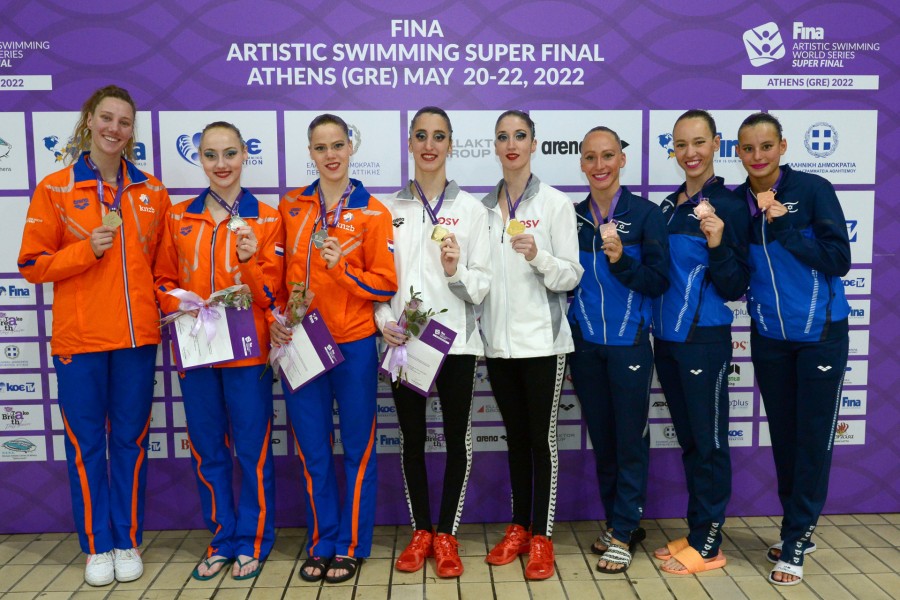 It was overall a pretty close margin between second and fourth place in technical duet, as the pairs from the Netherlands, the U.S. and Israel were only separated by 0.6251.
Daniella Ramirez and Megumi Field represented the U.S. in technical duet for the first time this year. The Americans had originally planned to compete in the event much earlier this season but with another routine set to Russian music. Once Russia declared war on Ukraine, Ukraine-born coach Anna Voloshyna decided to completely change everything. She instead picked the song "1944" by Jamala, the 2016 Eurovision Winner. Ramirez and Field, swimming with blue and yellow ribbons in their hair, received 84.3622 and earned bronze.
Marlene Bojer and Michelle Zimmer from Germany competed in-person for the first time this year. The two unveiled a brand new free program to the theme of "Climate Change," a topic very close to their heart. Their musical composition features the iconic voices of David Attenborough, Greta Thunberg and Leonardo DiCaprio. The pair wanted to present something more meaningful this season, and to show what they are truly passionate about.
"We want to be a bit louder and get people's attention so everyone understands," Zimmer said. "We both are very interested in working in the climate change and environmental fields, and what you can do personally. So that theme quickly became something we really wanted to do. In our private lives, we really try our best to find new products, do things where we can help the planet, and we are both also vegetarians. We want to be loud with this topic and this routine, but also show in the end that there is hope."
Zimmer studies biotechnology as well and is also currently writing her Bachelor's thesis on biodegradable plastic, while Bojer is interested in environmental media and print topics.
Like in Paris, Greece was represented by its junior duet of Eleni Fragkaki and Krystalenia Gialama. The two are currently using the 2019 and Olympic routines from the veteran pair of Evangelia Papazoglou and Evangelia Platanioti : "Smells like Teen Spirit" in tech, and "Sharks" in free. Platanioti will be back in the senior duet at the World Championships with a new partner.
The mixed duet field was smaller than in the last World Series legs, but it was still great to see again some recurring pairs. Spain's Emma Garcia and Pau Ribes once again dominated the events, winning gold in both technical and free with 83.3138 and 84.0000. The two secured themselves the title of 2022 World Series winners in the mixed duet category.
Eduard Kim and Zhaklin Yakimova from Kazakhstan were back in-person after competing in the virtual Australian World Series a few weeks ago. They earned 78.2740 in tech with their Chicago routine and 79.9000 in free with their Aladdin's choreography.
In the free event, Italy's Nicolo' Ogliari and Federica Sala scored 82.5667 to move ahead of the American pair of Kenneth Gaudet and Claudia Coletti, who had the edge in Paris. Swimming to a choreography by Giovanna Burlando, the Italians portrayed the Classical myth and enduring love story of Orpheus and Eurydice: "It is a story of perpetual charm because it recalls some of the most powerful forces that shake human life: love and the desire to escape death. It is a universal story about the nature of human limitations and the omnipresent power of fate."
TEAM
Unveiling brand new swimsuits, the U.S. continued to dominate the technical team event with its "Smooth Criminal" routine. They received a score of 86.1525 here. The Americans also won another gold in highlight with their "Cave People" routine and a score of 86.8333.
Just like the duet, Israel's team routines are  moving on up. Here, the country won gold in free team, silver in technical team and free combination, and bronze in highlight. After showing a new technical choreography in Paris, the Israelis made the decision to return to their former routine, which they felt was more powerful and engaging. Clearly, the decision paid off as they received they best-ever score of 83.4367.
The new free combination choreography is also on the rise as it also received a new high score of 85.1667. Finally, it was the first time Israel competed in highlight this year, but the theme and music of the routine is identical to its last time out in 2019.
The local crowd certainly showed up for the home team. Greece only focused on the free combination and highlight event here. While they kept the same free combination routine as last season, the Greeks unveiled a new highlight choreography. They chose the theme of "Unstoppable Spirit" and used music by Two Steps from Hell specially arranged by the team's composer.
"When people come to Greece, they always tell us they see this unbreakable spirit in us," coach Barbara Lithadioti explained. "We wanted to show that in our routine, this unique, magical Greek spirit that is also very strong. We want to build the team on this fire, this energy we see from them."
The routine started with the athletes waiting in a pattern representing a shield. Additionally, they wore warrior-like costumes specifically designed by Maria Alzigkouzi, a current swimmer on the national team.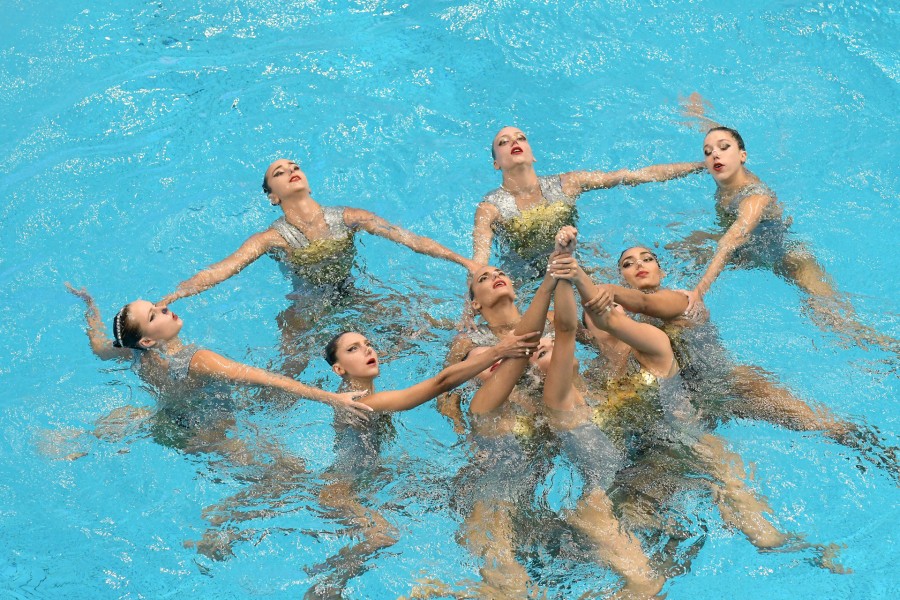 Unfortunately, some of the acrobatics weren't as well executed as in training, and the Greeks had to settle for silver and a score of 85.0000. The team featured a mix of five returning Olympic team members and up-and-coming talents like junior soloist Zoi Karangelou or 16-year-old Lydia Foteini Papanastasiou who had never even swam for any national team before. However, Greece did tremendously benefit from the return of  Sofia Malkogeorgou, the new team flier, who previously competed on the senior international stage from 2014 to 2018.
Kazakhstan, Slovakia and Hungary completed the team field in Athens. While Kazakhstan had already showed its routines at the second virtual World Series, Slovakia and Hungary made their season debuts here. It was a successful outing for the Slovaks who hadn't compete as a team since 2019. They received two new team-best scores in the free event (75.7333) and highlight (76.8000).
Despite looking tremendous in the training sessions prior to the competition, France withdrew from the technical duet and the technical team at the last minute. The Bayandina twins had to return to France for personal reasons, while another athlete was suffering from a bruise rib. The team later posted on Instagram and stated that "the health status of some of us did not allow [us to compete]." Fans will thus have to wait a bit longer to see the French squad, which seems to be in a streak of bad luck since last year.
Overall, it is also worth noting that the U.S. displayed an impressive range and quantity of routines throughout this regular season. Indeed, coaches Andrea Fuentes and Anna Voloshyna actually created a total of 12 brand new choreographies, counting the technical duet twice as it changed halfway through the year. The nation is virtually the only one to have such ambitious goals and to showcase so much novelty in one year. The Americans will finally unveil their new free team routine at the World Championships in a few weeks.
ARTICLE BY CHRISTINA MARMET
If you've enjoyed our coverage, please consider donating to Inside Synchro! Any amount helps us run the site and travel costs to cover meets during the season.