The Spanish artistic swimming junior team had one of its most successful showings to date in Alicante at the 2022 European Junior Championships. The home team competed in all 12 events, won eight of them, and medaled in the remaining four.
In the process, Dennis González made history by becoming the first European Champion in the male solo, an event added to all LEN competitions this season.
His first title came in the technical event, where he swam to "Mind Heist" by Zack Hemsey and scored 79.0281. A few days later, he was equally undeniable in the free solo. He won with a nearly six-point lead and a score of 82.6000, performing to "I Feel Like I'm Drowning" by Two Feet. 
Naturally, he competed in both mixed duets events as well, and notably swam in the free team and highlight routines with the rest of the Spanish squad. The latter is something that the European federation has always allowed, but that very few nations have taken advantage of until now.
Overall, González earned six European titles here. He absolutely dominated every event he was entered in, showing tremendous energy, power, and technique at each of his outings. The 18-year-old is now the most decorated European male artistic swimmer, and already a seven-time European Champion in the junior category.
In general, Spain was truly unstoppable at this competition in the team events. In free, the nation unveiled an original choreography to the theme of "Witches," created by coach and Olympic medalist Paula Klamburg. The Spanish scored 87.5000 for the gold ahead of Italy and France.
For the technical event, they performed the senior team's former "Namaste" routine and earned 85.5033. In the free combination event, they were again unbeatable with their reliable "Life in a Factory" routine, which got 88.2332. In highlight, their fast-paced "Queen" routine earned them another gold with 87.0668. That choreography was originally performed domestically by CN Granollers.
The reserve athlete actually had to step in and competed in these two routines on the last day. It was completely unnoticeable in the water as she absolutely delivered to help the entire squad win two more European titles.
While Spain won eight events, Ukraine won the remaining four. 14-year-old phenom Daria Moshynska commanded both solos, scoring three points more than the silver medalists with 87.7529 in tech and 88.3000 in free.
Although still so young and essentially a complete unknown on the international stage six months ago, Moshynska already performs confidently like a senior athlete. She was particularly stunning in her technical routine, swimming to the Catalan song "Pena Salada" by Silvia Pérez Cruz.
In the duet, she was paired with Anastasiia Shmonina. The two were also unreachable in both events. Most notably, they finished four points ahead of the Spanish duet in the technical event with a 88.0032. Both Ukrainians were just at the FINA World Championships, where they won two World titles in free combination and highlight.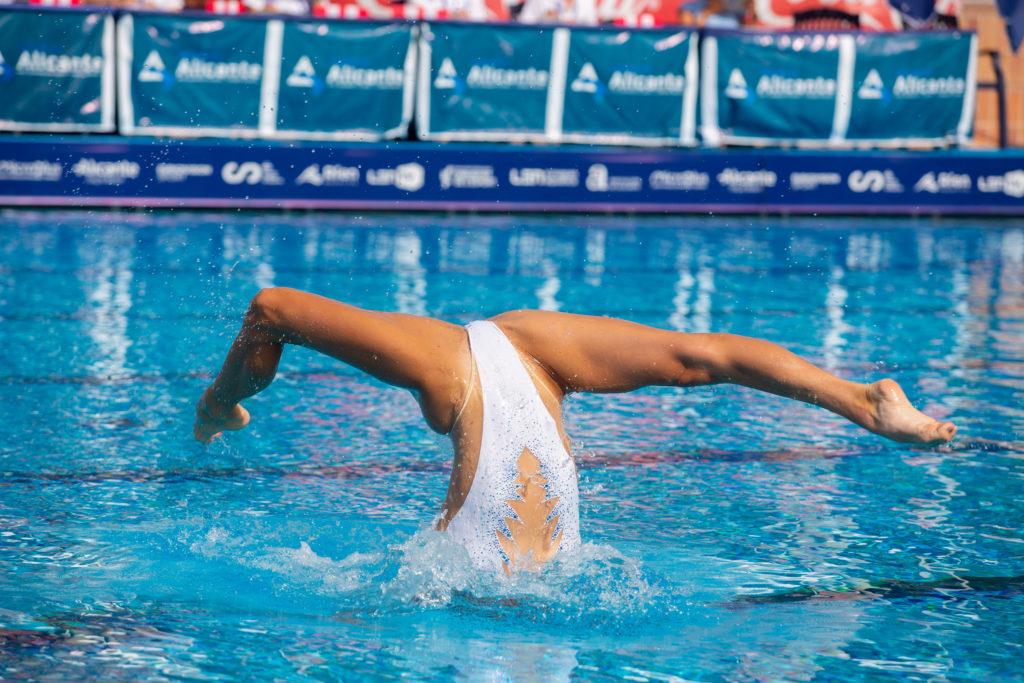 Besides Spain, Italy was the only other nation entered in all 12 events. Likewise, it medaled across the board. Most notably, Susanna Pedotti finished second in free solo with a score of 85.9332, swimming to "Caruso" by Lara Fabian. This was the sole event where Italy finished ahead of the home team.
Filippo Pelati swam in both male solo events, and earned silver in tech and bronze in free. Pelati, turning 15 this year and still eligible for the youth competitions, started artistic swimming at the age of eight. He burst onto the scene this year at Italian nationals, where he won bronze ahead of many older competitors.
Continuing with the men, Great Britain's Ranjuo Tomblin also took part in the inaugural solo event, although he only competed in free. There, he won a historical silver medal with his routine set to Sting's "Shape of My Heart." Tomblin made his international debut last year in Malta in the technical mixed duet, and has tremendously improved since. His potential is undeniable as he showcased impeccable technique, steady spins, and beautiful execution overall.
Moreover, he earned bronze in the technical mixed duet alongside Beatrice Crass, only finishing 0.4254 behind the Italians. In free, the two actually had silver in the bag after a superb and energetic performance to Ricky Martin's "Maria." Sadly, they were hit with a 2-point penalty from touching the bottom and dropped to fourth.
Israel entered a mixed duet for the first time in a major international event. Yogev Dagan and Catherine Kunin swam to "Shum" by Go_A, Ukraine's 2021 entry for the Eurovision Song Contest. That song was already used by Israel's junior technical duet last year. Dagan and Kunin were over the moon at winning bronze with a score of 75.8668.
Like González, Dagan also swam in two team routines. He had already made history last season in the youth category by being the first male swimmer to take part in a team event at a European Championships. He again held his own here in the technical and free team routines. The nation showcased both choreographies that are still currently used by the senior national team. Like Pelati, Dagan is still eligible for the youth category.
Slovakia's Laura Domcekova and Jozef Solymosy rounded out the field of competitors in the mixed duet. Solymosy had just returned from the World Championships where he swam alongside his sister in the mixed duets. In Alicante, the Slovak pair placed fourth in tech with 74.4183 and fifth in free with 74.4000.  
France was outstanding in the technical and free team events, medaling as a team for the first time since 1999. In tech and just like last year, the French swam to the former senior routine set to Aretha Franklin's "Think." They were impressive and incredibly precise in their elements, and moved ahead of Italy for silver with a score of 84.6081. The French won a bronze in the free event with 84.5000, also using the former senior choreography to the theme of "Emotions."
In the free solo and in her first junior competition, the young Laelys Alavez showcased incredible difficulty and technique to finish fourth with 84.6668, only 0.3332 away from the bronze. She was already stellar last season for the French as she won silver at the European Youth Championships. Like Moshynska, the 2007-born swimmer is still eligible for youth competitions and should be one to keep an eye on.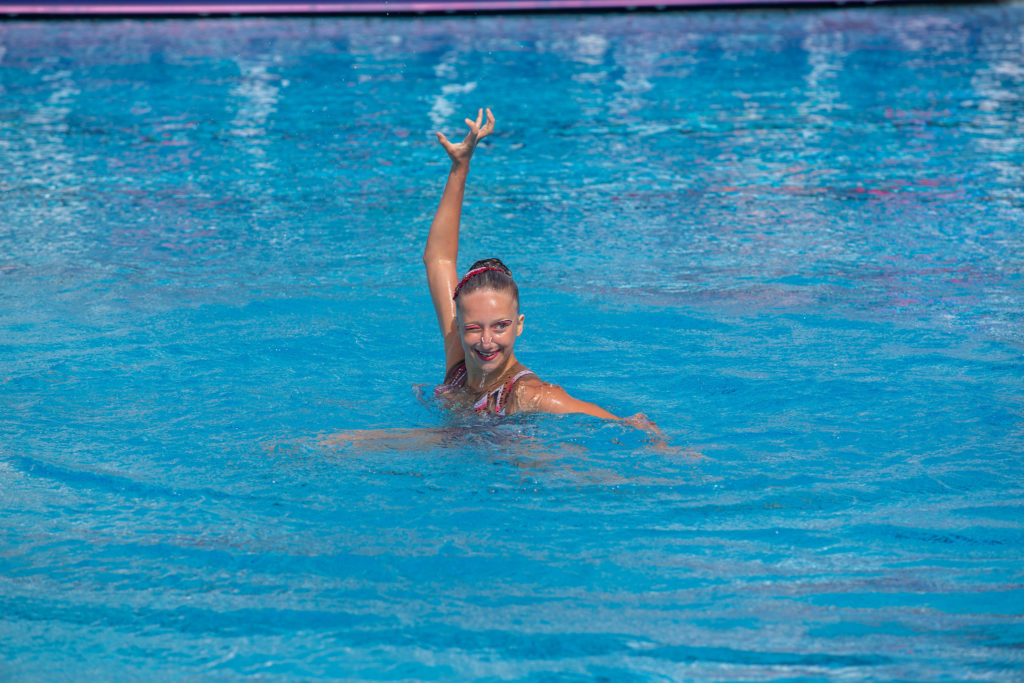 Maria Alavidze from Georgia also put up noteworthy performances. With a historical swim in the final, she improved by 6.1667 points since last year's European Junior Championships. She scored 80.5000 for her free solo set to Lorde's "Everybody Wants to Rule the World." She also competed in the technical event for the first time, swimming to the French song "À Nos Folies" by Léa Paci. In the end, she placed 10th with 77.4124.  
Many athletes came to this competition straight from the FINA World Championships with no rest in between. Greece was certainly the most impacted, with six of its athletes going from one major competition to the next. The Greek had a strong strategy and swam the same choreographies in free team, free combination and highlight than in the senior category.
The season is far from over for most athletes that competed here. Many swim in both junior and senior events and will surely head to Rome in a few weeks for the senior European Championships. Then shortly after, all juniors will meet again in Quebec for the FINA World Junior Championships. 
As mentioned, the younger athletes like Moshynska, Alavez, Dagan or Pelati, could very well also show up in the youth international events as well.
Obviously, these European Championships did not include Russia or Belarus. Like FINA, LEN decided to not allow either in any competitions this season due to the war in Ukraine. Relatedly, the latter was unable to enter a full team in Alicante.
ARTICLE BY CHRISTINA MARMET
All photos courtesy of RFEN.
If you've enjoyed our coverage, please consider donating to Inside Synchro! Any amount helps us run the site and travel costs to cover meets during the season.