The busy senior competitive season wrapped up in Rome at the 2022 European Championships. Ukraine grabbed gold in every event it was entered in, while Italy won four historical European titles in the men's solo and mixed duet events.
It was an incredibly successful competition for the host nation overall as it earned a medal in all 12 events: four gold, six silver, and two bronze. One of the most emotional moments came when the Italian anthem resonated throughout the Foro Italico pool for Giorgio Minisini as he became the first-ever European champion in the men's solo. 
WOMEN & MEN'S SOLOS
Indeed, the men's solos were the most eagerly awaited events of the entire competition. Giorgio Minisini (Italy), Fernando Diaz del Rio (Spain), Quentin Rakotomalala (France), and Ivan Martinovic (Serbia) all made history for their respective countries by swimming here and earning medals.
Minisini, the heavy favorite for the titles, scored 85.7033 for his "A Plastic Sea" technical routine. He could barely contain his tears as he received his gold in front of the home crowd and realized the magnitude and significance of what he had just accomplished.
"It was a historical moment," he said. "It was really important to be here, and for the judges to finally see men competing in this event. Men swim differently than women, and I can't wait to see where our sport is heading now. Being the first guys to compete in this event was magical, and of course for me it was incredible to do it at home. It is a magnificent experience with the home fans giving us even more energy."
The Italian repeated his golden feat in the free event, scoring 88.4667 and swimming to "Deus ti salvet Maria", Ave Maria in Sardinian, by Fabrizio De André.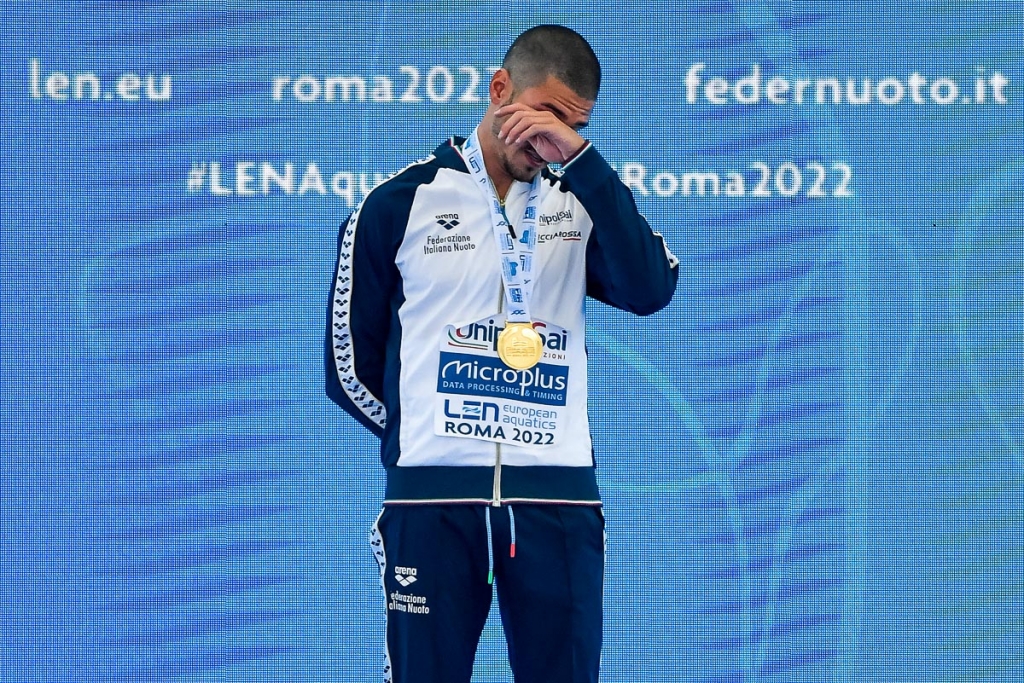 Spain's Diaz del Rio became a two-time European silver medalist for his first time out in a major senior international event. He swam to "Dream On" by Aerosmith in the technical solo (79.4951) and to "The Wolfman" by Danny Elfman (83.3333).
"This is so exciting", he said. "It is my first time ever at a European Championships – and in men's solo obviously – and I'm getting a medal… wow! It is a dream come true and one more chapter in Spain's artistic swimming history. Pau (Ribes) was the first, and now I'm here competing at the European Championships. This is incredible."
Although understandably disappointed after receiving a zero on his fourth element, Martinovic was thrilled to finally compete and to bring a historical bronze medal back to Serbia. He only started artistic swimming 10 months ago, encouraged by his girlfriend and Serbian national team member Jelena Kontic. The two also compete together in the mixed duet. 
"I really gave my best," he said. "It was my first-ever technical solo and my first big international competition at the Europeans, no less. It was an honor to be in the final with such great athletes, especially Giorgio who has been at the top for seven years now and is always there to help. Now, I would like to invite other athletes from Serbia and the region to join in, to give artistic swimming a chance."
In the free solo, bronze went to France's Quentin Rakotomalala who swam to ​​"Cornerstone" by Benjamin Clementine. A two-time junior European medalist in the mixed duet, Rakotomalala competed at the senior level for the first time this season and of his career in Rome.
"I can't even describe this", he said. "These are my first European Championships and I win a medal…It's incredible. We are writing history. It's amazing to be part of this and to share this moment alongside the other guys and especially with Giorgio [Minisini]. He is somebody I have always admired and looked up to. This is only the beginning, I am really excited for the future."
On the women's side, Ukraine's Marta Fiedina was undeniable as she comfortably won both the technical and free events with 92.6394 and 94.6333, respectively. The rest of the podium however saw some changes in the hierarchy, particularly since the World Championships a few weeks ago.
Italy's Linda Cerruti and Austria's Vasiliki Alexandri both nailed their elements and earned silver and bronze, respectively. The latter wasn't sure she would even compete in Rome, as she fell ill when she arrived in Rome. She missed multiple days of training, and didn't think she would even be able to compete until the last minute. 
After a first swim in the free solo preliminaries on the first official day of competition, Alexandri successfully tackled the technical solo final the following day. She scored 90.0156, and immediately burst into tears upon realizing she would end up on the podium.
"I didn't even know what score I got," she said. "All I saw were my sisters' reactions. I am so happy, I have wanted this for so many years. Last year, I lost the medal at the European Championships, and again this year at the World Championships. It was very difficult for me. I was very sad  after these Worlds, almost depressed. I didn't want to talk to anybody, I argued with people a lot, even with my family. Really, I wasn't well. I found motivation again when we went to Mallorca for our training camp before Rome. With each training, it felt better. I believed in this medal a lot, but then I got sick and lost all hope. I thought I would not start at all. Or that even if I could swim, that I would not be able to perform as best as I could… This is incredible."
A few days later and carried by the crowd and an electric energy in the pool, she repeated her feat to win a second bronze. Her "Nature" choreography, packed with difficulty and risky hybrids, received 91.8333.
"It was amazing to see that everybody in the pool was behind me," she said. "Normally, I don't hear or see anything when I swim, but here I could see all these different teams screaming for me. It's been amazing."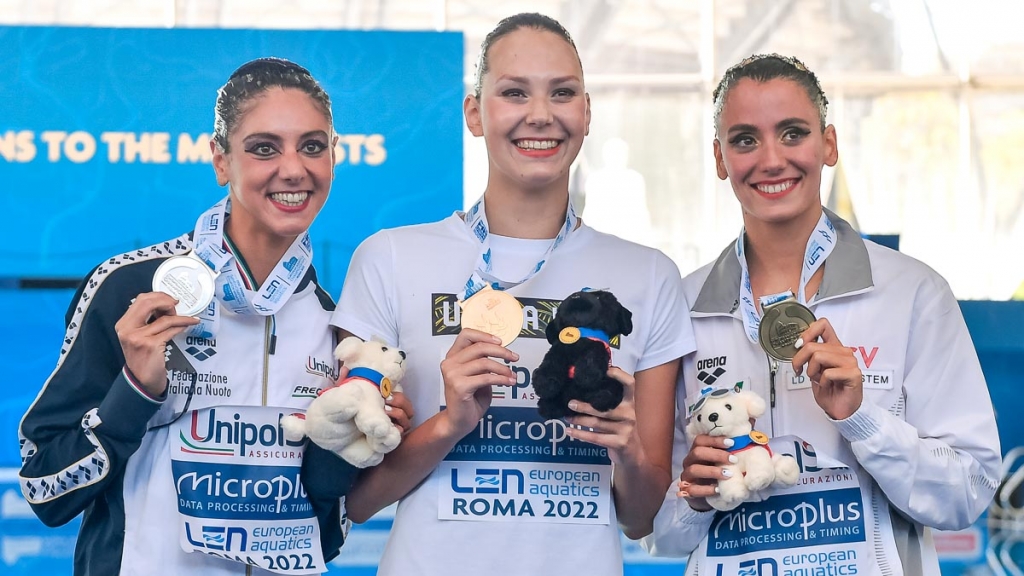 Linda Cerruti also earned the silver medal in the free event with a 92.1000. Emotionally, she fondly remembered her last performance in Foro Italico as a pre-swimmer at the 2009 FINA World Championships. Now, the Italian celebrates a 12-year-long career on the senior international stage, and almost a decade of medals at the European level. 
Most notably, she was the sole athlete to perform in all eight women's events in Rome, and she medaled in every single one. In turn, she became the most decorated artistic swimmer of the continent with a total of 23 European medals.
Greece's two-time World bronze medalist Evangelia Platanioti, who during these days spent a lot of time on social media venting and questioning the competence of the judges, finished fourth with 90.6000. 
Maria Alavidze made her mark on Georgian artistic swimming by qualifying to the free solo final on her first major senior international event. Alavidze, who turned 16 on the last day of competition, ultimately placed 10th and scored 81.3000 swimming to Lorde's "Everybody Wants to Rule the World." This was also the first time the small nation was represented at this competition. Similarly, Slovakia's Viktoria Reichova made it to the free solo final on her first senior European Championships appearance, and scored 78.2333.
MIXED DUETS
After four silver medals in 2016 and 2018, Minisini finally earned his first European titles in the mixed duets alongside Lucrezia Ruggiero. The first gold came in the free event, where he and Lucrezia Ruggiero swam to "Beggin'" by the Italian band Måneskin.
"I would like to thank the fans for carrying us all the way," he said. "It was truly emotional. It is difficult to stay fully concentrated when they are so close. I also couldn't help but sing along too during the routine!"
These were already the fourth European Championships for Spain's Pau Ribes. Swimming alongside Emma Garcia, he was thrilled to defend both of his silver medals from Budapest 2021, and to showcase their routines for the last time — they both were choreographed during the lockdown in 2020 and have been performed for two seasons already.
Siblings Jozef Solymosy and Silvia Solymosyova won the first medals in artistic swimming for Slovakia. They won both bronzes with 75.5914 in tech and 77.0333 in free.
"I don't even know what to say, I am really excited," Silvia said. "We were hoping for a medal, but we weren't so sure after seeing how good the others were. We were really nervous, but now we can't believe it. Because we are siblings, we understand each other well in the water. We don't even count during our routine. We just listen to the music and feel where the other is very easily."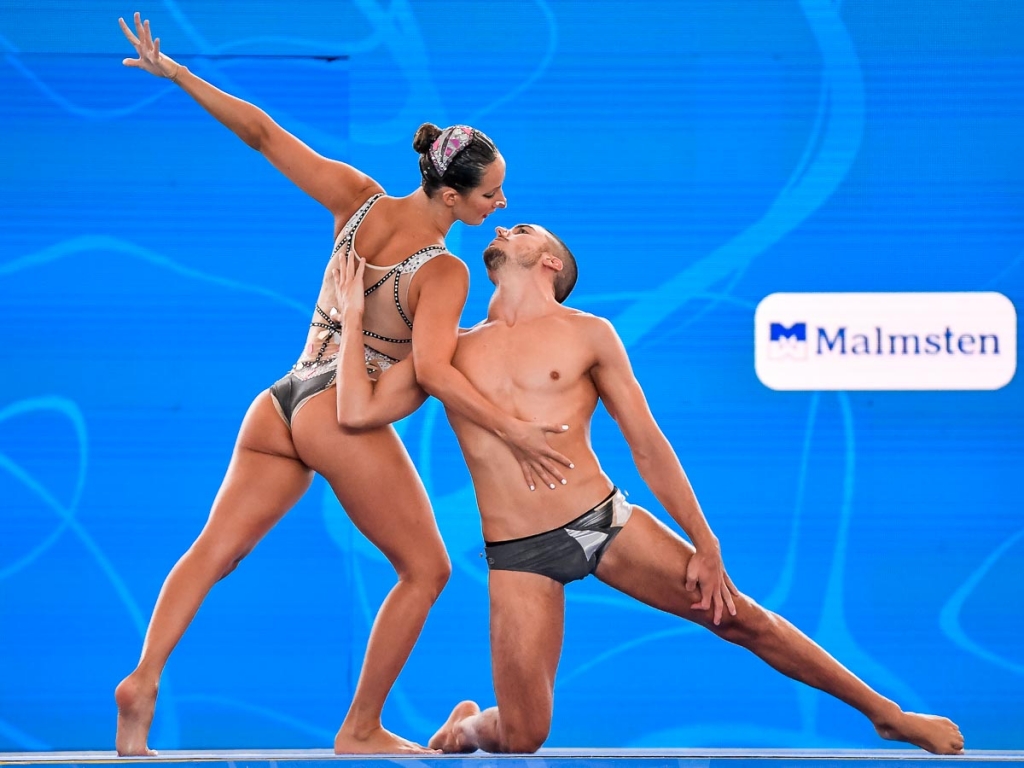 Finally, three more pairs competed for the first time on a major international stage. Belgium's Renaud Barral and Lisa Ingenito showed tremendous progress since their last outing at the French Open, where they represented their club. In Rome, they increased their scores by 11 points in tech and 4.4666 in free.
"We worked so hard over the last month with our coach Susanna [de Angelis]," Ingenito said. "It's incredible to reach over 73 points in both routines. We are happy, and this is a good first step for us. We made a strong impression, and we are so ready for what's next."
Like most of the other men in the field, Barral was grateful and thrilled to be part of this event and to swim alongside Minisini. After many years competing in masters, and winning the mixed duet World title in 2017, this was his first season in elite.
"It was very emotional for me to swim with Giorgio," he said. "He's truly my role model. I had dreams as a child, as a boy in synchro, but they faded as I got older. I went on with my life and continued swimming but it wasn't always easy. Then, 2015 happened. I've known Giorgio since he was 12 or 13 years old, and there he was. He had never stopped, no matter what people said, and he always fought. He is an incredible athlete and person. For me to be here and be part of this group of guys  was sort of a revenge on all these people who were saying this sport wasn't for me when I was little, or that I didn't belong here." 
Germany was back in the mixed duet for the first time since 2017 thanks to Frithjof Seidel and Michelle Zimmer. They only swam in the free event and were particularly impressive with their "Robots" routine, scoring 74.7667 and showcasing powerful acrobatics. It was a busy afternoon for Zimmer, who also competed in the women's free duet final a few minutes prior. Serbia's Jelena Kontic and Ivan Martinovic focused on the technical event, performing to the theme of Suleyman the Magnificent for a score of 68.1061.
DUETS
Ukrainian twins Maryna and Vladyslava Aleksiiva earned their first European titles in the duet events. At the World Championships a few weeks ago, they made a significant mistake on their final hybrid of their technical routine, which almost cost them the silver medal and the podium entirely. This time around, they had no problem as they scored 92.8538 on the final day of the competition, a little over a point above silver medalists Anna Maria and Eirini Alexandri from Austria.
"Yes, we performed this routine better than we did in Budapest," Vladyslava said. "Our coach says that too. This is what we want to do – always be better time after time. We participate in all events so we are a bit tired by now and this is a very demanding routine. After this competition, we can finally see our family. We will see our father for the first time in six months."
The twins swam in both duet events and all four team events for Ukraine, and now look forward to some down time. After living and training in Italy since March, they now look forward to reuniting with their family and seeing their father, who they haven't seen in six months.
After winning two historical bronzes last year, Anna Maria and Eirini Alexandri continued their rise throughout the European hierarchy, inching closer to the top particularly in the technical event. They earned two silver medals, scoring 91.9852 in tech and 93.0000 in free.
"We are very happy of course, especially after all these years of work," Eirini said. "We keep improving, and that's what's most important for us. After the medal at last year's Europeans, we feel we have more responsibility now to stay at this level, and stay on the podium. But it's great motivation."
"It's incredible that all three of us won medals in the same competition," Anna Maria added. "Finally… We are so happy for Vaso (Vasiliki). We were more nervous for her than for us. Last year when we won bronze, we were happy and we celebrated, but we really felt something was missing. Now, it finally feels full, complete."
The sisters weren't on holidays quite yet after this meet, as they headed back to Mallorca for a choreography camp with Stephan Miermont, with whom they have been working for quite a few years already.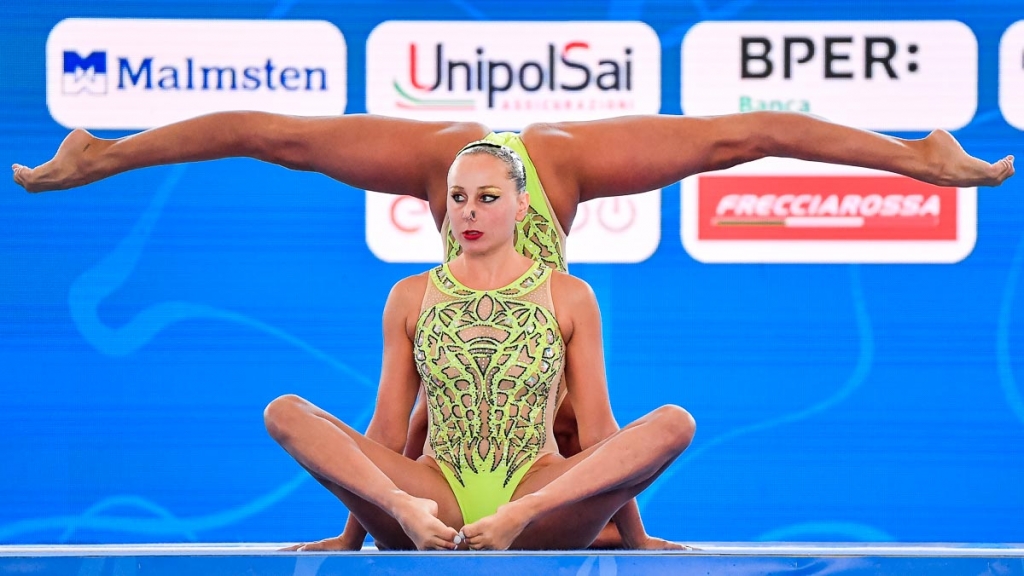 Italy's Linda Cerruti and Costanza Ferro completed the duet podium, and secured two bronze medals in front of the local crowd with 90.3577 (tech) and 91.7000 (free).
"I'm happy with our performance and with the feelings I had during the routine," Cerruti said after the free duet final. "We felt as if we were one person. Although we are not twins or sisters like the Ukrainians and the Austrians, we feel as such. We have grown up together in artistic swimming, because we met and started training at the age of seven. We spend more time together than with our families!"
The Greek pair of Sofia Evangelia Malkogeorgou and Evangelia Platanioti competed in the technical event for the first time this year, presenting a routine set to the original soundtrack of the movie Cruella. They scored 88.4669, the best score for a Greek duet since 2013. The two also passed the 90 points in free, receiving 90.2667 for their "Illusion" routine.
Ariel Nassee competed in the duet for Israel for the first time in a major senior event, alongside Olympian Shelly Bobritsky. She handled the pressure extremely well, especially as they received 86.0333 in the free event, only a tenth off the nation's high score in that event.
Great Britain's Kate Shortman and Isabelle Thorpe changed things up a bit from the World Championships, and unveiled a brand new free duet choreography set to fast-paced violin music. Their score of 84.9667 in the final wasn't quite enough to catch up to the Israelis, but they finished in seventh place.
The free duet final was full of numerous other significant moments. Portugal's Maria Goncalves and Cheila Vieira qualified to their first European final and reached a new high score of 81.2000 with their "Fire Ritual" routine. 
Similarly, Noemi Buchel and Nadina Klauser from Liechtenstein were ecstatic at qualifying and performing in the final. They received 79.4000 for their "Japanese Astrology" routine. San Marino's Jasmine Verbena and Jasmine Zonzini also made it back to the duet final after qualifying for the first time in 2021. They ultimately finished in 10th with a 81.1000, and Verbena also notably made it to the European top 10 in both solos.
TEAMS
Ukraine continued its medal haul and dominated all four team events. Most notably, the nation finally unveiled its new(-ish) technical team routine in Rome. Before the war, the Ukrainians planned to keep their "Swan Lake" choreography from the Tokyo Olympics, but head coach Svetlana Saidova ultimately refused to use Tchaikovsky's piece after the Russian invasion.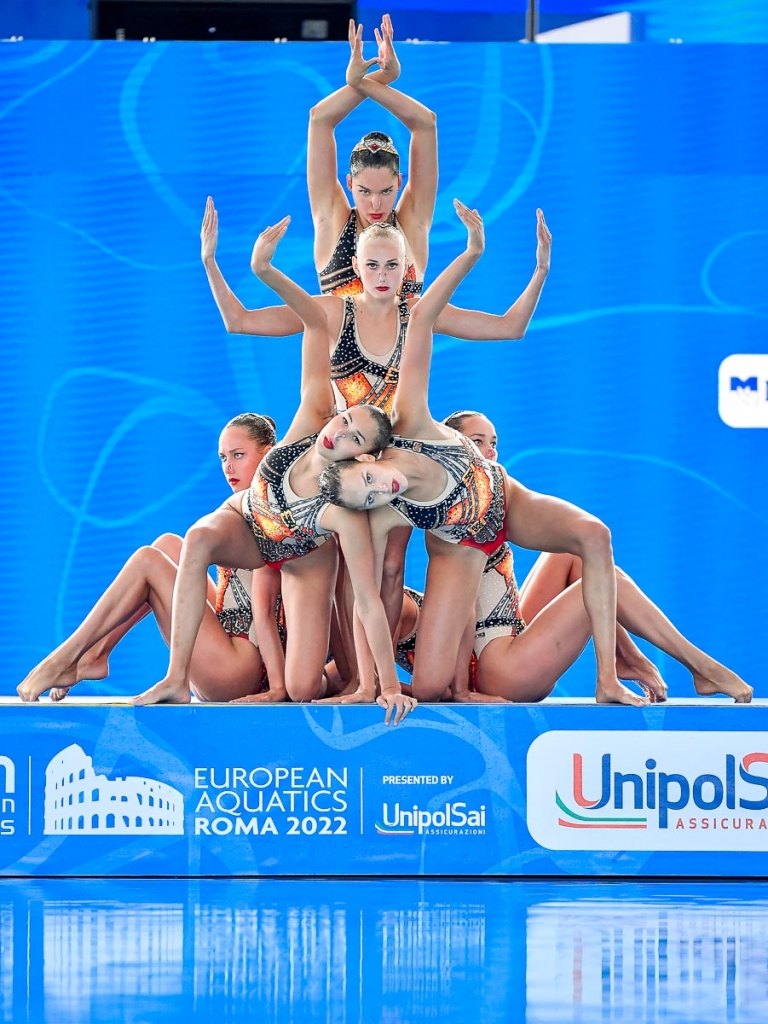 They were already supposed to present this new program at the World Championships, but scratched from the event. Swimming to the new theme "Fight for Olympus", they used classical music and approximately the same routine construction as before. In the end, they scored 92.5106 here to win their first European title in the event. With the arrival of new elements and an entirely different scoring system, this was the first and last time they showed this routine.
Every other event went smoothly for the Ukrainians, except for the free team event where they received a one-point penalty for exceeding the allowed time for deck movement. Still, they comfortably won with a score of 94.1000 for their "Team of Brave" routine.
"We are very happy," Marta Fiedina said. "This routine is from Tokyo last year, but it has a whole new meaning for us now. It feels more important. We now do it for our country, Ukraine, that has a strong spirit and freedom in its blood. After the performance, our coach was happy and jumping. We don't get to see that often; usually there is always something we could have done better. This is the most important to us, that we make her happy and proud."
After missing out on last year's Europeans because of Covid-19, Italy was entered in every single team event, and placed second across the board to the excitement of the local crowd. Moreover, it was the sole nation entered in all 12 events.
"The cheers were so loud that even before reaching the platform, we couldn't hear Gemma's counts," said Costanza Ferro after the free combination final. "During the whole performance, we could hear the audience better than the music, but after months of training we now know the music very well."
The free combination event also marked the final swim for Federica Sala, who announced her retirement. Overall, the Italians leave Rome with 12 medals and timeless memories of the fans' support and the Italian anthem resonating loudly in Foro Italico.
"It has been a European Championship that will go down in history," Linda Cerruti said. "I will always carry in my heart. This is what we aimed at."
It was also an incredibly successful championship for France, who won three bronze in technical team, free team and highlight. These were the first European medals for the country in the team events since 2000. 
It wasn't however a smooth start for the French; not because of their performance but rather because of a music issue during their technical team swim on the first day of competition. The music skipped during their swim, and went back a few counts. Although showing a few visible mistakes, the athletes did quickly adapt and react on the spot and managed to score 88.0093.
"We are super happy and very proud to be on this European podium," Maureen Jenkins said afterwards. "We came here wanting to be on the podium, but doing so while putting out a good performance. Our music skipped so we were rattled, and it's frustrating to not be able to show our best because of this. Of course we are still very happy, but it's a bit bittersweet. We know what we can do, and we aren't going to stop here."
Indeed, the team quickly moved on and went to score a massive 90.5667 with its "Art" free team and a 89.2000 in the highlight. This was the first time that the French competed in this event this season, and they used their "Zombies" theme from last year's free team.
"It was quite audacious for us to come out with a highlight here since this is our first time this season," Charlotte Tremble said. "We didn't do it at the World Championships, but we wanted to take on this challenge and try to win another medal here. It was risky, and we couldn't afford any mistakes. We really wanted to show our strengths, our improvements in the acrobatics. I think we did it."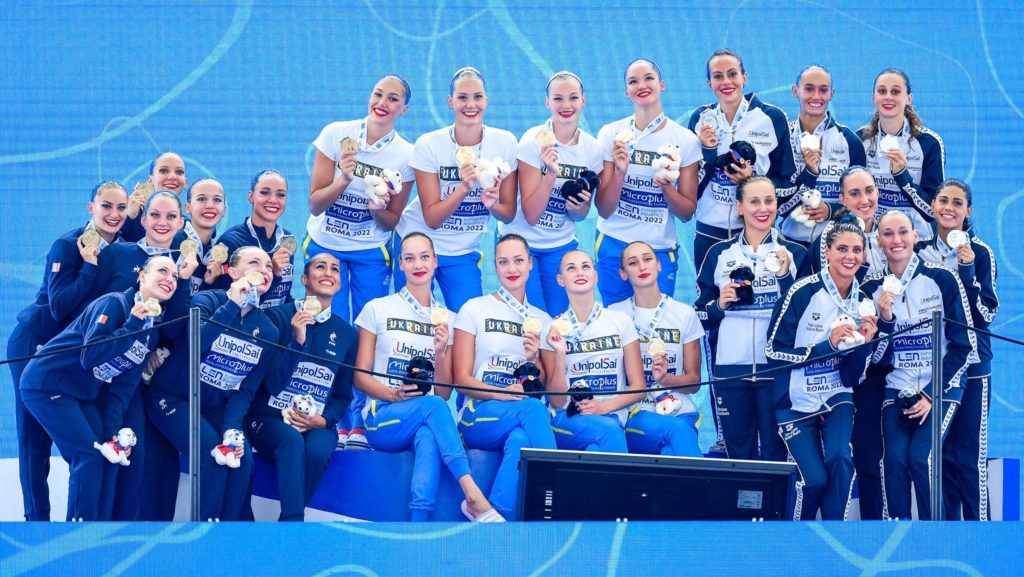 Greece was the only other nation to earn a medal in a team event, winning bronze in free combination. The Greeks scored 89.4000 for their "Africa" routine, which they had already shown at last year's European Championships.
"This medal was very important for us," Krystalenia Gialama said. "We know we are a good team and we are progressing. Our coaches told us it was the best swim of the year, so we are very proud of ourselves."
Germany was undoubtedly one of the biggest surprises of this competition, especially as this was its first senior competition as a team since 2018. The juniors have been performing this "Dangerous Animals" routine at the European Junior Championships since last year, and had already made a strong impression there. 
Veterans Marlene Bojer and Michelle Zimmer took part in the routine here, but the rest of the squad was essentially made of these same promising junior athletes. The Germans ultimately ranked sixth, and jumped up and down after seeing their score 84.6000.
The nation overall had a fantastic showing in Rome with the team's performances, Bojer placing sixth in solo with a huge 85.1667, a successful first outing for the mixed duet, and the women's duet continuing its upward trajectory. With such promising up-and-coming talent, this nation will be one to watch out for over the next few seasons. 
The vast majority of these athletes are now done for the season, although a handful are now headed to Quebec, Canada, to compete in the FINA World Junior Championships. 
ARTICLE BY CHRISTINA MARMET
Cover photo by Pasquale Mesiano / Deepbluemedia
If you've enjoyed our coverage, please consider donating to Inside Synchro! Any amount helps us run the site and travel costs to cover meets during the season.