After virtually three years of absence from major international competitions, the 2022 season was one for the books for Giorgio Minisini, adding two World and four European titles to his resume. 
Over the summer, the 26-year-old Italian also became the first-ever European Champion in the men's solo event in the senior category, and was crowned in front of his family and friends in Rome.
Minisini almost needs no introduction. A pioneer for men's artistic swimming in Italy and one of the veterans on the mixed duet international scene, he has changed the face of the sport at all levels and is a fierce advocate for the inclusion of men. Now an eight-time World medalist and eight-time European medalist, he certainly does not intend on stopping there. 
Inside Synchro caught up with him to chat about his incredible year, his new partnership with Lucrezia Ruggiero, what Rome meant to him, and his vision for the sport and the future of men in artistic swimming.
Inside Synchro: We hadn't seen much of you since 2019. Obviously, the 2020 season never happened, and last season you missed the European Championships and only competed once. How did you approach this year?
Giorgio Minisini: Yes, we came from three years of nothing because of Covid-19. I tested positive before the European Championships in May last year so we couldn't go. I have been working with Lucrezia for three years, but we never really competed! 
We went to the World Series in Barcelona in June 2021 but we had only been back to training for two weeks. We still really wanted to know what the judges thought of us, of this new pair. It had already been almost two years together, so if we had to change something, we had to change it now. It was a good test for us, and we actually had to change a lot of things (laughs)! 
So this year, we just wanted to show our best for the first time. We also changed coaches, so we focused on our goals with Patrizia [Giallombardo]. Rossella [Pibiri] stopped working with the national team, and I had been with her since I was 15 years old. For me to change coaches after so long was something very new. But we said, "OK, if we want to win a World Championships, we have to work no matter what." It was a really interesting change, and we learned a lot. I think we both grew up because we felt a new and different responsibility. 
For my solos, I totally gave her my trust. Everything she said to me, I did it. How she wanted to do the solo, I did it. Of course, I was improvising and proposing ideas too, so the solos are really the results of our work together. She chose the free solo because it was a routine I swam in a national championship a few years ago that she had liked a lot. For the technical solo, I chose the music and theme [plastic pollution], which was very important to me growing up and living near the sea.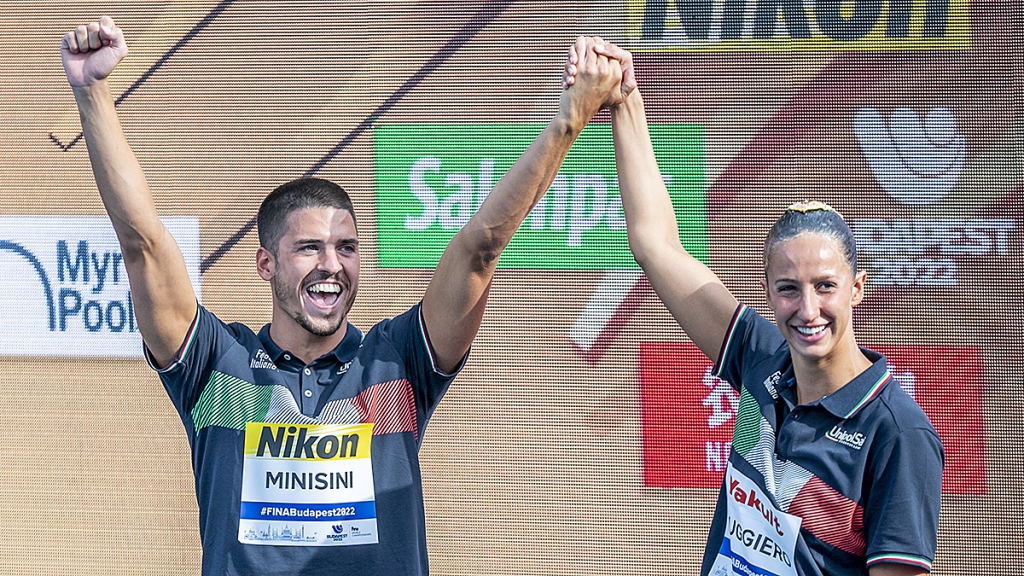 IS: The FINA World Championships in Budapest were your first competition of the year. You had already won a world title in 2017 with Manila Flamini, but how did it feel this time to win two more titles and with Lucrezia?
GM: It was beautiful. It was nice to watch Lucrezia because it was the first time for her. I was like, "I already went through this, let's see how she reacts." It was funny to watch her actually (laughs)! She was… stupefied. She was super confused and very emotional. 
We were also happy from the feedback from these championships because they were more on the performance itself and not so much about the results or the scores. That's what matters most to us.
IS: Then, you followed up with four golds at the European Championships in Rome, including two in the inaugural men solo events. How did you react when you learned that these would be included on the programme for the first time?
GM: I had heard people talking about it, but nothing was sure so I didn't want to think about it too much. When it became official, it was… strange, because I've been swimming solos in Italy since I'm six years old. So, this was one of those moments where life changed. For me, there will always be 20 years before men solos, and everything after. I knew from the beginning this competition was going to be very meaningful.
And it was. This competition was something really big. History-changing. Game-changing. I was happy to have it in my house, and to have welcomed my colleagues from Spain, France, and Serbia. It was such an important moment for me and our sport.
IS: You were very emotional during the first medal ceremony after technical solo. And, I think, so was the entire pool. What was going through your mind?
GM: A lot of things… Well at first when I saw the scores, I was a bit confused because they were all over the place, from 8.2 to 9.2. I thought about what I could have done better, or that maybe I had made mistakes. It's difficult to score a man if you are used to scoring a woman, and we still need time to fix that. So when I walked to the podium, I was still thinking about all of that.
But then, I remember standing up there, and there was a moment of silence. Suddenly, I heard this little girl scream, "Giorgio, I love you!" Or something like that. And for me, that was… too much! I realized in one instant that nobody cared about my technical mistakes, about how much I scored, if I had truly performed my best or not. It was emotional to imagine a 7-year-old girl watching me and thinking that what I just did was so great that she wants to scream at me. I was like, "She sees me." She was looking at me how I looked at a lot of champions in my life.
From that moment, I started noticing everything around me. All the surroundings, the flags, the people singing, the people crying… And I started thinking about young Giorgio who often heard, "You should not be here, you are not supposed to be here." I thought that he would have been happy to live a moment like that. So, I stopped thinking about the scores, and I just lived the moment and enjoyed what people were giving to me.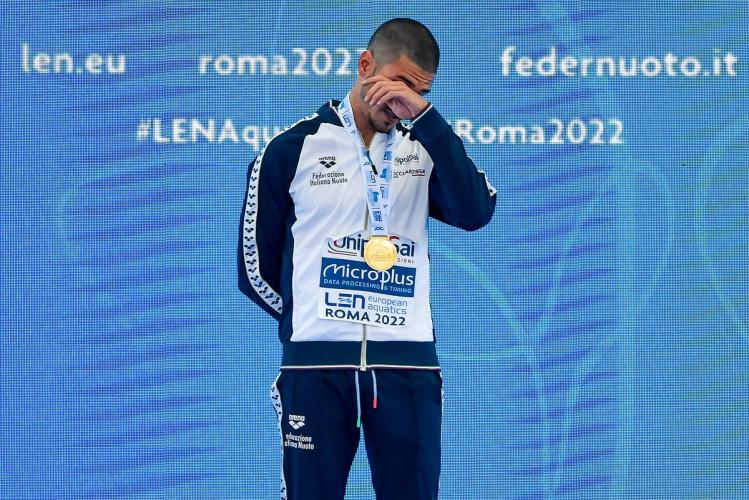 IS: Did young Giorgio ever dream of being a World and European Champion?
GM: Yes, a lot of times. I started doing this sport for this. I didn't know if I'd make it, but I really started artistic swimming to participate and do competitions. Of course, we are still missing the Olympic Games, but I am sure we will manage to reach this goal. Everyone who watches mixed duets and now men solos, they get it. They don't need any more information, they don't need to be convinced, they just get it. I am pretty sure that we will manage to reach the Olympic Games all together, and that was the main goal of everything when I started.
IS: Starting in 2023, FINA has also added men's solos at the World Championships as well, and has allowed up to two men in the team events.
GM: It's very exciting because since 2015, men are competing in artistic swimming just as "appendices" of women. There are all these women's events, and then mixed duets. A man can compete only with a woman. Of course, this was a huge first opportunity for us, but now it's starting to feel that we are getting the same opportunities. This is important because we have to show that men are really part of this sport, and not just the curiosity of the competition.
With the new rules, men and women still have the same technical elements. I think we should work on that because men and women have different strengths and features. But let's take what we have and maybe for the future we will figure out a way. We humans have a great capacity for solving problems, so we just have to keep thinking about how to highlight the best features of the two genders. I'm sure it will come.
IS: What do you think needs to happen for mixed duets to be included at the Olympics?
GM: Media exposure is fundamental because I am seeing it now in Italy. Our sport really received a lot of attention from Budapest, but since Rome, everything has changed. Everyone is now talking about artistic swimming, about why mixed duets are not at the Olympics. Every television, every radio, every journal. People are starting to recognize us. They understand that it's unnatural that we are not at the Olympics. So, I think we can speak more, create more attention on our sport and the competitions. The more you talk about it, the more probability that you will reach someone who can really make the difference. This is what we are doing here. It's one more country standing behind us and convinced to help us to get there.
IS: That's really exciting to hear!
GM: Yes, it's like we are becoming one of the sports. This year, we want to compete more because we can't wait until July [for the World Championships]. There are a lot of other sports like football or cycling that compete a lot and they take a lot of space. We have to do something to make sure that the media keeps talking about us. Competing is something that keeps telling a story and getting attention.
We were lucky to have Rome after the World Championships. People actually saw us and that's the most important. Of course, the results matter, but you know, we have been winning medals since 2015. And we have still struggled a lot with media attention because we were never in our home. With Rome, people came to see us, took pictures and videos, cheered for us… They watched us and lived the moments with us. It's really all about getting seen and making sure people watch the sport.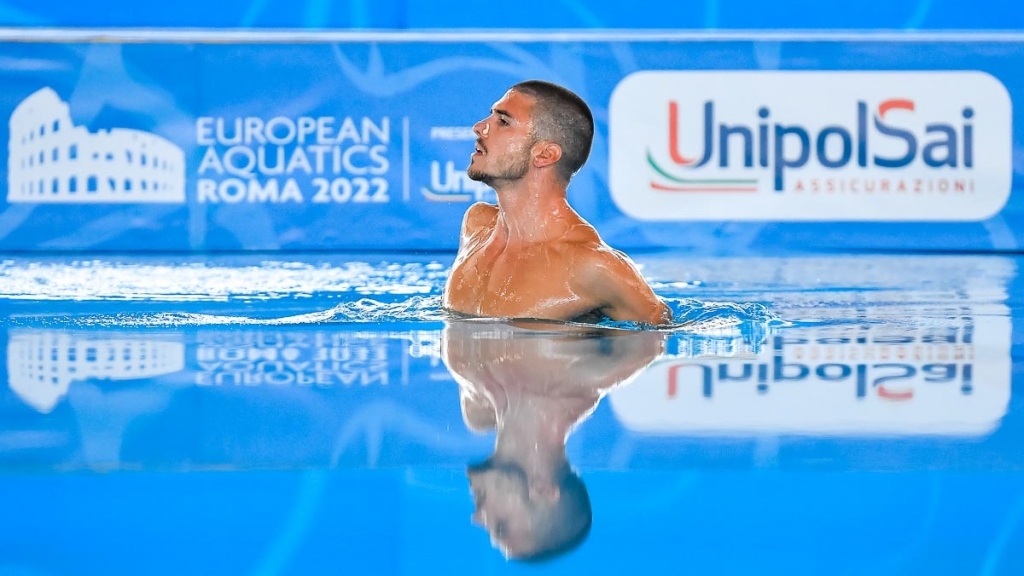 IS: What are your goals for 2023, with another World Championships on the schedule, and beyond?
GM: Like I said, we want to compete more and simply show up. Right now, we are working hard. We have the new rules, we are getting prepared, and we are thinking about new routines of course. 
Then in 2024, we have one more World Championships. For me, this is incredible. I heard many swimmers complain about too many World Championships, but I could live like that forever (laughs)! Also, because our sport will get more attention. People love to watch us, but we don't compete that much, so they love us once or twice a year. The more we compete, the better for everyone. And if we want to reach the Olympic Games for mixed duets, we have to make a lot of people talk about us. 
IS: Do you have anything you'd like to say to the younger generations of boys in artistic swimming?
GM: What I would have said to young Giorgio is to have fun. So what I say to every young child that I see is to enjoy the game and to not focus too much on the results. That depends on a lot of forces so… What matters most is the bond you get with your teammates, the experiences you have while traveling, competing and training, the strength you gain mentally and emotionally, etc. It's a very demanding sport, but this is why we are doing this.
Sports in general can give people experiences, skills, and memories that are much different from any other activity. Everything you're doing or going through in sport has some value. Enjoy the game, get the value you get. And you can always improve. If you score 60 today, you can score 80 next month. There is no limit in improving or gaining new skills. Have fun and keep working if this is what makes you  happy.
ARTICLE BY CHRISTINA MARMET
Cover photo by Pasquale Mesiano / Deepbluemedia.
If you've enjoyed our coverage, please consider donating to Inside Synchro! Any amount helps us run the site and travel costs to cover meets during the season.