At only 17, Sato Yotaro became a force to be reckoned with last summer. At his first senior World Championships, the young Japanese man won two silver medals in the technical and free mixed duet events alongside his sister. A few weeks later, he competed at his first World Junior Championships and became a three-time World Junior Champion in mixed duet and free combination. He also swam in the inaugural men solo events and earned two more silver medals.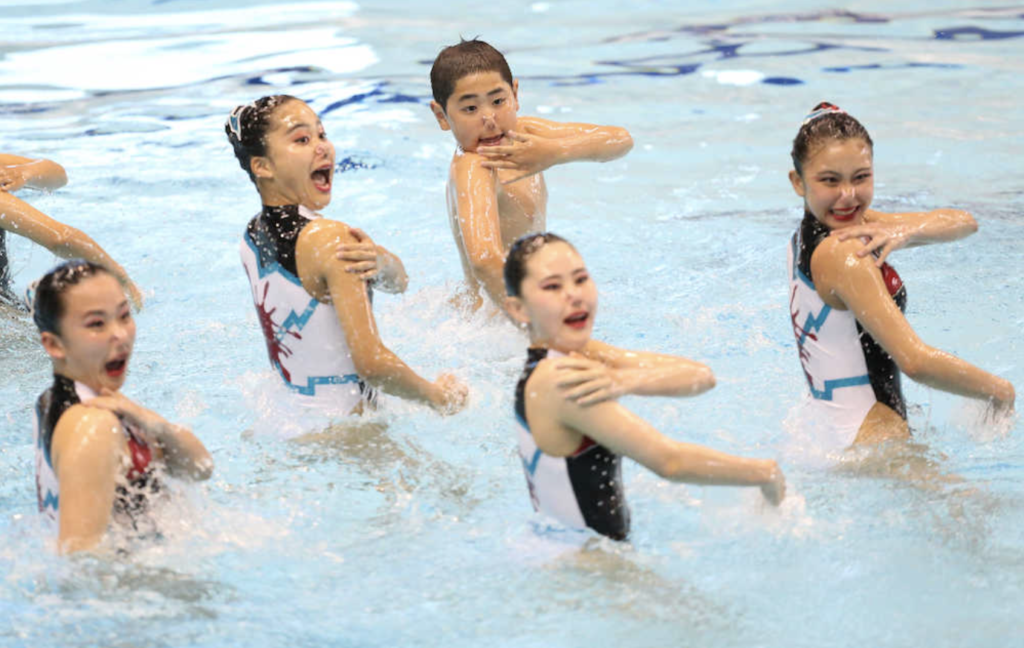 Back in 2017, Sato was the first male to swim at the Japanese Championships, competing in the free combination event for the Joyful Athletic Club at only 12 years old. Over the following years, he continued appearing across all team routines for his club and improved incredibly fast.
In 2019, he won bronze in mixed duet at the World Youth Championships. In a previous interview for the Japanese media, he admitted he wasn't even really attracted to the mixed duet before that meet. Rather, he simply always wanted to participate in competitions as a regular team member.
Sato is now one of the most prominent and promising male artistic swimmers in the world. With the 2023 season around the corner, he is eager to continue bringing Japan back to the international podiums  and to shine at the World Championships on home turf in Fukuoka.
Inside Synchro: You're now swimming with your older sister Tomoka. Was she the reason why you started artistic swimming in the first place?
Sato Yotaro: Yes, I was inspired by my sister to start when I was in the first grade. I entered swimming lessons at the age of two, and began artistic swimming at the age of five at the recommendation of her coach. I was very attracted to performing movements that cannot be done on land. It's still what I like most about the sport. And of course, I like the sense of accomplishment after a performance.
IS: How was it growing up as an artistic swimmer in Japan?
SY: I am very lucky that boys have been allowed to participate in competitions in Japan since 2015. We have had many opportunities to compete with girls which has helped us improve our skills.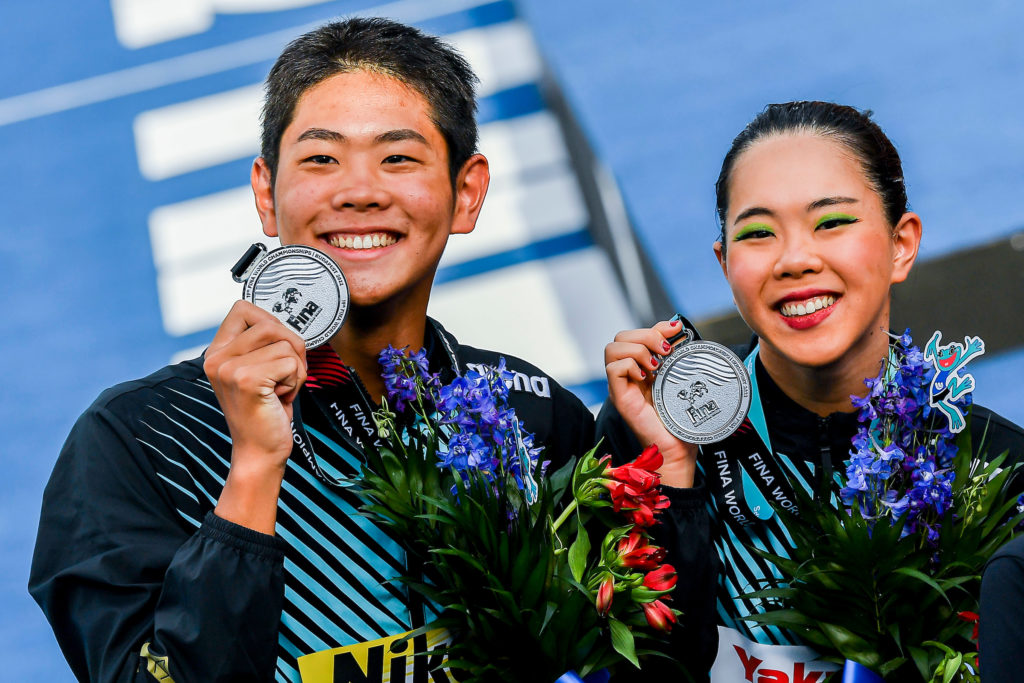 IS: You competed at your first senior World Championships in 2022 in Budapest. Did you feel any pressure as Japan's new mixed pair, and coming after the two bronze medals from Abe Atsushi and Adachi Yumi in 2019?
SY: It was more a sense of responsibility. We used the same music for the technical program that Abe Atsushi and Adachi Yumi won a medal with at the World Championships in Gwangju. After we won our medal in Budapest, I spoke to Mr. Abe. He said: 'You don't need to feel such pressure. If you concentrate on your own performance and try to swim your best, that already means you scored 100 points.' I was happy to hear that. Since I was a child, it has been a dream for me to compete at the World Championships and on the world stage.
IS: How did it feel to win two silver medals? 
SY: Since the start of the year, our goal was to win a medal at the World Championships. We had planned our whole training around that. We were both happy and surprised when we actually won the silver medals. Mostly, we were really happy because we felt that our performance had been recognized on the world stage. Our presence was acknowledged. It was also very special to share this moment with my sister. We have been training together in mixed duet since 2020, and I felt very happy to be there with her.
IS: You then competed at the World Junior Championships a few weeks later. Japan did extremely well there, and you won five medals in total including three golds. How was that experience?
SY: It was the first time boys could perform solos in a world junior competition. So, I felt a different kind of tension than before when I was in the last call room by myself. Performing solos at the World Junior Championships was a big step forward for me to improve my skills. As with the solo, it was also my first time swimming in a free combination on such a big stage.  But I think that having always trained with girls and swam team through my childhood really helped me for this moment. 
IS: Now you will be able to also swim in solo and team at the 2023 World Championships in Fukuoka. What are some of your goals there?
SY: I am happy not only to have the opportunity to participate in an international competition held in my country, but also to be involved in this moment. It will be a major turning point for male artistic swimmers. 
I would like to make a strong statement and get people's interest. I want to continue showing that Japan has a male swimmer ready to win medals on the world stage. Last year, we were able to show the world that our country has a mixed duet that can win a silver medal. We will not stop this trend and we will do our best to achieve better results. So, I hope to win medals with an even better color in Fukuoka, and to offer more powerful and improved performances. 
IS: Is there anything else you'd like to say to the artistic swimming community?
SY: We want people to know that artistic swimming is not a girls-only sport and that there is a place for boys in competitions. We will show the world this year.
Since this interview was conducted, the Japanese Swimming Federation confirmed Sato's place on the 2023 World Championships squad. He is listed as working on the men's solo, mixed duet, and team routines. Finally, the Sato siblings recently held a training camp in Palm Springs, USA, to create a new free routine choreography with Stephan Miermont.
ARTICLE BY CHRISTINA MARMET
Special thanks to Homma Miwako for facilitating this interview. 
Cover photo: Andrea Masini / Deepbluemedia
If you've enjoyed our coverage, please consider donating to Inside Synchro! Any amount helps us run the site and travel costs to cover meets during the season.