A former swimmer, Fabiano Ferreira started artistic swimming in 2017. Three months later, he was already winning silver in mixed duet at the Brazil National Championships alongside Olympic athlete Luisa Borges. The following year, he was amongst the first men to build and join an all-male team. The squad competed at the national championships in the hopes of encouraging more men and young boys to join the sport.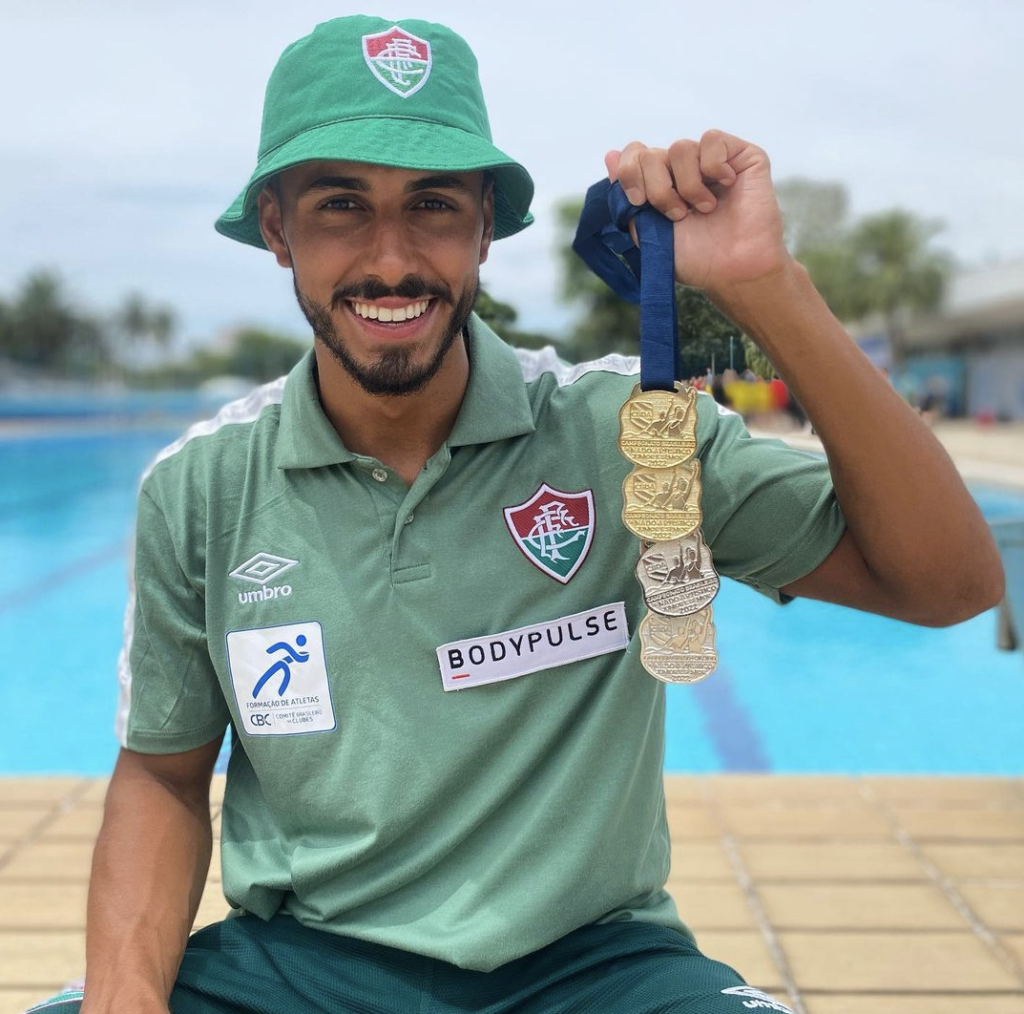 After making his national team debut at the 2021 South American Championships and winning a mixed duet bronze, the 25-year-old competed at his first World Championships last June in Budapest. Swimming with Gabi Regly, he finished eighth and ninth in the free and technical events, respectively. A frequent medalist across all events domestically ever since he started, including men's solo and men's duet, Ferreira is eager to now showcase more of his style and passion to the world.
Inside Synchro:  How did you decide to switch from swimming to artistic swimming?
Fabiano Ferreira: I was a swimmer at the club of Fluminense in Rio de Janeiro, and I would always watch the artistic swimming team training right next to us. In 2017, I received an invitation from the team to get to know the sport. It all started there. I was enchanted with the beauty of synchro and the magic that happens in the water. For me, artistic swimming is an art, and art is joy. That's what I want to convey when I'm swimming: my art, my joy.
It was very difficult at first, being a male artistic swimmer in Brazil. I must say I encountered several barriers and a lot of prejudice when I started. But I kept going. I've been able to swim in solo, mixed duet, and in the mixed team routines. I was part of the first-ever men's duet with Kennedy [Lima, club teammate] as well, and I'm also in the men's team. In the end, it's all been very rewarding, especially now to be able to represent Brazil internationally. 
IS: Right, you have been part of the all-men's team that started in Fluminense. Can you tell me a bit more about it?
FF: Yes, we have a men's team here in Brazil, the first men's team in Latin America. At Fluminense, new boys started doing artistic swimming little by little. When we realized we already had four boys, we thought we could start a team. We discussed the idea with our coach Maura Xavier and she was up for the challenge. Along with it, we knew the importance of this team for the evolution of male artistic swimming here in Brazil, and even around the world.
There is always a great harmony between us in training and competitions. We try to convey this when we are presenting ourselves so that we can achieve our goal of showing representation. We use this initiative to be able to get more men in the sport and make our space within artistic swimming, breaking down the entire barrier of prejudice that exists.
After almost four years, everyone knows about the team and we can see the positive impact that it has brought.  Today, we have around four to five boys in the three clubs we have here in Rio de Janeiro. There are many more in other states around Brazil. Every day, the number of boys grows in this beautiful sport.
For this new season, I changed clubs and now I'm at the Tijuca Tenis Clube in Rio. We are all together in the same club as well and with new projects, so the men's team will continue!
IS: How did you prepare for your first international competitions representing Brazil, following in the footsteps of Renan Alcantara and Giovana Stephan [Brazil's mixed pair from 2016 to 2019]?
FF: I learned a lot from Renan and Giovana. Actually, I trained with them a lot when we were all in the Brazilian national team because I was a reserve of their mixed duet. With this experience, I was able to learn so much. Now, I am proud to continue the beautiful work they started.
It was a very intense preparation this year, with a lot of in-water and strength training in the gym to get in the best shape and be able to represent my country like I wanted. My goal was to be able to compete well, qualify to the finals at the World Championships, and put Brazil in the top 10 in the world.
IS: And you did just that! How was your first World Championships experience?
FF: My first World Championships were a unique experience, and a totally different adrenaline from any other competitions. I was very happy to be there. I trained a lot to present great routines to the world and had this goal of being among the best. When I achieved this, I was very emotional because I saw that all my effort was worth it and that all the teamwork had worked out. I felt like I had fulfilled my duty. 
It was also great to be with the other boys. To be able to get to know the skills, work and training culture of each country was very rewarding. It was a unique experience to see everyone there competing, representing their country, and at the same time know the importance of men for our sport and the advancement that we are having. I would live it all over again.
IS: You've competed as part of a team for a few years now, whether in a mixed or men's team. How did you react when you learned that you would now be able to swim team at the World Championships as well?
FF: I was extremely happy! I felt that all the barriers I have been breaking here in Brazil and the men's representation in general in artistic swimming have been working. We are building a good legacy for the future male generation.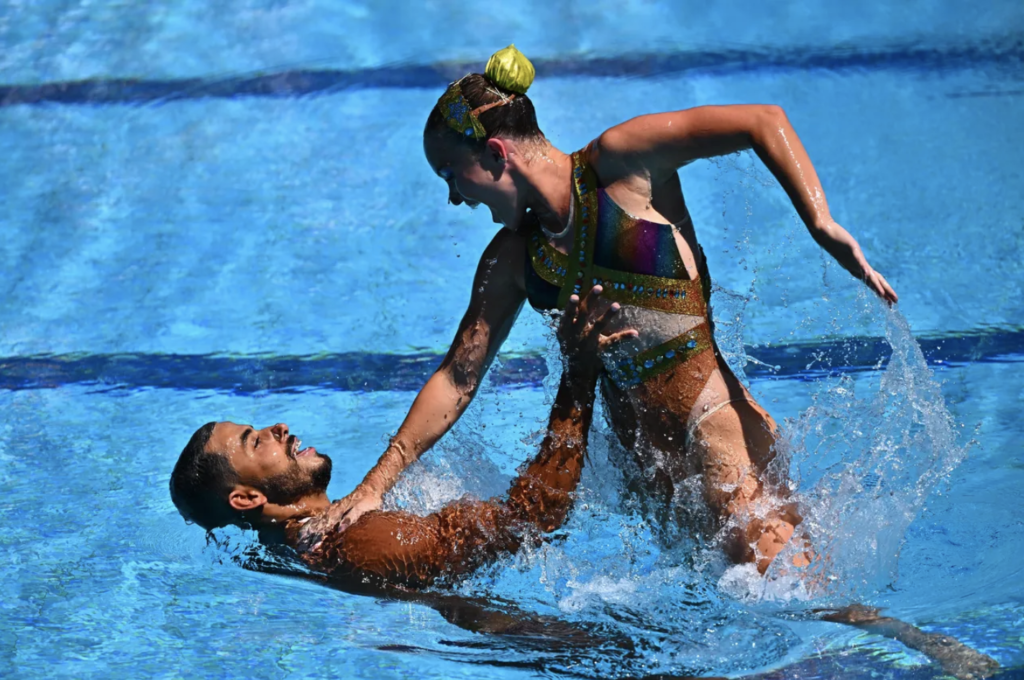 IS: What will 2023 be like for yourself and Brazilian artistic swimming?
FF: I am taking it one day at a time, one battle at a time. I still have a lot to offer to artistic swimming, but some days are harder than others. The sport's culture in Brazil isn't so good. Artistic swimming is a sport without visibility, there is no ball involved, so everything automatically becomes more difficult. I'm talking about funding, incentives, projects and appreciation. It's sometimes difficult to stay as an athlete, but I want to keep making history.
My days are very busy, but if I stay organized, everything goes right! From Monday to Saturday, I work in the morning, train in the afternoon and study at night. There are also times during the year when I train in the morning and afternoon, and then work at night. I work as an education teacher in an electrostimulation studio. I already have a degree in physical education and I am finishing a specialization in sports psychology. In the midst of all this, I have to be present for my family, relationships and friends. I'm tired just talking about it (laughs)!
IS: Is there anything else you'd like to say to the community, or to younger artistic swimmers?
FF: It was very difficult for me at times and I encountered several barriers during my journey, but I always kept going. So, never give up on your dreams and fight for them with all your strength. Keep making history in the sport and together, we will conquer our place in artistic swimming.
ARTICLE BY CHRISTINA MARMET
Cover photo courtesy of Fabiano Ferreira // Follow the men's team on Instagram.
If you've enjoyed our coverage, please consider donating to Inside Synchro! Any amount helps us run the site and travel costs to cover meets during the season.