Last weekend, Montpellier hosted the second artistic swimming World Cup of the season. Besides the spectacular performances of the many athletes from 33 countries, the difficulty technical controllers were the ones truly in the spotlight.
After each routine, all eyes were on them. And low and behold if they stood up and started discussing. Everyone's stress levels went up a notch (or 10). The long wait then started, seemingly infinite for all as they discussed whatever Element(s) they had flagged. "This routine is under technical review, please wait for the scores."
Sometimes, all was well. Sometimes, their decisions surprised; whether it was for poorly executed Elements in the water or written mistakes on the Coach Card because the coach misinterpreted the rules. Thus, in Montpellier and just like in the first World Cup in Markham a few weeks prior, World Champions, European champions and European medalists were overtaken by less experienced competitors, despite high-level swims.
In spite of it all, the star-studded field delivered incredible performances. The athletes remained tough as nails, making their season debuts, unveiling new routines, or upping their difficulty to stay competitive in this pre-Olympic year.
SOLO
The tone of the competition was set right from the start in the free solo final, as reigning European Champion and World silver medalist Marta Fiedina ended in sixth place. The Ukrainian had the highest declared Degree of Difficulty (DD) of the field that day, but ultimately received four base marks.
Inui Yukiko, the reigning World Champion from Japan, remained golden in Montpellier with a score of 389.3583. Inui had increased her difficulty score by almost seven points since the first World Cup in Markham. 
Vasiliki Alexandri, the 2022 European bronze medalist from Austria, finished second with a score of 334.6709. She kept her beautiful "Nature" routine from last season, as "it would have been a pity to only use it for one year." She's nonetheless had to adapt it to the new system to fit the new difficulty needs.
"I am just happy that I didn't go to base mark," she said. "I believe it's the only worry for athletes from now on! Actually, I was only thinking about that: to be careful. In the end, I was very tired, but it is a good feeling to have this medal for this first competition."
Thanks to a steady and much-improved performance, Viktoria Reichova from Slovakia placed third with a score of 260.8376. She swam to "Yes I Do" by Monika Christodoulou, a Greek song she is particularly fond of. Reichova switches back and forth between training in Slovakia with Maryna Krykunova, and in Greece with Christina Thalassinidou. Recently, she has mostly spent her time in Athens, and admitted she has fallen in love with Greek culture and music.
Reichova had already competed in Markham, but unfortunately suffered a few base marks in both solo events. She explained she had drastically changed both of her routines ahead of Montpellier to make sure this wouldn't happen again.
"In Canada, I was very upset with my results," she said. "But I learned. So in one month, we changed the whole routine completely. We made it more difficult, and it paid off. I am so satisfied; it is the first time for me to win a medal at this type of big event. I have to say I was also lucky today, but with this new system, it is like this now. We have to accept it and be capable. I am missing a lot of creativity and artistic impression, but we just have to work with these new rules and keep learning."
In the technical event, Fiedina came back with a vengeance with her "Bird of Liberty" routine to secure herself a silver medal with a score of 264.1833. This time around, she wasn't able to pass Inui, who won another gold for her "Life of a Droplet" routine and a score of 282.2583. 
Spain's Iris Tio unveiled her new technical solo set to a Gustav Mahler composition. She won bronze with 254.6542. This was quite a refreshing change from what we've seen from her in the past, and the music greatly fit her powerful presence and height in the water.
"I love this music because it gives me strength and energy", she said. "It has a lot of power, and it helps me be bigger in the water. I am very happy here because I always gain more experience when I compete. I felt very good during all the elements and the hybrids, but I also know that I can improve in the next competitions."
Alexandri also unveiled a new routine to "Mount Everest" by Labrinth. This time around however, she was penalized on her final hybrid. Despite executing it well, she had started it two seconds too early to earn placement bonus (performing a hybrid in the last 20 seconds of the routine) she had declared. As a result, the whole hybrid went to base mark and she dropped down to sixth place.
In the men's solo, Italy's Gabriele Minak made a statement, winning the free event with 224.2291. The 16-year-old hadn't competed internationally since the 2019 World Youth Championships. He actually took a three-year break but returned to the sport ahead of this season. Of note, he was the only competitor in this event to not get a base mark.
Just like in Markham, Spain's Fernando Diaz del Rio Soto won silver with 193.2875. Gustavo Sanchez from Colombia debuted his "Passion of Christ" routine and earned bronze with 134.9124. Italy's second junior soloist Filippo Pelati had actually the third highest score of the field. Unfortunately, only one medal can be awarded per country.
Both Diaz del Rio Soto and Sanchez came back strong the next day in the technical event. They didn't receive any base marks and finished first (214.4959) and third (200.8833) respectively. Kazakhstan's Eduard Kim completed the podium with a 208.0083.
Solos have undoubtedly become one of the most challenging events to execute for the athletes, having to complete seven Elements in essentially two minutes. It is obvious that numerous athletes, who usually shine in glide, lightness, or expressiveness, are seemingly constrained and struggle to put their qualities forward.
DUET
On paper, the technical duet medal winners are almost as one would expect. China in gold, Japan in silver, Austria in bronze. That is, until one notices Ukraine, last year's World silver medalists, in 19th. Despite posting the second-best artistic impression score, the duet earned two base marks on its two free hybrids and suffered dire consequences. 
Back in Markham, Ukraine's duet had already, and unexpectedly, found itself in second position behind Israel, unable to compete in terms of DD. In Montpellier, it had seemed the nation had woken up to the DD game and had significantly increased it  in every single event. Unfortunately, it seems maybe they bit off more than they can chew, or simply missed some nuances in the rules.
In the end, the gold was won by the reigning World Champions from China Wang Liuyi and Wang Qianyi. They made their season debuts here, unveiling a new routine to the theme of "Lotus" to score 285.4041. 
"We are so excited," Liuyi said. "The people here are so passionate and they gave us a lot of power. I think we did well. The new rules are a challenge for everyone, and this is a good chance for us to face them."
Higa Moe and Yasunaga Mashiro from Japan continued to show consistency, precision and power to finish second with 276.7250. Just like every team, they had significantly increased their DD since Markham. 
World bronze medalist Anna-Maria and Eirini Alexandri placed third with 273.3458 with their new "Karate" routine. The sisters arrived in Montpellier after a training camp in Bulgaria, but they had been very limited due to sickness. That is why they ultimately scratched from the free duet.
The three duets from France, Great Britain and Spain all made their season debuts as well. The three ended up very close in the final rankings with only 1.333 separating them,  which  in this new system, is nothing. While the first two unveiled new routines, set to themes of "Nature" and "Big Ben" respectively, the Spanish pair of Iris Tio and Alisa Ozhogina re-used the "Baseball" choreography from the Tokyo Olympics. Moreover, this was the first time out for the French Anastasia Bayandina and Eve Planeix, and they matched incredibly well in the water. 
In the free duet, Maryna and Vladyslava Aleksiiva were determined to not hear the word base mark ever again. With a 35.2500 declared DD, the Ukrainians performed their "Scramble to Position" routine to earn gold with 370.2791. The Japanese won another silver with a 334.0125. They did receive a base mark, but it likely wasn't on any of their most difficult Elements, so it didn't drop them too far down the rankings.
Kate Shortman and Isabelle Thorpe from Great Britain won bronze with a 324.3958 for their new "Phoenix" routine. They have worked with Anastasia Davydova on both of duet choreographies this season, and are also coached by Yumiko Tomomatsu.
"Honestly, we are so happy to be here," Shortman said. "I feel like we've had kind of a rebranding, almost. We are so invested in our training, it's going really well. Maybe we had a little bit of a dip last year in some sense, but we are back! We feel like we are stronger than ever."
"Yes, I feel we've definitely gained motivation again," Thorpe added. "We are re-motivated to fight for it. We think we can do really well in the next few competitions."
Another noteworthy performance came from the pair from Israel. The nation arrived in Montpellier already with one reserve athlete in the team due to an injury. But another setback occurred on the night before flying to France, when duet and team member Ariel Nassee found herself too sick to travel. 
As the nation cannot go to the Egypt World Cup due to security reasons, it had to enter a duet in Montpellier to qualify to the Super Final. So Tokyo Olympian Eden Blecher stepped up and learned the free duet over the course of a few hours to swim alongside Shelly Bobritsky. 
While the "New World" routine is one she's familiar with, having performed it at the Games, she naturally had to perfect every hybrid that had been adapted to the new rules. In the end, Blecher and Bobritsky had a terrific swim, scoring 293.0209 to finish in fifth place, with a berth to the Super Final secured.
MIXED DUET
The technical mixed duet delivered an interesting fight between the World silver and bronze medalists, Japan and China. 
In the end, China's Shi Haoyu and Zhang Yiyao came out on top with 246.3042. However, the Sato siblings from Japan were only 1.7875 points behind with their "Tarzan" routine. It was fantastic to see Sato Yotaro for the first time this season, as he had to skip the Markham leg because of a concussion. 
The Japanese pair won gold in the free event with a new routine to the theme of "Levitation Magic" and a score of 273.5708. They notably received four 10s from judges on their acrobatic elements across both technical and free duets.
Colombia's Jennifer Cerquera and Gustavo Sanchez secured two bronze medals. The two were the most seasoned pair of the field, competing together since 2018. 
"In the mixed duet, we worked hard and tried to go for no penalties and base marks," Sanchez said after the technical final. "In the morning [in free solo], it was a lot of penalties for me so we really wanted to do better. I am happy that we did."
Two up-and-coming mixed pairs to watch are Great-Britain's and Chile's. Chile's Nicolas Campos was particularly outstanding in his barracuda, and has tremendously improved since last year will hopefully get to shine in the men's solo in the future. Ranjuo Tomblin, 17, held his own in the technical solo, placing fourth on his first major senior international meet for Great Britain.
This meet also marked the first World Aquatics outing for the mixed pairs of Germany and Serbia, who both competed at the European Championships last summer. It was also great to see France back in the mixed duet event for the first time since 2021, with Quentin Rakotomalala and Prune Tapié.
TEAM
In the team events, China was undoubtedly the talk of the pool the entire week. The reigning World champions, the Chinese were breathtaking in the technical event. Their TREs were impeccable, and their work in unbalanced positions throughout their free hybrids truly outstanding. They received 347.9332, easily securing themselves the gold.
Japan continued to show precision, sharpness and stellar execution to secure silver in the technical event with 338.2854, and gold in free with a 391.5896. The nation has been tremendously consistent this season so far while displaying new and refreshing routines.
The U.S. earned bronze in the technical event with a score of 316.7834 and the highest difficulty of 35.0. When all start lists were published on Thursday along with everyone's DD, the Americans were "only" going for a 33.10 DD. Ultimately, the strategy paid off and everything in their "Michael Jackson" routine was awarded. 
Of note, the Chinese squad also increased its DD by nearly two points in the few days leading up to the event, going from an initial 32.50 to 34.45, while Japan decided to stay safe and consistent with the same 34.80.
Ukraine debuted its new technical team routine to the theme of "Unbreakable Faith and Hope" but had to settle for fourth.  Spain's senior squad made its first appearance of the season, returning to the technical event for the first time since Tokyo. They actually performed the same Flamenco / Japanese sign language routine from the Olympics. It seems the Spanish have decided to stick to their Japan-themed routines to delight the home crowd at the World Championships in Fukuoka. They received the third-best artistic impression score but had to settle for fifth with a 299.3729.
Similarly, France made its season debut as a team as well, and placed sixth with a 288.8396. They unveiled a new choreography to the theme of "The Body in Space." From take-off to the weightlessness and the return to Earth, the French go through every phase throughout the routine.
"This idea emerged after the visit of Thomas Pesquet [French astronaut] to the INSEP training center," coach Julie Fabre said. "All the girls admire him, and it was incredible to hear all his stories. So, we wanted to pay a small tribute to him by highlighting the effect a trip to space has on the human body. It's also important to us that there is something that connects with our country heading into the Paris Olympics."
Israel competed in the free team event for the first time this year, revealing its Japan-themed choreography. The squad had a very solid swim, especially considering they've had to adapt at the last-minute to make up for Nassee's absence. They won silver with ​​356.3647, while Italy's junior squad earned bronze with 345.1329.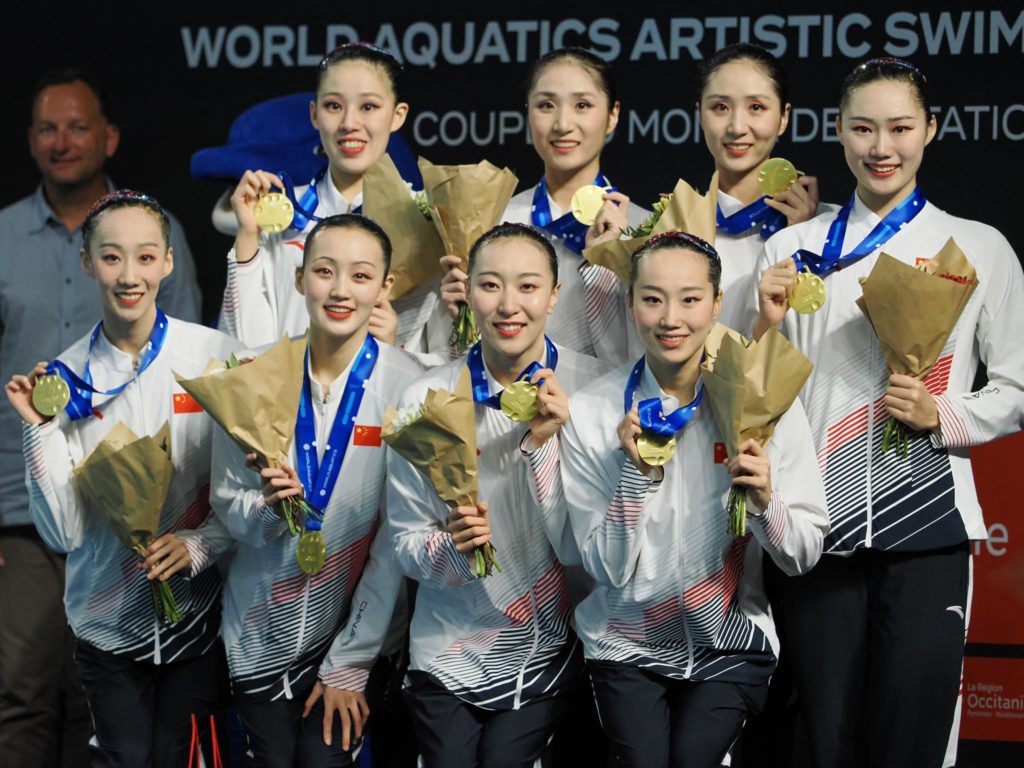 On Sunday, the competition ended just like it had started: with unfathomable drama. 
China's acrobatic team routine was undoubtedly the most anticipated one of the entire meet. The Chinese had never competed in the acrobatic team before, and they displayed incredible and unique acrobatics during their training sessions, with some undeniably straight out of Anna Tarrés' brain.
Indeed, the famous Spanish choreographer now collaborates with China, helping them hone in on every little aspect of their routines. The squad has also worked closely with the head coach of the Chinese diving team to perfect the technique and jumps of the fliers.
China's acrobatic routine was almost unlike anything we're used to from the nation. The athletes performed to a much different music choice and a unique "Light of Life"  choreography from head coach Zhang Xiaohuan. They swam well and clearly had the best performance of the day, a fact not lost on the sold-out pool filled with thousands of spectators.
But then, the difficulty technical controllers stood up and started talking. A few minutes later and upon seeing the "3" designating the temporary ranking on the screen, the crowd heavily booed — that could probably be heard all the way from China — naturally baffled by the discrepancy between what they had just seen and the final placement. 
In the end, the Chinese team found out they received a base mark for the first acrobatics, which was incorrectly declared on the Coach Card. 
The team did receive a 10.0 in choreography and musicality from one judge, something that delighted Zhang despite the heartbreak and pain of the final results.
"Receiving a 10 in artistic impression score for the acrobatic routine is, in my heart, worth the weight of a gold medal," she said later on. "This is the first 10 points that China received in international competition. We were going through difficult times as I created this routine, so I chose the theme of Light of Life, hoping to encourage all people not to fear frustration and pain, but that hope and dawn always comes!"
The acrobatic team event was ultimately won by Ukraine, the reigning World and European champions, with 260.2750. The U.S. placed second with 252.0000 for their "Amazons" routine. They had received two base marks at the last stop in Markham, but had no such issues here.
The World Cup circuit continues in Soma Bay, Egypt. The competition starts tomorrow, and you can find all the information to follow the meet here. 
ARTICLE BY CHRISTINA MARMET
Cover photo courtesy of Zhang Xiaohuan.
If you've enjoyed our coverage, please consider donating to Inside Synchro! Any amount helps us run the site and travel costs to cover meets during the season.