Back in 2017, Shi Haoyu became China's first male artistic swimmer to compete at the World Championships at only 15 years old. He had taken up the sport only two years prior as a personal challenge on a fateful day, not yet knowing it would become a major turning point in his life.
Shi is now 21 and a full-time member of the Chinese senior national team based in Beijing. From eighth at the 2017 World Championships, to fifth in 2019, to third in 2022, he has continued to make history for his country with intense pride and passion. In 2023, he has so far been dominant in every competition he's entered, winning three golds in the mixed duets on the World Cup circuit. 
With men now eligible to compete in the team events at the Games, Shi joined the acrobatic team routine for the first time this season, and undoubtedly dreams of Olympic glory.
Inside Synchro: How did you start artistic swimming? 
Shi Haoyu: I started swimming at four years old near my home in Tianjin, and then entered the Amateur Sports School at nine. Then I got into the professional training squad at 12. My love for the water is natural and I have always been connected to this element. At 14 years old, I switched to artistic swimming from competitive swimming. 
The 2015 World Championships in Kazan marked a milestone for the sport as males were allowed to compete through the mixed duet event for the very first time. Coincidentally, the artistic swimming team coach from my province came to see our swimming team to select members for her team. As the shape of my legs and feet was quite suited for the sport, the coach asked if I would be interested. At that time, I had some basic knowledge of artistic swimming. I could tell it was something like water ballet where artistic movements combined with creative choreography created an elegant masterpiece. I wanted to give it a try as I love to challenge myself. Now, I believe that this opportunity was given to me by fate, and one that I cherish most. It was very timely, and it became a turning point in my sports career.
At the beginning, I knew I was lacking in terms of physical flexibility and expressiveness in my movements. I had many doubts: whether I could execute actions that were of high difficulty, whether I could express the theme of my routine and convey the emotions of the music, whether I could capture the hearts of the audience that would watch my performance, etc. As it is a predominantly female sport, my flexibility range also had to be comparable with my team. And because I'm a male, I had to work twice as hard to become just as flexible and elegant.
IS: Were there many other boys doing artistic swimming in China at the time? 
SH: Actually when I entered the provincial team, there was another boy that joined alongside me. Unfortunately, he didn't stay. On one hand, it could be that males in artistic swimming were rather new and hence were not well-received by the public. It gave a very "sissy" image to be a boy in the sport so many boys had much hesitation. On the other hand, it could have also been due to his physical inflexibility as he really struggled during stretches. Being far from home, our bodies are trained to the limit. Sometimes I wonder how I even made it! It's even tougher that we have to keep going upside down in the water. But I guess I was testing my limits, trying to see how tough I really was. Of course, I had great interest and passion for the sport, which is most important to start.
I would like to express my heartfelt gratitude to my team that took me in, nurtured me, and gave me opportunities to be in the sport from the start as a young boy. I have always felt welcomed. In 2015, I started with coach Lu Liya. With coach Lu, we started right from the basics in order to give me a solid foundation. Once I joined the junior national team, I started to undergo a more systematic and detailed training regimen. That allowed me to become a silver medalist in the World Junior Championships. I owe it to coach Li Min for showing me the way and the light in male artistic swimming.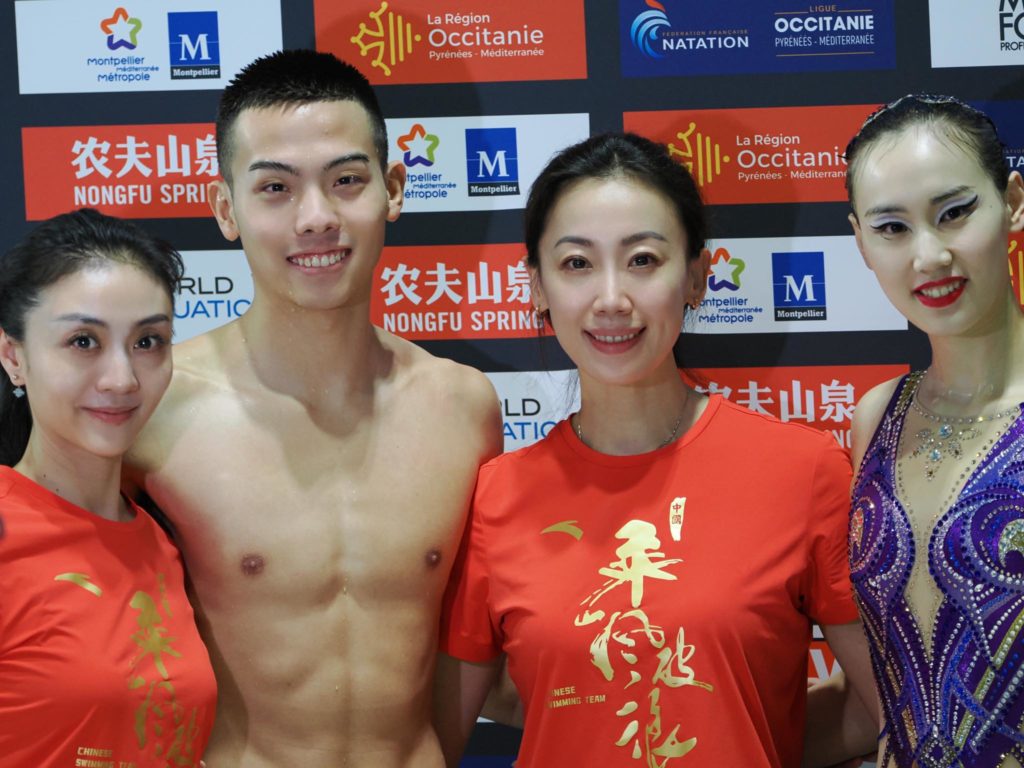 Then, I entered into the senior national team, which consisted of even more professional plans that targeted both physical and mental approaches to training. Wang Fang was the national team head coach at the time. She provided me with training plans that were specifically tailored to my body build to help with my strength and flexibility. Coach Wang opened my eyes to the world — also quite literally by traveling with me to different countries. She taught me to use areas of dissatisfaction as opportunities to better myself and gave me the confidence to do the things I had doubts about trying. 
Now, I am trained under coach Zhang Xiaohuan. Her creativity, capabilities and hard work inspire us. She teaches us to put up a good fight and helps us become World Champions. With a great working track record, many athletes place their faith and trust in her. Last year, I earned a bronze medal at the World Championships, and this year already three golds at the World Cups. Perhaps this could be a result of my improvements as I mature, but I am sincerely grateful to my mentors, teammates, friends and all those who have been a part of my journey of growth. 
IS: In 2017, you competed at the World Championships in Budapest at only 15 years old, making history for China as its first male artistic swimmer. How was that experience? 
SH: Looking back, it is a memory that is etched in my mind as it was a warm summer and my first big international competition after two years of learning artistic swimming. Prior to these World Championships, I had competed in the World Series but it felt different. In Budapest, I was excited and nervous – somewhat, I had the feeling of rushing ahead of myself. Maybe I was very stressed because I was given the chance to represent the Republic of China in such a high-level competition. I wanted to prove that males like me are able to do artistic swimming, and to give a visually different and impactful performance. Really, I wanted to show the world what China's best male artistic swimmers are capable of. 
At the age of 15, I must say I was rather confident and daring. We have a saying in Mandarin that a newborn calf is not afraid of a tiger, and I related to it at that time. I only focused on doing the best that I could, doing the moves properly and not thinking too much of the results. I was very excited and proud. Afterward, I made a promise to myself that I needed to continue such hard work in order to excel in the sport, to endure the tough times and to always strive for progress. To remind myself that every step is cumulative to my improvement. Only with love, passion and determination to persist in the sport am I able to demonstrate my gratitude for being given this opportunity to represent my country. 
IS: You've represented China on the international stage ever since and through three World Championships. Do you feel it has helped the growth of male artistic swimming in the country?
SH: To associate the words "males" and "artistic swimming" is still rather foreign and poorly recognized in the eyes of many people. Before the World Championships in 2015, many people thought that males were not suited for artistic swimming. However, like dance, it can in fact be enjoyed by both men and women. There is such a thing as masculine beauty. In order to break boundaries and to redefine what the sport means, we must be unafraid to explore the unknown. I feel that everyone should learn to accept and appreciate what male artistic swimmers can bring to the table. The addition of men adds a new dimension to the possibilities of the choreography, which in turn allows a bigger audience to enjoy the sport. 
After Kazan, males started to join the sport gradually, here and everywhere. We challenged ourselves to explore things that seemed impossible and to be curious. That fueled our passion in the sport. We need time to prove our worth and to share our stories. I think that those who set their mind to artistic swimming need to persevere with that dream in mind and to walk their own path, no matter what. And with the belief that the harder they work, the greater they will be.
IS: How did you feel when you won two bronze medals last year at the World Championships, again in Budapest?
SH: We have an old Chinese saying, that to be the first person to eat crabs is like in English to be the first person to land on the moon. It's a daunting task and a step into the unknown, yet it is prestigious as you are the first to achieve such a milestone. For me, that milestone was to dream to be on the podium on the international stage and achieve it. I feel lucky and blessed. For me at the World Championships, Budapest represents a place where my dreams started, came true and where I achieved higher goals. These two bronze medals are still fresh in my memory. When the national flag was raised, I felt extremely proud. It symbolized that all the hard work had paid off and the sacrifices made were worthwhile. 
I have now participated in three World Championships. The first one was merely to gain experience, the second to seek improvement and the third to give it my all and strive for my best. As an athlete, one must have the desire to win medals and always seek greater achievements. Only then will you cultivate that fighting spirit. You have to push your own boundaries and create infinite possibilities for yourself.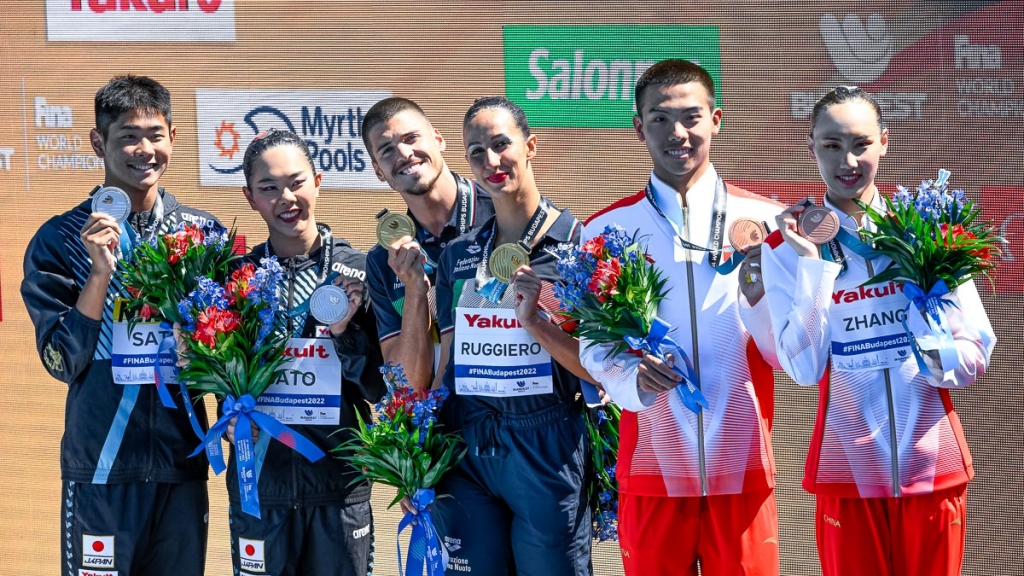 IS: What was your initial reaction when you learned that men could swim at the Olympic Games in 2024?
SH: This is something I had never dreamed of or expected. When I heard the good news for the first time, I was so excited it took me a long time to calm my emotions down. The excitement ignited my fighting spirit. To be honest, my first reaction was to call it bluff, but shortly after tears filled my eyes. After I had calmed down, I turned those emotions into motivation to push forward. The feeling is indescribable. Prior to the announcement, I had been praying about it. But never had I thought that such a dream would turn into reality so soon.
This is a significant milestone of inclusivity for all male artistic swimmers. The dream we all thought was once impossible has now come true. It is a step in the right direction and all athletes can equally strive for Olympic honor. Artistic swimming is not only graceful but also displays elements of speed and strength. It is a sport where passion meets difficulty, and where males can shine in their own ways. 
IS: In addition to the mixed duet, you have already performed in the acrobatic team event this season in the World Cups. How does it feel for you to be part of this routine?
SH: With the new rules that allow for male participation, I am extremely grateful for the opportunity and for my team. Everyone trusts and believes in each other, and I like this feeling very much. To me, it is a new feeling and challenge to integrate myself in the team. When you are often close to the light, you will eventually become the light. It really is a dream for males to join the team event and to have the opportunity to compete in the
Olympics. It allows me to continue to challenge myself and it motivates me to start a new adventure. We have a saying that before you become the light, you must first make the leaves green among the red flowers. In other words, you must first show a unique quality, one that stands out amongst the sea of ordinary.
IS: Is there an event you particularly cherish or enjoy most?
SH: I don't really have a favorite event as I feel that each has its own charm. The mixed duet changed my life, so it is very special to me. After the 2015 World Championships where the event debuted, my passion for artistic swimming bloomed. Actually, Bill May is my role model in the sport. In 2015, he won the first gold medal in the history of the mixed duet event. It is because of him that I saw male artistic swimming and fell in love with it ever since. Such beautiful and passionate performances were simply mesmerizing.
Then my first World Championships in 2017 opened my eyes to the world and allowed me to see things in a different light. Winning silver at the 2018 World Junior Championships boosted my confidence. The 2019 World Championships fueled me with energy. As long as I worked hard, it seemed as if everything was possible. In my third World Championships in 2022, I watched my national flag rise as I stood on the podium, my heart filled with passion. The mixed duet was my ticket to join the sport and from then it grew into something bigger.
To be able to join the team events this year has been a wish fulfilled and a new experience. I feel a sense of responsibility and honor. Now the team feels like my family. We have had to learn to fully trust and support each other in the process of innovation and rigorous training. We have built some form of understanding amongst everyone. I feel lucky that I have the opportunity to potentially be in the Olympic Games if I work hard. 
I have never had the chance to enter the male solos yet due to the training schedule. However, I am still eager and keen. When the opportunity arises, I wish to challenge myself and to embark on a new adventure of self-discovery. 
IS: What have been some of your goals for the 2023 season?
SH: First, we wanted to participate in the World Cups because of the new scoring system. My partner and I won gold medals in the three competitions we attended, which proves that my team's understanding of the new rules is indeed correct and that our training is right on track. Now, we have the World Championships in Japan in July, which will be my fourth. There will definitely be pressure for me, but I am always ready to put up a good fight and I will work hard to better myself. After the World Championships, there will be the Asian Games in Hangzhou in September. These will be my first Asian Games, which is of great significance.
All in all, my goal remains constant, which is to stand on the podium and gain glory for my country. What I am most concerned about now is that after the launch of the new rules, in the face of uncertainty and challenges, we need to adapt constantly and very quickly to meet the new requirements. Only by doing so can we emerge the strongest and most confident on the international stage. 
IS: We've already alluded to the Olympics, but what are some of your long-term goals over the next few years?
SH: Yes, our immediate goal is to compete in the Olympic Games next year as it is a competition that athletes desire most in their sports career. I also hope for the future that I will be more daring to try new ideas and to create unique choreography with my coaches in order to better myself as an all-around athlete. The beauty of artistic swimming is not limited to gracefulness. It can also show a strong and powerful image, especially with the addition of males. I hope to show a wider range of possibilities for the sport, to bring greater diversity and to be a messenger of such a desire.
IS: Is there anything else you'd like to say to the community or to younger artistic swimmers?
SH: As male artistic swimmers, we are presented with great opportunities. I believe that all of us who decide to embark on this journey should stick to our dreams and forge our own paths. I hope that the water energizes and motivates us to fight for our dreams together. 
If I could turn back in time and were given the choice whether or not to pursue artistic swimming, I would still choose it. It is only when you experience this sport for yourself that you realize the special spark of excitement that it brings, and its mesmerizing charm and addiction. This feeling motivates me, and it is one that no words can describe. Artistic swimming will change your life. 
Article by Rachel Thean and Christina Marmet
If you've enjoyed our coverage, please consider donating to Inside Synchro! Any amount helps us run the site and travel costs to cover meets during the season.