In 2022, Gustavo Sánchez made history by becoming the first Colombian artistic swimmer to win a gold medal in a World Aquatics (then-FINA) event. That season was a breakthrough for him as he also went on to win gold at the Bolivarian Games and the Central American and Caribbean Championships in the mixed duet, while also placing sixth in the technical and free mixed duets at the World Championships.
Sánchez started representing Colombia internationally in 2018, only one year after taking up the sport. The following season, he was already competing at his first World Championships in Gwangju in the mixed duet alongside Jennifer Cerquera, who has been his duet partner from day one. 
Now a staple on the international circuit, Sanchez rarely misses a beat. He medaled in every event he participated in across three World Cups. Over the last few days, the 22-year-old just grabbed three more medals, including two golds and his first-ever medal in a team event, at his first Central American and Caribbean Games. Now, he is dreaming of more history-making moments at his third World Championships in three weeks.
Inside Synchro: You started artistic swimming relatively late. How did you get into the sport in the first place?
Gustavo Sánchez: Yes, I started in the world of artistic swimming in April 2017 when I was 17. I had been doing speed swimming since I was six years old, so I didn't start from scratch. Then one day, my best friend told me that they were looking for boys to try out artistic swimming and she asked if I wanted to try. I didn't hesitate. What I like most about this sport is that I can fully be myself in the water. Every movement, every breath, every competition makes me feel alive.
Honestly, I have loved artistic swimming since I was very young. It was a sport that I could not miss in the broadcasts of the Olympic Games. I also always stayed to watch the artistic swimming girls train after my swimming practice. But I never thought I could do it because it was only for women.
IS: You've been partnered in the mixed duet with Jennifer Cerquera since your very first competition, the South American Championships in 2018.  What is your partnership like?
GS: Yes, I have been swimming with Jennifer since 2018. We are like brother and sister. We support each other in everything, have a lot of complicity. I think we understand each other very well in and out of the water.
IS:  Undoubtedly, your big international debuts were in the 2019 World Championships. How was that experience?
GS: It was unbelievable. I had only been in the sport for a little more than two years. So I couldn't believe that I was already on the other side of the world representing my country at only 19 years old. I felt very happy, but at the same time very nervous. When I went out to the pool for the first time, my heart was beating 200 times faster than normal. Jennifer was the one who calmed me down. Now I can't imagine what it would have been, if it had just been me, alone in that huge pool with all the people just looking at me.
I have funny story. Something very curious happened to me, while we were in the preliminary of the technical duet. We were swimming, and suddenly I see myself on the giant screen. For a second, I remember thinking, "Oh, look, I think we are doing very well!" And I just continued swimming. It was my first World Championship, and I didn't know about everything there was! I now remember that moment with a lot of love and fondness. 
My second World Championships in 2022 were totally different. I was already 22 years old, and somewhat more experienced and confident in my work. We trained very hard for that championship, but this time when I went out on deck, I had normal nerves…Not as if I were going to die (laughs)! I hope this new World Championships in Fukuoka will be amazing. I think we are going through many changes for the better and I only hope to continue giving my best to achieve my dreams.
IS: 2022 was incredibly successful for you overall. How did you approach that season, especially after not competing much since 2019?
GS: At the beginning of 2022, the national team coaches sat us down. They asked if we were committed to training very hard, because they were going to invest in our process. Without hesitation, we said yes. I never imagined that the effort would be so tough, but we trained very hard to achieve our goals. Our main goal was to improve our score compared to the previous World Championship and we were able to achieve that. That year, I also wanted to show growth in solo, but to be honest I didn't think it would be so well received.
IS: It really was. You won gold in solo at the Paris World Series, your first meet of the season. This was also Colombia's first gold medal in a FINA event. How did that feel?
GS: Paris was a competition that I definitely will never forget. It will always be in my heart. When I swam my solo, it never crossed my mind that I could win the gold. I wanted nothing more than to leave a good impression, and it was a routine in which I was so precisely aware of each movement. When I got out of the pool and saw the scores, and the judges congratulated me afterwards, it was very gratifying. At the time of the award ceremony, I could not believe what was happening. Hearing my country's anthem played for the first time in a FINA event gave me chills. It is definitely something I will never forget.
IS: Do you feel that all your results and performances are helping artistic swimming grow, especially for men, in Colombia?
GS: I would like to think so. I was not the first man to practice the sport in my country, but thanks to my dedication and love, I have been able to grow a lot and now be the best in my country. It is very gratifying to see how the sport grows for us every year and to see that more and more boys join in. It makes me very happy.
I want to show the world what can be achieved if you set your mind to it. It was not easy for me to get to where I am. Many people did not believe that I could achieve it and I am showing them that I can. It also motivates me to open the doors to future generations so that their dreams are easier to achieve.
IS: I believe you've also been fighting for the inclusion of men at the National Games of Colombia [the country's biggest multi-sport event organized since 1928]. Can you tell us more about that?
GS: In Colombia, the National Games are held every 4 years and are like the Colombian Olympic Games where all sports compete for medals and sponsorships. Since 2019, I have been fighting for the mixed duet to have the opportunity to participate. That way, so many of us men who practice our sport could also fight to get a medal and to maybe have government sponsorship. Unfortunately, the next National Games are this year and although we fought very hard, the inclusion of mixed duets was not achieved.
As we know this year the rules changed, and World Aquatics approved that up to two men can participate in the teams. So, we believed that it could be our opportunity to enter the National Games because teams do already participate. We began sending letters requesting that they endorse men to participate in the teams, but it did not work either. So we cannot compete in these National Games. For this reason, we cannot receive any sponsorship to which we can aspire. But I spoke with the sport's minister and she gave me her word that we were going to be at the next ones, so let's hope it's true…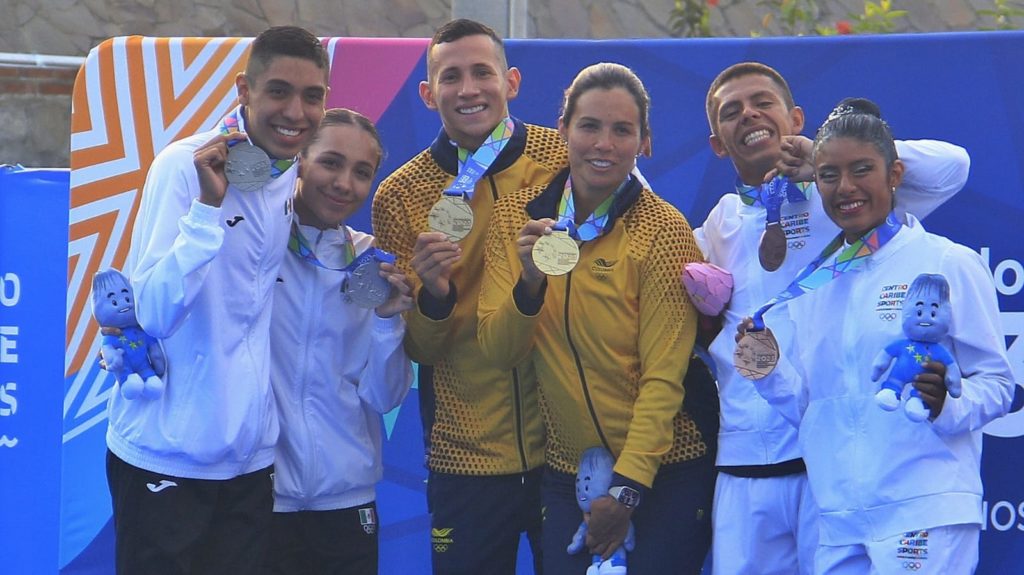 IS: The 2023 season is well underway, and you've competed in three World Cups. What have been your impressions so far and your feelings after your performances? 
GS: 2023 has been a very big challenge for the whole world. Our sport changed completely due to the new rules, and the future is more uncertain because no one knows what your opponent will come up with. We trained and worked hard to improve and to give a good impression in the World Cups. I was very excited to compete.
All the routines were new. In the solos, I wanted music that could have a clear and understandable theme for the judges. I personally love the theme of my free solo, "Passion of Christ." The music is incredible, and I hope to be able to improve the interpretation for the World Championship. In the duets, we also wanted routines in which the themes were clear and thus help us improve the artistic impression. Personally, my favorite is the technical duet routine, "The Mystery of the Sea," I love the music and it motivates me.
In the end, I am so, so happy with the results achieved in these World Cups. We had very good comments about our work, and we finally see new faces on the podiums. So, we hope that each time everyone's work is better valued regardless of the color of the flag; that is something very important for us countries which are gradually seeking recognition.
IS: What's a typical day like for you as an artistic swimmer in Colombia?
GS: The life of an athlete is not easy. It is difficult to have time for your studies, your relationships, your family, but I try to make time for everything. After training in the morning, I go to the Javeriana University of Cali, where I study graphic design. After leaving the university, I come back to the pool. It's all about organizing yourself well and being very clear about your goals so that fatigue can't beat you.
IS: Is there anything else you'd like to say to the community, or to younger artistic swimmers?
GS: I would tell the younger generations not to be afraid or doubt their abilities. With a lot of effort, love, perseverance, and determination, everything can be achieved. Don't stop, the sky is the limit. Don't listen to people who tell you that you cannot achieve it and show them that you are capable. My favorite life motto is: "Life's a climb, but the view is great."
ARTICLE BY CHRISTINA MARMET
If you've enjoyed our coverage, please consider donating to Inside Synchro! Any amount helps us run the site and travel costs to cover meets during the season.