The first artistic swimming medals of these 2023 World Championships were awarded today in the technical solo event. The reigning world champion Inui Yukiko of Japan scored 276.5717 for the gold. Vasiliki Alexandri of Austria won silver and Iris Tió of Spain the bronze.
Day two in Fukuoka started off with the acrobatic team preliminary, where five men made history swimming in a team routine at a senior World Championships for the first time. After this event, China qualified for finals in first place with a score of 236.0733. 
The day continued with the technical mixed duet preliminary, which saw a record-number of 16 pairs take part in these World Championships. Emma Garcia and Dennis Gonzalez Boneu of Spain will head into the final as the top qualifiers after receiving 244.1433.
TECHNICAL SOLO FINAL
The first artistic swimming medals were awarded today in the technical solo final. Inui Yukiko of Japan successfully defended her World title, nailing her "Life of a Droplet" routine for a total score of 276.5717. She had slightly increased her Degree of Difficulty (DD) for the final by 0.30. 
Inui was particularly thrilled about winning this gold at home and repeating history in more than one way.
"I was able to get a gold medal in front of this audience, which supports me daily, and I am very happy about that," she said. "In 2001, I saw my predecessors get a gold medal here when there were the World Championships in Fukuoka. I am glad I could do the same for the team when my turn came."
She added that she didn't feel too much pressure about coming in as the defending world champion, but rather wanted to focus on her swim.
"I wasn't concerned about the rank, if I passed the preliminaries in first, or if I would get the gold medal," she continued. "I just wanted to focus on what I'm here to do, to do the performance I prepared for and that's the only pressure I felt."
Austria's Vasiliki Alexandri won her first World medal, finishing second with a total of 264.4200. She had declared and was credited with the highest DD of the field with 34.50. 
In the preliminary, she had also declared the highest DD (34.75), but received a base mark that had dropped her to third. For the final, she played it safe, removing a movement and slightly decreasing her DD only to have a bit more time to make everything clearer. 
"I was more calm than in the preliminaries," she said. "I knew exactly what I had to work on, and I told myself I could only win or lose. Stress would only hold me back, so I tried to be as calm as possible. I was trying not to think too much about the placement or the medals, only to swim well and clearly. And if I did that, I knew that the results would come."
Alexandri, European bronze medalist, had placed fifth in this event in 2022. Now, this silver is not only her first World medal, but also Austria's first medal in the solo event at a World Championships.
"I thought about this medal for a long time," she added as she showed her phone's background with the Fukuoka medals. "I've been doing this for a while, I put the medals here so I see. As athletes, we sometimes are not every day 100% with power and energy. So every time I look at this, it motivates me and pushes me. Of course a medal was the goal, but as I said, the first thing was to swim clear. Now yes, it is a dream come true."
Similarly, Iris Tió Casas of Spain had suffered two costly base marks in the preliminary round. She however decided to stick to her DD of 31.05 for the final. While the DD value itself didn't change, she actually did replace a movement in her routine, going from one R7 to another. That way, she ensured she would be more comfortable throughout and that everything would be well-executed. 
It was a smart decision as she got everything credited and ultimately won bronze with a score of 254.2100. These are her first World Championships competing in the technical solo event.
"I feel super happy, it's a dream come true," she said. "I was very nervous about this final because I got two base marks in the preliminary. But I tried to focus and also enjoy it. I think I did a really good job, so I'm so happy."
Evangelia Platanioti of Greece, 2022 bronze medalist, had finished second in the preliminary round. For the final, she had decided to increase her DD by 0.70, which also brought up the total of her first free hybrid to a massive 11.50. That hybrid did get credited, but Platanioti had a base mark on her final one, which dropped her to fourth place with a score of 242.5000. 
Competing at her first World Championships, Susanna Pedotti of Italy ranked fifth with a base mark-less performance and a score of 223.7133. The 18-year-old had qualified to the final in 12th, receiving a zero on a TRE and a base mark on her final hybrid. She had no issue tonight, swimming in first to the theme of "Dragon Princess."
Audrey Lamothe of Canada finished sixth with a score of ​​216.4351, while Kyra Hoevertsz further made history for Aruba by placing seventh with 212.1967. 
These World Championships are actually her fifth, as she first competed on the World stage in 2013 in the duet. Hoevertsz had originally retired after 2019, but decided to return to elite this year, feeling that she had some unfinished business. 
"When we were in the waiting room before the final, I actually thought about when I started," she said. "I remember being little thinking a World Championships final was just crazy, but it didn't cross my mind as a possibility for me. Then, as I started getting older and started swimming solos at Worlds, I thought it would be a cool thing to do. We set that goal before coming here, but it's still nerve-wracking. I didn't want to think about it too much and get too excited in case it didn't happen. I am really, really happy. For me, I could almost say that I'm satisfied with my career as a soloist now."
Oriane Jaillardon of France had qualified in fourth place, but unfortunately had two base marks on her free hybrids. That dropped her to 10th place with a score of 193.4234. She had no made any changes to her DD.
ACROBATIC TEAM PRELIMINARY
19 countries participated in the acrobatic team preliminary, with the top 12 qualifying to the final scheduled for Monday evening. The acrobatic team routine was recently added to the Paris Olympic programme, and every country has had to step it up if it wants to qualify for the Games.
Five men swam alongside their teams, a first at a senior World Championships: Frithjof Seidel (Germany), Sato Yotaro (Japan), Bill May (USA), Shi Haoyu (China) and Artur Maidanov (Kazakhstan). 
China qualified to the final in first place with a score of 236.0733 for their "Light of Life" routine. The Chinese team also received the best artistic impression score of the day with 91.4500. 
The U.S had declared the highest DD of 21.50, and executed everything as planned in its "Amazons" routine to rank second with 233.9333. This also marked the competitive return of Bill May to the international stage. May, 44, last competed in person at the 2019 World Championships in mixed duet, but his last time swimming in a team routine was back in 2002 at the U.S. Nationals.
"This team… They are my superstars," he said. "They are like a forcefield. It's been 21 years since I competed in a team routine and they guide me. They are fresh, powerful, strong, and beasts in the water. I can't say enough great things about them."
May had originally retired after his third World Championships in 2019, but decided to come back once it was announced that men would be allowed to swim in the team at the Olympic Games.
"I found out December 17th… 9:44," he said, laughing. "That they were going to allow men into the Olympics. And we had trials in April. So it was a big push. I wasn't sure if I could do it, but with the support of my club, the coaches, the athletes, I now get to swim on the best team the world has ever seen."
Ukraine, defending world champion in this event, qualified to the final in third with a score of 227.9200 for its "It's Time to Smile" routine.
Japan ranked fourth with a total score of 224.5167, and the second-highest artistic impression score for its "Formula 1" routine. The Japanese looked tremendously improved since their last time out in this event at the Markham World Cup, showing incredible energy and novel acrobatics in front of their home crowd.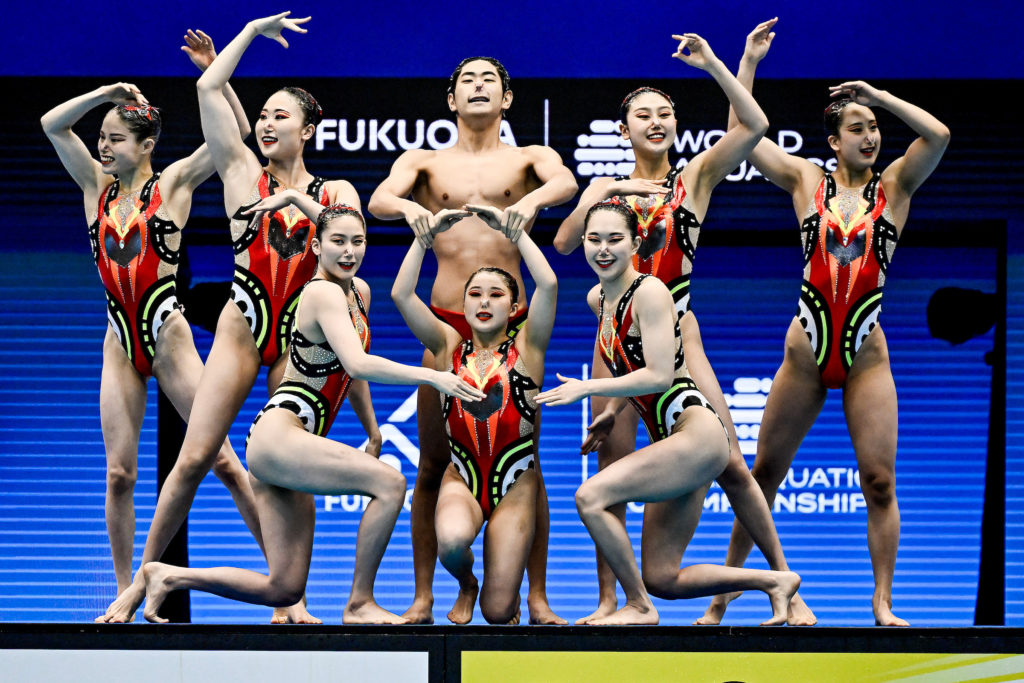 France, Canada, Mexico, Israel, Italy, Germany, Kazakhstan and Egypt have all qualified to the final as well. 
By luck of draw, Germany's Frithjof Seidel was the first man to swim in a team routine at a senior World Championships. Seidel had already made history a few weeks ago by winning silver in the free combination routine at the European Championships, thus becoming the first man to medal in team at this competition. These are his first World Championships.
"It's incredible," he said. "In the beginning, I was really nervous. But we had a good flow, I totally enjoyed it in the end. I also enjoy the team because it's different from training duet. It's so much fun to have all the girls around me, we can joke as a team, it's been so nice."
"For the team it's great because, with his strength, we know we can do much better lifts," Michelle Zimmer added. "We are very happy to have him in our team."
Greece, which had finished sixth at last year's World Championships, unveiled a brand new choreography to the theme of "Snakes," created by Stephan Miermont. The Greek showcased great artistic research, attention to detail and a captivating deckwork, but unfortunately received four base marks. Their DD went from a declared 19.30 to 10.05, thus dropping them to 18th.
The acrobatic team final will take place on Monday, July 17 at 7:30 pm local.
TECHNICAL MIXED DUET PRELIMINARY
A record 16 mixed pairs participated in the technical preliminary event. Emma Garcia and Dennis Gonzalez Boneu of Spain qualified to the final with 244.1433 for their routine set to "Vivaldi's Winter." While these are Garcia's third World Championships, these are Gonzalez Boneu's first at the senior level.
"This is our first time swimming together in a World Championships," Garcia said. "We are really happy with our performance. We are trying to do what we have to do, not do some strange things because of the competition, the nerves, the adrenaline… So, we are happy that we stayed focused. We have to try to do the same thing tomorrow."
"This is my first World Championships and the first routine I swim here," Gonzalez Boneu said. "I am trying to be calm, not stress too much, and stay focused on what we trained to do. Sometimes it's difficult, I am very powerful, always moving, with energy (laughs). So I try to focus on the routines and do everything step by step."
Itzamary Gonzalez and Diego Villalobos of Mexico qualified in second place with 228.0075, while Sato Yotaro and Sato Tomoka of Japan landed in third with 227.7200, which included a base mark on their first free hybrid. Nonetheless, the siblings, silver medalists in 2022, notably received three 10s on their opening acrobatic. 
The pairs of Kazakhstan, Great Britain, Korea, China, Chile, Peru, Belgium, Serbia and Colombia also qualified to the final. The Chinese Shi Haoyu and Zhang Yiyao, 2022 bronze medalist, had declared the highest DD of the field (30.85), but received three costly base marks that dropped them to seventh.
Belgium's Renaud Barral and Lisa Ingenito were visibly emotional after realizing they had qualified for finals, which had been their main goal coming into these World Championships. 
"We are so happy," Ingenito said. "We told ourselves that just by walking up those steps to the deck, most of the work had already been done and that we should take it all in. Being here, representing Belgium at Worlds, has been incredible. And now to think that we made it to the final… It is unbelievable."
"There are no words…" Barral added. "I remember watching my first World Championships in 2003 in Barcelona. I was always dreaming about it but I also knew it couldn't be a realistic dream… (he tears up)"
The pairs of Korea and Peru made their first appearance in  a major international competition. Byun Jaejun and Kim Jihye of Korea scored 188.9558 for their "Tango" routine and finished sixth.
"I was so nervous and very worried," Byun said. "But I took a lot of deep breaths to calm down and tried staying focused on my routines. I want to push even more in the final tomorrow."
Sandy Quiroz and Alvaro Arones of Peru have already been training together for three years and competed at the 2021 South American Championships and the 2022 Bolivarian Games. This is however their first World Championships. They were thrilled at placing ninth with no base marks and scoring 177.0883 for their "Wednesday Addams" routine. 
"I am feeling so excited to be here, to represent my country at the World Championships," Quiroz said. "Seeing each country and everyone in the pool at the same time can be a little overwhelming. But being with this amount of people in the water is amazing. We found out at the end of April that we could go to the World Championships, but we didn't believe it at first. But now we are here, and we are very, very happy."
"We are really excited," Arones said. "We wanted to go to the final, and no base marks of course. And we did it. We focused a lot on this exercise, so this result is really nice for us."
The technical mixed duet final will take place tomorrow, July 16 at 4:30 pm local.
ARTICLE BY CHRISTINA MARMET
All photos: Andrea Masini / Deepbluemedia
Purchase photos of the competition on Deepbluemedia with the  code "INSIDESYNCHRO" for 15% off!