"It has not been easy. In those words, I have always hidden a world of events, thoughts and fears that have made my sports career very different from what one might imagine."
Thus starts the blurb on the back cover of Giorgio Minisini's autobiography, Il Maschio. 
The Male.
In the sport of artistic swimming, Giorgio Minisini needs no introduction. Three-time World champion. Five-time European champion. Eight-time World medalist. 12-time European medalist. The first-ever European champion in the men solo in the senior category. The Best Male Artistic Swimmer in 2017 and 2018 as named by World Aquatics, the sport's international governing body. A pioneer for male artistic swimming in Italy and worldwide.

But in between the medals, the competitions and the glory, there is a life. 
Published in May by Sperling & Kupfer, Il Maschio reveals a different side of the Italian champion. With the same passion, courage, and determination that led him to success in sports, Giorgio opens his heart, not ashamed of revealing the most fragile parts of himself: the uncertainties, the sense of failure and inadequacy, the bulimia, the depression. Everything he's had to face in an environment burdened by conditioning and preconceptions.
Ultimately, Il Maschio is about the journey of chasing dreams without losing oneself, and an invitation to continue to do so, even when the road seems barred or strongly uphill. The 27-year-old hopes that his story can, in turn, help those who may feel alone and lost. Those who may want to find their way back.
"Or even better, not to get lost."
Inside Synchro: Can you tell me how Il Maschio started, and why write this book now?
Giorgio Minisini: I did a TEDx talk in October 2021, and the crowd was really interested in my story, much more than I thought. I always thought that I had a normal story, that my story in the sport was not so special. But there, I could see people wanted to know more. I thought that I had something to say, so why not say it?
I started writing around that time and finished the first draft in December 2022. Writing it down really felt like therapy for me. Even before I started doing actual therapy. Because I discovered again a lot of things that I had forgotten. Like, why I started doing this sport, and what I expect from myself, from the world, from being an athlete. I had forgotten it in the last few years. Writing this book really helped me remember. The point wasn't the history of my results. What mattered was the history that you cannot see, the hidden one. 
Now, I really feel that I am a different athlete. Something changed while writing the book. You know, I never lied to people. I always showed something that was real, that was Giorgio. But it was only partial. The "dark side of Giorgio" never really came out. In competitions, when I had the opportunity to show something, much of the time I was so happy. So, I showed the happy Giorgio. But I always felt that I was giving a partial image. 
Then, I realized that people who were suffering from similar conditions as me might gain something if I told the "dark side of Giorgio". I chose to write also for that reason. To say to people who are like me, "Don't worry, it's okay, you can do both. You can be light and dark. It's not a problem, it's something that happens, and you can find a way to work it out."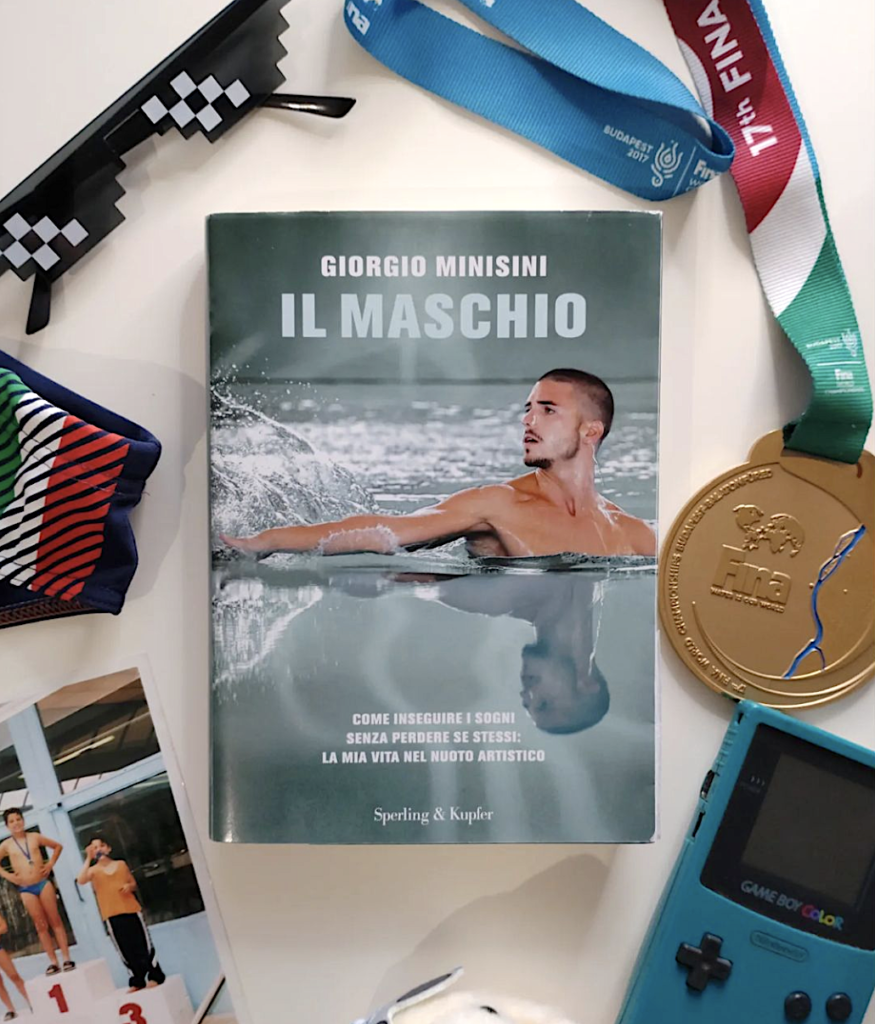 IS: You talk about the struggles you went through, and write about important topics, such as bullying, bulimia, and depression. These are rarely spoken about to such depth, but sadly are very relevant to artistic swimming. Did you have any apprehension about opening up on these subjects?
GM: I felt there was something to say because I saw a lot of my friends fall into these kinds of conditions. I saw teammates getting anorexic or bulimic, facing depression… You feel alone and you face all these things alone, even if people are close to you and want to help. When you go to the core of it, you are alone. But knowing that other people feel the same way, you feel a little less alone. 
I felt this way when other athletes talked about it, like Michael Phelps or Simone Biles. It made me think and question myself. In the end, I also wanted to make use of my good fortune. Because, I was fortunate. I had everything in my life: the World Championships, European Championships, Italian National team, the police group… So, I wanted to give back in a way, to share my experience and maybe try to make someone feel less alone. 
As you say, in artistic swimming, these conditions happen a lot. The problem with our sport is that for many years, we never judged only the athletic performance, but also the body and the figure. When you reach your top performance and you feel that there's nothing you can do to improve if not lose weight, that's really dangerous. A lot of people fall for it. I fell for it. 
There was a period when I wanted to go down to 60kg. I was 73kg, and I wanted to go to 60. Six Zero. I felt like a loser every day I wasn't 60kg, and that's dangerous. Sport should be nothing that makes you sick. We should really talk about that because no athlete should think, at any moment, that the solution for getting better scores is to lose weight. Maybe losing weight can be a solution to perform better because of course if I am fit, I can perform better. That's all sports. But it's not about judgment, it's only about your performance. So, we really need our sport to be just about performance, and not about the look of the athlete.
IS: This was around 2018, as you write in the book?
GM: Yes, it really started after the gold medal in Budapest in 2017. There were a lot of things going on in my mind because the year after, we felt alone. There were some people who stayed on our side after Budapest, and I will be forever grateful to them. But I also remember people coming to us, saying that we didn't deserve to win…
It fanned some problems I had on my own. I never felt like a World Champion, because I never thought it would be possible for me to be a World Champion. Because for many years before, people told me that I was wrong, doing the wrong things, that I didn't belong. And then I hear this. It wasn't easy. Now I am different, but I went through a lot of stuff. As I said in a press conference, we have rivals, opponents, but we don't need to have enemies. If you don't want to be friends, it's fine, we don't need to be, but we also don't need to be enemies.
I think… Sometimes if you desperately want something and you are prevented from taking it, you don't want anyone else to take it. For many years, the gold medal was something that wasn't accessible. When we got it, I think a lot of people felt that it was unfair. Again, it was not the fault of those people… Of course, it wasn't so kind, but it was also me who didn't have the self-defense mechanisms to protect myself from those attacks. 
What I want now is not to yell or blame the people who made me feel bad. That happened and it's not something I care about anymore. Now, I just want my sport to be an environment where such things don't happen anymore. I suffered a lot from it, and I don't want the guys I see swimming now, who are six, 10, 15 years old to ever feel the same.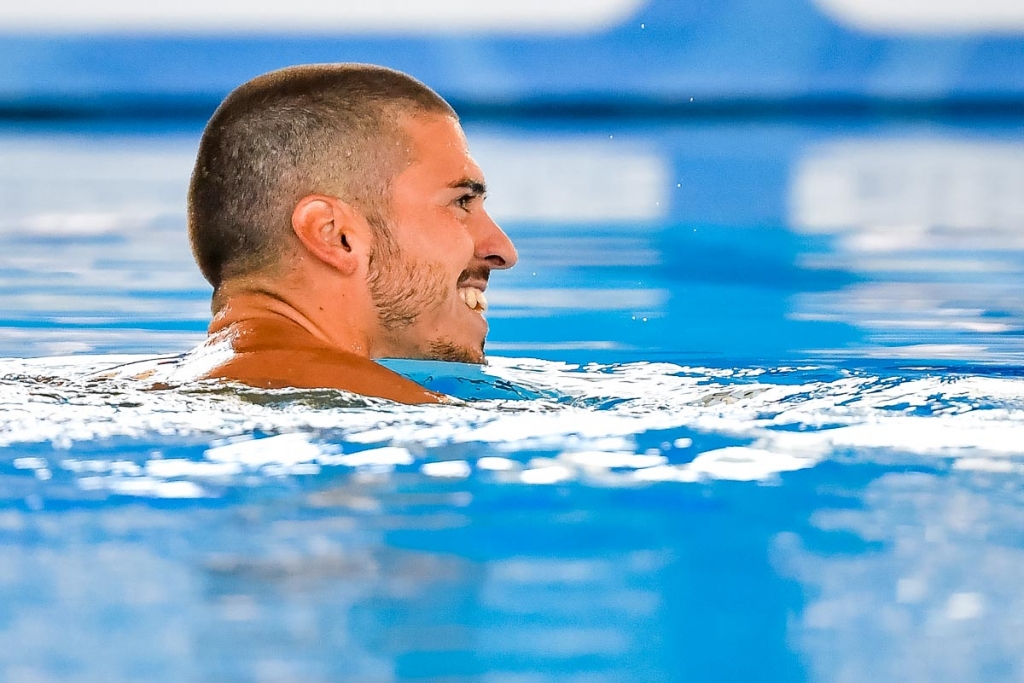 IS: How did you deal with this period of your life?
GM: I started therapy in 2018. The first problem to solve was bulimia, and the first thing we worked on was acceptance. You can only control what you can control. Being in a judged sport, you cannot control a lot of things. That was the first six months of work, and the first step to being at peace with myself.
I am someone who really needs to commit to the work he's doing. What really makes me feel alive is trying my best. So, the next step was to work hard. Not for the results, but simply to work hard. I started training at my best for the joy of training at my best. That really was the beginning of something. Not only about the results, but also about the influence I had on the environment around me. When you live this way, people feel it… 
But then, after Rome 2022, my father passed. I had to face a lot more problems I forgot about. Because when I was in Rome, the athlete was fine, but the person was not. When my father passed, I understood that I needed to also make the person better. If I didn't, then I could not be the athlete. So, I changed therapy, and I started working on the human being who is under the athlete. It's difficult because when you are so used to being judged, you learn how to judge yourself. And it's never in a good way. 
Of course, there's a lot of work to do and I am still working on it. But now, I am capable of being happy for the good things I've done over the years. When I go to the Italian Championships and I see 11 male solos, with athletes from 11 to 27 years old just enjoying themselves competing… They feel things, happy or sad, which comes with any sport, but none of them are scared, afraid of being wrong or doing the wrong sport. That really makes me feel… okay with myself. I helped do something good at the end, and I am learning to appreciate that.
IS: How do you feel knowing that this "dark side of Giorgio" is out in the world now?
GM: I feel free. By writing, I freed myself from truths that I couldn't communicate before. As I said, I always felt that I showed a partial part of myself. Everything was real, but partial. I always felt guilty for that because I knew that I was showing an image of the typical champion. "Look, everything is easy for me, I am a winner, life is beautiful!" It wasn't like that. So, now I feel freer knowing that people know. I know that now, I can be happy. 
IS: Do you feel that it has, in turn, helped the athlete too?
GM: Yes, definitely. When you feel free, you have a lot less mental weight to care about. I can work a lot better now. Of course, we are still learning how to manage these things in the team, because for the group it's not easy to know that my head is such a mess (laughs). But to be free to talk about that without worries, that helps a lot. 
Depression is a really tough disease. It's difficult to live with it. The people around you think they can do something. That used to be the same for me. When I lived with people with depression, I always thought that I could have done something, and if I wasn't doing something, that it was my fault. It's not like that. Maybe, it's a bit like a cold in the sense that you cannot cure a person with a cold just by standing near them. It's difficult for people to accept that they cannot do much to help you. But when people understand that, then it's enough that they are there, present. My teammates are doing a great work on that, they understood how to be present for me without feeling responsible for my condition.
IS: What are some other topics you touch upon in the book that matter to you?
GM: I talk about school! I was a really bad student, which is something that a lot of people are surprised about. But it's because I don't like doing things I am forced to do, and that still happens today. I really hate to do some things I am forced to do. But if it comes from me and I choose to do the same thing, then I can do it the best I want. 
Another one is the reason why I started… Of course, because of Bill [May]. Yes, he was this incredible World-class athlete and performer. But what really hit me was when he was getting out of the pool, he was getting all the cheers and a crowd of girls chasing after him. I was four years old at the time, so I thought, okay, that's a good way to be liked by girls (laughs)! I just wanted to be a "Casanova". So, I decided, I will do artistic swimming so I can have a lot of girls. That's actually it! The world is so easy when you are a child.
IS: You already mentioned you wanted to help people feel less alone with this book. Is there something else that you hope readers will take away?
GM: You cannot change the way people look at you. It's their own choice. So, I wanted to change the way people think about themselves.  That's something I cannot do of course, but I can give some tools, hints, visions. Maybe as a result, that can help people question themselves and look for answers. When you look for answers, you often find something. That's what I want this book to achieve. 
I received messages that made me feel proud. Honestly towards the end, I had a lot of doubts about this book. I thought maybe it was too much, that I told stories that were too dark. But reading these messages really was a relief. What I wanted some people to feel, it happened. Some people may be disappointed if they were looking for the story of a perfect champion. And it's okay, as long as other people feel the way I want them to feel. It has helped me a lot to hear other athletes talk about these topics, so I am happy to have had this opportunity to maybe help someone else, too.
IS: How are you doing these days after your knee injury? How do you approach this new season physically and mentally?
GM: The injury was upsetting but not shocking. I actually had a first problem at the European Games which kept me out of technical team. After a first check, I found out that I would have needed surgery after the World Championships anyways. Of course, I would have preferred to compete at worlds and then have the surgery. But I'm glad that the injury happened a week before the competition because it gave the team some days to adjust.
Recovery since has been quick and easy. A week after the surgery, I was already walking, and I started rehabilitation. I've spent the summer in the Olympic Training Center in Rome getting cared for by the physiotherapists there. I've also enjoyed spending time with athletes from other disciplines. It has been a mind filling experience, which willed me and motivated me to come back even stronger.
I approach this new season with a clear mind. From this forced stop, I understood that my time has not come yet and that I still want to say a lot in the water. As a team, I think that we have a lot of growth potential. Of course, the focus right now is only on the World Championships in Doha. We know that this is going to be a long year, but every journey starts with a single step.
ARTICLE BY CHRISTINA MARMET
Cover photo: Deepbluemedia
If you've enjoyed our coverage, please consider donating to Inside Synchro! Any amount helps us run the site and travel costs to cover meets during the season.