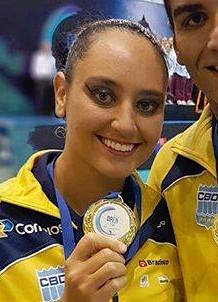 | | |
| --- | --- |
| Full Name | Giovana Nunes Stephan |
| Nation | Brazil |
| Birthdate | May 5, 1990 |
| Olympics | |
| Status | Active |
| Social Media | Instagram (personal) | Instagram (duet) | Facebook |
Career Highlights
One of the veterans of the Brazilian team…On the national team since 2007…First Brazilian soloist to qualify in a world championship's final in 2009… Competed in seven FINA World Championships (2007, 2009, 2011, 2013, 2015, 2017, 2019)… Was soloist from 2009-2011, and again in 2017… Part of the duet in 2013-2014 worlds… Bronze medalist in team at the 2007 and 2011 Pan American Games… Served as reserved to the 2008 Olympic duet…Part of the mixed duet since 2016 with Renan Alcantara.
2020: Did not compete internationally due to the COVID-19 pandemic and the cancellation of all meets.
2019: Placed fourth in team at the Pan American Games… At the world championships, finished seventh in both technical and free mixed duet events, eighth in free combination, 15th in technical team, and 16th in free team… Also won two bronze medals in the mixed duet events at the French Open, and competed in the other team events as well.
2018: Won gold in mixed duet, team and combo at the South American Championships…Earned two gold medals in both mixed duet events at the UANA Pan American Championships, and also silver in technical team and combo, and bronze in free team.
2017: Finished seventh in technical and free mixed duet, and 14th in technical solo at the world championships…Won gold in free mixed duet at the Chile Open.