The duet event will be the first synchro event to take place in Rio from August 14 – 16. 24 nations have qualified for it, and all will battle for a spot in finals and on the Olympic podium.
Unlike World Championships, the technical scores and free scores are combined here for a total score which will determine the qualifiers to finals and the overall standings. At Worlds, technical and free routines are entirely separate events.
In Rio, each nation will first swim in both the technical and free duet events once. The 12 best combined scores will go on to finals, where these 12 nations will swim their free duet routines only. After that, the technical score will again be combined to determine the final rankings. Free duet prelims are on August 14, technical duets on August 15, and free duet finals on August 16.
Last Time Out: 2012 London Olympic Games
Let's start with a refresher on what happened four years ago. Russia's Natalia Ischenko and Svetlana Romashina comfortably won the gold with their doll-themed free duet and Michael Jackson-themed technical duet. The pair finished with about a four points lead over the silver medalists with a combined score of 197.1000. They really were (and still are) in a league of their own.
The fight was most exciting for the silver medal in London. After prelims, China was in second place while Spain was in position for bronze. However during finals, Spain's Ona Carbonell and Andrea Fuentes edged out China's Huang Xuechen and Liu Ou for the silver by 0.03 points! Their tango duet won over the crowd, and is considered to this day by many fans one of the best duets ever from Spain. Spain scored 192.900 while China ended with 192.870.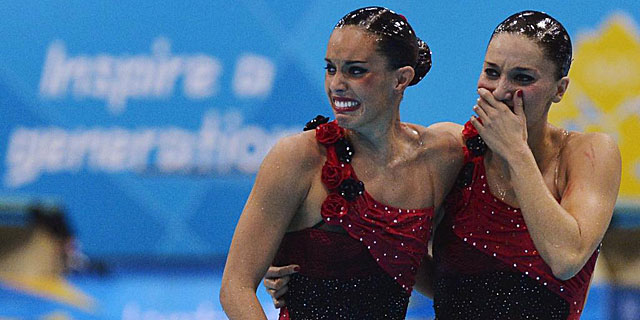 These three nations came in as the heavy favorites for the three medals, but it had remained unclear who would get silver and bronze.  The rest of the rankings in finals was: Canada (189.120), Japan (186.740), Ukraine (184.870), Italy (181.420), Greece (178.560), Great-Britain (177.270), France (176.260), U.S. (175.670)and South Korea (173.950).
If you feel like re-watching the entire meet, click here for free duet finals and here for technical duets.
What To Expect This Year: The Medal Contenders
Russia's Natalia Ischenko and Svetlana Romashina are both back in Rio to defend their title. They are planning to swim their mermaid-themed free duet presented at the 2016 European Championships, and they are supposedly also sticking with the same "Gipsy" technical duet. The mermaid duet impressed a lot at Euros by its technical difficulty and incredible speed, proving yet again that the Russians are just one step ahead of everybody else. The pair is coming in as heavy favorites, and barring a disaster, they should win another Olympic gold here. The Russians have faced incredible outside pressure after the Sochi doping scandal and the last-minute decisions from the IOC but they will handle it to put out their best performances out there. We can't expect anything less, and they will not let an Olympic gold slip away.
Now, the battle is going to be very interesting for silver and bronze. The favorites are a little less defined than in London, and all fairly close to each other in terms of scores so it will be intense, stressful and exciting. Everything we like to see in a competition!
China, Ukraine, Japan and Spain should all be considered to complete the podium behind Russia. China will aim for silver and to get closer to the Russians score-wise. The Chinese have been hiding in preparation for these Olympics, so it is very hard to gauge where they are at. 2012 Olympian and bronze medalist Huang Xuechen is returning and her experience on this huge international stage will be very valuable. At the 2015 World Championships in Kazan, her and partner Sun Wenyan won the silver in both technical and free duets comfortably ahead of the bronze medalists, so it is very likely China could grab this medal again here.
Japan and Ukraine are two nations that have steadily risen in the rankings since 2012, and their scores will be very close here. In Kazan, Japan grabbed the bronze in the technical duet, but Ukraine edged them out for bronze in the free duet event. It would be phenomenal for either nations to receive an Olympic medal and this fight will be intense. The Ukrainians are now led by Anna Tarres, who previously took Spain to the top of the podiums, while Japan is led by Masayo Imura who also helped in the incredible rise of another nation, China. These two are fearless leaders, and know what it takes to win Olympic medals. Thanks to their coaching and training regimens, it has been exciting to watch both countries climb up the hierarchy.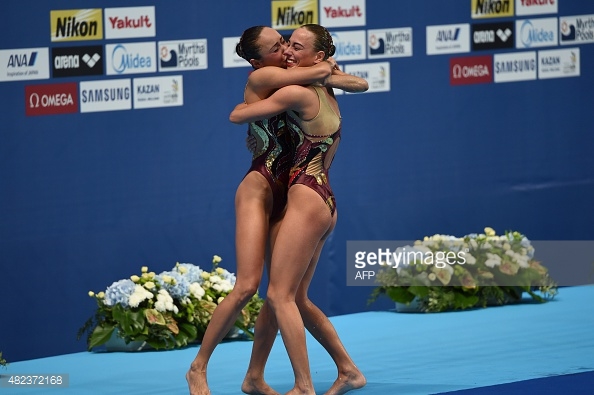 The biggest wildcard is coming from Spain with Ona Carbonell and Gemma Mengual. The duet is new, but the swimmers are extremely experienced and are essentially legends of their own in this sport. Both have competed internationally many times, both are returning Olympians (Mengual – 2000, 2004, 2008; Carbonell – 2012), and both are undoubtedly the best Spanish synchro swimmers of all times. So paired together, we should technically be in for something great.
In Kazan, Carbonell was paired with Paula Klamburg and they finished fifth behind Russia, China, Ukraine and Japan. Spain has had a very rocky quad overall and has had difficulty finding a steady, consistent pair for the duet event for multiple reasons. Carbonell and Mengual have been hiding a lot in their preparation for Rio, skipping the 2016 European Championships and requesting to not be filmed while competing at the Spanish Open and at the U.S. Open. Their duets should be difficult and intricate as both swimmers have the same strengths and qualities. It is hard to guess where they will end up in the international rankings since we haven't really seen them together yet and this is their first major international competition together. It will be an uphill battle, but again both have the background and credentials to make it big, and they will certainly look to repeat their 2012 results.
What To Expect This Year: The Rest Of The Field
We can expect Italy, Canada, Greece, Mexico and France to comfortably make it into finals. Italy and Canada should be right in the middle of the pack behind the five teams mentioned above. In 2015, Italy had a slight edge over Canada in free duet, but the Canadian pair took the lead in technical duets. As scores here will be combined, it is likely that the smallest margin will separate these two nations. Italy's duet is composed of first-time Olympians Linda Cerruti and Costanza Ferro, while Canada is returning Karine Thomas who swam in the team event in 2012. She is paired with Jacqueline Simoneau, who has had fantastic results in the junior category and is one of their most promising swimmers.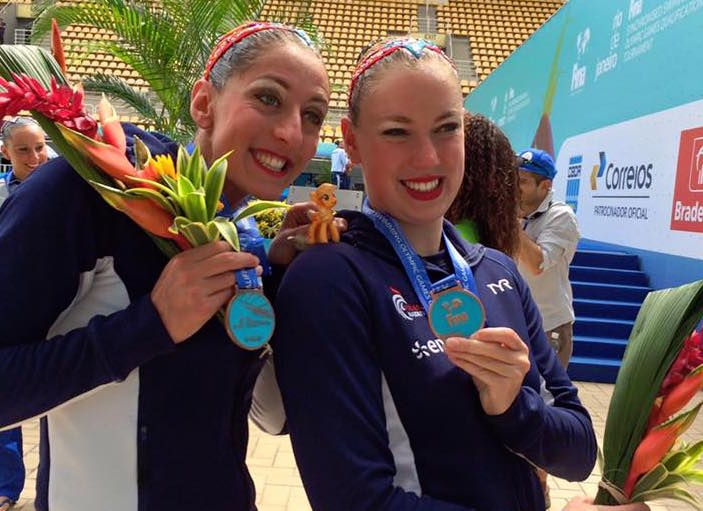 It will be interesting to see how Mexico and France rank. The two have been going back and forth at numerous meets during the 2016 season, but the Mexican pair has been making steady progress and has already announced in the press that their duets presented previously were somewhat "watered down" from what they are capable of. Is it pure strategy in order to intimidate France? Or do they really have a lot of surprises for us in store?  In the meantime, France's dynamic duet of Laura Auge and Margaux Chretien is ready to fight, and the pair is aiming to replicate their top 8 finish from 2015 Worlds.
The Greeks weren't present at the 2016 European Championships, but they should be able to make finals and to fall around the 9th – 12th place. Similarly, the U.S. and Brazil are also contenders to grab one of the final 12 spots in finals. It will be tough for Brazil to make it, but we can expect a boost in confidence in their performances from swimming in front of their home crowd, so it is a possibility.
The pair that has the most potential to cause a big upset is the Austrian one with two of the Alexandri triplets, Anna-Maria Alexandri and Eirini Alexandri. They are a young duet but have already brought Austria to new levels on the international stage by medalling at the 2015 European Games. It wouldn't be surprising to see them sneak into finals in Rio and kick Brazil or the U.S. out for a spot. These two sisters have very delicate and refined movements, and a 'floaty' quality to their choreography that always makes them fan-favorites. Since the 2015 World Championships, their rise has been spectacular. They were very close to France's duet at the 2016 European Championships, actually tying it in artistic impression and scoring only 0.3 points behind in free duet. Keep in mind France was ahead by about three points in 2015, and now the gap has narrowed to 0.3!
There are many more duets that have qualified, and all should be a treat to watch. In synchronized swimming, it is extremely hard to shake up the hierarchy and it takes many years to do so, which is why our focus here was on these nations that will likely make a splash in this competition and that have the most potential to make it in the top 12 (or else we would be writing 2,000 more words!). You will not see a duet that ranked 18th at the last World Championships all of the sudden qualify to finals at the Olympics. Our sport is quite predictable in that way. That said, every duet in Rio is the very best of their own country, and all have put up with grueling training hours and incredible sacrifices to make it to this level, so we can't wait to watch them all!
For a full list of participants, please click here. The schedule is also available here, as well as help to find out about live streaming information and live scoring.
Article by Christina Marmet