The 11th FINA World Trophy is held this weekend (November 26 – 27) in Yangzhou, China. This meet is like no other, and has its own set of rules and judging regulations, so we thought it could be helpful to spend some time clarifying it all.
What exactly is the World Trophy?
The World Trophy was originally created to encourage creativity in synchro and to promote the artistic side of the sport with the hope of bringing in bigger crowds and increasing viewership.
The World Trophy is held yearly usually towards the end of the year in November or December. To really encourage teams to focus on artistry, the judging system is completely different from any other international competition. Here, scores are given only for the Artistic Impression and by two panels of judges. One panel is made of five FINA neutral judges appointed by FINA, and the other panel is made of five 'celebrity judges' appointed by the host nation.
What makes this meet so special?
In addition to the unique judging set-up, the rules for accessories, swimsuits and make-up are a lot looser here. Accessories are actually allowed on deck in all events, and can also be used throughout the routine for the thematic duet and free combination routines; something you would never see at World Championships for example.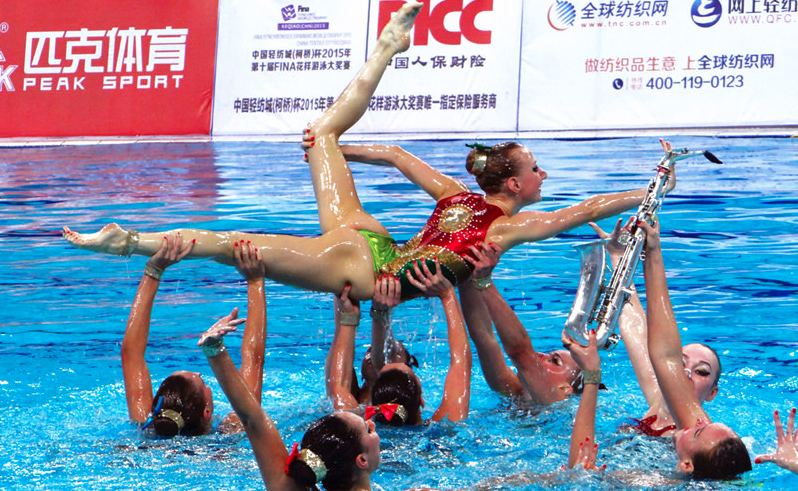 Moreover, there is no time limit for deck presentation. You will likely see more elaborate and longer deckworks than you'd see at Worlds or at the Olympics, where it is limited to 30 seconds.
Which events are held at this meet?
The events held at the 2016 FINA World Trophy are the highlight, mixed duet, thematic duet, free team, and free combination. We will also get to see solo exhibitions but they will not be judged or counted towards the final country's score.
1 – Highlight Routine
The Highlight routine focuses on acrobatics, lifts and throws, and can be performed by eight to 10 swimmers. Each nation is required to perform a minimum of four acrobatic movements, a connected/intertwined action, and a float to give a kaleidoscopic effect. For example, take a look at China's highlight routine from 2015. This is a fun event to watch, especially since we don't get to see it much in international competitions.
2 – Mixed Duet
The rules here are the same as in regular FINA meets, with the exception that accessories may be used on deck and there is no time limit for deckwork.
3 – Thematic Duet
The theme for this event changes every edition of the World Trophy. This year, the theme is 'Street Dancing.' Evidently, the music and choreography must reflect the theme chosen. Each thematic duet lasts 2min 30 seconds, and accessories are permitted through the entire routine.
4 – Free Team
The rules are the same as in regular FINA meets, with the exception that accessories may be used on deck and there is no time limit for deckwork.
5 – Free Combination
The rules are the same as in regular FINA meets, with the exception that accessories may be used throughout the whole routine and there is no time limit for deckwork.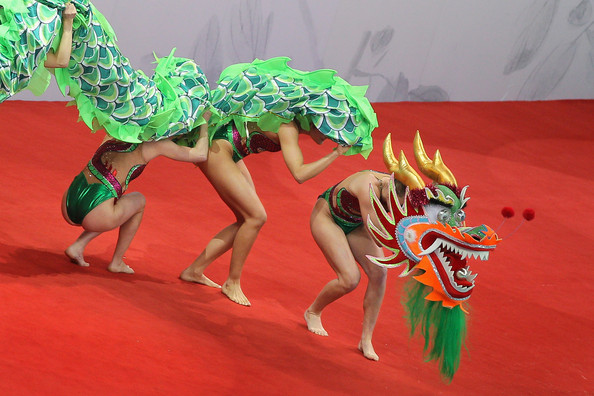 What do the countries win?
Each swimmer will be awarded medals as usual for each event. A nation is eligible to win the actual trophy only if it has entered all five events. There is also a prize money, where the 1st place nation wins $50,000, the second $30,000, and the third $20,000. Nations who place fourth to 12th will also receive prize money.
We have listed below the top three winners from past editions:
2006 (Moscow, RUS): 1. Russia, 2. Spain, 3. Japan
2007 (Rio de Janeiro, BRA): 1. Russia, 2. Spain, 3. United States
2008 (Madrid, ESP): 1. Spain, 2. China, 3. Russia
2009 (Montreal, CAN): 1. Canada 2. Russia 3. Spain
2010 (Moscow, RUS): 1. Spain 2. Russia 3. Ukraine
2011 (Beijing, CHN): 1. Spain 2. China 3. Canada
2012 (Mexico City, MEX): 1. China 2. Japan 3. Ukraine
2013 (Mexico City, MEX): 1. China 2. Ukraine 3. Spain
2014 (Beijing, CHN): 1. China 2. Russia 3. Canada
2015 (Shaoxing, CHN): 1. China 2. Russia 3. Ukraine
Since this meet is held during the off-season for many nations, the attendance is pretty sporadic, and the participating nations most often do not send their best swimmers. It is normal to see some club teams exceptionally represent their country, or to have nations send their B or C teams there to test out the next generation. This will be especially obvious this year, as the Olympics concluded in August and we can expect a big turnover rate in many teams and a well-needed time for adjustment or recovery. This year, FINA has announced that only China, Japan, Ukraine, Kazakhstan, Italy and Russia will be participating.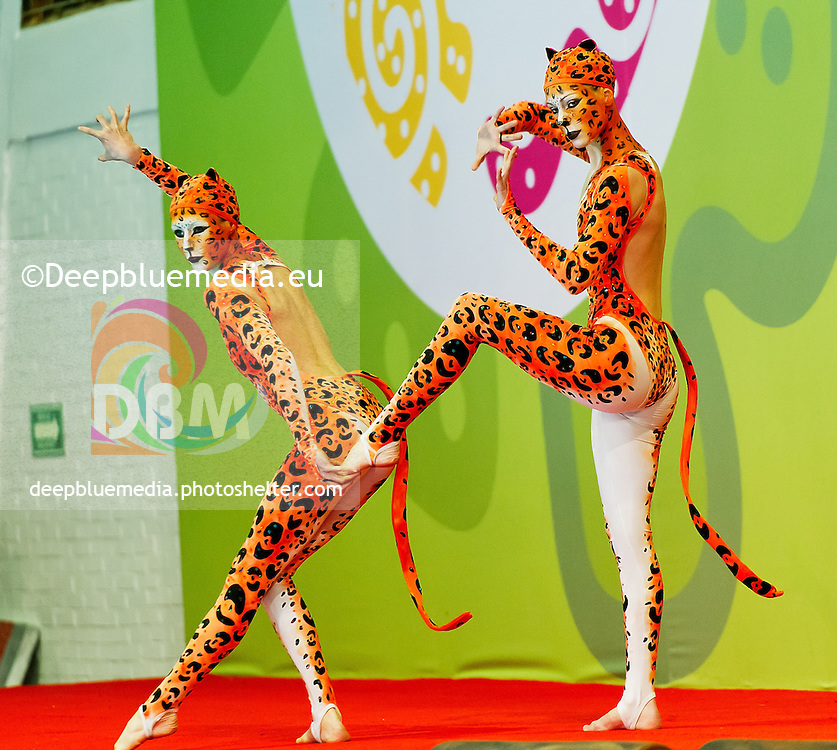 From the fan perspective, this meet generates mixed reactions. On the positive side, swimmers and coaches get to let their ideas flow freely and to try some new, weird or crazy moves. The idea of focusing on artistry is a great one, and we have been able to witness original choreography at this event over the years.
However, some nations take the whole "no-rule" rule a bit too far, and some show up with extravagant looks. Considering our sport is already having trouble finding legitimacy with the general public and is constantly being made fun of, I too get irritated when some teams push the envelope too much. In my opinion, showing up with crazy make-up or costumes only belittles the athleticism of the sport and how incredibly strong each athlete is.
That said, we do get amazing routines that we would probably never get to see otherwise, like this solo from Bill May in 2015:
Or one of my all-time favorites… USA's free combination routine done at the 2006 World Trophy:
It will be interesting to see what teams have in store for us for this 11th edition of the World Trophy. Don't forget to tune in on November 26th and 27th for all the action! We will be posting draws and routine rosters as soon as they are made available.
Article by Christina Marmet