At the age of 16, Lara Mechnig has already left her mark in the synchronized swimming world. While swimming for her club team in Switzerland during the regular season, Mechnig is also one of the first swimmers to represent the small nation of Liechtenstein at major international competitions like the European or World Championships. As she keeps improving and participating in both junior and senior competitions, the young star hopes to inspire a generation and for synchro to grow in her country.
Inside Synchro sat down with her during this off-season and discussed what her daily life is like, how making history for Liechtenstein feels like, and what her goals for the next few years are.
Inside Synchro: Can you briefly tell us about yourself and summarize your career in synchronized swimming so far?
Lara: I started swimming at the age of six. We only did small competitions at the time. When I was nine, I took part in the Swiss Championships for my age group. Since then, I have participated every year and have been able to win various titles [editor's note: Mechnig is the reigning Swiss champion in solo, duet and figures]. 
I am now 16 years old and I attend a sports school which really helped me improve. The school is called "Liechtensteinisches Sportgymnasium" and is in the capital Vaduz. It allows me to train during times where regular students have to go to different or less essential lessons…like art or music.
Internationally, I participated in the COMEN Cup in Andorra at the age of 13 but I only competed in the figures competition there. One year later, I was able to represent Liechtenstein as a soloist at the COMEN Cup in Greece. It was a huge honor for me.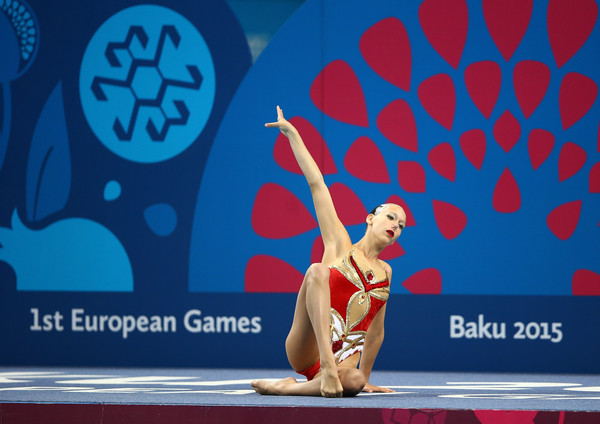 IS: What do you like most about synchronized swimming?
L: Synchronized swimming never gets boring! I love that there is always something new to learn. I like that I am able to practice a sport which allows me train in a team and also alone. The amount of variety makes this sport much more enjoyable. I also really appreciate all the wonderful places I get to travel to thanks to synchro.

IS: Can you tell us a little more about what a typical day or week is for you? 
L:  My morning starts off at 7:45am with regular classes at school. Most days, it lasts until 12:00pm. Afterwards, we have two hours for practices that are only scheduled for student-athletes. This is on Tuesday, Wednesday, Thursday and Friday.
On Monday, Wednesday, Friday and Saturday, I also have practice with my Swiss club and it lasts about four hours.  Altogether, I train between 21-24 hours a week. Sadly, there is not much time for other hobbies, but since synchro offers so much variety in itself I don't mind it too much.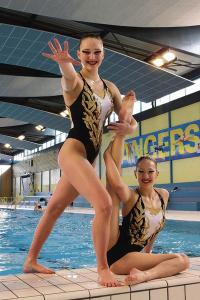 IS: Can you tell us more about your experience in Switzerland, and how did you come to represent Liechtenstein internationally?
L: I swim for a club in Switzerland called SC Flös Buchs. With them, I swim solo, duet (but not with the same partner as for Liechtenstein), technical and free team. Liechtenstein is a very small country, so no matter where you live it's a five minute drive to get to Switzerland.This club is also very involved with the Liechtenstein national team. The coach of our national team works there for example.
I don't own a Swiss passport thus I can't compete for Switzerland. As a matter of fact, my second nationality is British but since I don't live there, I also cannot represent England internationally. So that leaves Liechtenstein. And representing Liechtenstein is a huge honor for me, especially because there are barely any athletes doing so.
IS: How does it feel to make history for Liechtenstein and introduce a new nation in the world of synchronized swimming? Are you hoping to start a bigger synchronized swimming following in the country?
It is amazing to be able to say I was one of the first athletes to represent Liechtenstein at synchronized swimming events. It's also quite fun to explain to other people at competitions where Liechtenstein is. The good feedback I get from judges means a lot to me, and my goal is that they keep Liechtenstein in mind.
Additionally, I do really hope more young people will get inspired to start swimming. I would really love to see Liechtenstein have enough athletes to compete in a team event one day. But with a population of only 37,000 people, I don't know how likely that is.
IS: What is your favorite competition so far and why?
L: I really enjoyed the senior European Championships in London 2016 because it was my first international experience in that age group. Another one of my favorites was the 2016 Junior European Championships in Rijeka, Croatia. In both solo and figures, I can say that it was the best I've done at a competition so far and was very happy with my results.
IS: What are your athletic goals for the short-term and long-term? And what are you goals outside of the sport?
L: My goal in Switzerland is to maintain my title of Swiss Champion this year. Internationally, I would like to make Liechtenstein more known. It's important that people don't forget us after a competition. Long-term, we have been discussing Tokyo 2020 lately, which would of course be something amazing to achieve.
I slowly would like to make plans for my future, like where to study and what to study. So that's on my mind at the moment too. At the moment, I am in the economics section at school. I think I will study something other than economics eventually, but that means I can't stay in Liechtenstein as it's the only subject they offer as far as studying is concerned. Maybe I will go to England for university as there are far more options there.
IS: What do you like to do outside of synchro? 
L: I like to do a lot in a day, so I don't feel that the day has gone to waste. So even on the rare occasions when I can sleep as long as I want, I don't sleep for too long and I try to get on with studying as soon as possible so I can enjoy the rest of my day. I spent most of my free time with my friends. I also enjoy just sitting somewhere and having a nice talk.
IS: What is the next competition we can hope to see you at and cheer for you?
L: Possibly the Make Up For Ever French Open in March. If not, then I will definitely be at the Junior European Championships in Belgrade, Serbia or at the World Championships in Budapest, Hungary.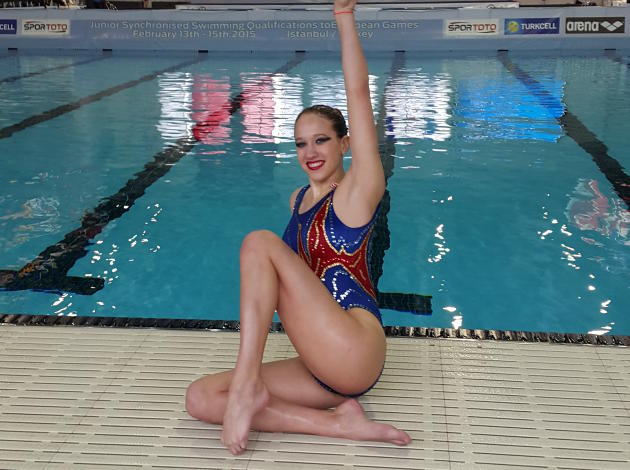 Thanks so much for taking the time to answer our questions Lara! We loved getting to know you, and we wish you all the best for the 2017 season!
Article by Christina Marmet