Lara Mechnig and Marluce Schierscher, 21 and 23 years old respectively, are potentially on the brink of history for Liechtenstein. The small landlocked nation has never been represented at the Olympic Games in artistic swimming. After years of improvement, the pair, swimming together since 2015, can almost touch its Olympic dreams.
Since 2017, Mechnig and Schierscher have increased their scores by up to eight points and have succeeded in establishing themselves in the rankings. However, they know it won't be a walk in the park to earn a place in duet at the Tokyo Games, an event which already lost two spots since 2016. 
At the 2019 FINA World Championships, the two positioned themselves on the bubble to be amongst those qualified originally one year later. A few months later at the 2020 French Open, they reached their best score to date to move ahead of Switzerland and Germany, their most direct competitors, and to inch closer to Israel. That would ultimately be their first and last competition of that season.
Despite the rollercoaster of emotions and postponements that 2020 brought, they continued training non-stop. At the virtual 2021 American Open, their first competition in nearly a year, they reached another career-best score in the technical duet. Eager to show their progress, they have now positioned themselves as strong contenders to grab one of the few remaining spots in duet for Tokyo. 
Inside Synchro: How are you guys? What has the past year been like for you two?
Marluce Schiercher: We are doing good, working a lot. We train about six to seven hours per day. That's all we do (laughs).
Lara Mechnig: When the Olympics were postponed, it was for sure a disappointment at first because we were on a really good path. We had a good result in Paris [at the French Open]. We could tell that other people also appreciated that we made a lot of progress. The feedback was really good, so it was encouraging. But we quickly realized we had to see this delay as an opportunity to make more progress too. It was still really hard to accept, of course. But now that it's closer to that time again, we are pleased with the progress we've made.
Marluce Schiercher: Yes, it was a lot at first. I also wanted to start studying after the Olympics, but it was pushed another year. It was the same for Lara.
IS: And then again, the Olympic Qualification Tournament got postponed for the second time this past January. How did you handle the news?
MS: We were a little shocked. After two or three days, we again understood it was the right thing to do. We were also happy to have two more months to work on our routines. 
LM: Overall this past year, we adapted well and very quickly. We also knew the risk, but it's worth it. Last-minute changes are to be expected with the pandemic. We are getting more and more used to the situation.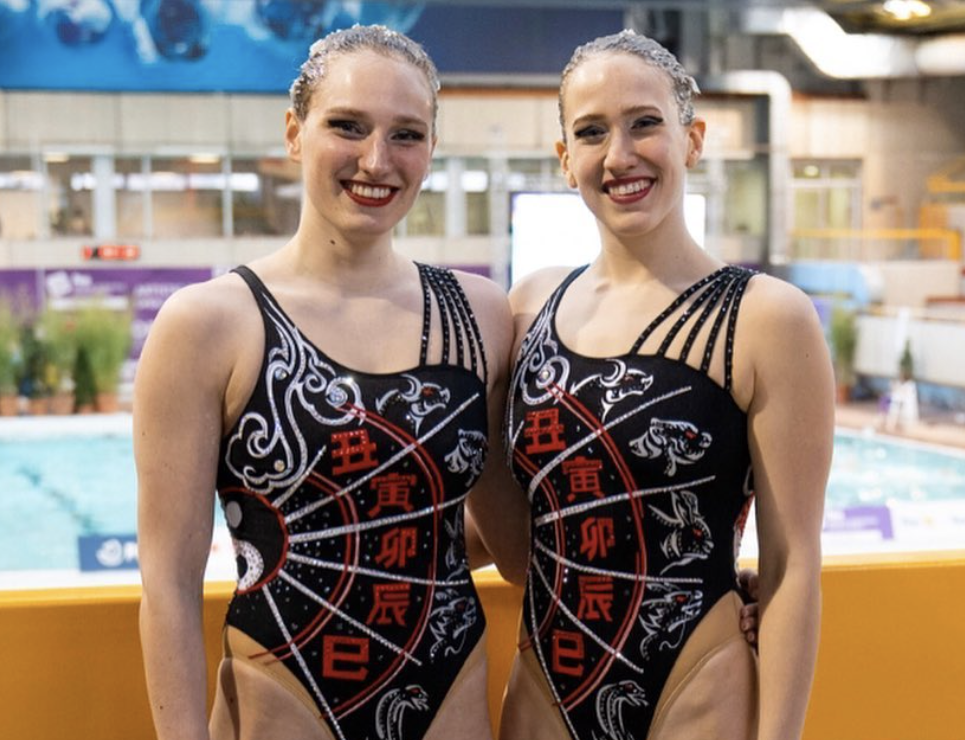 IS: Were you out of the pool at all during the lockdown?
MS: We were able to swim all the time actually. Liechtenstein mostly follows what Switzerland does, but a bit delayed. So when they started the lockdown and closed everything in Switzerland, we knew it would happen in Liechtenstein too. 
LM: Yes, we had to move fast, so we went to the little government in the city we live in in Liechtenstein. Since we are a small country, it was much easier for us. They said we could still use a pool that's actually in the primary school here. It's really small, but we were able to train there with our coach [Francesca Zampieri]. We were really lucky to not be out of the water.
IS: So right now, your training is split between Switzerland and Liechtenstein?
LM: Yes. We live in Schaan in Liechtenstein, and we train here about once a week. All the other days, we are in Switzerland. 
MS: We train three days a week in Sursee, near Lucerne, in Switzerland. The other days, we are either in another pool there but closer to home, or in Liechtenstein.
IS: The Swiss duet also trains in the same pool in Sursee. How do you manage seeing and training near one of your most direct opponents for the Olympic Qualification Tournament?
LM: Yes, sometimes it's a bit difficult (laughs). We try to kind of get by each other because it works best to use the music. They have a morning session, a lunch break, and an evening session. We just have one long session. But overall, you just definitely have to try to stay focused on what you're doing. You can't keep watching them or saying, "Oh look at this move they're doing," and compare yourself. It gets into your head, and it's just not good. We really try to stay focused on our work and own training.
IS: You worked with coaches and choreographers Olga Pylypchuk and Anna Tarrés this past year. What have they brought or changed to your training?
MS: We still see Olga once a week. Anna came in November, and mostly looked at the choreography. She suggested we change a lot so… We changed a lot (laughs)!
LM: We are really excited to show what we've been working on. We are training intensely only the two of us together now. In the past, we used to also swim with our Swiss club in the team routines and such. We haven't been doing that anymore for two years. Obviously, we are also doing a lot more hours, and we don't go to school for now. We've had a lot of time to really only focus on the sport.
MS: We also started having strength training with another coach. I think that helped us too in the water.
IS: You both form the first elite duet for Liechtenstein in artistic swimming. Did you feel you had to earn recognition in synchro and within the sports community in the country?
LM: We definitely did need to make a name for ourselves in the synchro world, but we are getting there. In our country, we get a lot of support from the fellow citizens. A lot of people know us, and cheer for us. We also get some small financial support from the government. But artistic swimming is really not the most known sport.
MS: It's a bit easier now for the younger ones, but there are still no clubs here. Many Liechtensteiners go to Switzerland like us.
IS: How did you two get started in artistic swimming?
MS: I started through a swimming teacher in school. I went to a course once and I just stayed in it. Later, I realized I wanted to keep going and see if we could achieve like the Olympics.
LM: My sister saw synchro in some kind of Christmas show. I started when I was six and it just progressed from there. I was really lucky to be talented and to have some success. That made me want to keep going. Fighting for a big goal like the Olympics with Marluce has built such a strong connection. It's a very cool experience to fight for something you really want with another person.
IS: Lara, we had spoken back in December 2016. You were 16, fresh off your first international senior competition. Tokyo was a very vague and remote possibility for you. Now, you're devoting all your time to it. What has your journey looked like in the last four years?
LM: So much has changed (laughs).  The biggest thing is the experience I've been able to gather at so many different competitions. I was already lucky to take part in elite competitions when I was still quite young. I saw straight away what it was like and what needed to be improved. One thing I was always told was that I looked like a child (laughs). I didn't look like a grown up when I was swimming, so now maybe I'm slowly getting there.
IS: You mentioned your studies earlier. What are you hoping to go into eventually?
MS: I want to study landscape architecture. 
LM: I am probably tending towards health sciences and technology. Right now though, that's all on hold. I think it's the best way to reach our goal and to devote 100% of our energy to it.
IS: Naturally, one of those goals is the Olympic Games. Is there anything else you guys would like to accomplish?
LM: Honestly so far we've just had our eyes set on the qualifications. That would really be a highlight for our careers. Apart from that, it's a bit difficult currently to set more goals because of the COVID situation. We originally wanted to go to the European Championships, but now we won't because it's so close to the qualifiers. We do hope to compete at the World Series in Budapest [April 9 – 11].
ARTICLE BY CHRISTINA MARMET
If you've enjoyed our coverage, please consider donating to Inside Synchro! Any amount helps us run the site and cover costs to travel to meets during the season.