The German Open was the first major international meet of the season and allowed us fans to get a glimpse at what some of the countries in attendance had in store for us for the rest of 2017. The meet was dominated by Japan, which won all the events it entered – solos, duets, and technical team. However, a total of nine countries were able to share the medal podiums ranging from Japan and China to Liechtenstein, Turkey and host Germany, making it all the more exciting. Let's take a look back at some of the highlights from this past weekend.
Japan came to this meet with its renewed national team. The Japanese haven't really stopped since the Olympics and competed at the 2016 Asian Games in November while most other countries were focusing on new routines and tweaking their rosters. The country didn't present new routines here in Bonn, likely due to the fact that it hasn't taken a break. Japan rather decided to go for the safe option to keep older routines and to get the new team members to learn them and perfect them, instead of starting from scratch with everything and everyone.
While the Japanese were victorious in all the events they competed in, China Sichuan's Jiang Tingting and Jiang Wenwen came dangerously close to upsetting them in the duet competition. The twins aren't even officially on the Chinese national team, but these results are fairly promising for their future if they can already challenge two of Japan's best swimmers. It is always great to watch them swim, as they just have this uncanny ability to look like they are floating above the water, a little like the Alexandri triplets from Austria, and are able to create intricate moves with their legs that nobody can replicate.
Part of their music choice for the technical routine (see above) was quite reminiscent of Spain's 2012 technical duet with the castanets, flamenco vibes where the dancer actually creates the music and melody with her feet. This was fun to hear especially since we found out fairly recently they had been working with Anna Tarres. Inspired much? All in all, the Jiangs' routines were a delight to watch, and they beat their direct competitors from the Shanghai province by quite about six points. Nevertheless, the official "successor" of China's Olympic duet wasn't at this meet, although that new pair was not far training in Barcelona, Spain. It still remains to be seen how the Jiang twins will measure up to this duet in the same competition, and how they will be received by the local judges at the Chinese Open in April.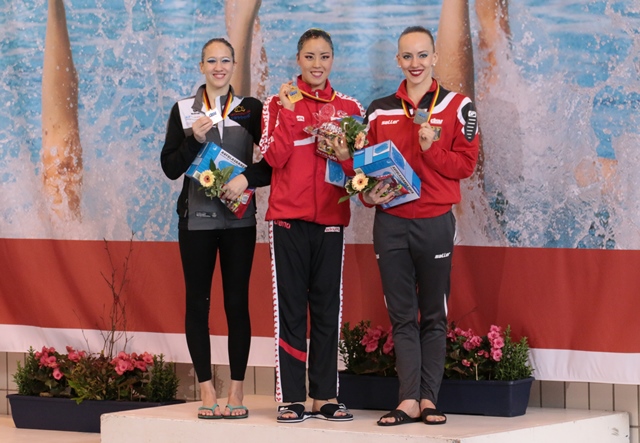 This competition was very exciting because we saw a variety of countries win medals, something that basically never happens at the bigger meets like Europeans or Worlds where usually 3-4 countries share the podium on all events (i.e. Russia, China, Japan and Ukraine lately). In the free solo, Liechtenstein's Lara Mechnig swam beautifully to a cover of "Ave Maria" from Beyonce and showed off her power and flexibility to earn the silver medal ahead of Germany's Marlene Bojer, who swam to Adele's "Love in the Dark."
In the free duet event, Bregje and Noortje Brouwer from the Netherlands pulled ahead of Turkey to win the bronze medal. Hopefully we will see these two in the bigger senior international competitions this season. Turkey's pair is definitely on the rise, scoring one of its highest scores here. In senior meets in 2015, Bakirci and Gundes were at 75.1667, in 2016 at 77.2333, and now past the 78 mark. They have been swimming together for a while now, and with the retirements of many well-established athletes in other countries, we should fully expect some shakeups in the European hierarchy and it would not be surprising to see Turkey climb through the rankings there.
There were only two teams entered in the free routine event, and Turkey grabbed the gold medal ahead of Hungary. The field was bigger in the technical event, which saw Japan grab gold, China Shanghai the silver and Germany the bronze. China Shanghai was the sole competitor in the free combination event where it swam a routine set to the soundtrack of the French musical "Notre Dame de Paris."
This meet comes early in the competitive season. Most teams are just starting to get into full routine shape at this point and don't have many repetitions under their belts yet. However, this provides them an opportunity to get the first feedbacks from judges and other coaches, and to figure out what needs changing or more work moving forward. We will likely see many of these swimmers at the French Open this weekend, and it will be interesting to see how they measure up in a more crowded and competitive field.
All 2017 German Open results and videos are available here.
Article by Christina Marmet