The 2017 U.S. Collegiate Nationals begin tomorrow at the Ohio State University in Columbus, Ohio, and  will go until Saturday, March 25. This meet gathers most university teams from all over the United States as they compete for the overall national title, as well as in the solo, duet, trio, team, and figures events. Many of these schools boasts some of the best swimmers in the nation, and the competition is always fierce to claim the national title.
What is collegiate synchro?
Sports in the U.S.A are a big deal, and even more so in college. The NCAA (National Collegiate Athletic Association) regulates athletes of thousands of institutions and conferences, and NCAA sports bring in billions of dollars to the organization in revenue. Collegiate sports allows athletes in a wide variety of sports to continue on with their passion after high school and to earn a degree at the same time. Depending on the sport, division (I, II or III) and school, scholarships are offered to the best athletes, but we won't get into that here.
A few years ago, synchronized swimming was listed as an 'emerging sport'  under the NCAA for a little while. The NCAA had specific requirements for emerging sports to meet to show growth at the collegiate level, but unfortunately synchro was not able to meet these and was thus removed from that list around the 2007-2008 season. Collegiate synchro does still follow NCAA rules and regulations while falling under the governance of USA Synchro.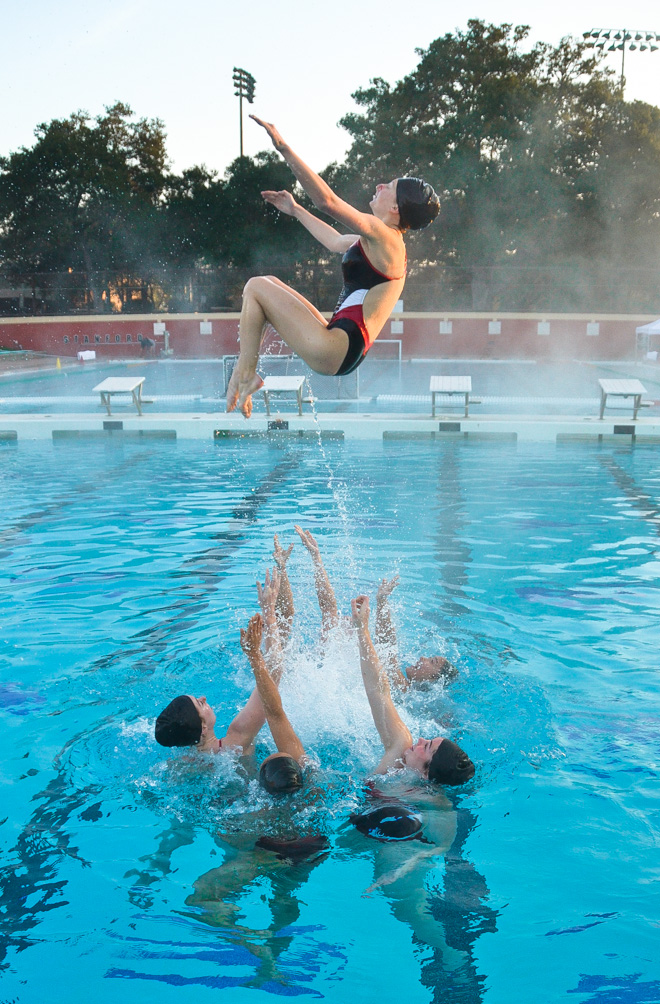 Collegiate synchro is not as widespread as other sports like basketball, football or swimming, and only so many schools have a synchro program. According to USA Synchro, 24 collegiate teams exist as of 2017. These are split into varsity teams (only four; with scholarship opportunities) and club teams (the other 20) that are usually self-funded and most of the time welcome beginners.
Unfortunately, many varsity teams have been cut over the years by their own schools due to lack of popularity. It happened to even nationally-ranked ones like the University of Alabama-Birmingham, Canisius College or Keuka College who had the results to back their credentials up. For that reason and due to having such a small amount of team, there are no conference championships for synchro like we see in other NCAA sports. Teams hold dual or invitational meets during the regular season (usually 3 to 4), then compete at regionals where they can qualify to nationals.
The U.S. Collegiate National Championships gathers athletes from all horizons, whether former national team members or beginners who started synchro that same year. That in itself is pretty amazing. Obviously, varsity teams and club teams do not go into this meet with the same goals, but all swimmers get to showcase their love for the sport and their will to keep collegiate synchro alive.
Despite the fact that swimmers are technically in the seniors category internationally, they here still have to do figures. Figures are split into four groups, from A (hardest) to D (easiest), and these match the FINA age group figures. So D figures will be the same as 12 and under, C figures like the 13-15, B figures like junior figures, and A elements match the technical elements are the same as the required ones for technical teams. Again, swimmers from all levels get a chance to swim here, hence the different figures groups. Figures do not however count towards the routine scores, and are a completely separate event. Then, we have the usual routines from any competition: solo, duet, and teams. We also have trios, which is an event popular in the U.S. but unseen in other international competitions. The top 12 routines in each event move on to finals.
Here is a fun trio from Stanford at last year's nationals to a Beyonce medley:
For the overall team score, a team can only count seven events towards that total and one has to be a figure score. So if it has swimmers entered in all four figure groups plus all four routine events, it will have to strategize and think about what will bring the most points. The team event is the most important as it yields the most points.
 Who should we pay attention to?
The national title is most often contested between only a handful of teams. Stanford University is the reigning national champion and has won the title eight times total, while the Ohio State University (OSU) has won an impressive 29 titles in the past. While new to the game and created in the 2009/2010 season, Lindenwood (LU) has risen through the ranks extremely fast and won a national collegiate championship of its own in 2014. The University of the Incarnate Word (UIW) is another team able to challenge for the title, and it has won a few individual event medals in the past. Finally, Wheaton College and the University of Florida should be other teams to keep our eyes out for as well.
Of course, all the schools are exciting and fun to watch. While many clubs don't have the technical abilities of these varsity teams whose rosters are filled with former national team members or Olympic hopefuls, they still hold their own in the pool and come up with fun and entertaining routines. Because that's primarily what it should be all about right? Having fun!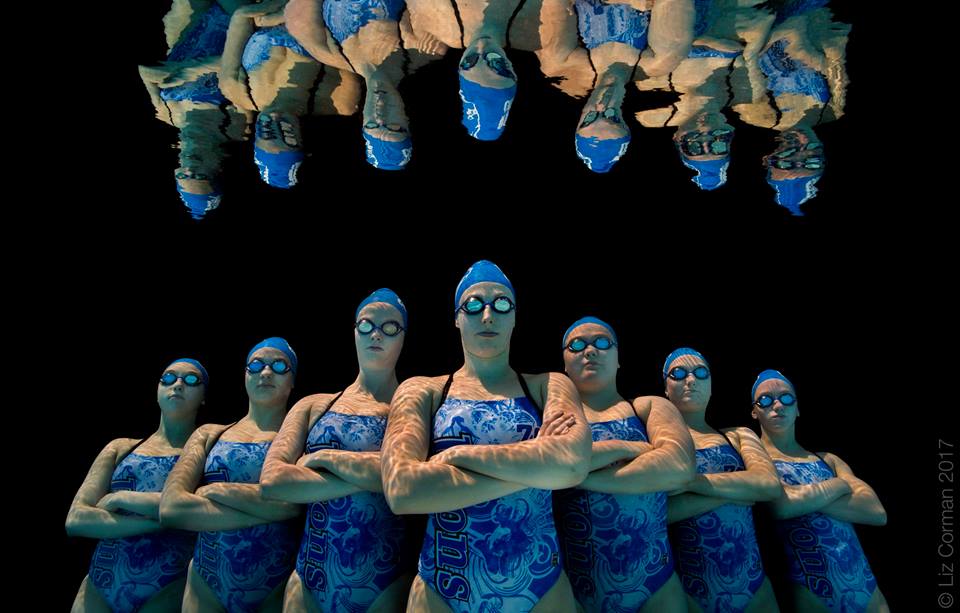 As for swimmers, OSU has an impressive roster at the moment. Do not miss its soloist Emma Baranski who was just divine last season and is the reigning champion in that event. The team also features other current national team members like Elizabeth Davidson, Lorraine Hack, Alyssa Hoying and Monica Velasquez-Stiak. Stanford also has its own current U.S. national team member Sandra Ortellado, LU with Emily Emanuele and UIW with Emilee Willis.
Collegiate synchro is also very international, and currently features or has featured former national team members from across the world. Among others: Canada – Jessica Guenther, Dylan Harding, Clare McGovern and Erica Slavin (Stanford); Egypt – Reem Abdalazem (LU); France – Camille Guerre (UIW);  Italy – Laila Huric (OSU); Russia – Svetlana Ponkratova, Natalia Tarasova, Yulia Shepeleva (Canisius), Vasilisa Mironova (LU);  Spain – Laia Pons, Irene Montrucchio (LU); Ukraine – Inga Gillyer (UIW), Yuliya Maryanko (OSU).
Why is collegiate synchro awesome?
First of all and from the swimmers' perspective, collegiate synchro gives athletes a chance to continue with the sport while in college for four years. Synchronized swimmers usually swim through high school, but they often stop when comes the time for university. Many of the senior teams worldwide are not as deep as in the junior categories, or some just have a mix of junior and senior swimmers in them. And sometimes, one may not be ready to completely retire, and thus collegiate synchro gives a swimmer another four years in the sport.
Second of all, the routines from the best teams in the nation are simply amazing. OSU always comes up with incredible and unique lifts (you might have seen this one on Instagram), throws, and hybrids. Additionally, the swimmers are older so they are stronger, but also more mature and charismatic in the water. Coaches are able to get more out of each of them and to try more risky choreographies. Routines are also a little more "out there," with teams not afraid to swim to hip hop (see LU's routine at the bottom of the page), Beyonce, or have superhero themes. We are finally getting out of the Swan Lake-Phantom of the Opera-Scherazade-type routines, and it's quite refreshing.
Here is one of my favorite routines from Ohio State back in 2009 to the theme of Seven Deadly Sins (check out its 2010 and 2011 teams as well, they are all worth the watch.)
Finally, we get to regularly see some of the best swimmers in the nation, if not the world. Furthermore, warming up alongside 2008 Olympians Sara Lowe (who is now Stanford's head coach) and Becky Kim, Russian superstar Natalia Tarasova (who now coaches Hungary's national team), or one of the U.S.A's very best and 2012 Olympian Mary Killman  is quite an amazing experience. To share the pool with them is an honor, and it is inspiring and empowering to watch them swim. Having all levels and teams meet up at U.S. Collegiates allows the sport to grow in a unique way.
As we wait for this year's edition, enjoy Lindenwood's routine from last season that was shared fairly well across the Internet:
All details related to the competition are available here. The meet starts tomorrow with solo, duet and trio prelims. Friday, March 24 will see figures and team prelims. All finals will be held on Saturday, March 25.
Article by Christina Marmet