The 2017 Open Make Up For Ever, the first meet of the FINA World Series, concluded a few days ago in Montreuil, France with a few surprising results. For a sport where upsets are rare, this competition had quite its share of them.
Many nations were in attendance this past weekend, but with the rule of only one routine per country can qualify to final in each event, the race was on in the preliminary rounds to determine who would win that spot.
The duet competition was tight, and three pairs from China were in the heat of it all and created some excitement in the competition. The duets from China Sichuan (Jiang Ting Ting and Jiang Wen Wen) and China Shanghai (Tang Mengni and Sun Yijing) were already at the German Open last weekend, but were here also in direct competition with a third pair from China Hunan with Sun Wenyan and Li Xiaolu. Sun and Li have been training with current national team head coach Mayuko Fujiki and are seen as the favorites by many to become the next official Chinese duet for Worlds. For now however, they were just here representing their province and gearing up for the 2017 China Games and the China Open. Sun was already a member of the 2016 Olympic duet, alongside Huang Xuechen, and Li competed with the team in Rio.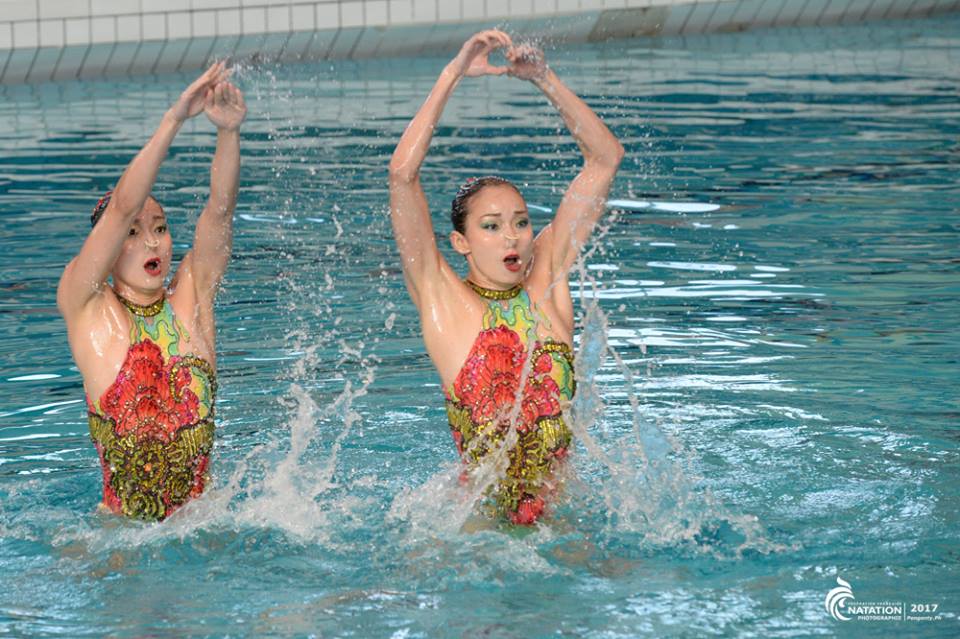 Rather surprisingly, Jiang and Jiang came out on top in Montreuil in both the technical and free events, despite using older routines (though reworked). Sun and Li showed off clean and interesting routines, but they weren't enough here to top the twins. On top of that, the Jiang sisters beat Japan's national team duet, despite being behind just a few days before at the German Open. The tide had turned in Montreuil in favor of the famous twins. After this weekend, the race is on for that Chinese duet spot, but it will be a totally different ball game once each pair is in front of national judges, and the twins may be facing an uphill battle if they really do want to compete for that Budapest spot.
Some surprises came also on the side of France, which saw the brand new duet of Solene Lusseau and Marie Annequin finish ahead of the twins Charlotte and Laura Tremble in the free duet event (not in the technical event where the the results were reversed). Lusseau and Annequin swam the 'Africa drums' routine that France presented in Rio, and that routine was clean and well done here. For their first time out as a duet, the pair impressed, showed that they greatly matched in the water and that they can handle the pressure. The Tremble sisters presented a brand new choreography which showcased their progresses in technical difficulty. While less precise, that routine has a lot of potential and it's always refreshing to see something new. Both duets came quite close to each other in both events, so it looks like it will be a tricky decision for the French coaches to decide who gets to swim which event as we move forward.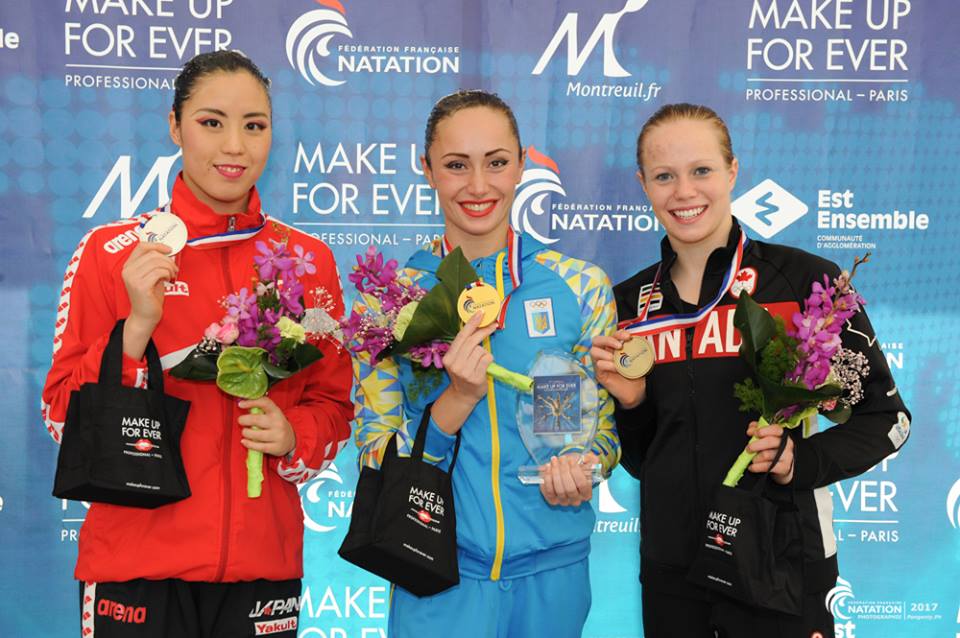 The hierarchy in the solo competition at the top wasn't surprising and does match the global order we last saw at the 2015 World Championships. Ukraine's Anna Voloshyna grabbed the gold, followed by Japan's Yukiko Inui and Canada's Jacqueline Simoneau. The latter unveiled a wonderful free routine where she pictures a young woman who has lost eyesight. Canada has frequently had charismatic soloists and Simoneau is no exception.
The (pleasant) shocker in this event was the unexpected qualification of France's Eve Planeix ahead of teammates Estel-Anais Hubaud and duet partner Maureen Jenkins. Hubaud and Jenkins have already made their marks on the international scene, especially Hubaud who has represented the nation in solo in senior competitions numerous times already. So for the young Planeix, who was making her debut as a soloist on the international stage, to come ahead of these two was quite significant.
Planeix has always been a treat to watch in national competitions and one of France's best kept secret. Often overshadowed or dealing with injuries, it was thrilling to see international judges reward her and to finally be watched by a broad audience. The choreography here is remarkable, with unexpected twists and transitions. Paired with an eerie music, this solo fits her very well. While she showed some nerves during her finals' swim, we certainly hope to see this young lady again as she matures and blossoms as an artistic soloist.
Some other highlights of the competition took part in the mixed duet events. The Japanese pair and especially Atsushi Abe impressed by their progresses in both technique and choreography since we last saw the two in 2015 at Worlds. They actually came quite close to the Italian duet (bronze medalist at Worlds) in the free event, so keep your eyes out for some potential upsets this year in Budapest. Additionally, Italy's Manila Flamini and Giorgio Minisini swam both new routines, but really knocked it out of the park in the technical event when they swam a routine called "A Scream from Lampedusa." With an original musical score, this duet is in memory of the many victims in the Mediterranean sea from the refugee crisis. This was a poignant routine with an important meaning, and what a great way to use this sport and its artistic component to raise awareness on a very relevant issue nowadays.
It's still quite early in the season, so the team competitions weren't as crowded as the solos and duets. In these team events (technical, free and free combination), the global world hierarchy was respected, with Japan maintaining its lead over Ukraine, and China's province teams managing to place for medals. Moreover, with much improved lifts and a new choreography, the home team grabbed the bronze medal in the free combination final with its new 'Paris' combo.
You can find all results as well as numerous videos from this year's edition of the Open Make Up For Ever here.
Article By Christina Marmet
Photos courtesy of FFN Natation.