Last week, Natalia Ischenko announced her retirement from the sport. After a stellar career spanning over three quadrenniums, five Olympic titles, 19 World titles, and a plethora of European and other international titles, Ischenko has decided to hang up her suit to focus on her new career as deputy prime minister in charge of sports and youth policy in the Kaliningrad government. We took a look back at her numerous accomplishments and the exceptional legacy she created.
Natalia Ischenko was born on April 8, 1986 in Smolensk, Soviet Union, but her family moved to Kaliningrad shortly after. When she was five, her mother enrolled her in both rhythmic gymnastics and synchronized swimming. However, it quickly became difficult for her to continue with the two sports, and she made the choice of continuing with synchro.
At the age of 14, Ischenko left Kaliningrad and her family behind to train in Moscow with the rest of the national team. While the separation was tough at the beginning, she quickly made friends and started working with Tatiana Danchenko, who would eventually become her lifelong coach.
Ischenko had been a member of the Russian national team since 2002, but the 2004 European Championships in Madrid, Spain marked her debuts on the senior international scene.  There, she impressed with her free solo to the "Passion of Christ" soundtrack, and scored well into the 9.8-9.9 range already.
At the age of 17, Ischenko had to face the tough expectation of replacing Olga Brusnikina, another one of Russia's greatest, as the next soloist to continue bringing golds to the nation. She didn't let any of this faze her as she competed like a veteran and placed second right behind France's Virginie Dedieu. Ischenko went on to swim that same solo at the 2005 World Championships in Montreal, Canada to win the silver medal once again behind Dedieu. There, she also won her first two World gold medals in the team and free combination events.
At the 2006 European Championships in Budapest, Ischenko became a three-time European champion within 24 hours, and won her first gold medal in the solo event. In 2007, she swam a new free solo the music of "Memoirs of a Geisha", filled with sharp and intricate moves that highlighted her incredible technical abilities. In Melbourne for the World Championships, she captured four more World golds and a silver in the free solo.
Ischenko competed in her first Olympics in Beijing in 2008 in the team event, where she won her first Olympic gold. 2009 marked the first time Ischenko and Romashina represented Russia in the duet event, in what later would become one of the most iconic pairs in synchronized swimming. They had big shoes to fill coming after the famous Anastasias (A. Davydova and A. Ermakova). However, their free duet lived up to the expectations, and marked the beginnings of Russia pushing the envelope in choreography, unique themes, and music choices veering away from classical pieces in that event.
In Rome, Ischenko became a ten-time World champion, and finally a World champion in the free solo event with a routine to 'Swan Lake'. At the 2010 European Championships, she became the first swimmer to ever win all four events in the same competition. To this day, she remains the only one to have ever accomplished that feat.
At the 2011 World Championships in Shanghai, she swept all the events she was entered in (all but technical team), thus becoming a 16-time World champion. Her technical solo to the music of Romeo & Juliet brought out a softer, more emotional side of her, while her free routine to the theme of 'Spiders' was darker but showcasing impeccable technique and all in all simply mind-blowing.
In the duet event, Ischenko and Romashina showed off what would become their Olympic duet choreography to the theme of "Dolls" with unique hair style and makeup, once again trying out choreographies and fashion choices that very few would ever dare to present in front of international judges. Their 2012 technical duet to Michael Jackson would also quickly become iconic and spread well outside the synchro world. Ischenko and Romashina competed at the 2012 Olympics where they won gold in the duet and team events.
Following the London Olympics, Ischenko decided to take a break from the sport after having competed non-stop essentially for the last eight years at the highest level. After giving birth to her son in late 2013, she realized she wasn't quite done with synchro yet, and took on a challenge that only one other swimmer (Anastasia Gloushkov from Israel) had done before: come back to the elite scene after having a baby.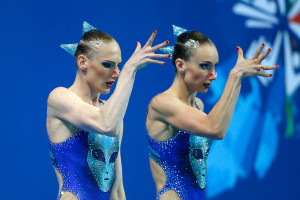 In 2015, she came back to competition at the European Cup in the duet event only with Svetlana Romashina. The two presented a peculiar duet to the theme of 'Aliens' once again showcasing unique choreography and challenging moves. Ischenko's return to competition was remarkable, as she was not only back to the level she was at in 2012, but she actually was better than ever and in the best shape of her life.
Originally, she didn't think she could come back. She continued swimming lightly during her pregnancy, and vaguely imagined a return would be possible but never considered it as a serious possibility. "I was not going to compete and continue with training if my level was lower than what it was before the pregnancy," she told R-Sport in 2015. "Once I realized it was possible and that I was basically back to the same level, I thought why not?"
Back home in Kazan for Worlds, Ischenko also competed in the free solo event with a routine to the theme of 'Love'. She displayed incredible maturity, poise and confidence that we hadn't seen from her before. In front of the local crowd, she became a record 19-time World champion and reinforced her status as the best synchronized swimmer ever.
Ischenko and Romashina went on to become two of the most decorated synchronized swimmers after the 2016 Olympics, where they won both their fifth Olympic gold medals. This tied them with former teammate Anastasia Davydova for the title of most Olympic gold medals. The pair swam their free duet to the theme of 'Mermaids' featuring unbeatable technical difficulty and speed, and an unmatched artistry.
This announcement came as no surprise, as Ischenko had already hinted before Rio that she wasn't sure what was next after Rio. As for why it took her so long to make it official, she explained to Sports Express: "Apparently I just was not ready to say it out loud. Now I've finally realized that it's time to leave, and to aim for something else."
Her new career doesn't mean she's leaving the sport entirely. "Yes, this means that as an athlete, I'm not coming back," she told R-Sport. "But I'm not going too far away from synchronized swimming. It was my life, so I'll follow the sport and I'll be around. It will always be in my life, just from a different perspective." More recently, her and Romashina have coached in the junior category, and were able to bring their duet to the top of the podium at the winter Russian junior nationals.
It is impossible to replace Ischenko, even though we know Russia will be just fine either way and will remain at the top for years to come." Athletes like Natasha and Sveta are very rare. These girls are not in every generation," said coach Tatiana Danchenko in an interview with Sport Express. They both have undoubtedly stamped their mark in our discipline. Ischenko's presence in the pool will be sorely missed, but she leaves behind a legacy that will likely never be forgotten.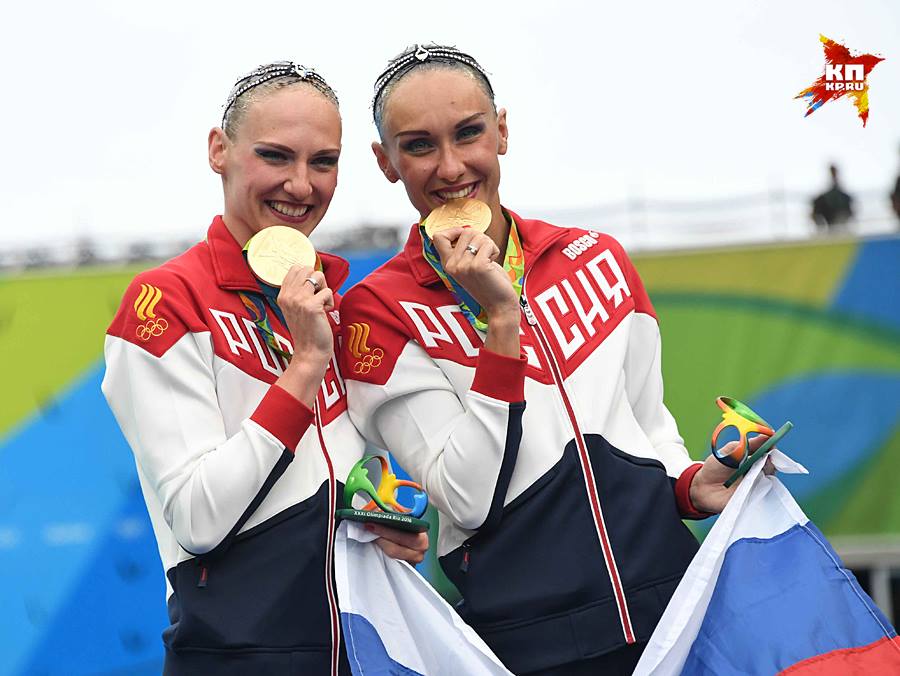 We've loved watching her mature and grow in this sport, from the newcomer in 2004 to a five-time Olympic champion and a synchro legend years later. We wish her the best of luck as she moves forward into the next steps on her journey. Russian synchro definitely won't be the same without her.
Article by Christina Marmet